The Berkey Black Friday Sale has begun and you'll find lots of great deals included this year!
Berkey water filters have been getting more and more popular each year as people are looking for ways to make sure they're giving their families clean water to drink.
Black Friday is a great time to pick up your own Berkey Water Filter at a discounted price.
UPDATED: 2022 Berkey Black Deals are here.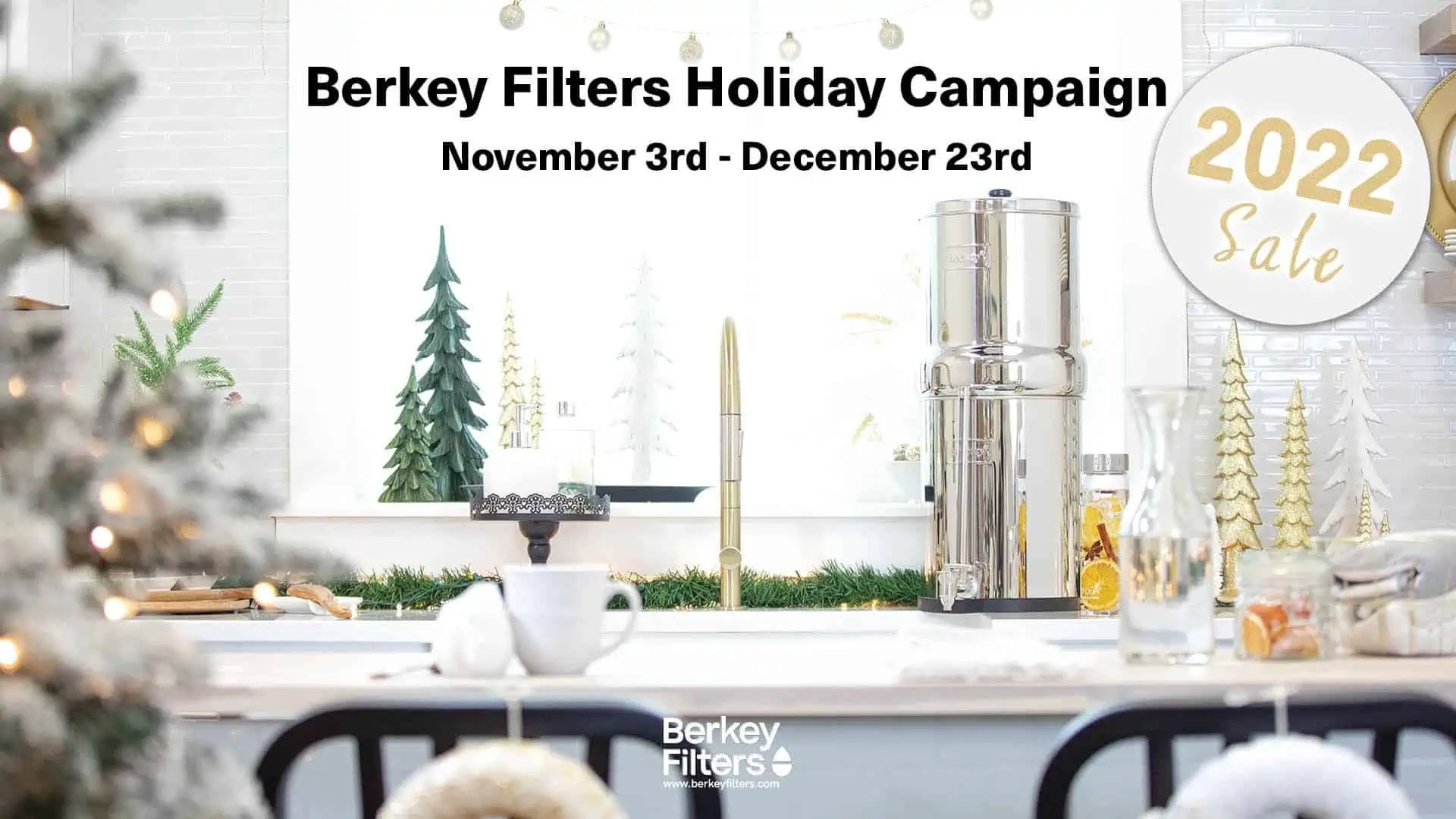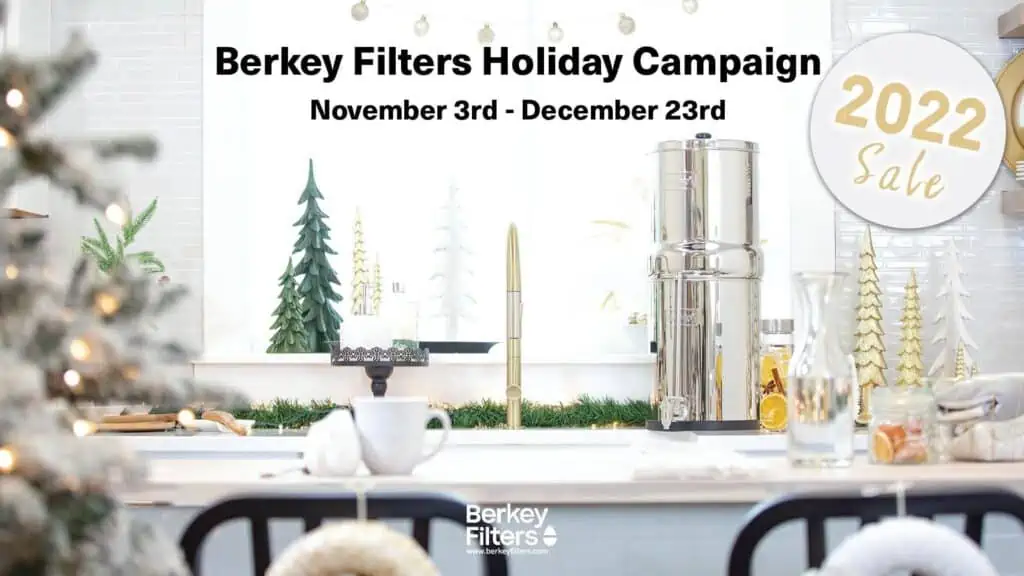 In fact you'll be able to save up to $162 off the same water filter system that I personally use and love.
Be sure to scroll down to read how our Berkey has saved us OVER $10,000!!
The new 2022 Berkey Black Friday deals have just been announced!
Go here and enter your email to unlock this awesome Black Friday Berkey Sale today!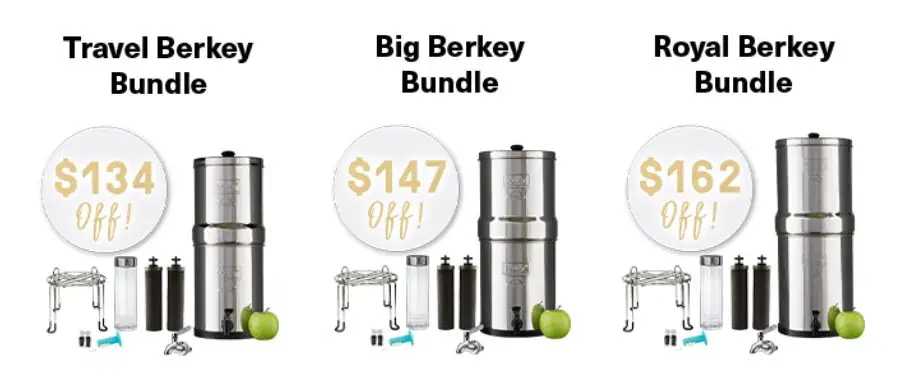 Berkey Black Friday
Save money on purified water during the Berkey Holiday Sale!
There is an AWESOME Berkey Black Friday Event happening now that I have to tell you about! Last year the deals were really great and they're just as good this year, if not even better!
Berkey Water Filter
The Berkey water purification system uses carbon composite filters to remove 200+ contaminants.
Each set lasts for up to 6000 gallons and can be cleaned up to 100 times.
This is also a great time to pick up a new set of Berkey replacement filters and save up to $86 off!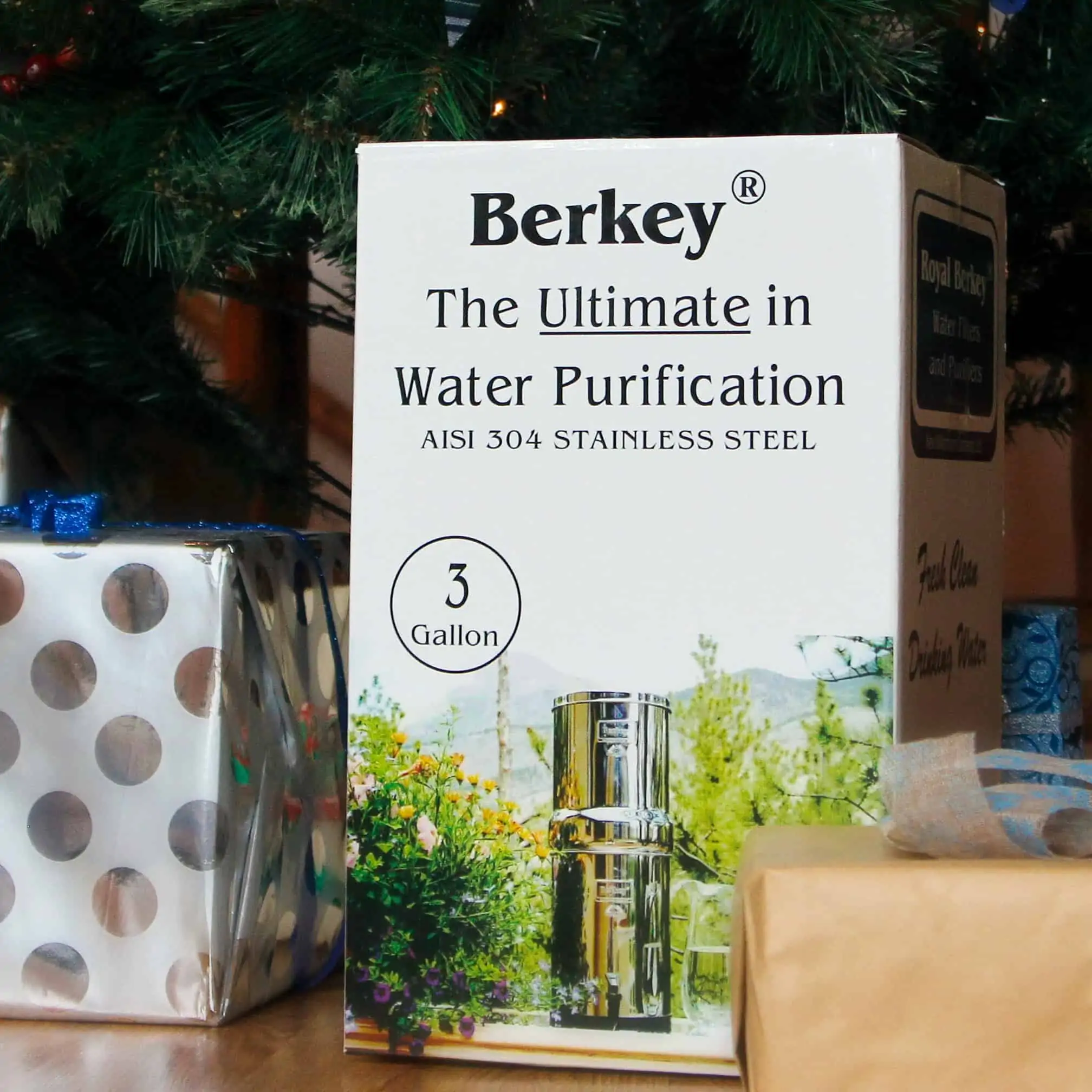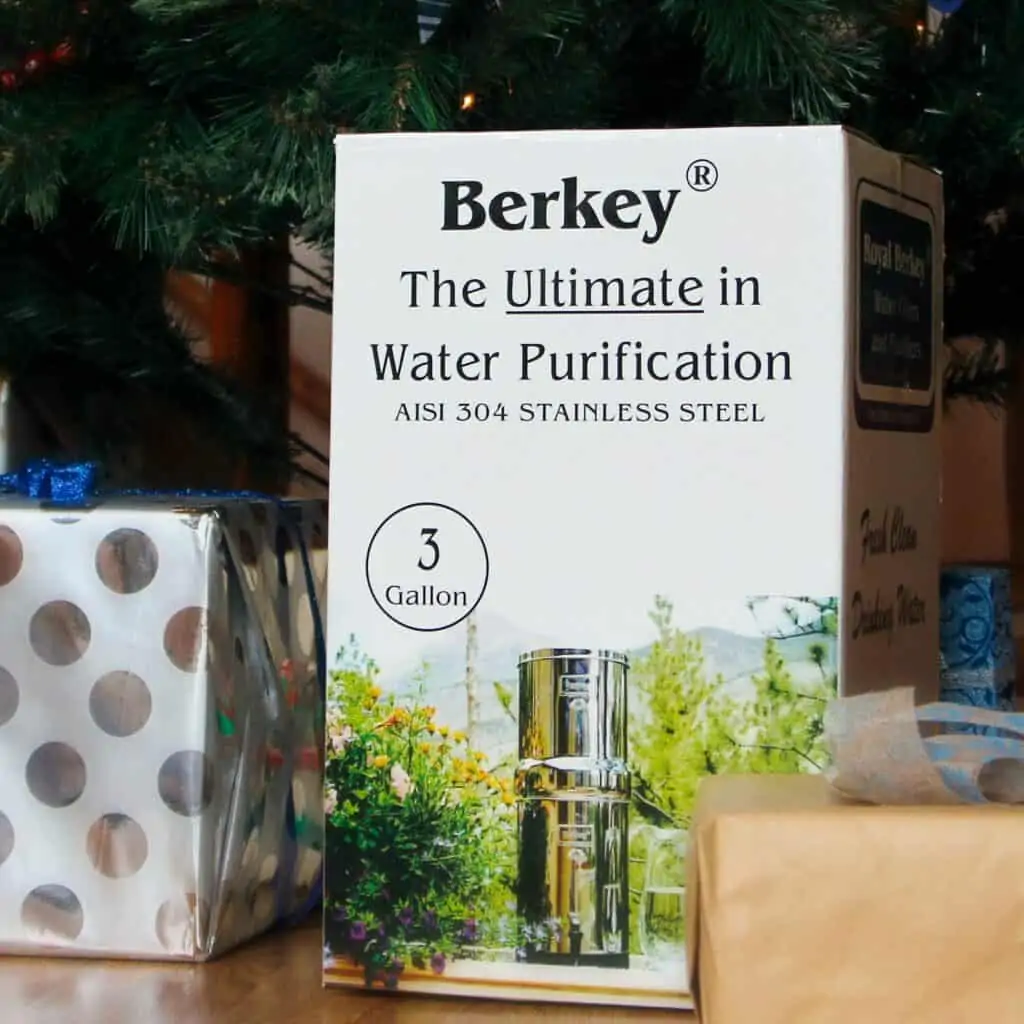 Berkey Water Filter
I'd been dreaming of owning my own Berkey Water Filtration System for a very long time.
I finally got mine after Rich and I were talking about how much money we have spent on filtered water ever since we moved into our new house.
We moved from the city to an area that has well water that is so full of iron that it stains everything yellow if it weren't for our water softener.
But the softener doesn't help with filtration, so we had been buying those big water jugs and using a water cooler for almost ten years.
It costs around $13 for two big jugs and we need about 2 – 4 jugs a week. When we did the math, it came out to around $10,000!!!
The Berkey is a steal when you consider how much we've already spent just for clean water.
You can check your water using this free online water quality search tool.
It's truly shocking how bad most water is, no matter where you live!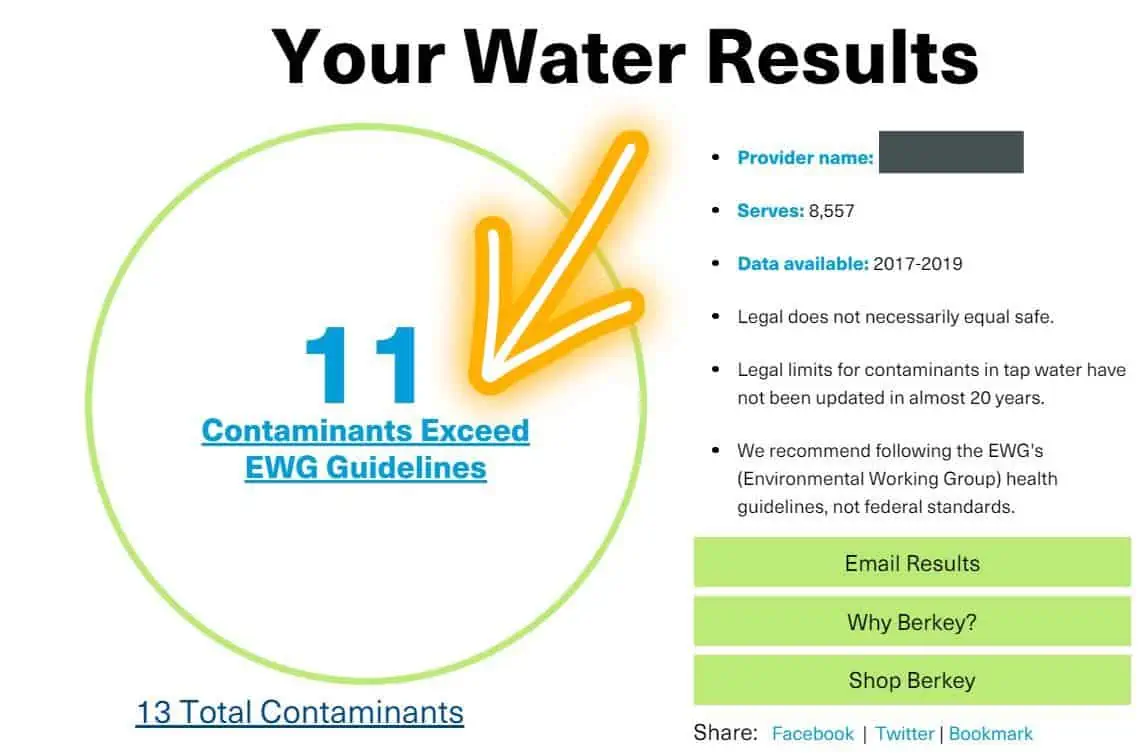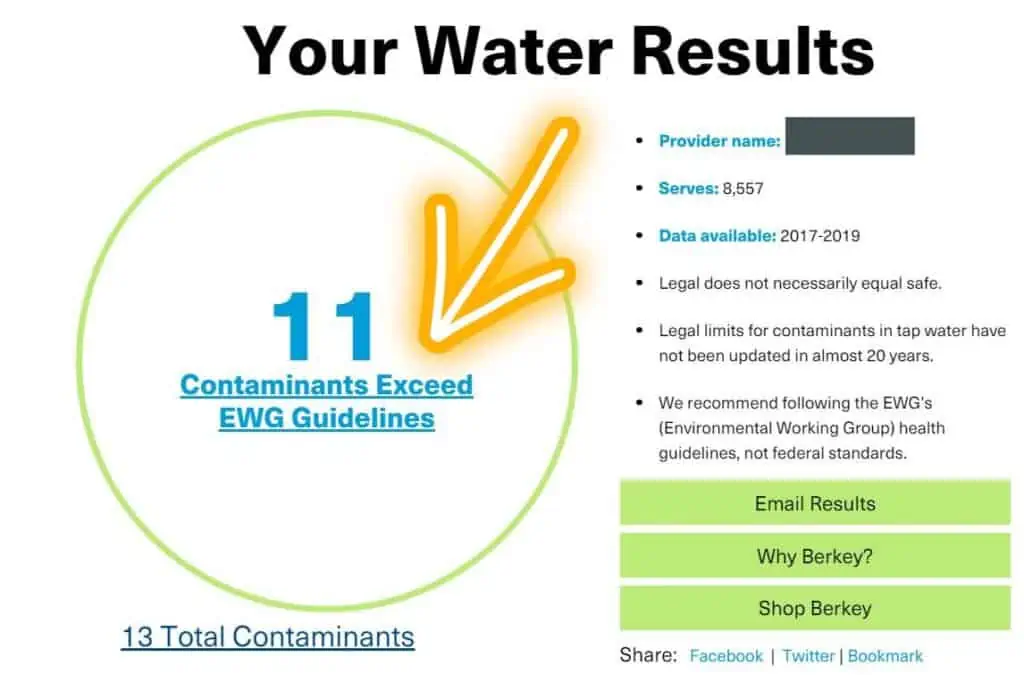 The Berkey is a powerful filter able to remove more contaminants at a lower cost per gallon; than Faucet filters, Pitcher filters, Whole-House filters & Bottled water.
With the Berkey there's no plumbing installation or power required, so set up is simple!
When we were ready to buy our own Berkey System, we went with the Big Berkey System which was perfect for us and our animals!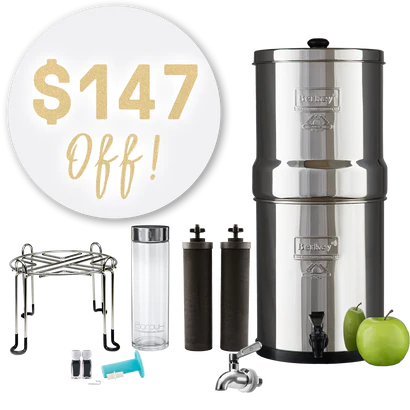 Big Berkey
Its size and holding capacity make the Big Berkey a highly adaptable unit.
It is ideal for medium-sized families of one to four people, and this Berkey filter model is compact enough to easily fit into an RV, tiny house, or cabin.
In emergencies, the Big Berkey system is also large enough to keep over a dozen people hydrated with purified water. Just be sure to use all four filters.
Since the Big Berkey holds 2.25 gallons, it will take about two hours and fifteen minutes for the entire upper chamber to be filtered through to the bottom chamber.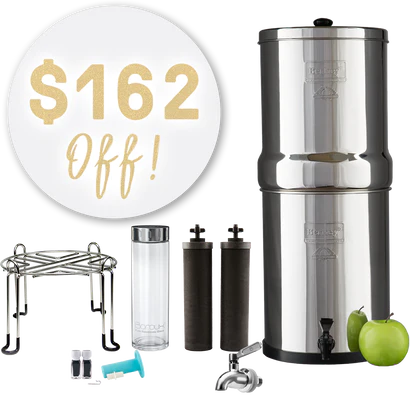 Royal Berkey
If you need more water than that per day, I recommend the Royal Berkey System which holds a little over 3 gallons of water at a time.
Quickly becoming one of the most popular systems, the Royal Berkey holds more water and filters it 14% faster than the Big!
The Royal Berkey is a favorite among families of 2-6 people; in the two-filter configuration, with moderate to high water consumption.

You can see all of the Berkey Holiday Bundles available, by entering your email address here to unlock the deals.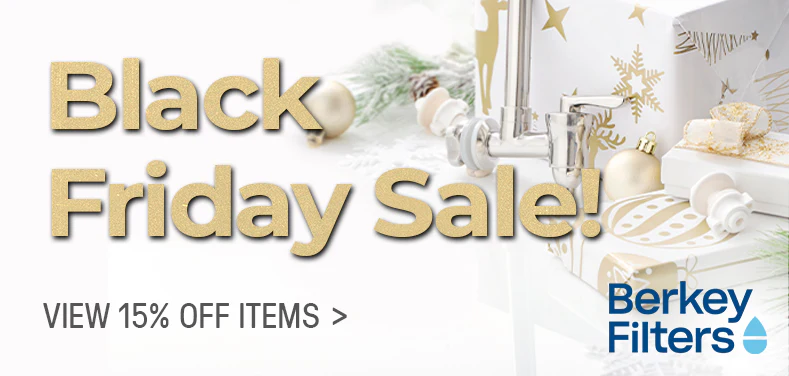 Berkey Holiday Sale
These are the other deals included in the Berkey Holiday Sale happening right now.
Just choose the Berkey Black Friday deal that fits your family's needs and budget, and start saving on the cost of filtered water today!
Is Brita as good as Berkey?
Berkey Water Filters are superior to Brita water filtration systems in every way, including quality, durability, long-lasting value, and overall performance.
How many years do Berkey black filters last?
We recommend replacing your Berkey filtration system every 2–5 years. A set of Black Berkey Filtering Systems typically lasts for 6,000 gallons.
Check out all of the Berkey Black Friday Deals available today.