Are you looking for some good board games to play with friends or family?
You'll find the Ultimate List of the Top Selling Board Games to choose from below.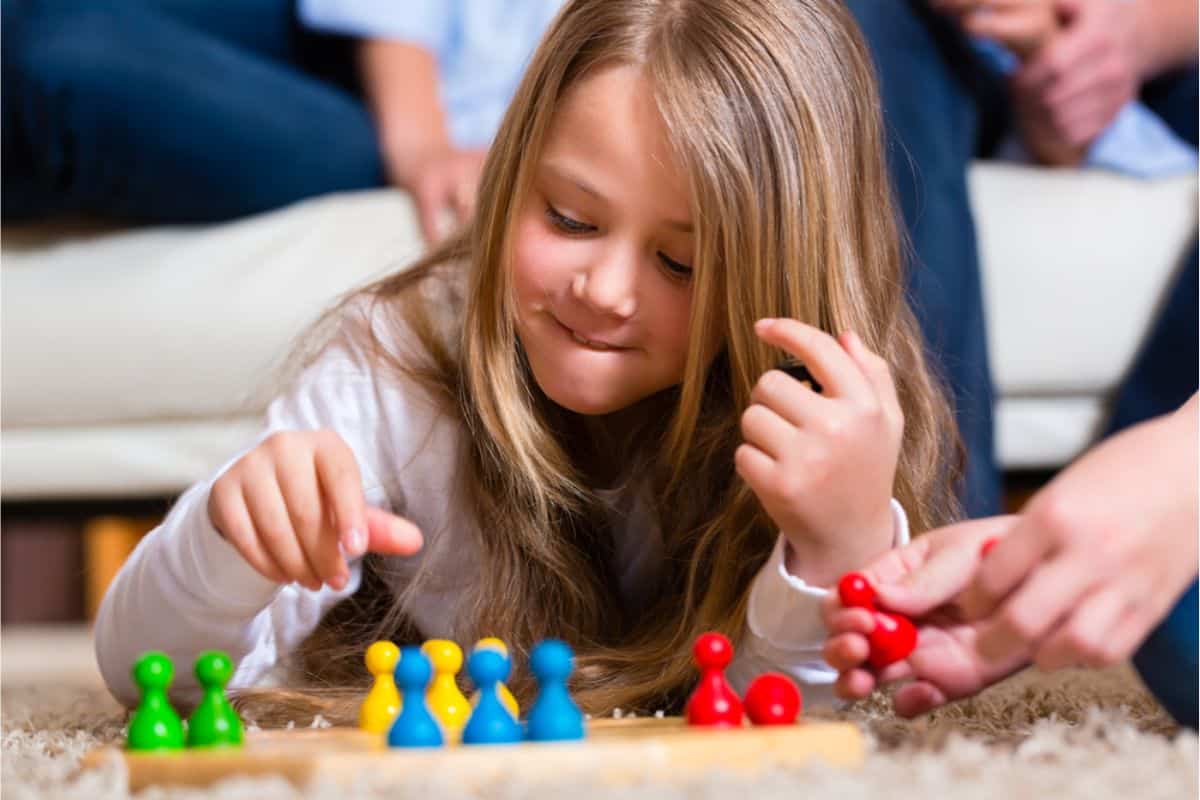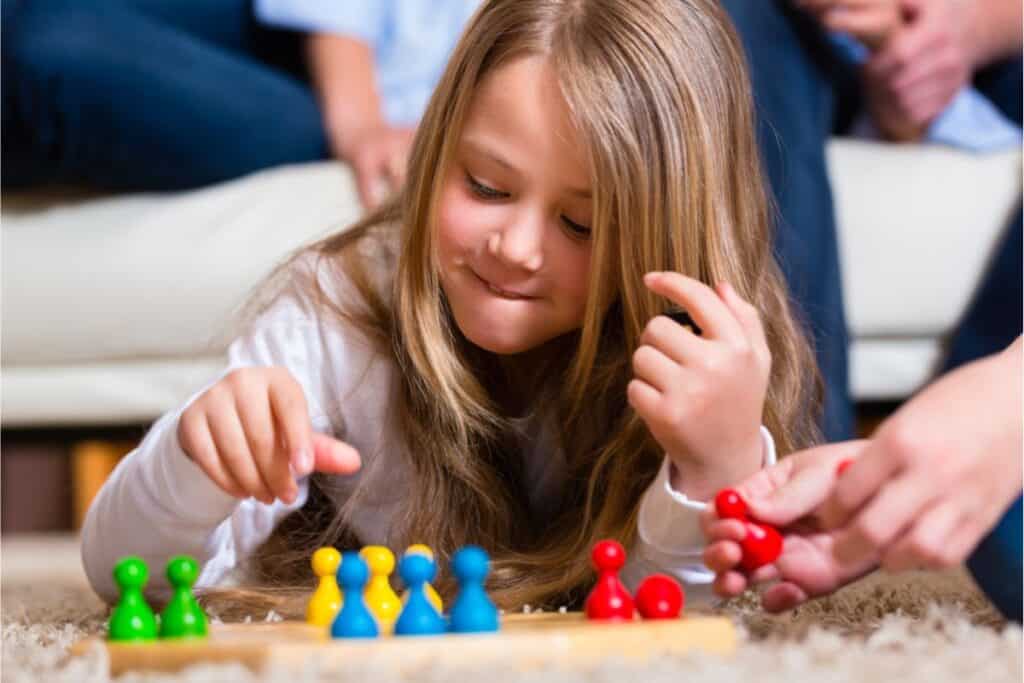 Best Board Games of all Time
Do you love board games?
If yes, then you probably already know that they are a great way to spend time together or even play solo.
The only real question is whether you should choose between playing Monopoly or Clue.
There are hundreds of board game brands out there, each offering unique experiences. Some are more complex than others, some are easier to learn, and some are more fun to play.
Board games aren't only meant to entertain us, but also teach us valuable life lessons.
In addition to teaching us important skills such as problem solving and negotiation, they also offer opportunities to develop our social skills through cooperation.
They allow us to challenge ourselves mentally and physically, and give us a chance to relax and unwind.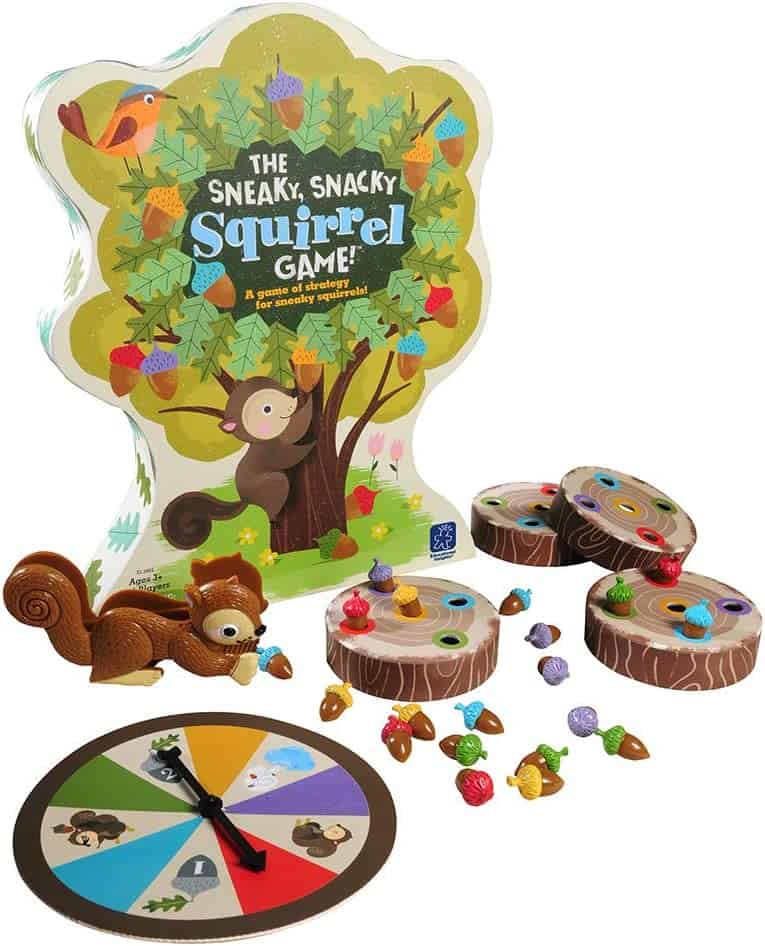 The Sneaky Snacky Squirrel
Little kids are going to love this cute Sneaky Snacky Squirrel game where they get to help feed hungry forrest critters.
Your forest friends are hungry and they need your help.
Spin the spinner, squeeze the matching colored acorn with your Squirrel Squeezers and place it into your log. Be the first to fill your log with delicious acorns and you win.
You could also spin "pick an acorn," "steal an acorn," or "lose an acorn," so be strategic, little squirrel.
This 2 to 4 player game is perfect for grades Pre-K+/Ages 3+. Develops matching, sorting, strategic thinking, hand-eye coordination, fine motor skills and pre-handwriting skills.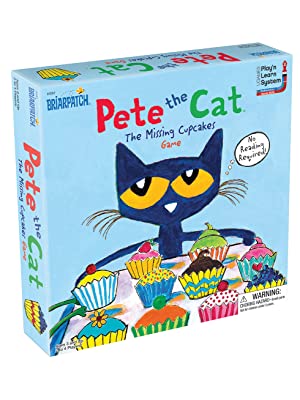 Pete the Cat The Missing Cupcakes Game
Bring a favorite storybook character to game time to the delight of little gamers!
Briarpatch presents the Missing Cupcakes game from Pete the Cat.
Join Pete and his friends as they work together to get the missing cupcakes back from Grumpy Toad.
Players collect colorful 3D cupcakes as they sing songs, act out physical activities, and identify favorite animals, foods, and words in this fun board game for kids.
The missing cupcakes game promotes literacy as kids make picture and word associations, as well as social skills, decision making and imagination.
Families will want to play again and again with their children.
No reading required. For ages 3 years and up.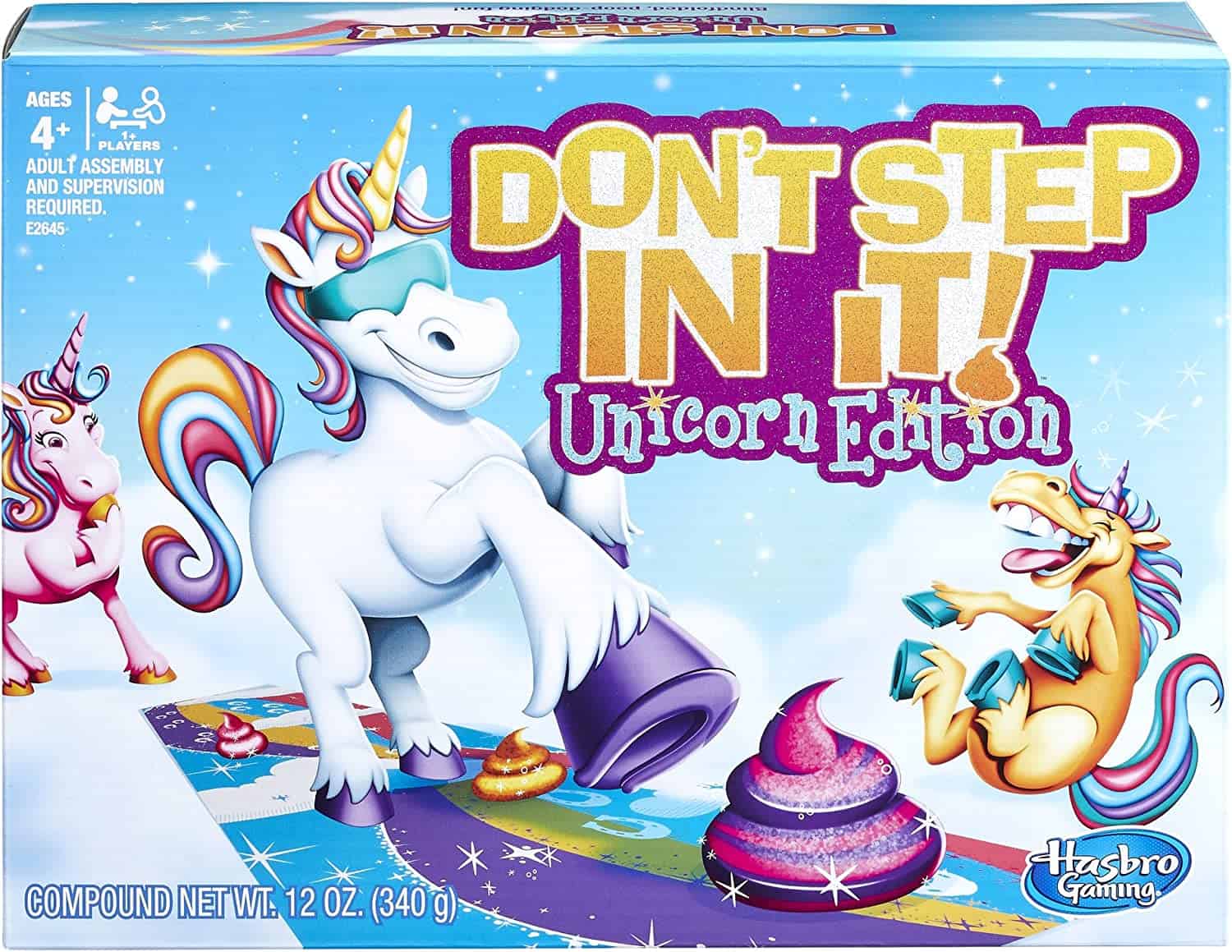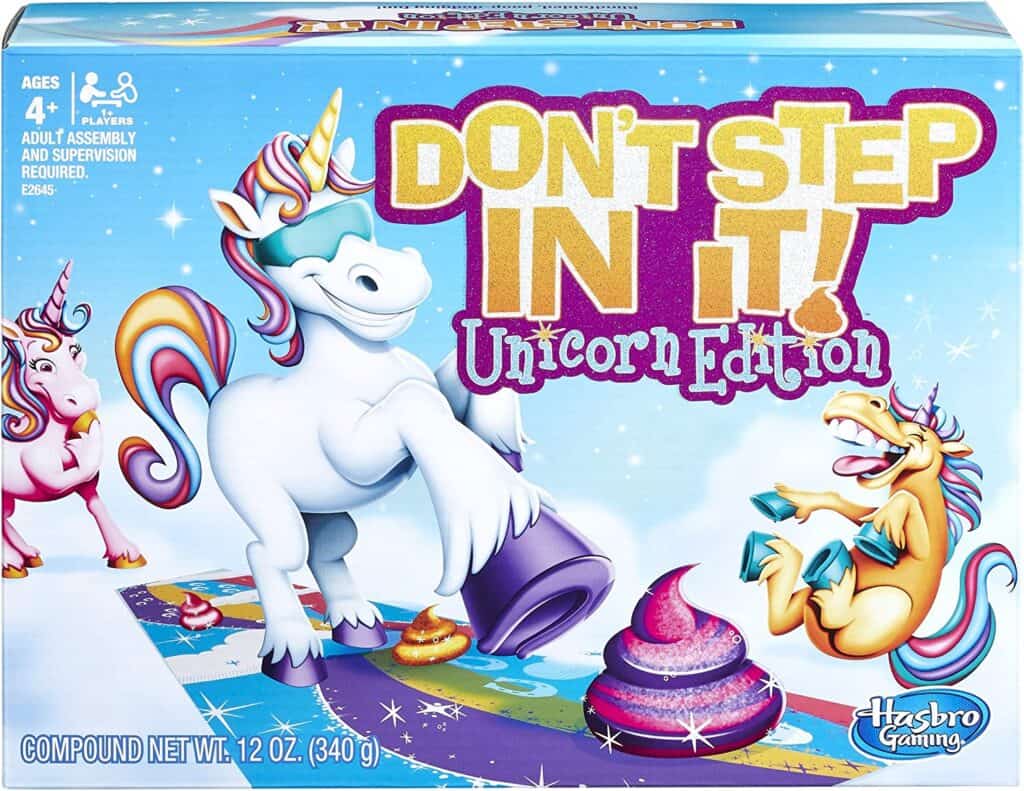 Don't Step in It Unicorn Edition
This game is so much fun! It is equal parts of unicorn magic and well… poop!
Be careful not to poop out while playing this hilarious game with messy consequences!
In the Don't Step In It Unicorn game, players try not to step in the poops as they walk along the mat while wearing a blindfold.
The laugh-out-loud game is for ages 4 and up, and easy to play.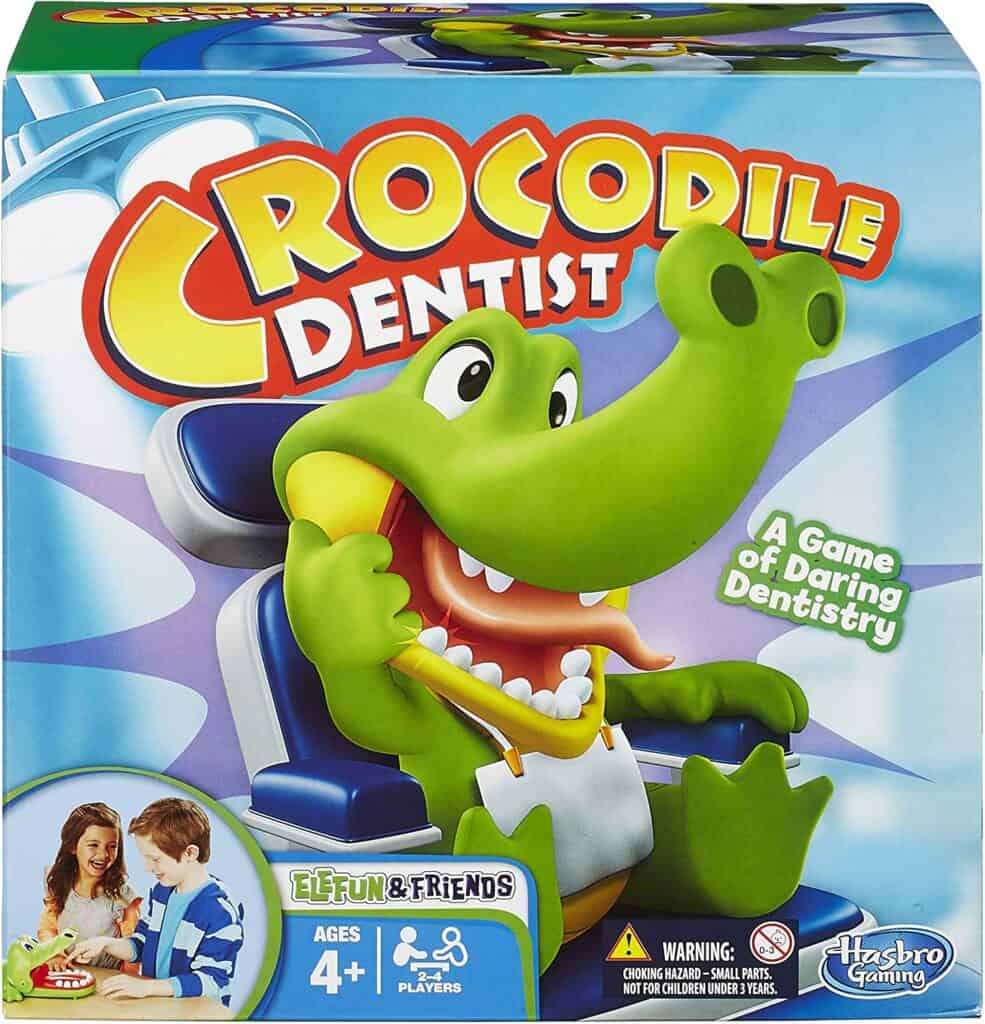 Crocodile Dentist
Take a bite out of game time with this fun game!
Get ready to have loads of fun playing this Elefun and Friends Crocodile Dentist kids game.
Gather friends and family ages 4 and up for fun and frenzy as players pretend they're the crocodile "doctor" and check the teeth in the croc's mouth. But don't get "chomped!"
He'll let you know if someone pressed his sore tooth by playfully chomping down.
Easily reset the game after each "chomp" by opening the crocodile's mouth again.
Be the only dentist not to get chomped to win.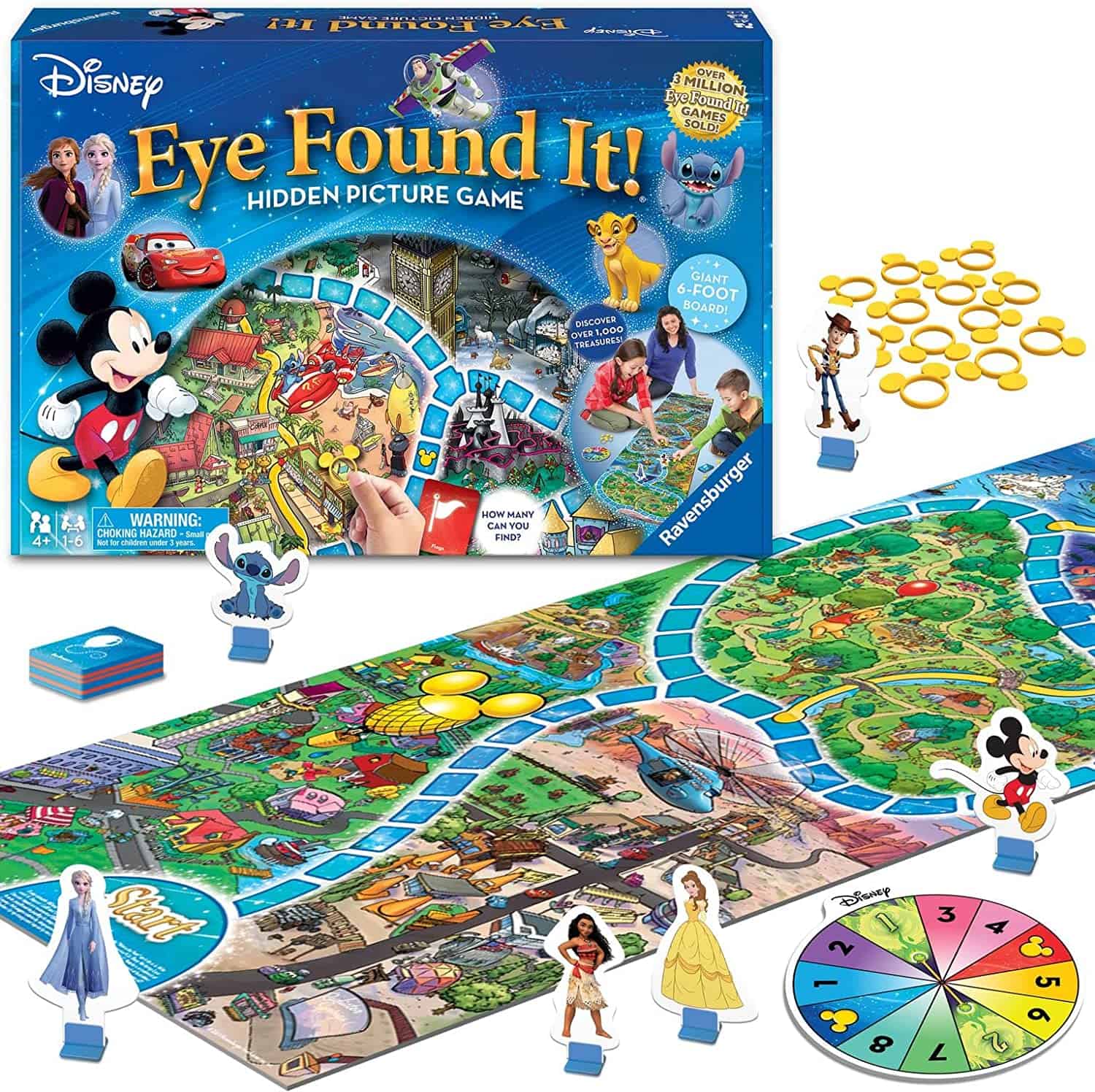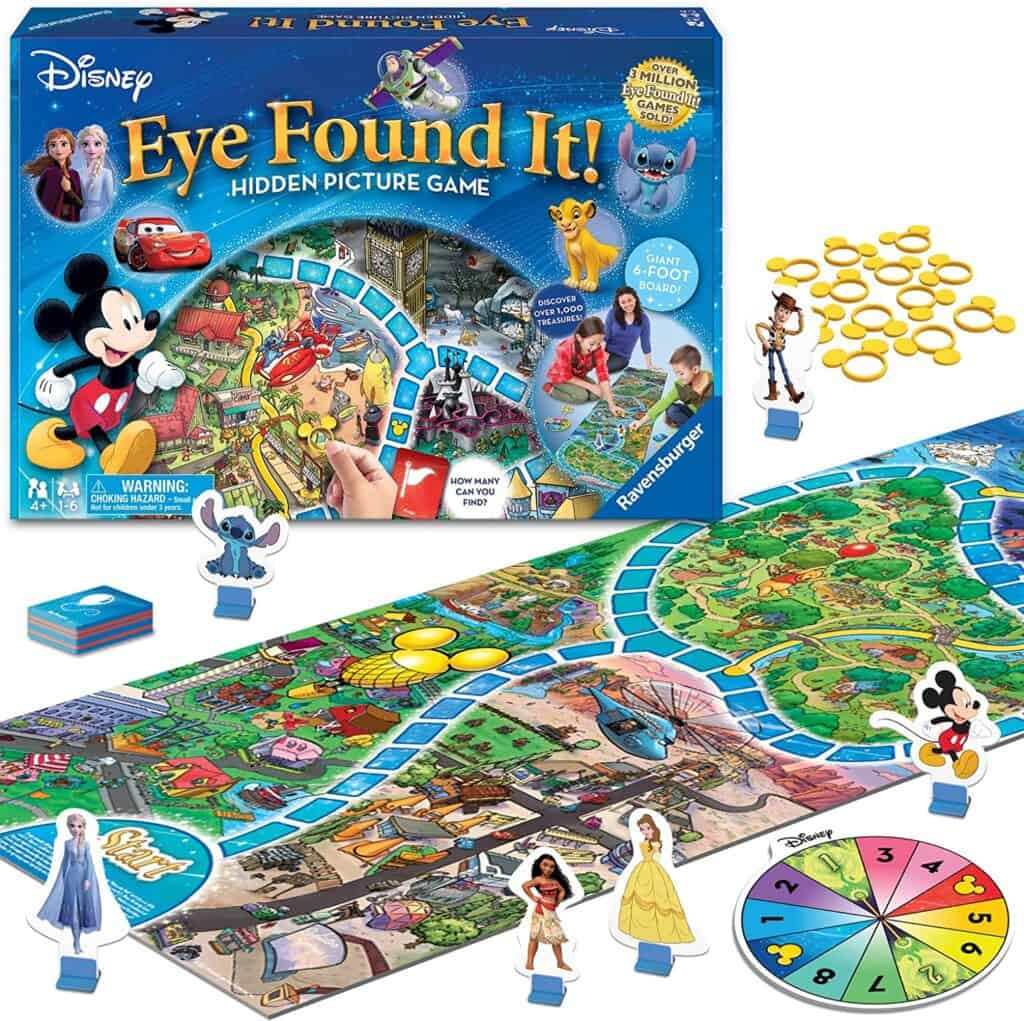 World of Disney Eye Found It
Your little Disney fans are going to love this Eye Found It! eye spy board game!
Discover hidden treasures and beloved Disney characters on the colorful, six-foot long game board!
The jumbo game board is rich with whimsical artwork and favorite Disney characters, making this game a family favorite.
Join Mickey Mouse and friends on an exciting race through 12 exquisitely illustrated Disney realms, from Radiator Springs and Alice's Wonderland to Peter Pan's Never Land and Pooh's Hundred Acre Wood.
Throughout the race, everyone searches for iconic Disney objects …and gets a chance to say, "I found it!"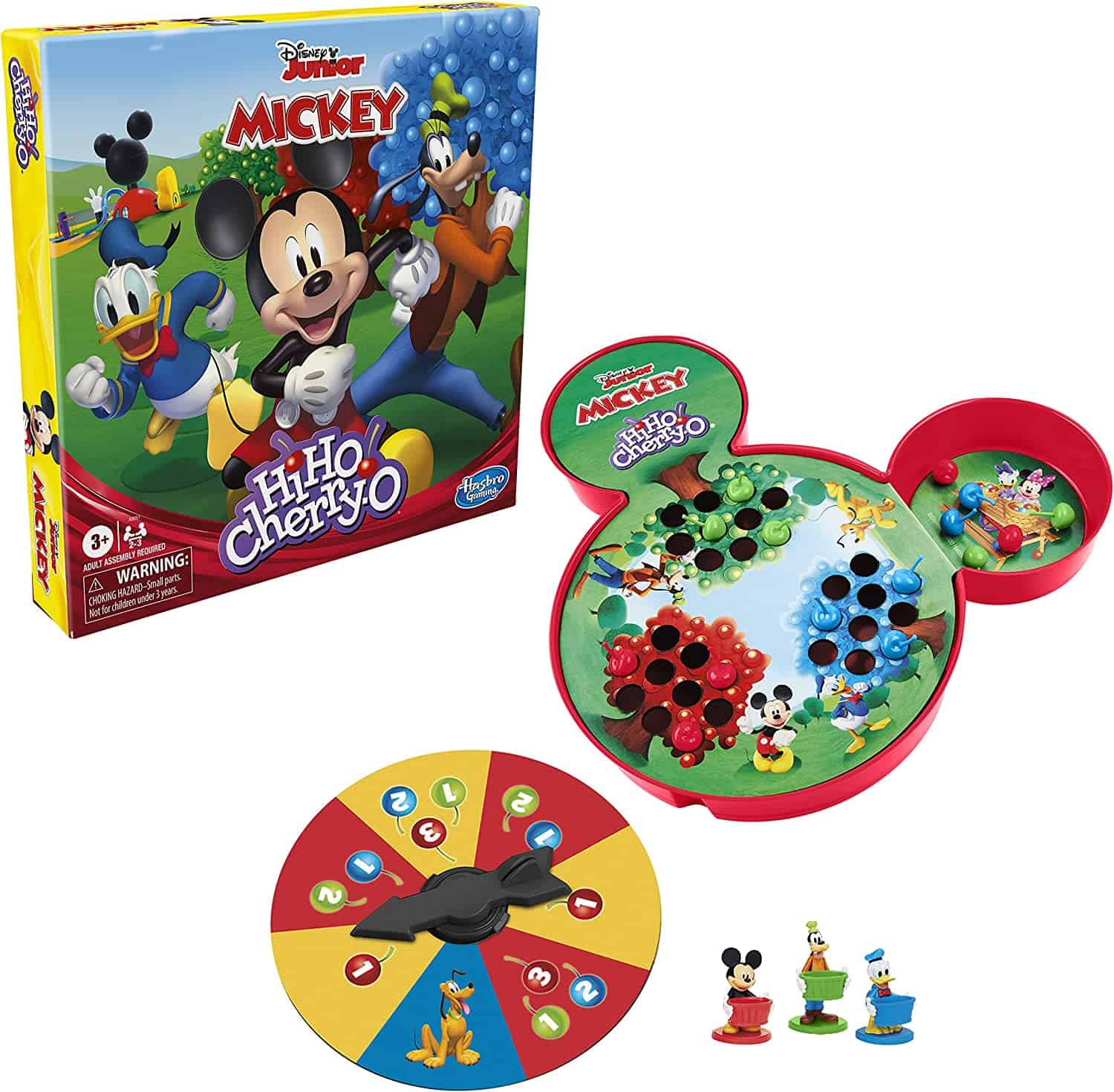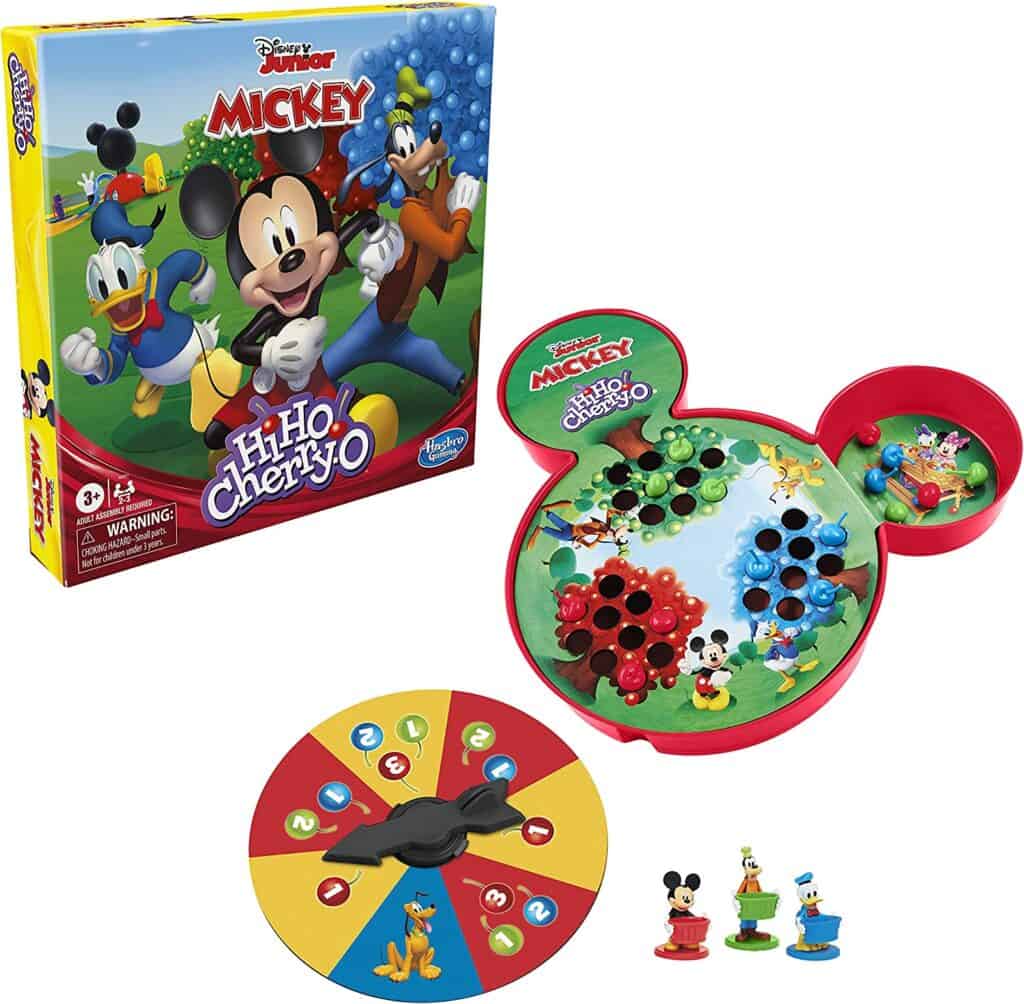 Hi Ho Cherry O Mickey Mouse Edition
This classic board game for kids gets an upgrade with Mickey and the gang! The kids will love this fun game.
Have a Disneyfied picnic in this Mickey Mouse Clubhouse edition of the classic HiHo! Cherry-O game!
Preschoolers have so much fun picking fruit to fill their baskets, they don't even realize they're developing and practicing math skills such as counting, addition and subtraction!
Everybody picks a Mickey, Donald or Goofy character mover and then takes turns picking pretend cherries, blueberries and apples from their tree.
Whoever picks all the fruit off their tree and puts it in their character mover's basket is the winner!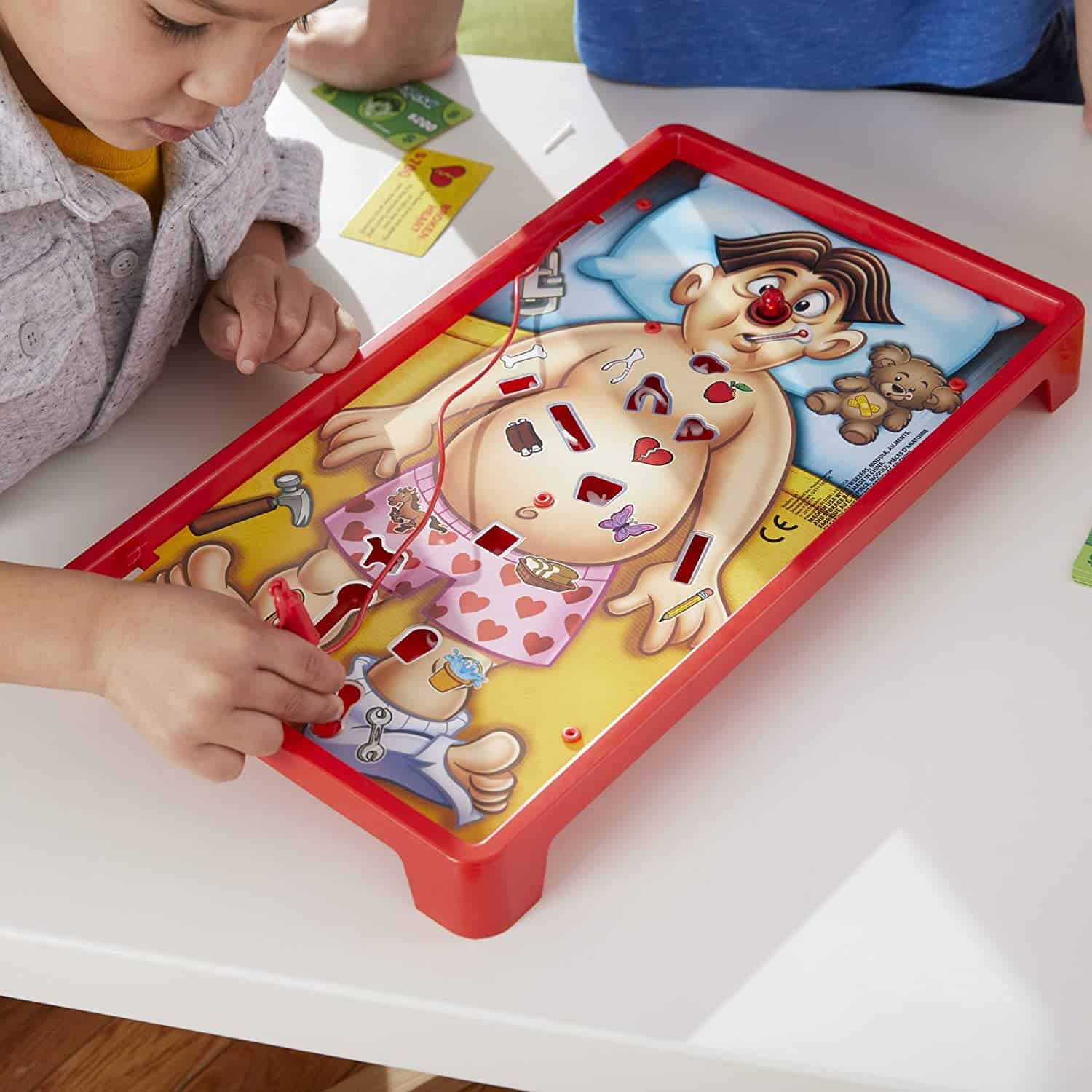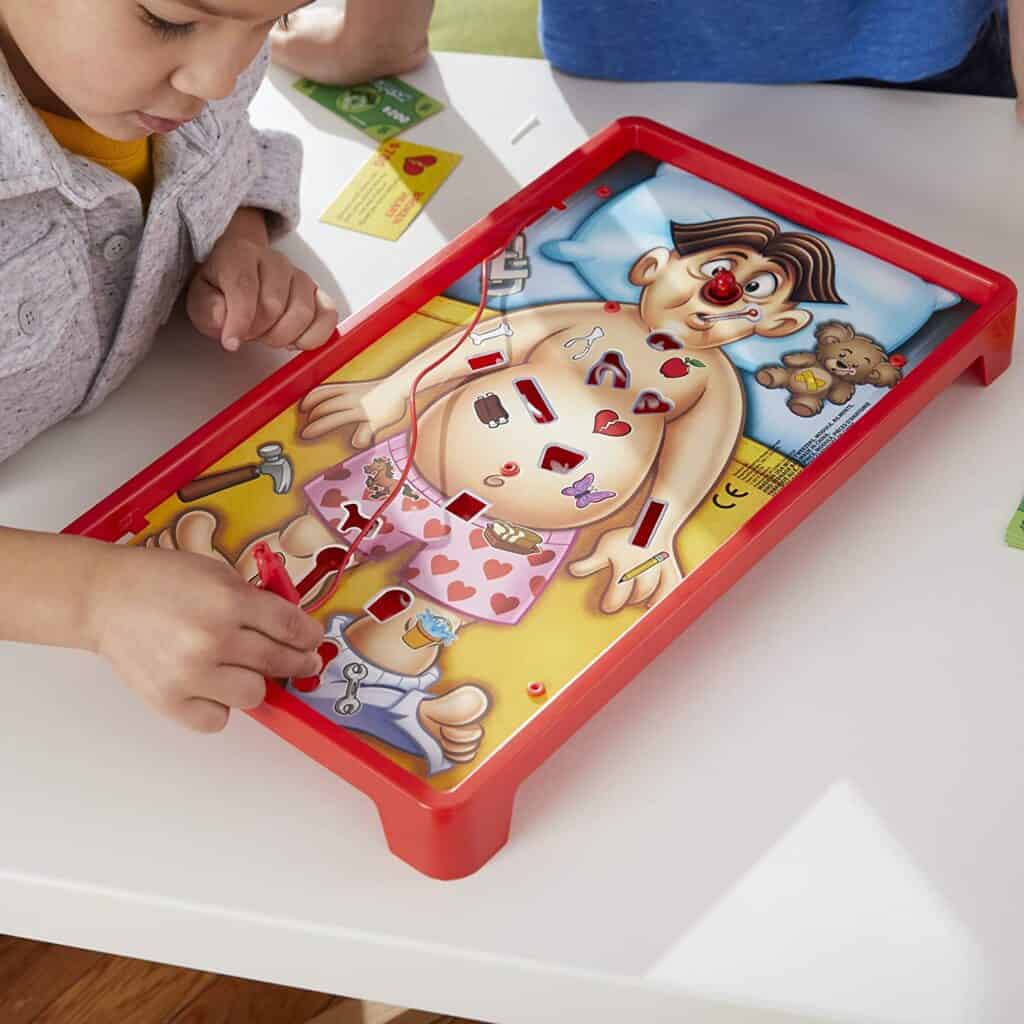 Operation
Operation has had families buzzing with good times for years! Your family is sure to be a kick out of this classic.
It's the family favorite Operation game with the classic funny ailments!
Cavity Sam is feeling a bit under the weather, and kids will love to "operate" and make him better.
Use the tweezers to take out all of Cavity Sam's 12 funny ailment parts that parents might remember — such as a wishbone, Charlie horse, and Adam's apple.
Players ages 6 and up, choose a doctor card and "operate" to remove that ailment from Sam, and collect the money if they can avoid the buzz.
The player with the most money wins!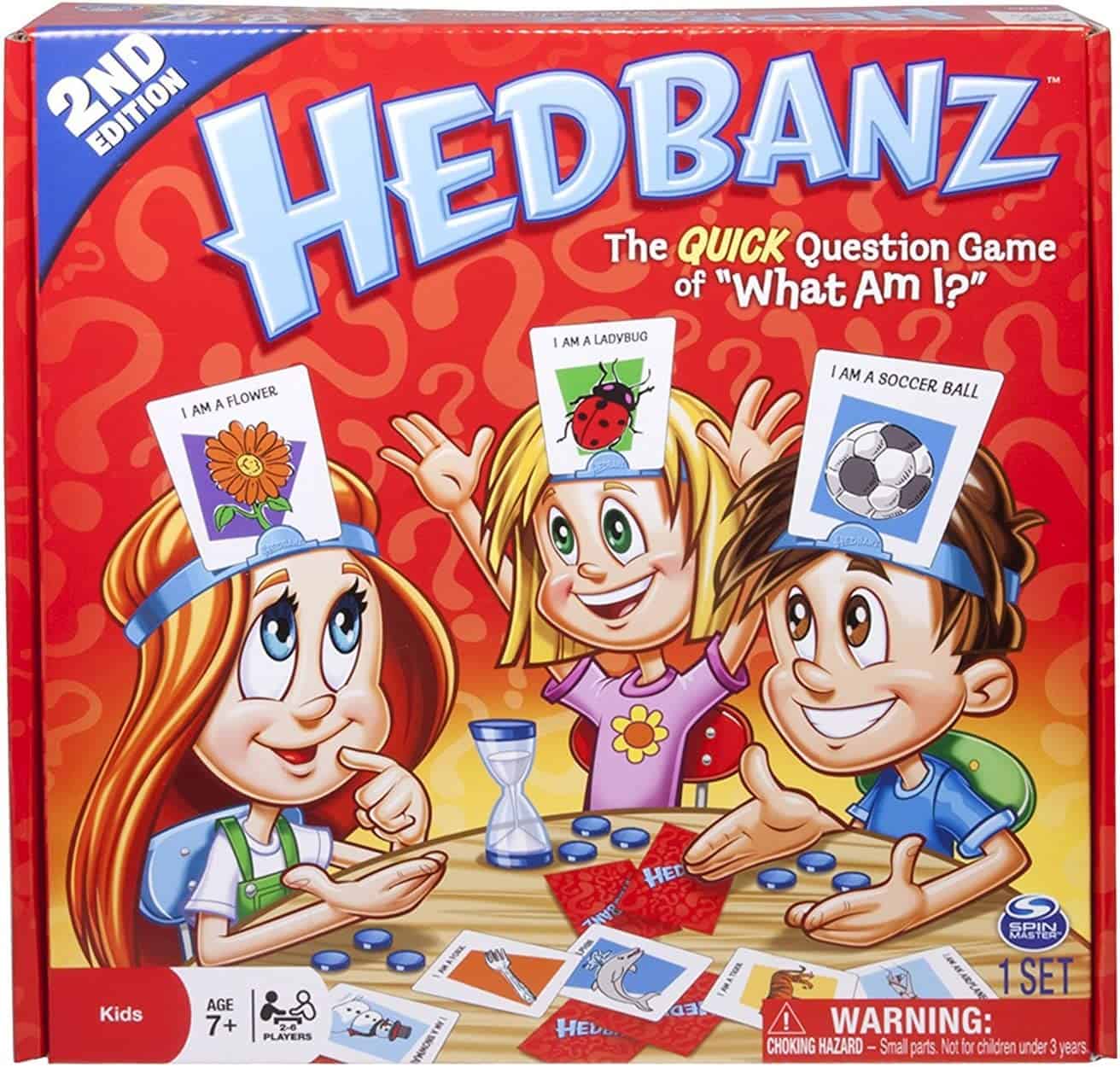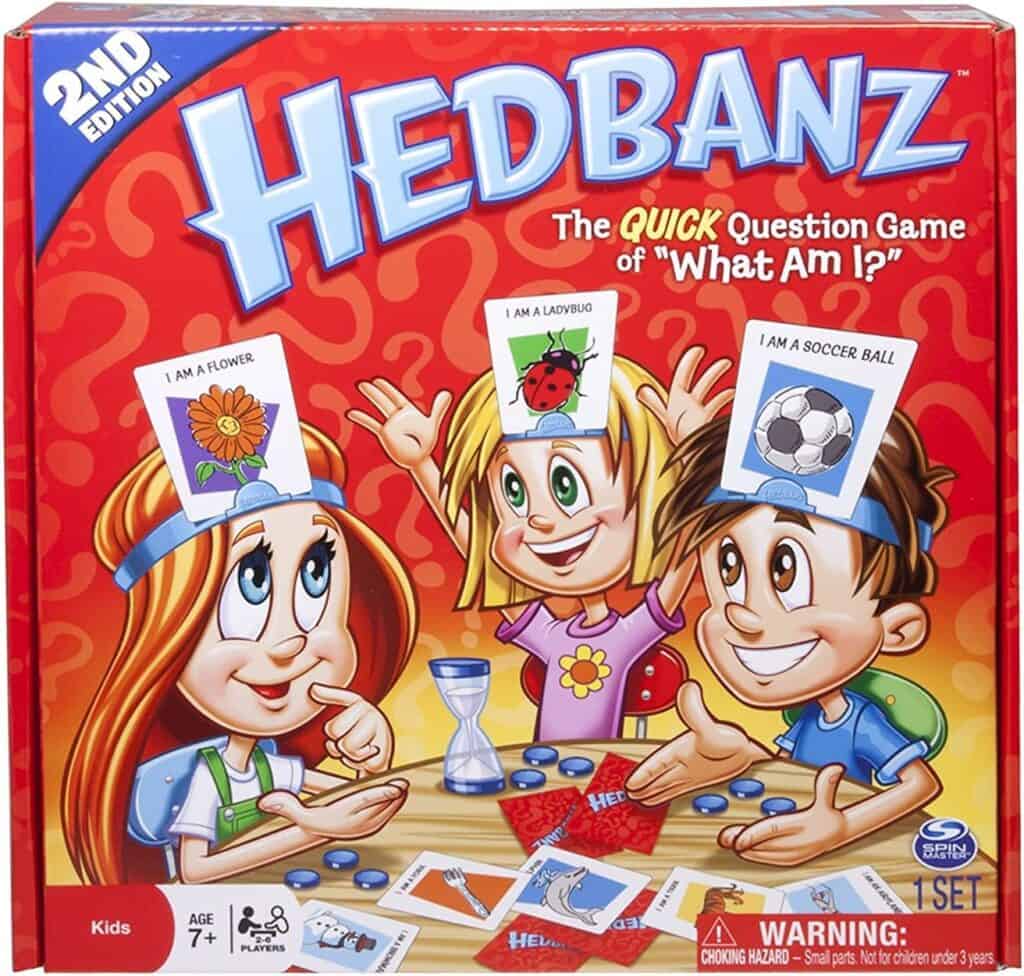 Hedbanz
This game gets the questions flowing for a fun time that keeps you guessing!
Play the Hedbanz game where you never know what you are until you start asking questions.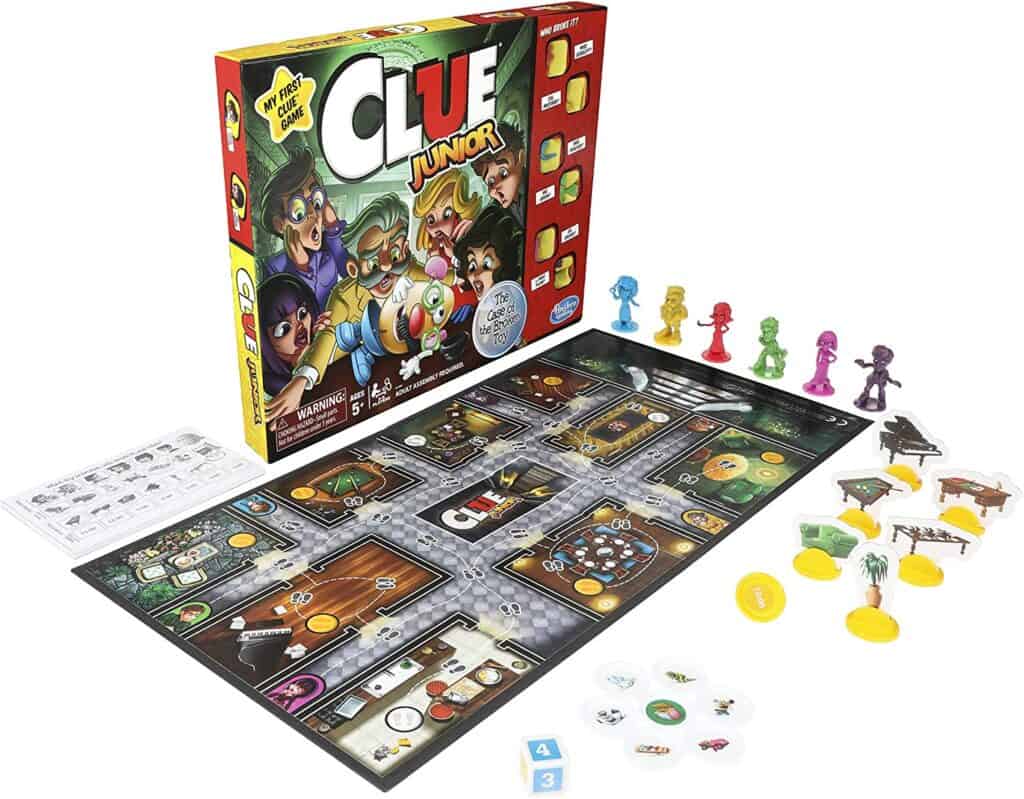 Clue Junior
Give the kids an introduction to a classic mystery game with this easier version that everyone is sure to love.
It's the case of the broken toy in this classic "whodunit" game for kids. In the Clue Junior game, players are on a mission to discover which toy is broken, who broke it, and when they did it.
As players find clues, they eliminate choices and eventually discover what happened.
Clue game with a twist for younger kids
Players discover who tbroke your favorite toy
Detective sheets help players keep track of clues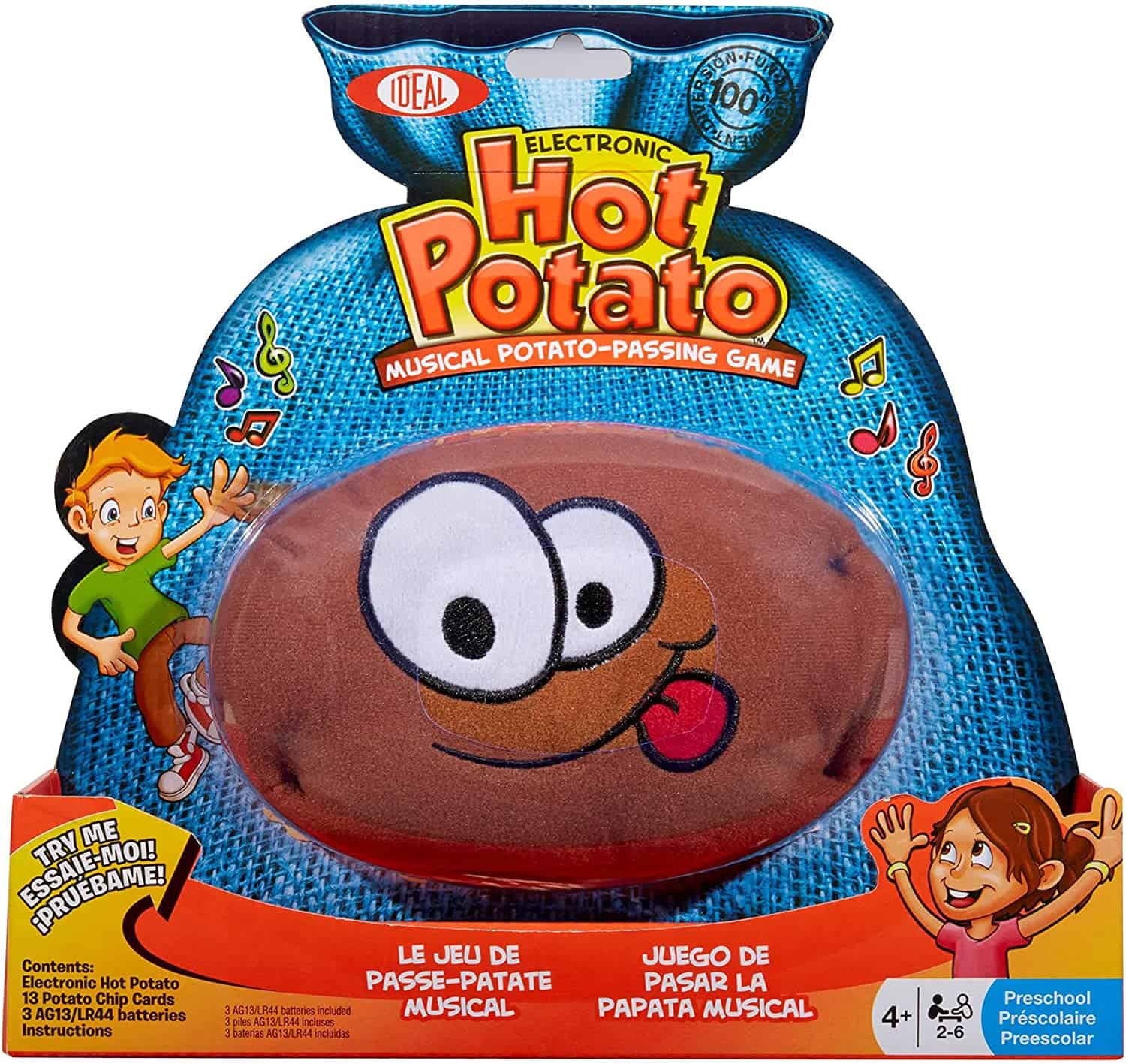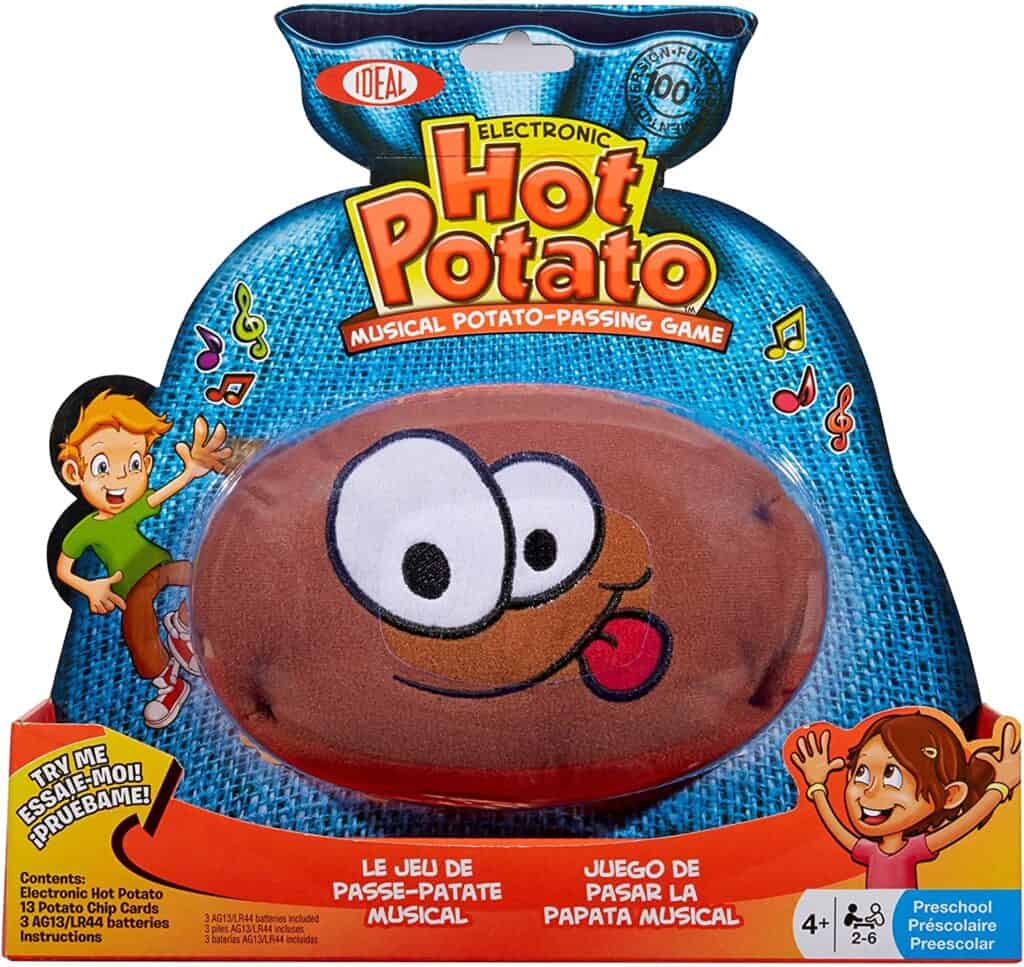 Hot Potato
Make game night an active affair with this hot potato game that is nothing short of a hoot!
Designed for 2-6 players, ages 4 and older. This musical game can be played by the whole family.
Just squeeze the Hot Potato to start the music and let the fun begin.
Pass the spud to the player next to you or even across the room.
Toss the tater back and forth, up high, down low, around and around, but don't get caught holding the spud when the music stops!
If you do, you have to take a potato chip card. Get 3 chip cards and you're out.
The last player remaining without 3 chip cards is the winner!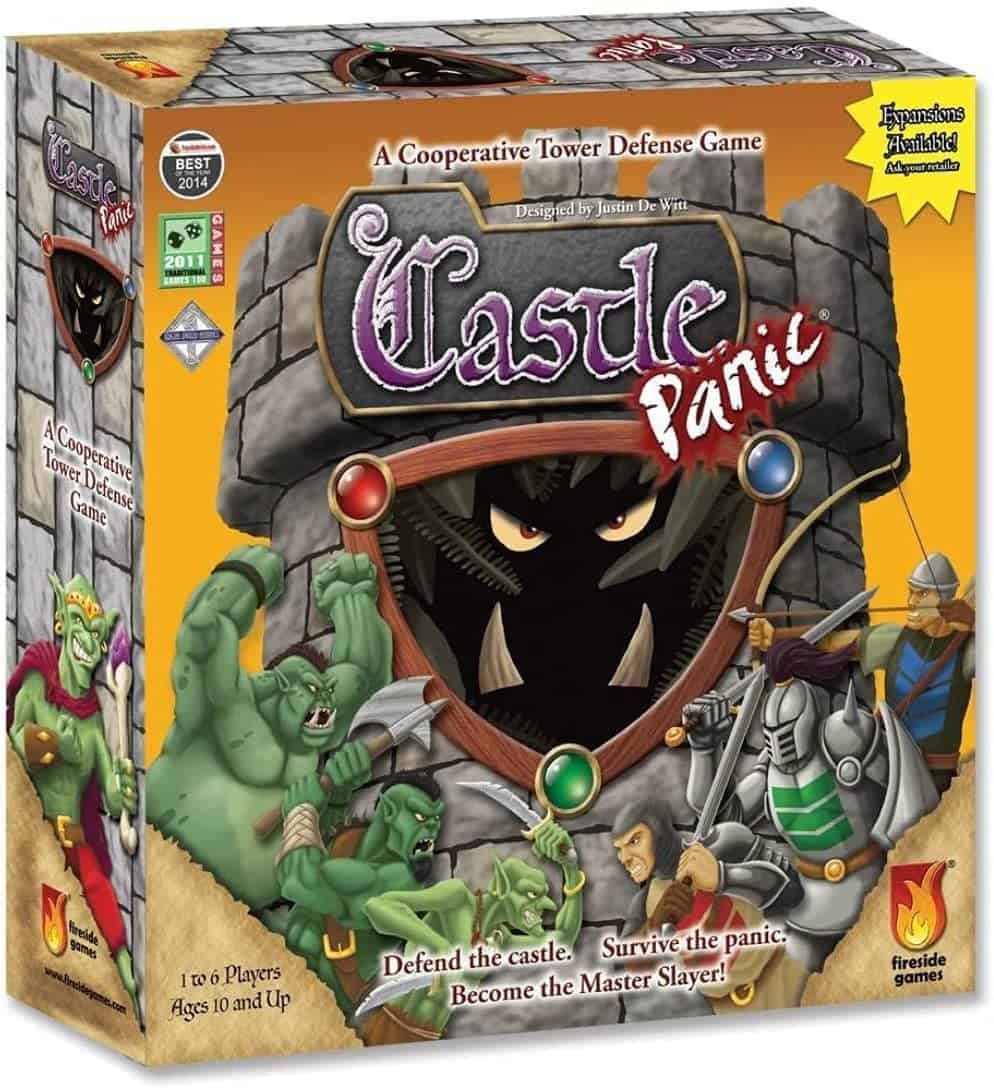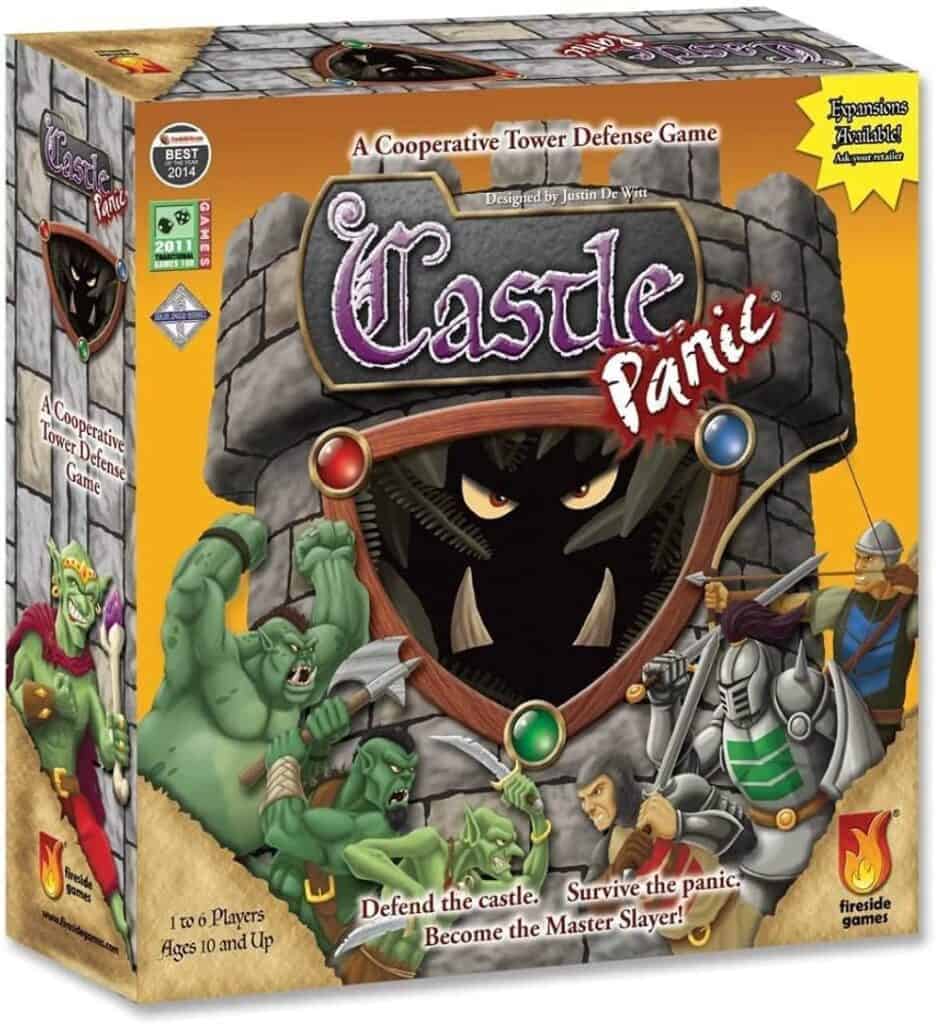 Castle Panic
Castle Panic is perfect for a crowd of players. Tweens and teens will have a great time gaming with friends with this one.
Castle Panic is a cooperative tower defense board game for 1 to 6 players, ages 10 and up.
The co-op element makes Castle Panic a great family game and the perfect kick off for your weekly game night.
You must work together to defend your Castle, in the center of the board, from Monsters that attack out of the forest, at the edges of the board.
Trade cards, hit and slay Monsters, and plan strategies together to keep your Castle towers intact.
The players either win or lose together, but only the player with the most victory points is declared the Master Slayer.
Players must balance the survival of the group with their own desire to win.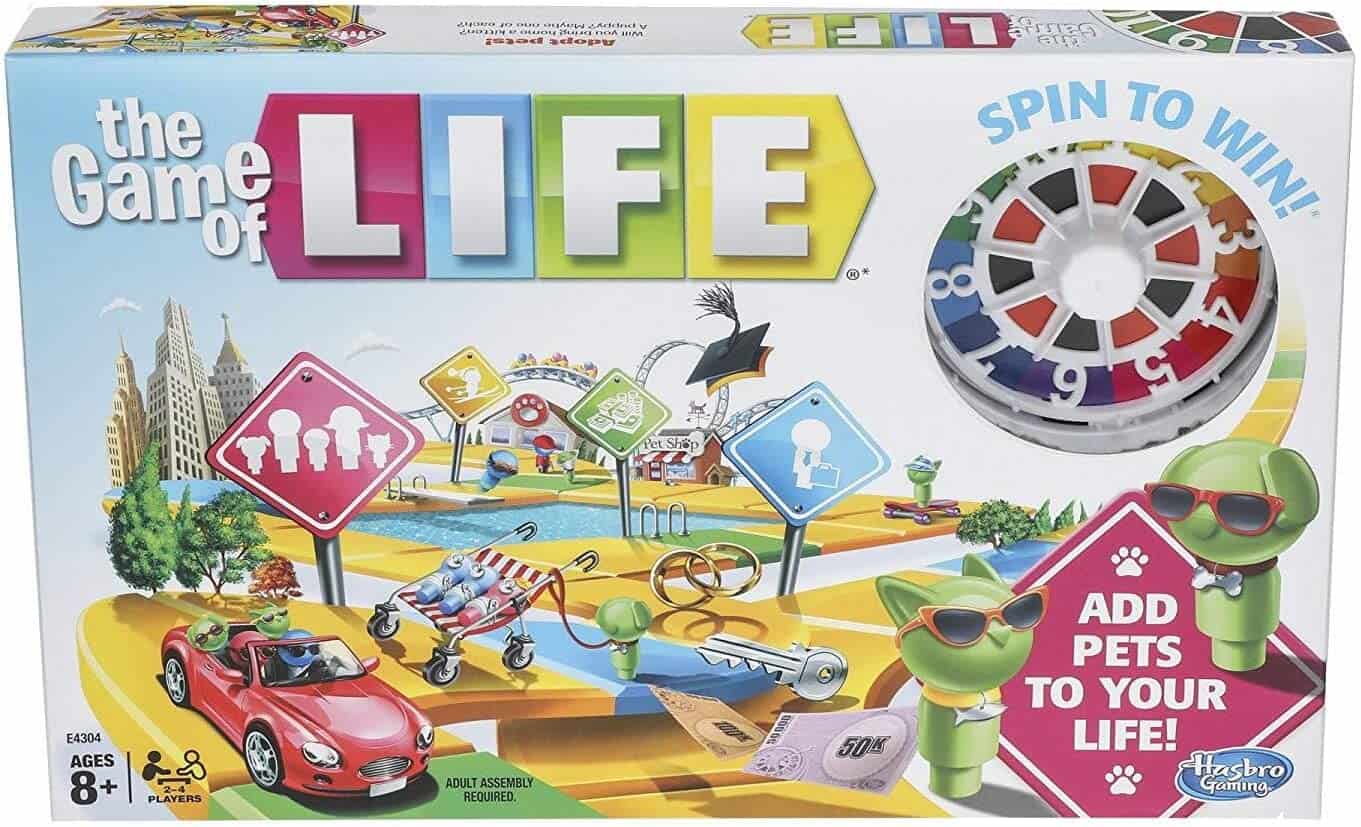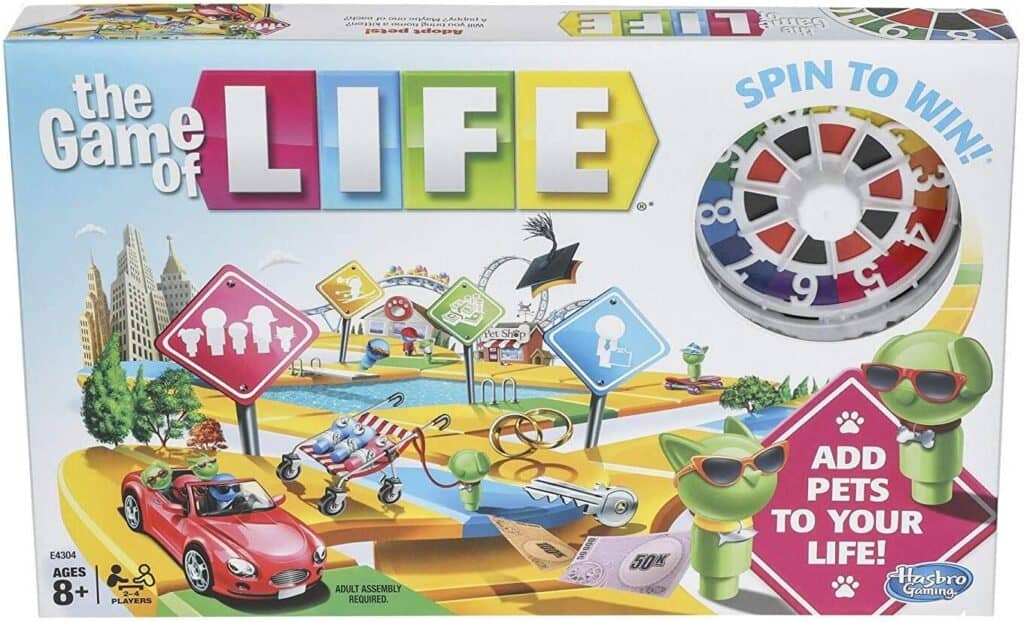 Life
This game was so much fun when I was a kid, so introducing it to my kids is sure to be a treat!
In The Game of Life game players choose a path and move their car tokens around the gameboard from Start to Retirement.
Who is headed for wealth and fortune?
Pick a path for a life of action, unexpected surprises, and dream vacations, but spend cash wisely because the wealthiest player at the end wins the game.
Experience life's most memorable moments
Choose a path for a life of action, adventure, and unexpected surprises
Players can adopt pets in this edition
Exciting for kids and adults to play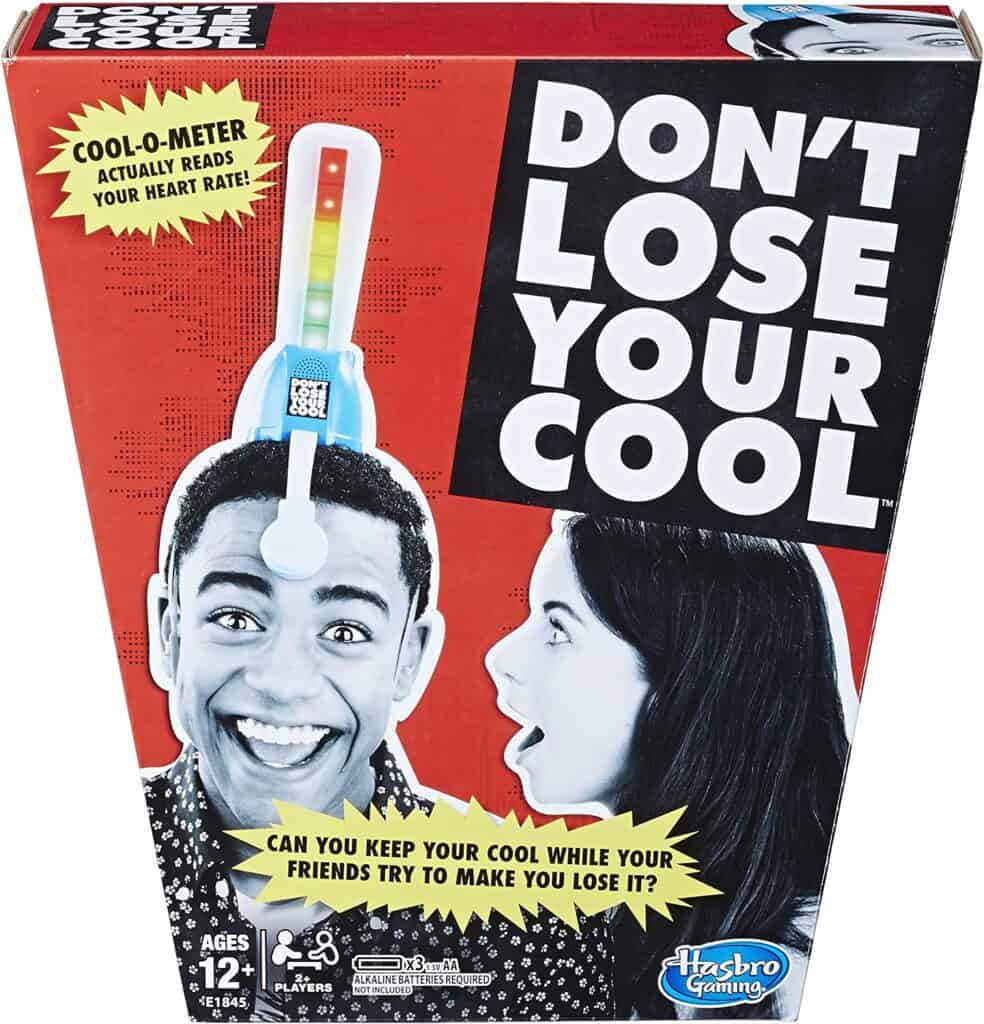 Don't Lose Your Cool
Can you keep your cool? This Don't Lose Your Cool game will test you, as the questions start to fly.
Inspired by viral challenges that have gathered billions of views, this game tests one's ability to stay calm under pressure.
Players wear the Cool-O-Meter that measures their heart rate, and the opposing team rolls the dice that will determine how they'll try to get the player to get flustered.
A change in heart rate effects the meter and when the meter gets high enough, the lights get to red, the alarm will sound, and the opponent wins for making that player lose their composure.
Lots of wacky ways to get opponents to react
Unit features lights and sounds
Stay calm or the alarm on the meter will go off
Includes Cool-O-Meter unit with built in timer, lights, and sounds, 3 action dice, and instructions. Ages 12 and up.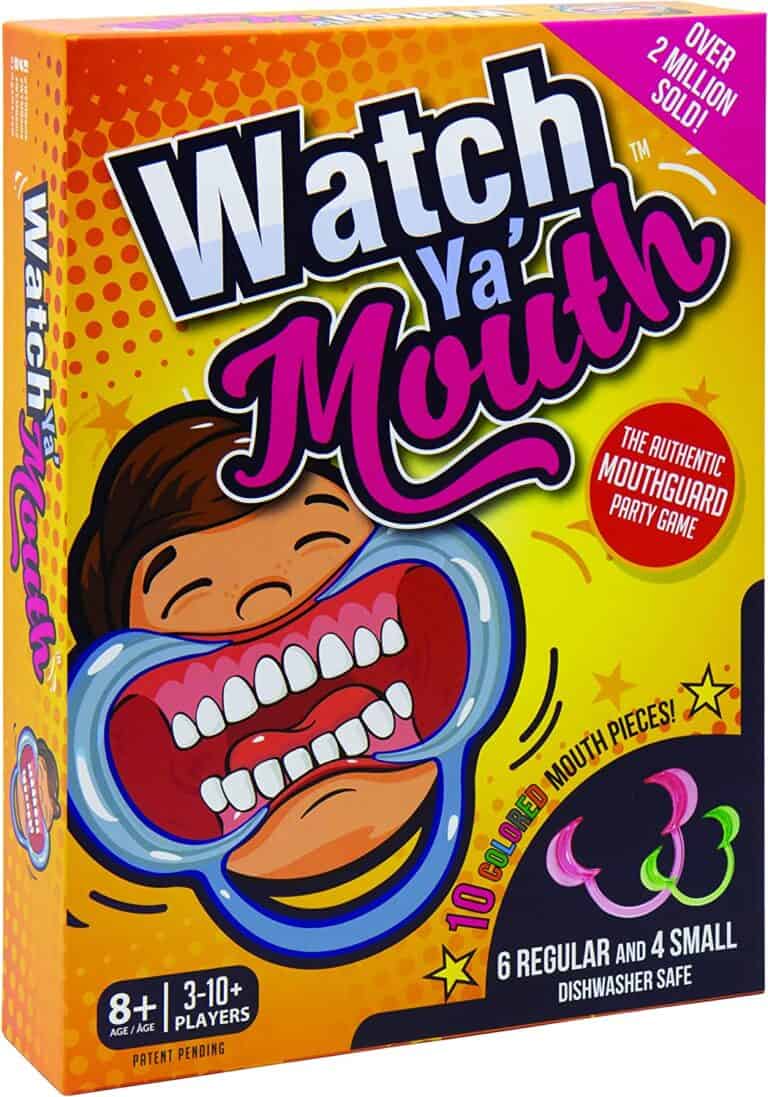 Watch Ya Mouth
This game is so much fun for the family. It will literally have everyone watching your mouth to lots of laughter.
Watch Ya' Mouth, Hilarious, Mouthguard Party Game.
In this laughter-inducing, competitive card-based game, teams of players, hampered by cheek retractors, attempt to read and interpret/speak out phrases and Hilarity ensues!
Good for Ages 8+, with virtually unlimited players (when played using our "Alternate" rule set), Watch Ya' Mouth is a must for any gathering, party, game night, or family night.
Be warned: Stomach-Cramping, Eye-Watering laughter is a very frequent occurrence.
Learn it in seconds, play it for hours, and create lasting memories with your friends and family.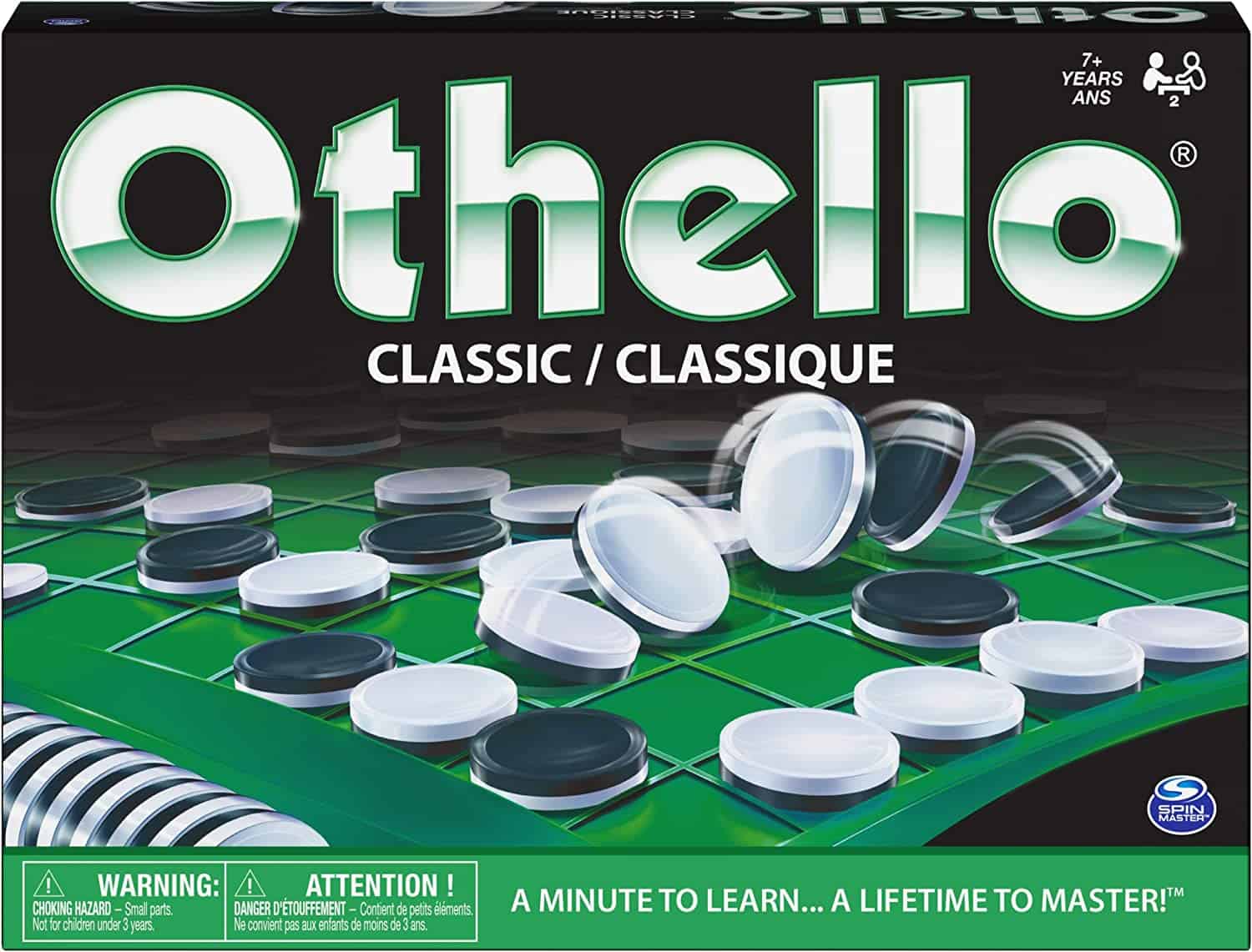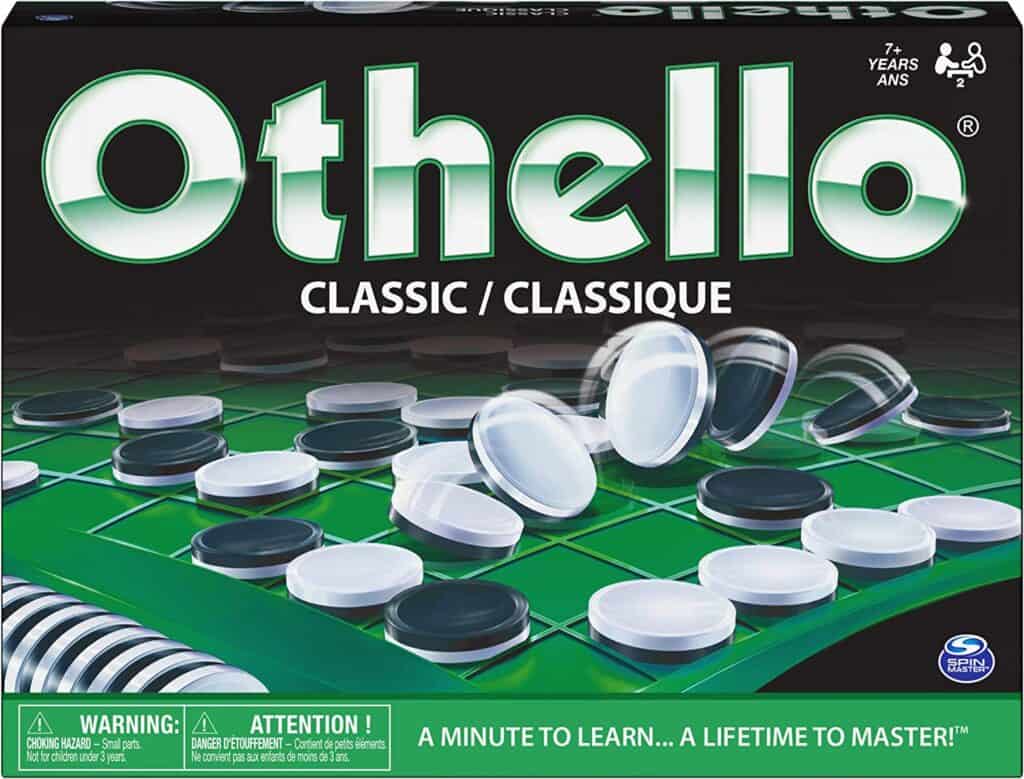 Othello
Introduce the kids to Othello and challenge their minds with this strategy game.
A minute to learn…a lifetime to master!
This classic, internationally acclaimed two-player light strategy game challenges you to out-think your opponent.
Trap and capture your opponent's pieces by placing your disks on the board.
This is the original, classic version of Othello that strategy game enthusiasts have come to love. This brain teaser game is perfect for a fun family game night.
It's the perfect 2-player game to enjoy with friends, for ages 7 and up.
Othello is a great tool for kids and adults to learn spatial reasoning and other math skills while having fun. It is an ideal game to increase your STEM readiness, while also enjoying an engaging pastime.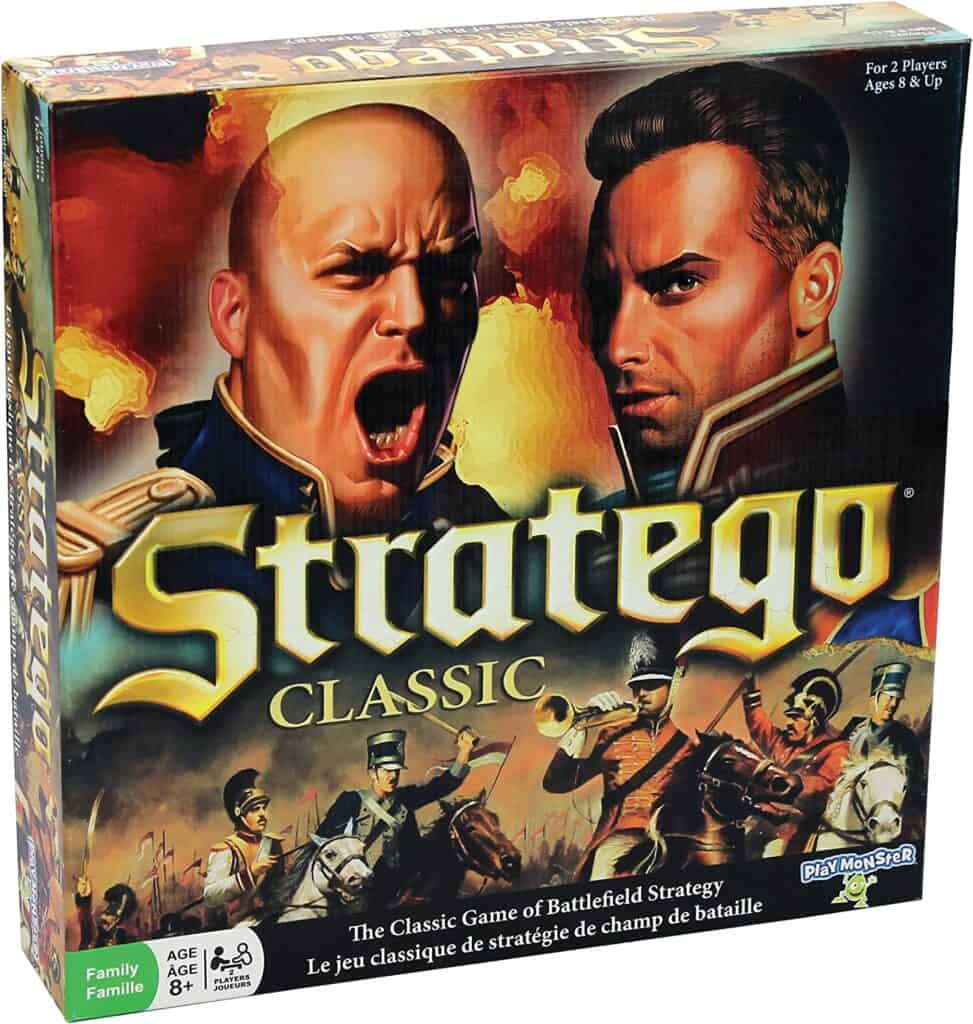 Stratego
This classic strategy game is the perfect way to pass a snow day with the family.
Two armies clash…who will be victorious?
Stratego is the classic game of battlefield strategy that has sold over 20 million copies worldwide.
For over 50 years, Stratego has thrilled strategy game fans by inspiring them to challenge an opponent and attempt to lead their army to victory.
Two players command armies and devise plans to deploy troops, using strategic attacks and clever deception to break through the opponent's line and capture the flag!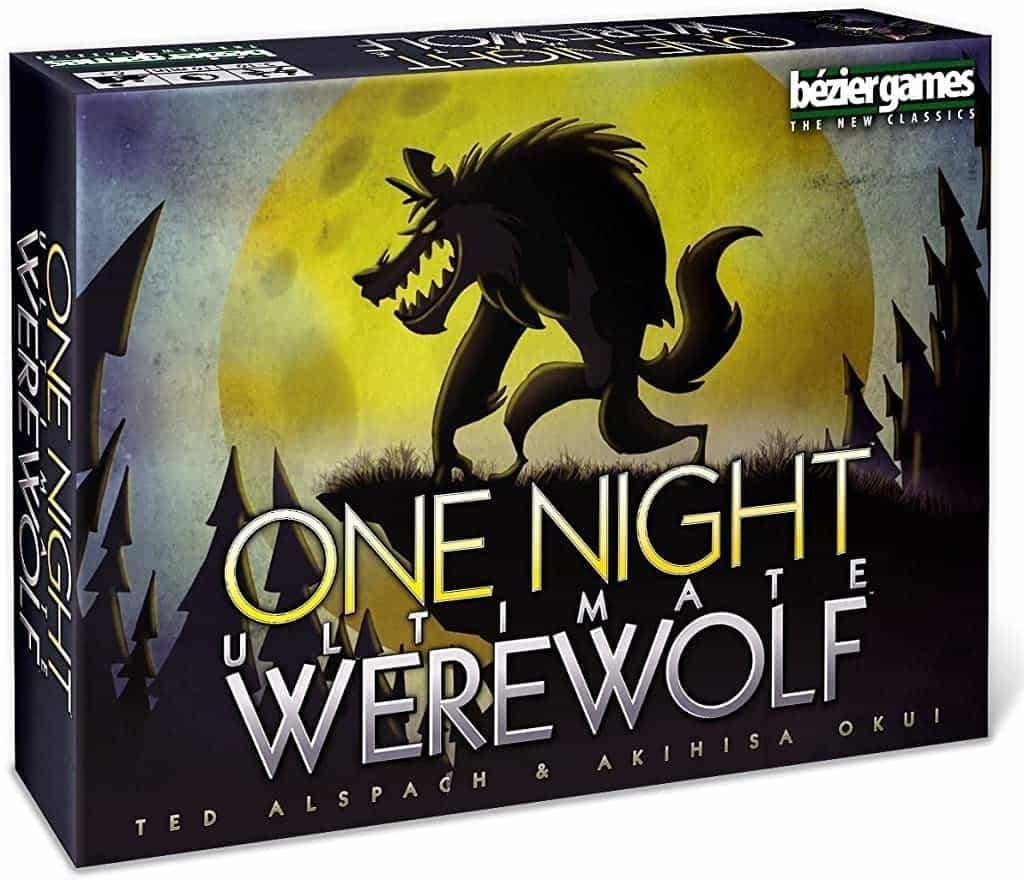 One Night Ultimate Werewolf
One Night Ultimate Werewolf is a total howl of a good time. This fun game is sure to be a favorite with your tweens and teens.
The 10 Minute Party Game You'll Play Again and Again!
One Night Ultimate Werewolf has so few rules, everyone will be up and playing in just minutes.
Each player is given a single card, which they secretly view, giving them a special power to help the Villager or Werewolf team.
Press a button on the free app, and it walks you through the night phase in minutes.
Then you have five minutes to discuss what happened at night, and figure out who the werewolves are!
If you find a werewolf, you win. ..but If you don't, they win!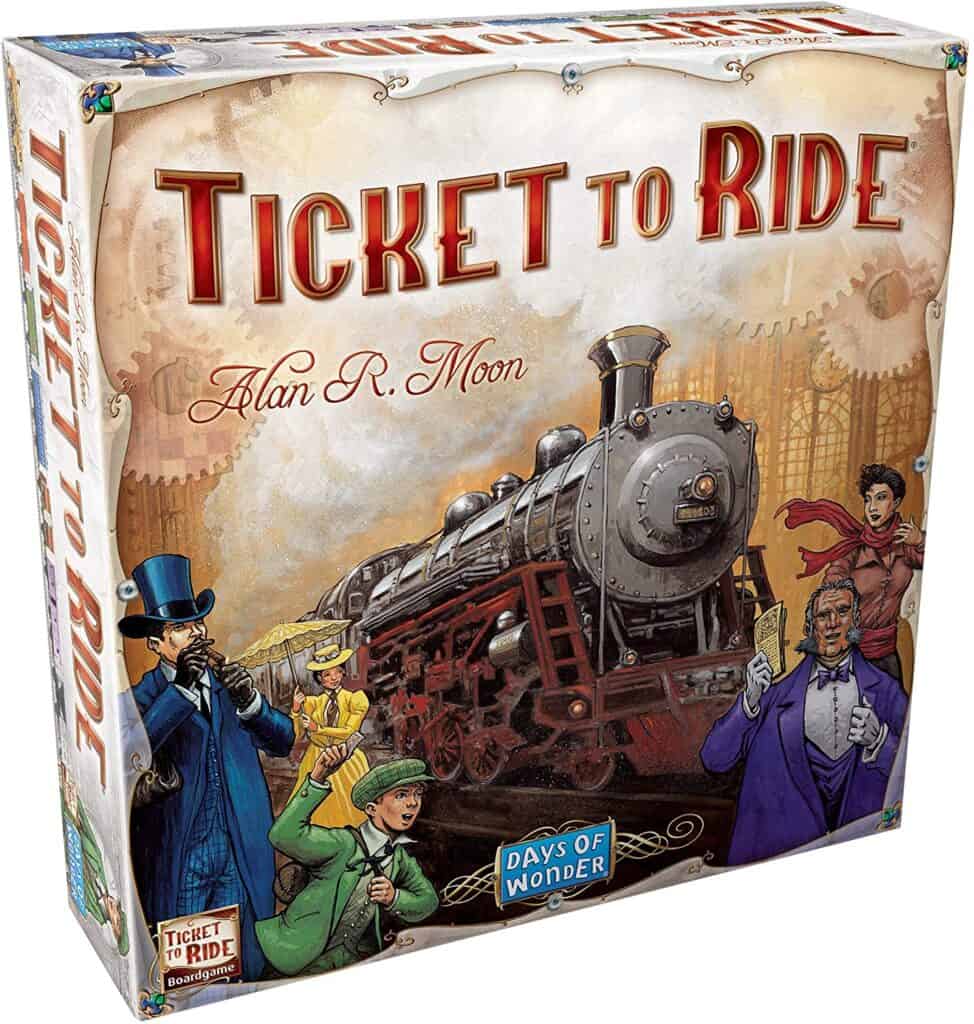 Ticket to Ride
Go on a cross country train adventure in this highly rated board game that involves strategy and a whole lot of fun.
Ticket to Ride is an award winning, cross-country train adventure game.
Players collect train cards that enable them to claim railway routes connecting cities throughout North America. The longer the routes, the more points they earn.
Additional points come to those who can fulfill their Destination Tickets by connecting two distant cities, and to the player who builds the longest continuous railway.
For 2 to 5 players ages 8 and older. Playing time: 30-60 minutes.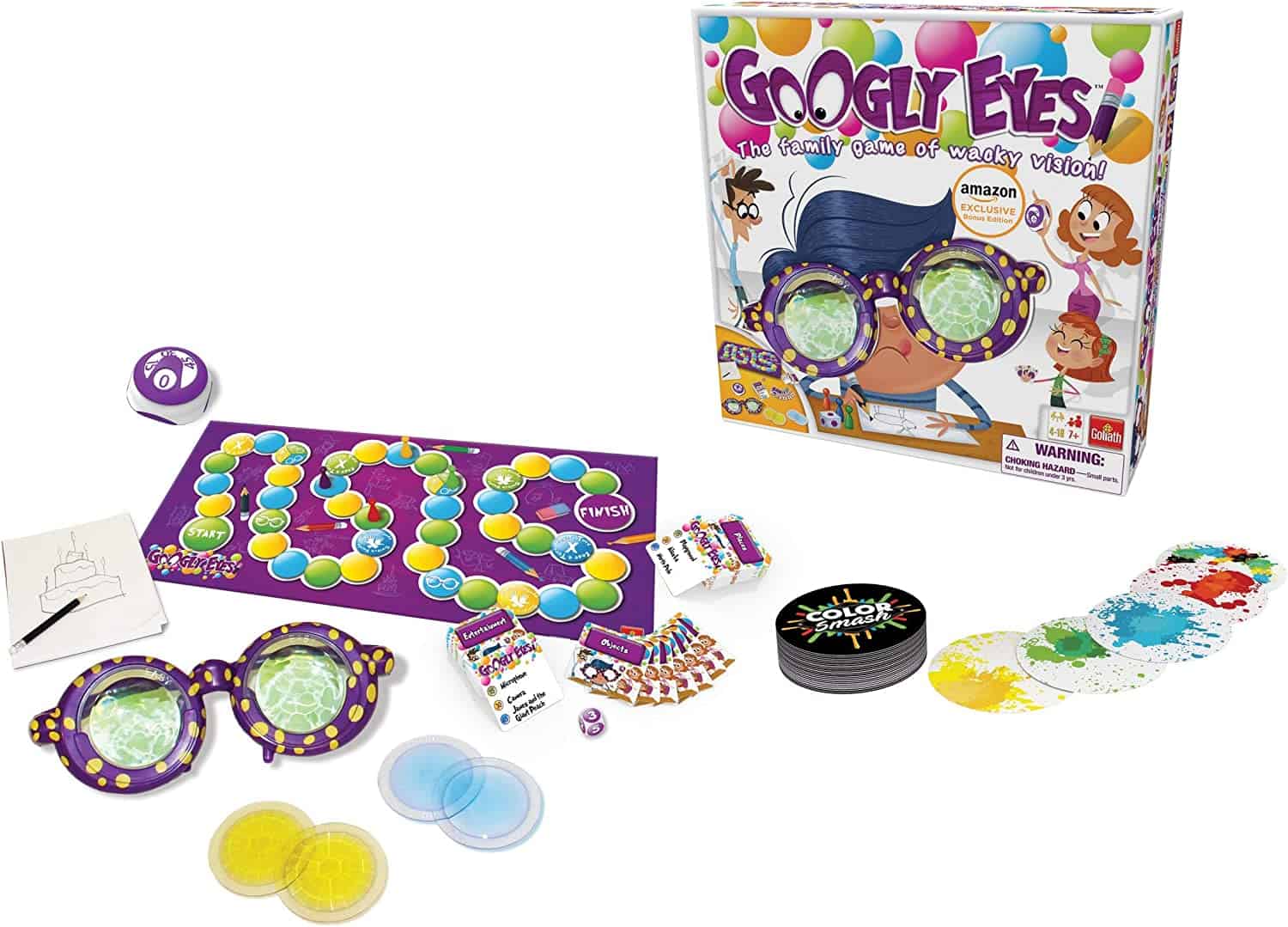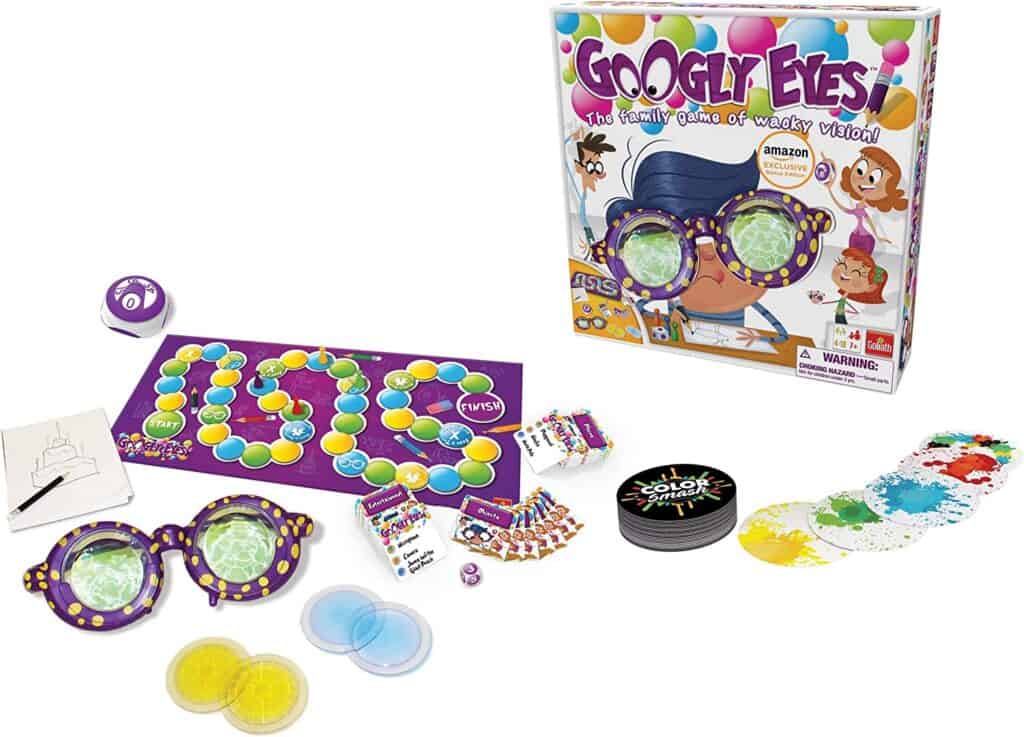 Googly Eyes
This game is a goofy good time to play with the family. You won't be able to resist putting on the googly eyes!
Googly Eyes is the hilarious family game that challenges your vision and leaves you googling for more!
Put on the zany vision-altering Google Eye glasses and start to draw while your team tries to guess what you're drawing Is that an igloo or a turtle? A birthday cake or a fortress?
Players take turns drawing and guessing so everyone gets a chance to wear the glasses.
The glasses come with three sets of lenses that range from mild changes to mind-blowing fun so no one can see (or draw) straight!
Googly eyes is a fun twist on classic drawing games that lets players of different ages and skill levels compete on equal terms since the goggles make it fun and challenging for everyone.
The first team to reach finish wins! For 4-16 players ages 7 and up.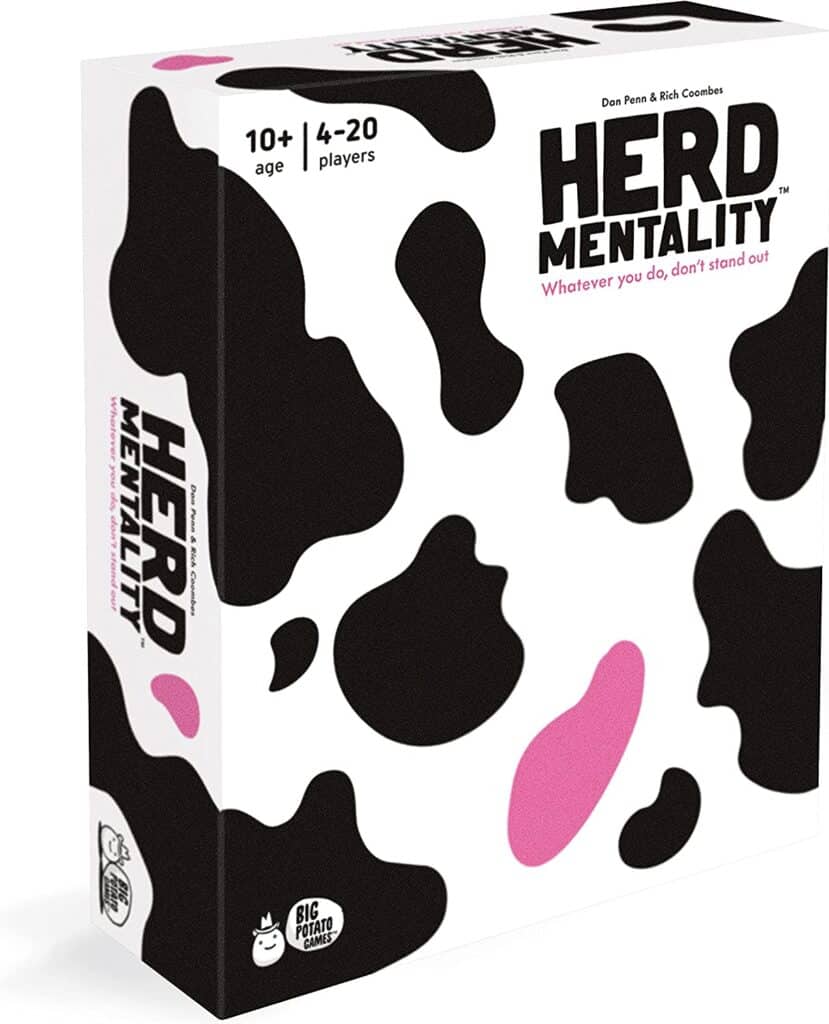 Herd Mentality
This Herd Mentality game is perfect for a party and the whole group can play and acquire their own cow collection.
Don't know the answer? Try to figure out what everyone else would write!
If your answer is in the majority, you win cows.

More Family Board Games
Monopoly – It's a Family Game Night staple! Players buy, sell, dream and scheme their way to riches with the Monopoly board game.
Sorry – Do you remember playing the Sorry game when you were growing up. Bring back memories playing the Sorry game with family members and introduce it to a new generation.
Dominoes – This classic table game provides hours of fun for the entire family, both kids and adults! Bring to your next family game night, weekend barbecue, or for rainy-day fun indoors! Every number combo is included from 0/0 to 6/6, perfect for traditional dominoes games.
Scrabble – Get family and friends together for a fun game night with the Scrabble board game! Put letters together, build words, and earn the most points to win.
Yahtzee – Roll it to the limit for the ultimate win with the Yahtzee Classic game. With a sleek shaker and 5 dice, you're ready to roll! Take turns rolling dice to try to score combos.
Racko – Each player is dealt 10 cards. Place cards in your rack in order, slot 50 down to 5. Turn over top card from the stockpile. Continue taking cards in turn, exchanging for cards in your rack.
Quirkle – Qwirkle Is A Fantastic Game For Families, As It Can Involve A Wide Range Of Ages, From Children To Adults.
Apples to Apples – This infamous wild card and party game provides instant fun for 4 to 10 players.
Trouble – Pop the dice in the Pop-O-Matic dice popper and see how far you can move! Race all four of your pegs around the game board, and head for your finish line as fast as you can!
Risk – Take over the world in this game of strategy conquest, now with updated figures and improved mission cards.
Sequence – Play a card from your hand, and place a chip on a corresponding space on the game board – when you have five in a row, it's a SEQUENCE.
Rummikub – Fast-paced, easy gameplay is ideal for people of different ages to play together.
Superfight – Use your cards to create ridiculous characters and then argue over who would win in a fight.
Unstable Unicorns – Unstable Unicorns is a strategic card game that will destroy your friendships but in a good way.
Blokus – The perfect strategy game for the whole family – Quick and easy to learn, with fun challenges for all ages
Uno – In a race to deplete your hand, match one of your cards with the current card shown on top of the deck by either color or number.
Connect Four – Challenge a friend to disc dropping fun with the classic game of Connect 4! Drop your red or yellow discs in the grid and be the first to get 4 in a row to win.
Scattergories – The Scattergories game is the fast-thinking game of words and categories.
Settlers of Catan – Embark on a quest to settle the isle of Catan! Guide your settlers to victory by clever trading and cunning development.
Mexican Train – Have a blast at home and enjoy this simple yet exciting game that everyone in the family will love. Great tool for teaching kids simple matching and math.
Sorry Sliders – Sorry! Sliders has put a fun, new twist on the all-time favorite game by turning it into a shuffle board game of sorts–where players slide their pawns to home, or slide their opponents pawns into the Sorry! spaces and off the board to win. 
Aggravation – It's The classic marble race game where 2 to 6 players compete. Opponents race around the board from base to home, disrupting each other's marbles in the quest to be first.
Payday – The classic game of Payday makes family finance fun as it reminds everyone just where the money goes. This is a game of making and spending money! You'll make money every month, but you might spend it just as fast.
Cranium – Players team up to cruise around the board completing activities in 4 color-coded categories: Creative Cat, Data Head, Star Performer, and Word Worm.
Quelf – Get ready for a hilarious, unpredictable games night! 
Wits and Wagers – The Wits & Wagers award-winning board game is the perfect gift for anyone who loves hilarious, unpredictable fun!
Skyjo – Try to get as few points as possible through flipping, trading and collecting cards over the course of several rounds. 
Password – Password Deluxe Edition is the fun party game where you get your team to guess the Secret Password using one word clues! 
Chameleon – A sneaky family board game of social deduction where players must race to catch the chameleon before It's too late.
Ungame – This non-competitive game allows players to share opinions, feelings and beliefs by asking simple questions of players.
Werewords – Fantastic family-friendly word game – Ages 8+ Plays 4-20
Splendor – Compete to build Renaissance Europe's most lucrative and prestigious jewelry business.
7 Wonders – Make the right decisions to lead your civilization to prosperity! Lead one of the seven greatest cities of Antiquity. Develop your civilization on a military, scientific, cultural, and economic level. Once built, will your Wonder bring you glory for millennia to come?
Eldritch Horror – Ancient evil is stirring across the globe. You and your trusted circle of colleagues must travel around the world, working against all odds to hold back the approaching horror. The end draws near! Do you have the courage to prevent global destruction?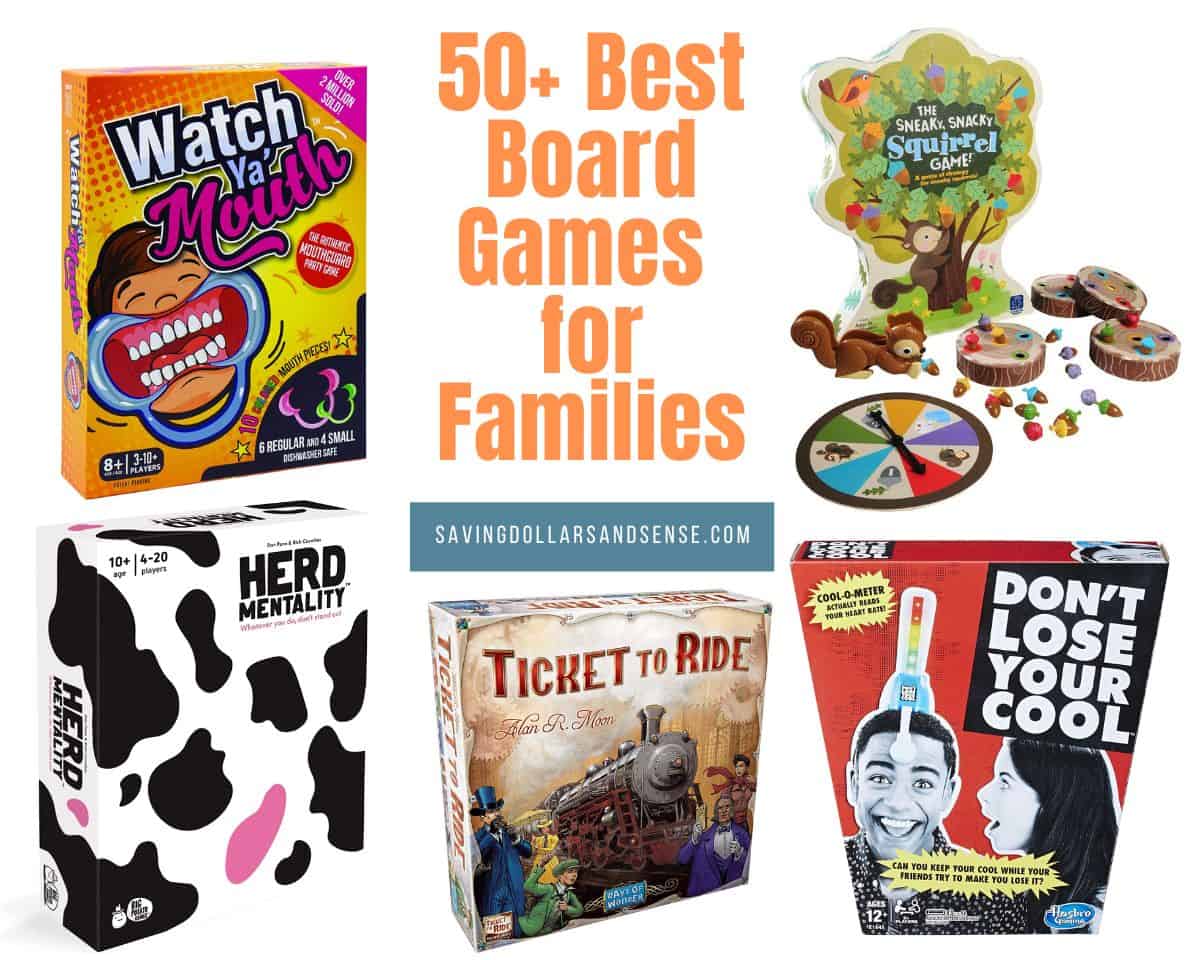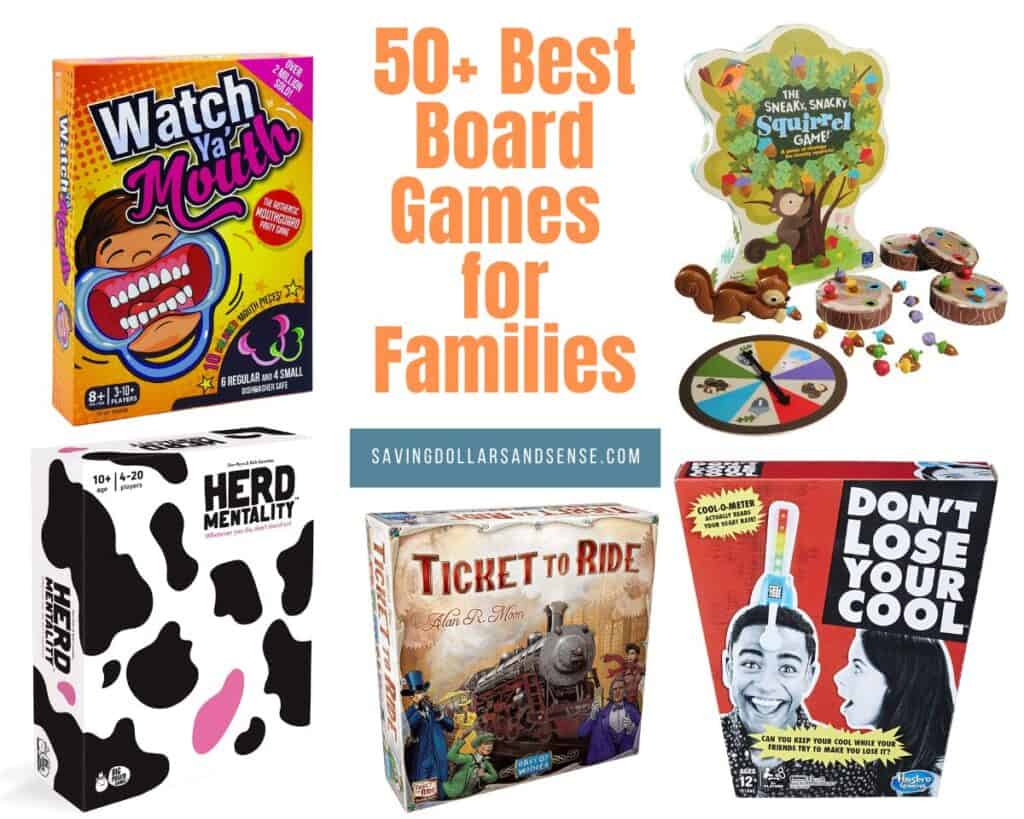 What are some of your favorite board games? Have you ever tried any of these ones out?
Share your thoughts and experiences in the comments below!