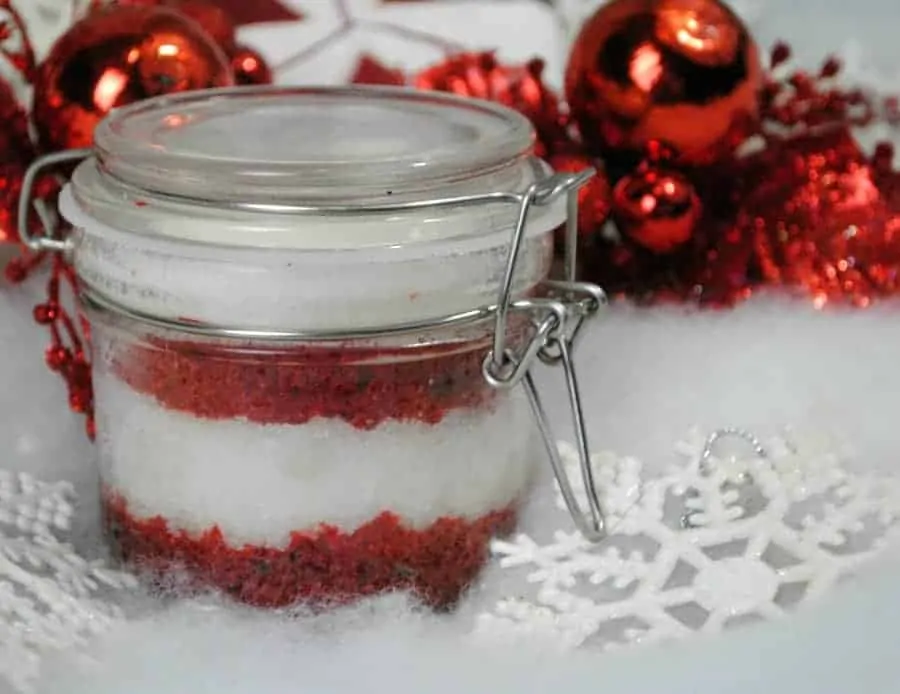 You can easily make your own sugar scrubs at home using a few simple ingredients.
These homemade sugar scrubs make really nice homemade gifts and don't cost very much to make. You can make a bunch using a few simple ingredients.
Sugar Scrub Ingredients
1 C white sugar
½ C olive oil
3 drops peppermint essential oil
Red Gel Food Coloring (You can leave this out if you don't want to color the sugar)
Small jar with a lid
Now let's make some Candy Cane Sugar Scrub.
Candy Cane Sugar Scrub Recipe
The first step is to combine the sugar and olive oil.
Gently stir to blend the two together then add the peppermint essential oil continuing to stir to mix the essential oils throughout the entire scrub.
Remove ⅓ of the prepared scrub and add the red gel food coloring. Stir well to make sure the color is mixed equally in the scrub.
Spoon 1/2 of the red sugar scrub into the bottom of the jar, using the back of a spoon to flatten out the red scrub.
Layer ½ of the white scrub on top of the red peppermint scrub.
Again using the back of a spoon to level out the white portion of the scrub.
Add the remaining red scrub on top of the white scrub. Level this out again using the back of your spoon.
Top this off with the rest of the white sugar scrub, level it out with you spoon.