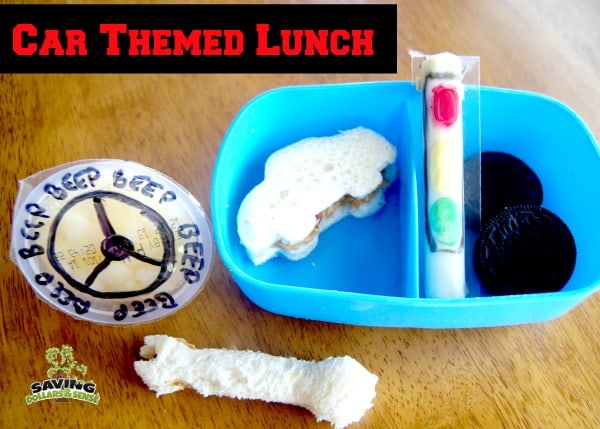 If your child is crazy about the Cars movies or just anything with wheels this lunch would be a vrooming success.
Transportation cookie cutters in general get a lot of mileage in our house .
Our car themed lunchbox today consists of a PBJ car and wrench, Spare tire's (Oreo's) , and a cheese stick turned traffic light with a few sharpies (and paint, I couldn't get the yellow to show up on the cheese), I used my sharpie again to turn a fruit cup into a steering wheel and horn.
Cookie cutters are a fantastic way to get some individuality into your child's lunch with minimal cost and effort.
For non-food uses ( I always wash in bleach water to sanitize) we use ours for play dough, tracing and paint stamping.
Investing in at least a few basic sets will give you a multitude of fun memories creating memories with your littles
Check out these other Back to School Lunch Ideas!