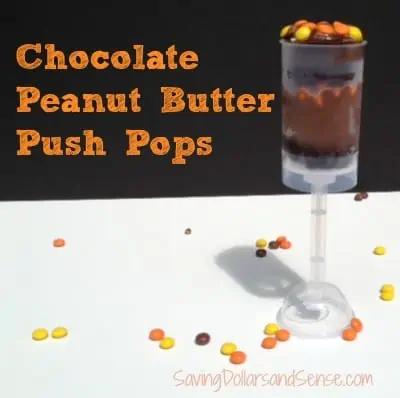 This Chocolate Peanut Butter Push Pops Recipe is SO easy!
Just like all of the other Push Pop recipes I've shared recently this one is super simple once you have a set of refillable push pop containers.
I started by baking up a batch of brownies. Any brownies will work, I used Betty Crocker because I just so happened to have a box in the pantry. Once the brownies were completely cooled, I used the push pop container to cut out the perfect size circles to fit the push pop containers.
*Saving Dollars and Sense Tip: Wait until the brownies are completely cooled or you will end up with a big mess and no circles 😉
While I waited for the brownies to bake, I made a batch of chocolate instant pudding.
Once the chocolate pudding and brownie circles were ready to go, it only took a couple minutes to assemble these chocolate peanut butter goodies.
I started with a brownie on the bottom followed by chocolate pudding and sprinkled a layer of mini Reese's Pieces followed by more pudding and topped with another brownie.
I used a small amount of chocolate frosting that I happened to have on hand to frost the top brownie. Then I finished it off by sprinkling a few more candy pieces on top.