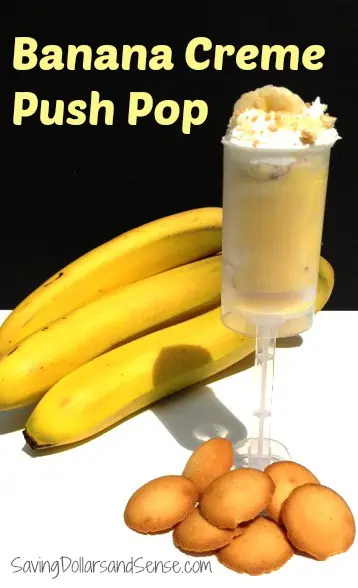 It is that dessert that made me think of this Push pop recipe. I left out the pineapple and made Banana Creme Push Pops!
First crush up some vanilla wafer cookies and make a batch of vanilla instant pudding.
Put a small layer of cookie crumbs into the bottom of the push pop. Follow with a layer of pudding and sliced bananas.
A second layer of pudding, cookie crumbs and topped with whipped cream. I added some more cookie crumbs and a slice of banana to the top for decoration.
Once you have a package of these refillable Push Pop Containers, it is only your imagination that will limit the number of treats you can easily make!
Here are some of the other push pops recipes I've come up with:
Strawberry Shortcake Push Pops