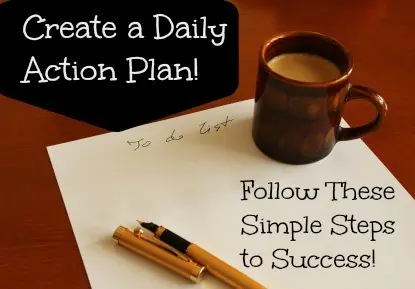 Several years ago I made one simple change to my life and it has a ripple effect on all of the other areas of my life. Below you can read all about the change I made and how it continues to impact the way I do everything else I do today!
Today marks the beginning of the first full week getting up at 5 am!
I shared last week about my unusual excited over the idea of waking up at 5 am each morning in this post Good Bright & Early Mornings, I've Missed You!
Actually I found myself naturally waking up over the weekend before 7 am each day. I guess it didn't take nearly as long as I anticipated to get my internal clock to join in the early rising fun.
I can tell you that getting up early is definitely going to help me get my life back in order again.
Before it was even 9 o'clock this morning I had already spent time in the word, made my special breakfast spinach smoothie, taken care of the pets, talked with my husband about the day to come, written over half of the days blog posts, checked my email, started my grocery list plan, put together a menu for the week, spent some time on Facebook & Twitter, and cleaned up the kitchen!
I'm not kidding when I say I kept looking at the clock and expecting to see it was already noon, but it wasn't even 9 am!
Beginning today I am writing down a plan of action that I will work from each morning that will include a few key things that I believe will make me more successful all around at life.
I want to see how much I can tackle before 9 am each day in the hopes that I will be able to reclaimed some lost time. I am convinced that I am able to far more than I am, and I want to challenge myself to see if I am right.
Before you sit down to make a Daily Action Plan of your own, please remember that your plan does not have to look like mine does. It should be custom to your life, abilities, and circumstances. This is not a competition, simple a challenge to see if there is a way to get more out of the hours we have been given each day.
How to Create Your Daily Action Plan:
Spiritual – What do you need each morning spiritually to get through the day? Write it down.

Relational

– Who do you need to connect with on a deeper level? Maybe call a friend, schedule a lunch date, send an encouraging note? Make a point to set aside time to connect with another person every single day! Write it down.
Personal – What do you need to do to take care of yourself? Exercise, take a morning walk, take a bath, or read a book? We all need to do those little things just for ourselves that we often set aside because we are so busy caring for others. What do YOU need today? Write it down.

Homemaking

– Which are of your home needs some attention today? Write it down.

Office Work

– Are there bills that need to be looked at, calendars that need to be updated, grocery lists written out, school matters that need attention? Write it down.
Kitchen Work – What can you do each day to make meal times easier? Menu planning, pantry organizing, freezer cooking? Write it down.
As you might have noticed, I am a firm believer that when we write it down we are more likely to accomplish our tasks. Maybe it is just because I love crossing completed projects off my list?
Are you a planner? Is this something you already make a habit of doing? Do you have any tips to share with the rest of us? Please feel free to share in the comments below!
This 14-day eCourse is designed it with every woman in mind — whether you're working, stay at home, married, single, or have kids or not.
If you purchase it and find it's not what you expected or doesn't live up to your expectations in any way, we are offering a 30-day money-back guarantee, no questions asked!
So, there's literally zero risk in purchasing this! Go pick up your copy here www.MakeOverYourMornings.com