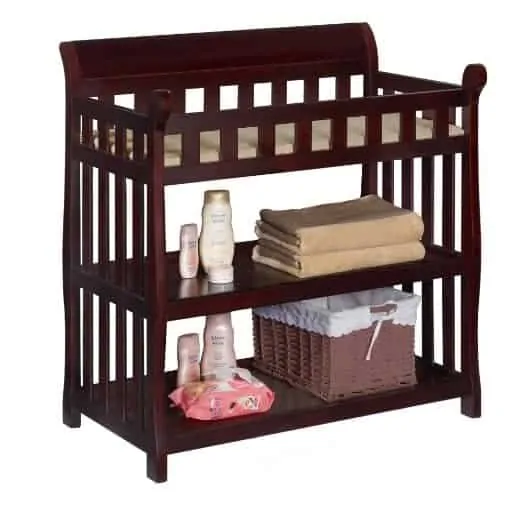 The Delta Children Eclipse Changing Table is the next product that we are sharing as part of the Saving Dollars and Sense Baby Products Reviews series.
See all of the baby product reviews here.
Diaper changes are an inevitable part of having a baby. What you change them on can vary, and not all changing tables are created equal.
The Delta Children Eclipse Changing Table can fit the needs of many moms and their little ones.
This changing table features two open shelves to keep things within reach as you change your little one. This is important because you never want to leave your child unattended on the table.
With the shelves you can store diaper-changing necessities including diapers, wipes, diaper rash cream, and lotion.
Additional items for the nursery such as blankets and extra changing pad covers can be stored on these roomy shelves as well. The distance between the shelves allows for storage baskets to be used to conceal the items and keep them out of your little one's curious hands.
The table offers a spacious top to give you plenty of room to lay your little one and a new diaper or clothing.
A changing pad comes with the table to give your baby a comfortable place to lie while being changed. The waterproof pad can be easily cleaned by wiping with a damp cleaning cloth, or replaced by standard sized pads if you prefer to use something else.
A safety belt also comes attached to the Delta Children Eclipse Changing Table to prevent injury or falls when using this table with your baby. Simply buckle your child in similar to using a car seat so he doesn't roll off the table. Top safety rails further the protection this table offers for a squirmy infant during a change of a diaper or outfit.
To coordinate with the other furniture in your baby's nursery, the Delta Children Eclipse Changing Table comes in a variety of finishes, including espresso cherry, black cherry, black, and white. Feel free to match the other colors in the room or mix things up for a fresh look.
Because the Delta Children Eclipse Changing Table has been JPMA Certified, you can rest easy knowing you are purchasing a baby product has been through lots of testing for safety and quality. To receive this certification, a product must meet or exceed high standards set by the ASTM.
The Delta Children Eclipse Changing Table does require some assembly before use in the nursery, but the instructions included are easy to read and straightforward.
This table is also covered by Amazon for free replacement parts, should you need them.
This post is part of a series of Baby Product Reviews:
Boba 4G Carrier Review
Britax Travel System Review
DaVinci Kalani 4-in-1 Convertible Crib
Levana Jena Digital Baby Video Monitor