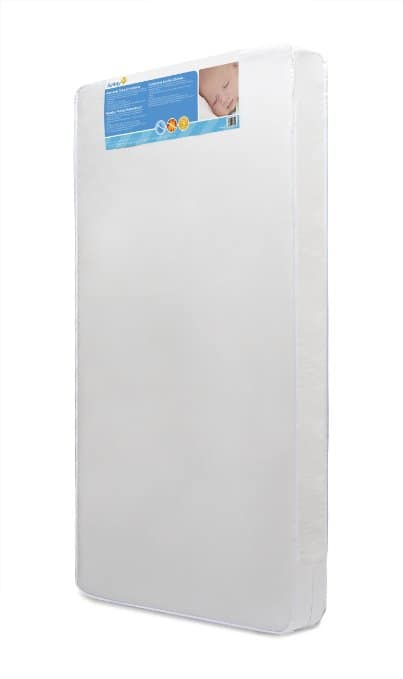 This Safety 1st Heavenly Dreams White Crib Mattress is perfect for the DaVinci Kalani Convertible Crib I shared with you a little while back.
We all want to give our babies a safe and comfortable place to rest their tiny bodies at night. With infants sleeping more than they are awake each day, it's important to choose a crib mattress that protects them while they slumber.
The Safety 1st Heavenly Dreams White Crib Mattress is one such mattress to fit these needs.
Your little one will not break out in sneezes or a rash due to this crib mattress since it is hypoallergenic. It has also received the GREENGUARD Gold certification, meaning it wasn't made with harmful chemicals that could create a hazardous sleeping condition, or hinder the air they breathe in while asleep in the crib.
The mattress' vinyl outer cover protects against diaper blowouts or spit up, increasing the lifespan of the mattress. The material is durable and resists tears or damages as you move it for sheet changes or to use in a different bed.
While the vinyl is durable, it doesn't harbor unpleasant odors from these accidents either. It is easy to clean with a cleaning cloth as needed. You can also remove the cover with a convenient zipper, should you need to do a heavier cleaning or want to let it air out before baby's bedtime.
Inside this crib mattress, the high-density thermo-bonded fiber core provides a firm and supportive bed for your baby, which they need when they are little. They don't need a soft mattress like older children or adults, so the firmer, the better.
Over time, you will notice that there is no sagging or impressions with this mattress, even if you lay your baby in the same position and location every single night.
Changing the sheets on the Safety 1st Heavenly Dreams White Crib Mattress doesn't take much, due to the lightweight nature of this item. It is also sturdy enough to be used throughout the entire time your infant is in a baby bed, or even a toddler bed!
The Safety 1st Heavenly Dreams White Crib Mattress offers a standard size that fits most baby cribs or toddler beds. It also fits standard crib and toddler bedding sheets.
This extends the life of your mattress and its usage so you get more bang for your buck.
Purchasers of the Safety 1st Heavenly Dreams White Crib Mattress on Amazon have been happy using this mattress with their babies. It currently has over 2,000 customer reviews, with a 4.3 out of 5 star rating.
Most are happy with the affordable price, waterproof cover, and how lightweight this crib mattress is.
This post is part of a series of Baby Product Reviews:
Boba 4G Carrier Review
Britax Travel System Review
DaVinci Kalani 4-in-1 Convertible Crib
Levana Jena Digital Baby Video Monitor