If you are thinking about taking dad out for for a meal this Sunday, check out the deals for Father's Day restaurants are offering this year!
You'll find something for every size budget in the Father's Day restaurant specials listed below.
You can still treat dad to breakfast, brunch or dinner and save money too when you use one of the restaurant specials below.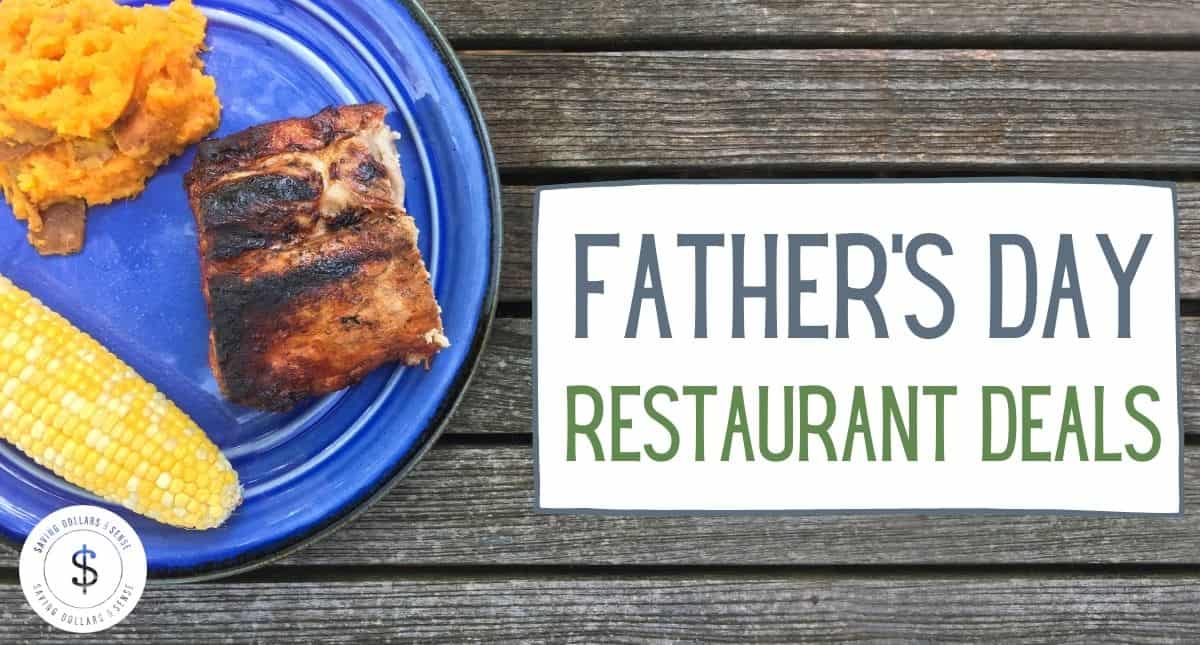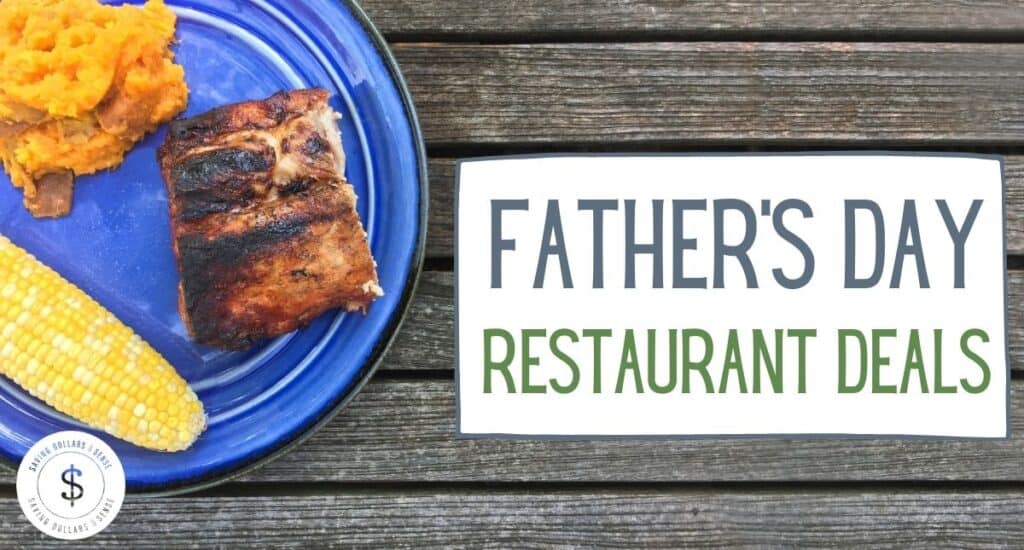 You can preorder a Father's Day Caribbean Bundle (serves four), with entrées like Baby Back Ribs and Jerk Chicken Pasta. These bundles come fully cooked and ready to serve.
From now through Father's Day, buy $50 in eGift Cards and get a $10 bonus card valid from June 21 through July 11.
This year, take dad out for a Filet & Lobster Tail entree and pair it with the Smoked Old Fashion. Bonefish Grill also has plenty of other seasonal specials to choose from, including Key West Tuna, Shrimp Rangoon Salmon and more.
Celebrate Dad on June 20 with Lt. Dan's Surf & Turf that comes with Lt. Dan's shrimp, ribs and fries.
Make a reservation to dine out at the Capital Grille or preorder a Steak Grille Box for at-home cooking. Your box options include bone-in prime ribeye, dry-aged bone-in NY strop or a combo of both. You can order sides, too.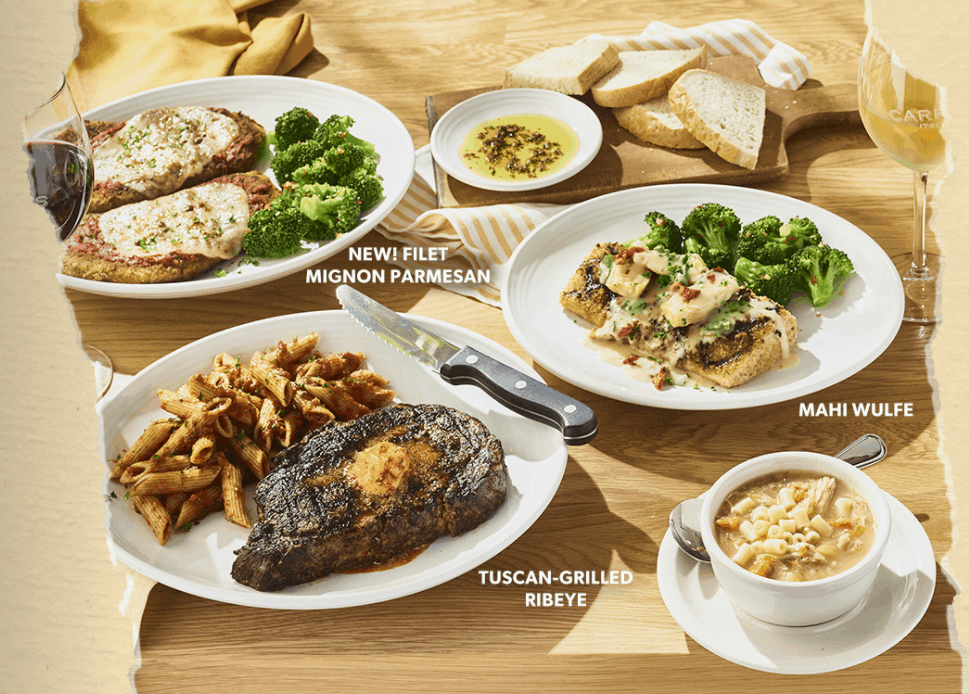 The Summer Selects menu is in effect starting June 15. Options include the new Filet Parmesan for $19.99, as well as other featured entrees.
Order a scratch-made Family Bundle to go (starting at $24.99) for pickup. Choose from entrées like chicken tenders and grilled salmon and add your choice of sides and, for $6.99, a hot fudge cake sundae.
Chili's
From June 19 to 21, treat Dad to a 6 oz. Sirloin or lunch portion of Chicken Fajitas on the 3 for $10 menu. Available for Father's Day weekend only, the specials include a non-alcoholic drink and starter.
Last year, you could treat dads to one adult entrée for full price and receive another for free, available for takeout and dine-in.
Order one of their delicious Family Meal Baskets, that include buttermilk pancakes and hand-breaded chicken, all available for carry-out, curbside pickup or contactless free delivery.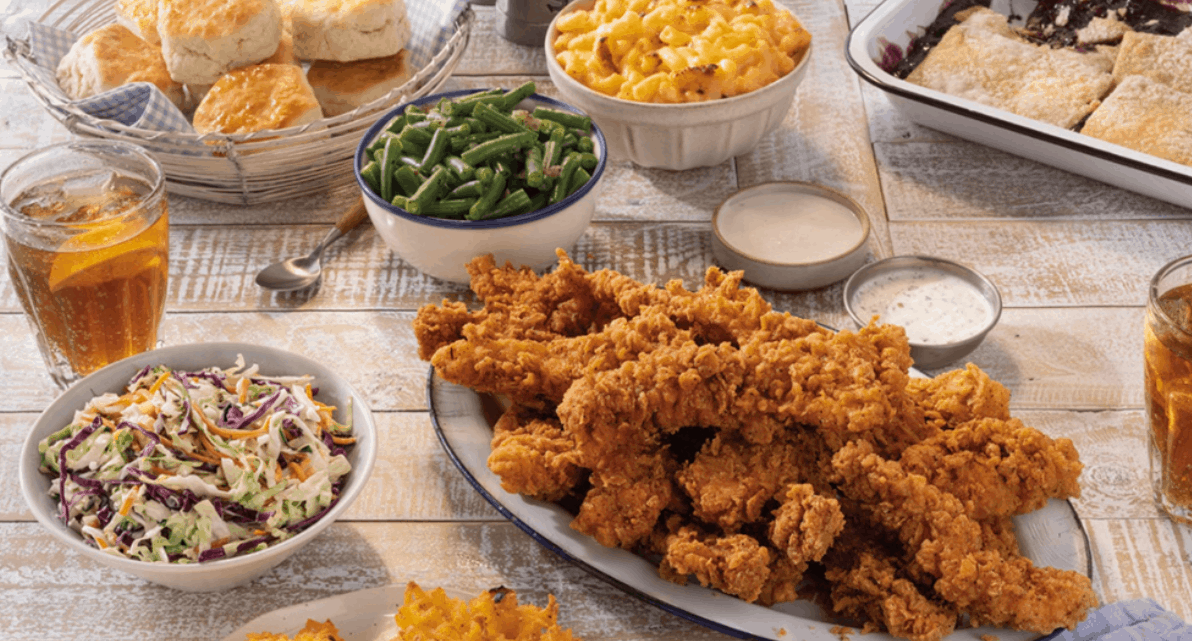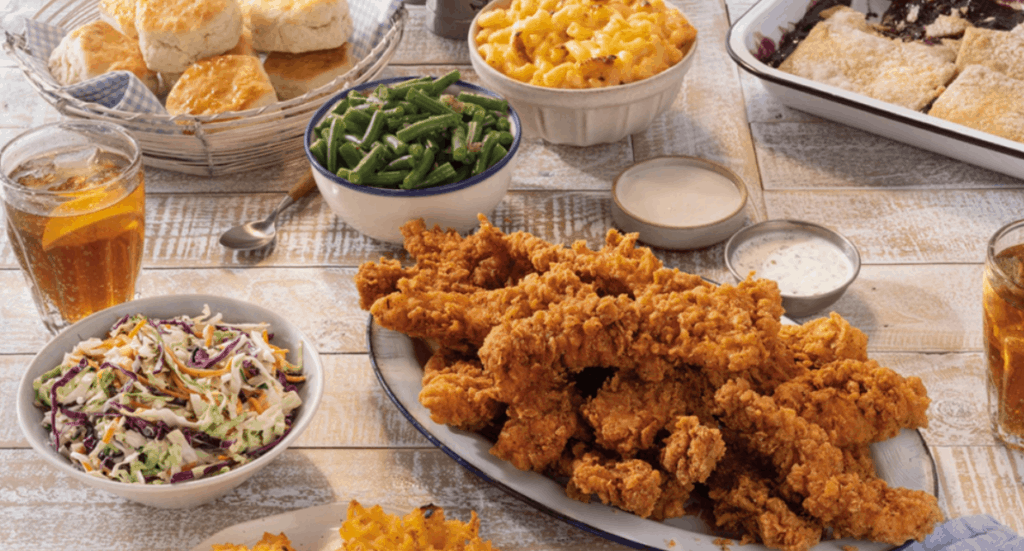 In restaurants only, order a bone-in filet, special for Father's Day. The regular menu will be available, too. Or, opt for a lowkey Father's Day dinner at home and order from the Black Tie Marketplace, which offers prime steaks and seafood prepped for grilling.
Get $2 off breakfast sandwiches from June 17 to June 20. Dad can choose from the Chorizo Avocado Sunrise, the Farmhouse Sandwich and other hearty breakfast fare, depending on what he's craving. Plus, get 20% off all digital gift cards (which make perfect Father's Day gifts).
Not only will Flemings open at noon on Father's Day, but you can also treat Dad to a Prime Bone-In Ribeye & Lobster three-course meal ($100 per person) from June 19 to 21. They are also offering a Filet Mignon 3-course menu paired with your choice of Lobster Tail Scampi or Crab-Stuffed Shrimp.
From now through June 15 at 2 p.m. EST, order a Father's Day meal ($49.99–$99.99) online to pick up in store from June 18 to June 20. Choose from their Father's Day Ultimate Kabob Meal or the Father's Day Tomahawk Meal.
Order a Joe's Family Meal that comes with salad, broccoli and your choice of french fries or mashed potatoes. From $10 per person.
Last year, they were offering a Cold-Prepped Father's Day Bundle for $99 that feeds four people and includes items like mini meatballs, Mom's lasagna, fettucine alfredo, New York-style cheesecake and lemon cookies. Let's see if they offer this again!
For every $25 you spend through June 29, you'll receive a reward code worth $5 off a future purchase. The code can be redeemed between June 30 and Aug. 31. So take Dad out to lunch and get $5 to treat him again this summer.
Opt for in-restaurant dining, curbside pickup or to-go and enjoy casual-dining favorites, including the All American Burger and Sticky Chicken & Waffles.
All locations nationwide will offer free meals for children under the age of 12.
Last year, you could order a three-course meal starting at $59 per person that includes a choice of soup or salad, entrée and dessert from a select Father's Day menu. Hopefully they offer this again, so make a reservation or choose a to-go or delivery option.
Feed the whole family with Family-Size pans of chicken parmigiana, fettuccine alfredo and more. Prices start at $34.99. Or, opt for a Family Bundle, which includes a large pan of Classic Lasagna, a jumbo house salad and breadsticks starting at $49.99.
Omaha Steaks
Take home their Father's Day Favorites from just $159.99. And stack the savings with 20% cash back for online purchases through RetailMeNot.
Last year, they invited you to treat Dad to the biggest, juiciest bone-in steak specials available for Father's Day. Options included the new short rib, bone-in natural cut ribeye and pork porterhouse.
Get 25% off regular menu-priced items for delivery or pickup through the end of June when you use code 25OFF at checkout.
On June 20, order Perry's reinvented 16 oz. Caramelized Prime Rib–like no other prime rib–for $49.50 plus brunch cocktail specials and more! They are opening at 11 a.m. with their dinner menu available all day.
Treat Dad to the Prime Ribeye Surf & Turf, specialty cuts, or another one of his favorites available for dine-in, takeout or delivery at select locations. Plus, select locations will open early at 11 a.m. on Father's Day!
Order The Green Box, which gets you a three-course Father's Day dinner to go for four to six people. Build your box by choosing from a variety of options, including choice of a whole side of cedar-plank roasted salmon or wood-grilled beef tenderloin. Tie it all together with salad, side and dessert options. The regular menu is also available all day for dine-in guest, so make a reservation.
Get free delivery all Father's Day weekend long (June 17 to 20) when you order delivery via Schlotzsky's website or app. You must place an order of at least $15 to get this deal.
Last year, you could celebrate Dad with a to-geaux/curbside bundle ($35) that included an appetizer trio and either a gallon of frozen margarita mix or a six pack; dine-in bundle ($10) that comes with a Buffalo Chicken Sandwich and option of a margarita or beer; or a retail bundle ($29.95) that comes with a rectangle patch hat, koozie and bottle opener. Stay tuned to see if they offer this again!
Through June 28, buy one Honey BBQ Chicken Strip Sandwich and get a second one free when you order online or through the app. You can also get a free $5 restaurant gift card when you make a purchase at the Whataburger store and use code DAD at checkout.
Yard House is offering 64-ounce beer growlers to go in select locations, with options like House Honey Blonde, House Golden Pilsner, Yard House Cuvée and more.
Thanks to Sara for helping to compile this list of Restaurant Deals for dad this year.