If you are thinking about taking dad out for for a meal this Sunday, check out the deals for Father's Day restaurants are offering this year!
You'll find something for every size budget in the Father's Day restaurant specials listed below.
You can still treat dad to breakfast, brunch or dinner and save money too when you use one of the restaurant specials below.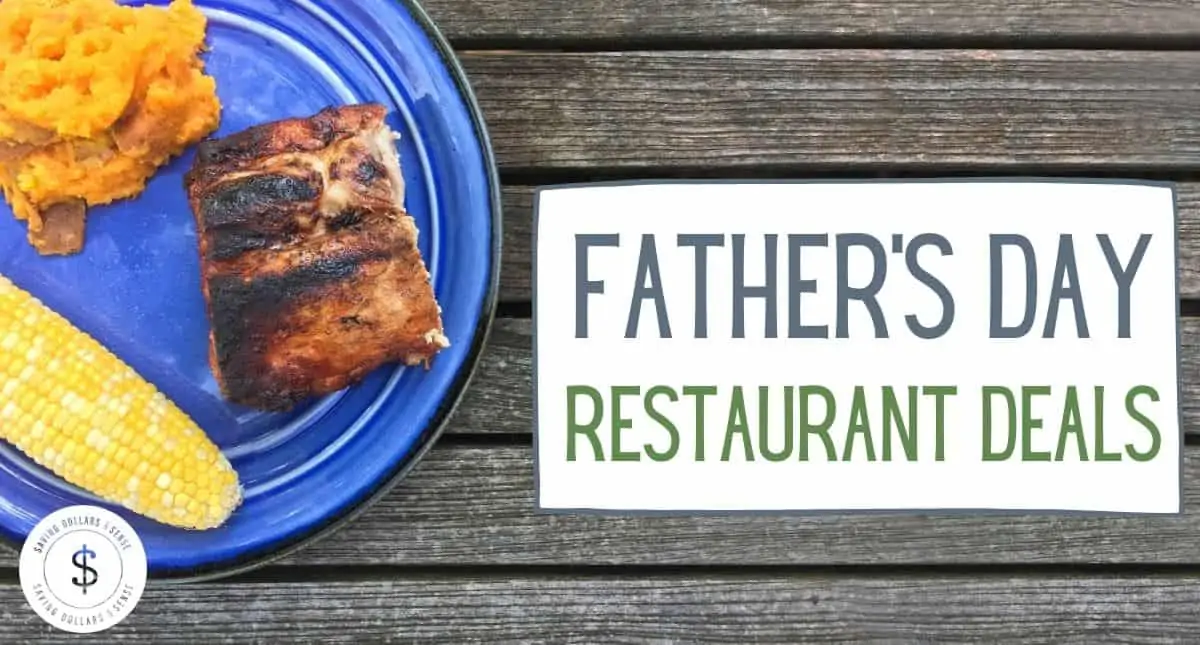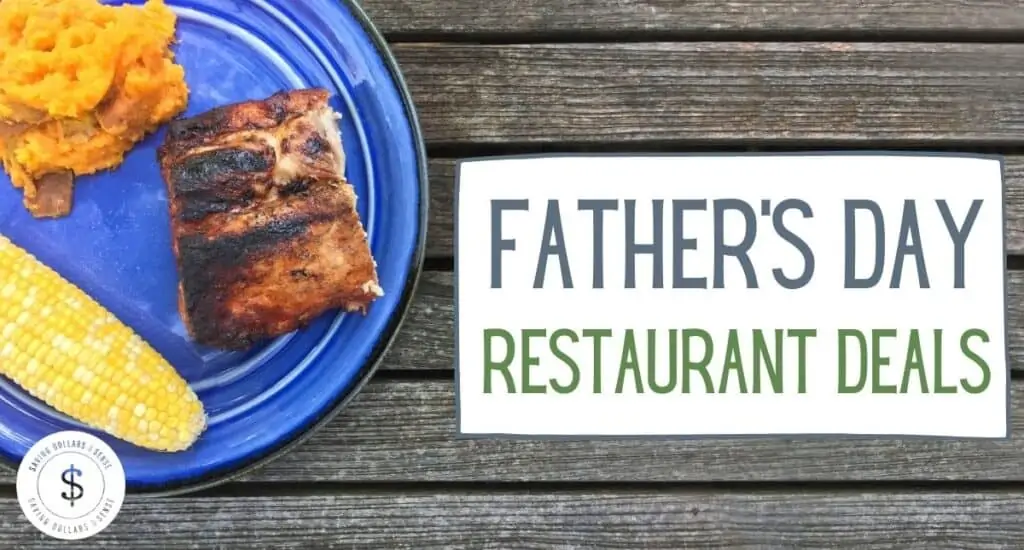 Get Dad a gift card for $50 from Applebee's and score a FREE $10 bonus card. Gift cards that come with a $10 bonus card are available for purchase until June 26, and the bonus cards are valid until August 7
Throw on a lei and serve Dad a Caribbean Bundle from Bahama Breeze on Father's Day (be sure to snap some pics).
Offering a choice of entrée and side, salad and Cuban bread, bundles are available starting at $44.99.
Entrée selections include jerk chicken pasta, baby back ribs, grilled chicken with cilantro-crema and seafood paella.
They serve up to four people and come fully cooked.
Surprise your bbq-and-ice-cream-loving dad with The Grillmaster Cake from Baskin-Robbins.
It's a cake cleverly disguised as a grill.
Or let the OREO® lover have his cake and eat it too with the OREO® Ice Cream Cookies & Scoops Cake.
Both cakes can be ordered at your local Baskin-Robbins locations.
Go all out for Dad at Benihana this year with these two terrific bonus gift card deals: Buy $50 in gift cards and get a $10 promotional card FREE or buy $200 in gift cards and snag $60 in promotional gift cards.
From now through Father's Day, buy $50 in eGift Cards and get a $10 bonus card valid from June 21 through July 11.
Opening at 11 a.m. on Father's Day, treat Dad to a delicious steak. Or get your hands on the gift card deal, available through June 19. Spend $50 on Black Angus gift cards and get $10 in bonus bucks that can be used from June 20 through August 31.
Buy your dad a $25 gift card or more from Blaze Pizza before June 30 and receive a $5 reward for yourself.
Dads love Bonefish Grill, so why not load them up with a $50 Bonefish Grill gift card and receive a FREE $10 e-bonus card for either yourself or to include with your gift.
Gift cards can be redeemed between June 21 and August 21.
Join in on Forest's Backyard BBQ all weekend long in honor of Father's Day at Bubba Gump Shrimp Co..
On June 19, treat Dad to BBQ baby back ribs, crab & shrimp boil, andouille sausage, corn on the cob, red potatoes, mac & cheese, french fries and garlic bread.
Do your Father's Day shopping before June 19 at Buffalo Wild Wings.
Buy $40 in Buffalo Wild Wings gift cards and receive a $10 eBonus card.
The eBonus cards are valid for use from June 20 through July 31.
CPK has you covered for last-minute Father's Day shopping.
Through June 30, purchase $50 in e-gift cards from California Pizza Kitchen and get a $10 eBonus Card.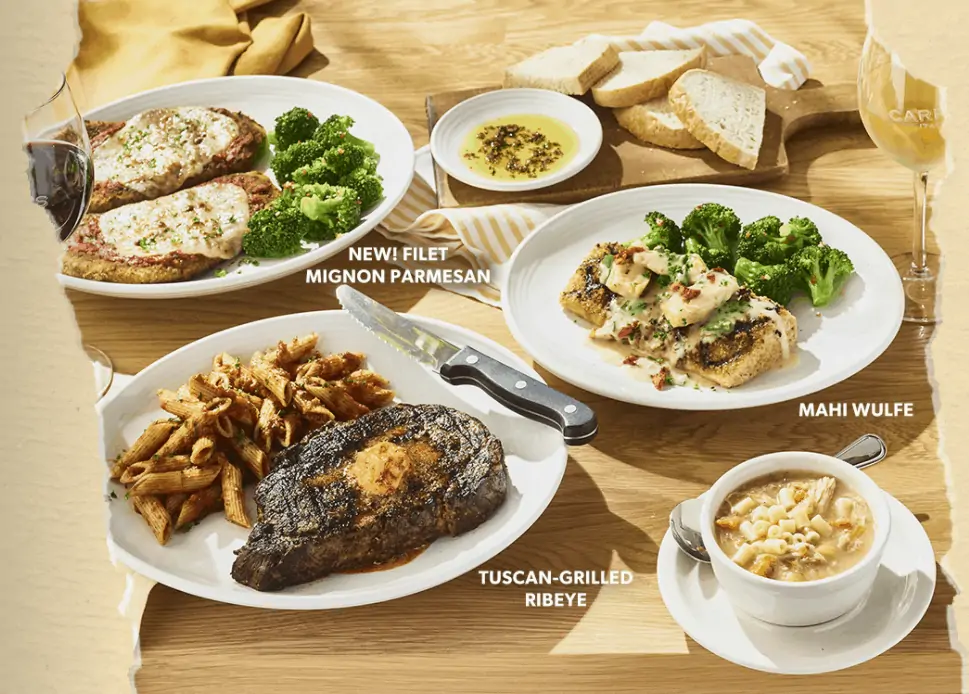 On June 19, Carrabba's Italian Grill will be serving a Tuscan-grilled ribeye topped with spicy Sicilian butter.
Finish it off with strawberry cheesecake for the perfect Father's Day meal.
If your pops don't want to go out, then buy a $50 gift card and receive a FREE $10 bonus to include or to keep for yourself.
It can be redeemed from June 21 through August 21.
Family and food are the perfect combination and Cheddar's Scratch Kitchen knows just how to bring the two together.
For Father's Day, consider bringing home a Family Bundle, featuring entrées like hand-breaded chicken tenders, grilled salmon or a combination—all of which include two choices of family-sized sides and a half-dozen signature honey butter croissants, starting at $24.99.
Stop in to Chili's for this month's $5 Margarita of the Month, the Tito's Watermelon Spritz 'Rita! and pick up a $50 gift card for Dad that comes with a FREE $10 e-bonus card to keep for yourself or pass along to Dad.
Order one of their delicious Family Meal Baskets, that include buttermilk pancakes and hand-breaded chicken, all available for carry-out, curbside pickup or contactless free delivery.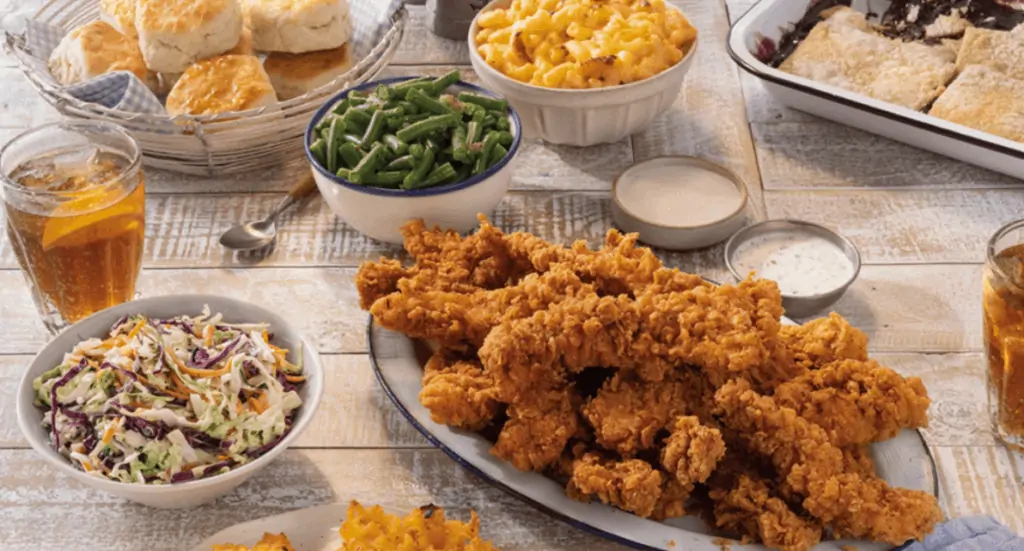 Available for dine-in on June 19, Del Frisco's is featuring a 32-ounce prime porterhouse topped with Alaskan king crab truffle butter exclusive dinner for Dad.
Spaces are very limited so book a reservation immediately.
Take Dad out for a special Father's Day dinner available exclusively in Eddie V's dining room.
This restaurant will be serving a special 11-ounce Snake River Farms Gold Label Wagyu Strip Steak for only $98, in addition to the regular dinner menu, Eddie V's will also offer its single barrel select Blanton's Bourbon and dads can receive a collectible Blanton's topper by request.
If you need to delay your dinner with Dad, consider getting Dad the ultimate gift card from Eddie V's and receive a special 10% bonus gift card when you spend $500 or more.
Grab Dad a plastic or digital gift card from Einstein Bros. Bagels before June 24 and get a 20% discount on your purchase.
Entenmann's
The ultimate gift may be yours to give if you enter Dad in Entenmann's Dads of Glory: A Father Figure Showcase contest. The grand prize is FREE donuts and $50,000.
Spend $100 and get $20. That's a dad-approved deal.
At Fleming's Prime Steakhouse and Wine Bar, for a limited time, when you purchase a $100 gift card, you'll receive a $20 bonus card.
Show Dad some Brazilian steakhouse love for Father's Day this year.
Fogo de Chão is offering a"$25 bonus e-card"when you purchase a gift card for $125.
Gift cards with bonus can be purchased until June 19, and the bonus e-cards can be redeemed between June 20 and Sept. 1.
Purchase a Houlihan's gift card for $50 and receive two $10 dining certificates that you can use until July 7 for carryout or dine-in orders (excluding June 19).
Now through July 17, buy $25 or more in gift cards online or in-store and get a $5 bonus card.
Bonus cards are valid upon your next visit and expire on August 21.
Purchase a $100 gift card before June 30 and receive a $15 bonus card for future use at JOEY Restaurants. Bonus cards do not expire.
Through June 19, spend $50 on gift cards at Logan's Roadhouse and receive a $10 bonus card that will be good until July 31.
Take your favorite father figure to Macaroni Grill this year for some lasagna bolognese, mom's ricotta meatballs and spaghetti or whatever your dad's favorite Italian meal may be.
This restaurant will be open and it's taking reservations now.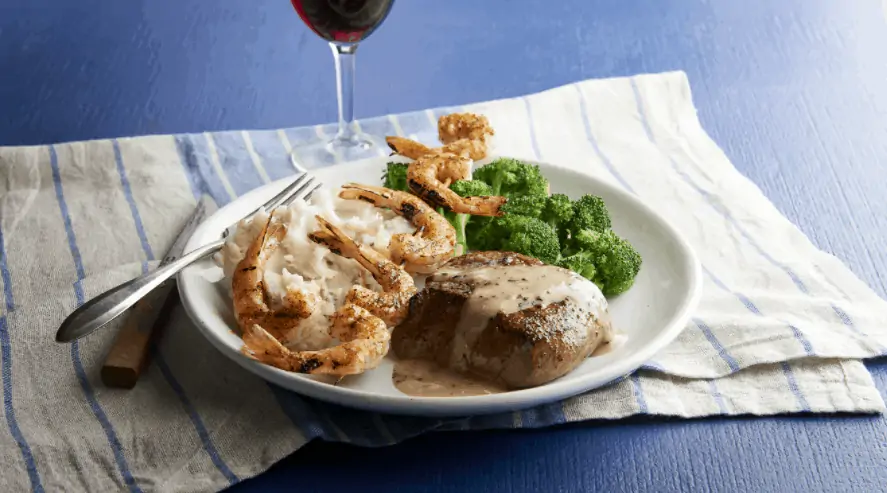 You've still got time to grab that Father's Day gift.
Until June 26, if you purchase $100 in gift cards online from Maggiano's, you'll receive a $20 e-bonus card to use on your next visit.
Bonus cards expire on July 31.
From now until June 19, every $25 in gift cards you spend at McAlister's Deli, you'll get a $5 e-reward.
The $5 reward will be loaded into the rewards section on the McAlister's app and available to spend between June 20 and August 22.
Purchase a gift card at McCormick and Schmick's for $100 and receive a $20 reward card.
Gift cards must be purchased online before June 18.
Start Dad's day off right with Metro Diner's new piled-high Hawaiian Burger featuring a 100% Angus burger, topped with swiss cheese, grilled pineapple, a ham slice, creamy coleslaw and citrus aioli.
Get in on this Father's Day special: Until June 26, purchase $50 in Miller's Ale House gift cards and get a FREE $10 bonus card.
Bonus cards are valid from July 1 through August 31.
Every year, Father's Day is celebrated on a Sunday.
And every Sunday Moe's Southwest Grill offers FREE meals for children under 12.
Plus, when you purchase a $25 gift card or e-gift card, get a FREE $5 Moe Rewards from now until June 19.
You can only unlock the $5 eReward code through the Moe Rewards program.
It's redeemable to use from June 20 until August 31.
From now until June 18, for every $250 in gift cards you purchase, you'll receive a $50 reward card. Reward cards are redeemable from July 1 until Sept. 30.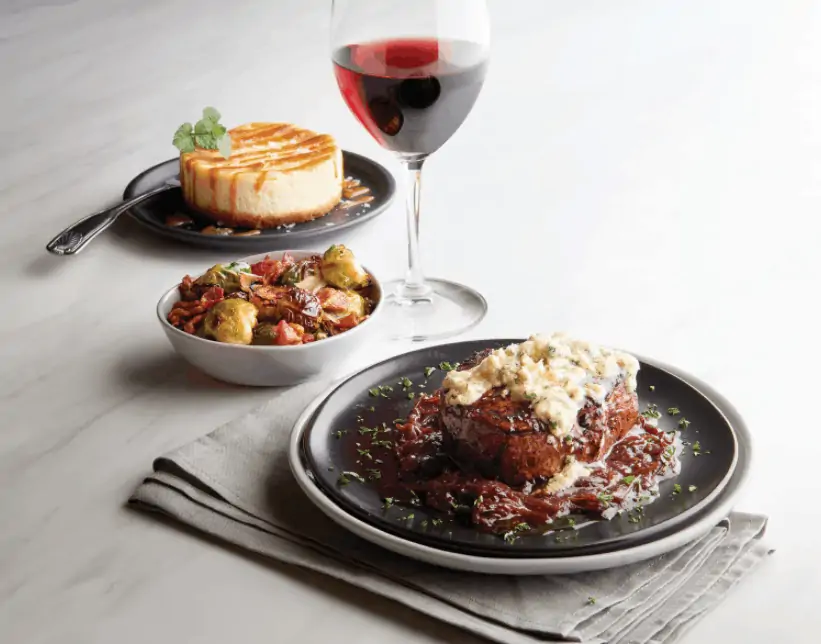 Bring on the Italian this Father's Day with help from Olive Garden.
Enjoy a convenient Family Bundle, featuring one large pan of classic lasagna, jumbo house salad and breadsticks.
Starting at $58.99 or show up with a family-size pan of fettuccine alfredo or chicken parmigiana, starting at $44.99.
You can order online and pick up your meal curbside.
With 10 entrées under $16, Dad will have plenty of options to choose from for his Father's Day meal at Outback Steakhouse.
And don't forget to get in on the gift card deal: Buy $50 in gift cards and get a $10 bonus card, valid through August 21, 2022.
Get a FREE Panda Bowl when you buy $30 in gift cards online for your dad before June 20.
The Panda Bowl redemption code must be redeemed by July 31.
If your dad loves chicken, then tell him to download the Pollo Campero app and join the rewards program.
After joining, he'll receive a $10 reward.
Until the end of June, get a $50 Red Lobster gift card and receive a $10-off bonus coupon.
The bonus coupon can be used in the restaurant for to-go or delivery orders of $30 or more from June 21 through August 31.
Until June 19, buy $25 in either a plastic gift card or an e-gift card at Red Robin and receive a $5 bonus buck.
Make this year special by taking Dad to Ruth's Chris Steakhouse for dinner.
This restaurant is open on Father's Day and taking reservations now.
Dishing out Dad's favorites, grab a delicious meal featuring Certified Angus Beef Steaks, Seafood, and Homemade Desserts at Saltgrass Steakhouse this Father's Day.
Also, until June 18, Saltgrass will be offering a gift card promotion.
Purchase $50 or more in gift cards and receive a $10 reward card.
In honor of Father's Day, now through June 20, when you buy $25 in gift cards from Schlotzsky's Deli you'll receive a $5 eReward card.
For the lovers of fish and meat, Seasons 52 put together a harmonious Father's Day Green Box that serves between four and six with either a Whole Side of Cedar Plank-Roasted Salmon or a Wood-Grilled Beef Tenderloin.
It comes with a choice of a salad, two sides and Mini Indulgences, starting at $165, to take home and serve.
Get Dad to TCBY on June 19 and score him a FREE 6-ounce cup of froyo.
No purchase necessary.
For every $30 gift card you gift to your dad, you can receive a $5 bonus card from Texas Roadhouse.
For a limited time, get $15 in Bonus Bites when you spend $50 on e-gift cards at TGI Friday's.
Bonus cards are valid from July 1 through August 31.
Enjoy a meal at home or in The Capital Grille dining room this Father's Day.
This restaurant will be serving its regular menu at the restaurant, but if you want to treat Dad to a grill-out at home, consider ordering steaks à la carte starting at $25 each or go with an assortment The Capital Grille is calling the Steak Grille Box, which is four steaks, seasoning and a gift of Signature Steak Sauce — priced starting at $140.
For an over-the-top Father's Day gift, buy $500 or more in gift cards from The Capital Grille and get an additional card worth 10% of your purchase.
Through June 19, purchase $100 Cheesecake Factory gift cards online and receive a $25 bonus ecard for each one.
Cards and bonus ecards can be used when you dine-in or to place pickup orders and are valid from June 20 to July 20.
Celebrate your dad on June 19, by rewarding him with a splendid meal at home prepared by The Fresh Market.
Now through June 14 (in-store) and June 17 (online), you can order a Father's Day meal including your choice of entrée, Caprese salad platter, veggie kabobs, loaded twice-baked potatoes and tuxedo truffle mousse bar cake.
This meal serves four people and costs $79.99.
For a limited time, new Tim Hortons Rewards members will earn 240 bonus points on the first purchase and can redeem Four FREE Donuts when they order through Tims Rewards.
On Father's Day, treat your food-loving dad to the new bone-in Korean ribeye at Yard House. The entree is served with chili garlic fries and costs $39.99.
With Father's Day being this Sunday, June 19, Offers.com's deals and savings experts rounded up all the restaurants offering freebies and deals for all to celebrate the father-figure in their life this weekend.
For the most up-to-date list of Father's Day freebies and deals, make sure to check out Offers.com's full guide: https://www.offers.com/blog/post/fathers-day-food-deals/