Grab some beets from the garden or farmers market and whip up some fermented beets to stock your pantry with.
Beets have become one of my favorite root vegetables.
Fermented Beets are similar to a pickled beet, but just use a different method. It's a fantastic way to serve up red beets for a change.
The flavor is also a bit different. I used shallots and tarragon to flavor my beets during the fermentation process.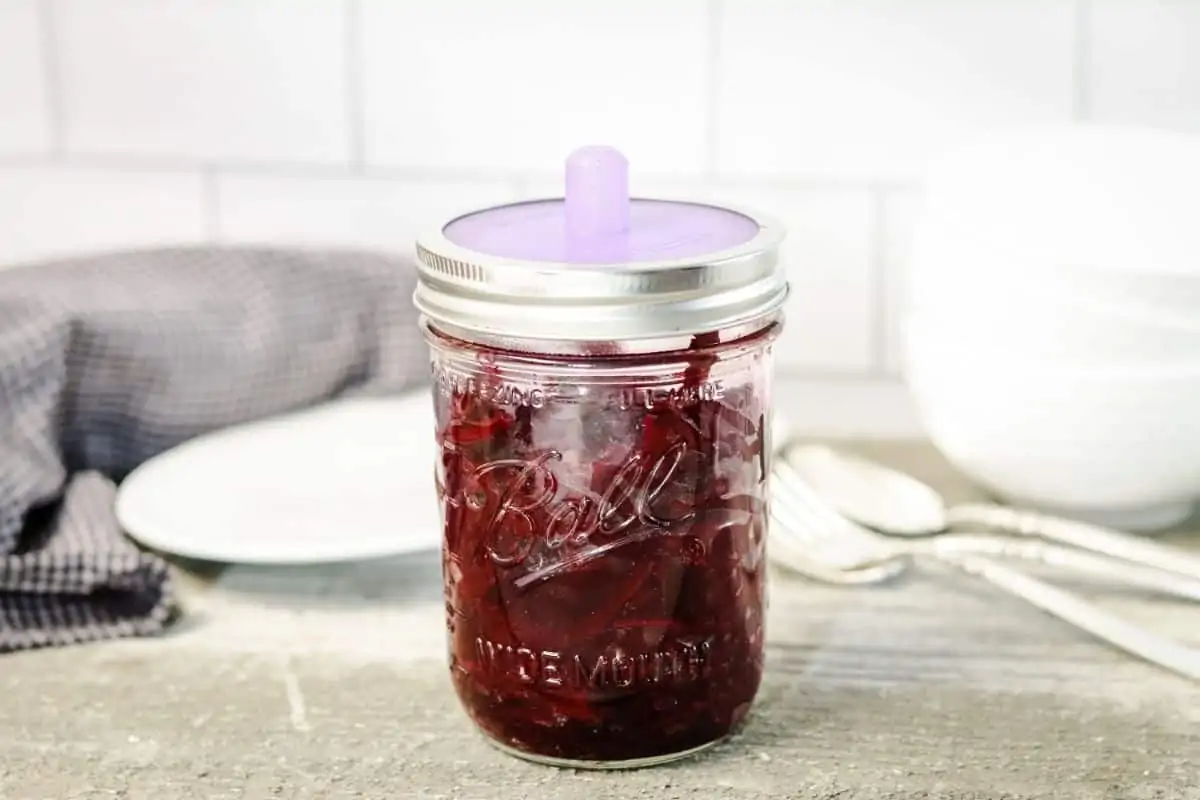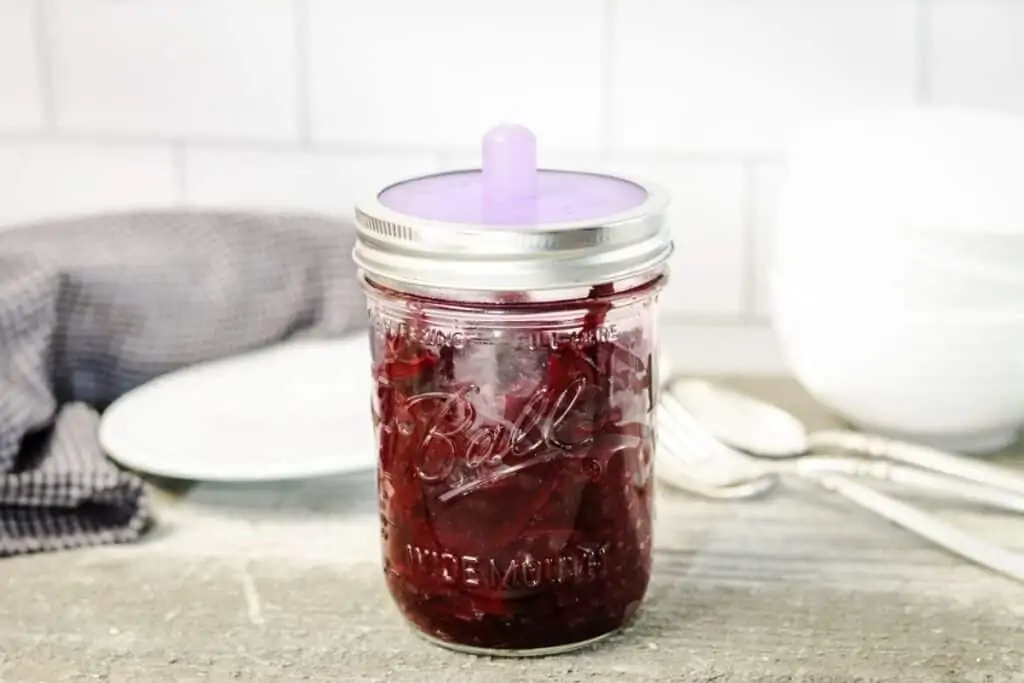 Fermenting Beets
Transform your raw beets into a great snack, pairing for dinner, and more. Tangy, colorful and the perfect color pop to a meal.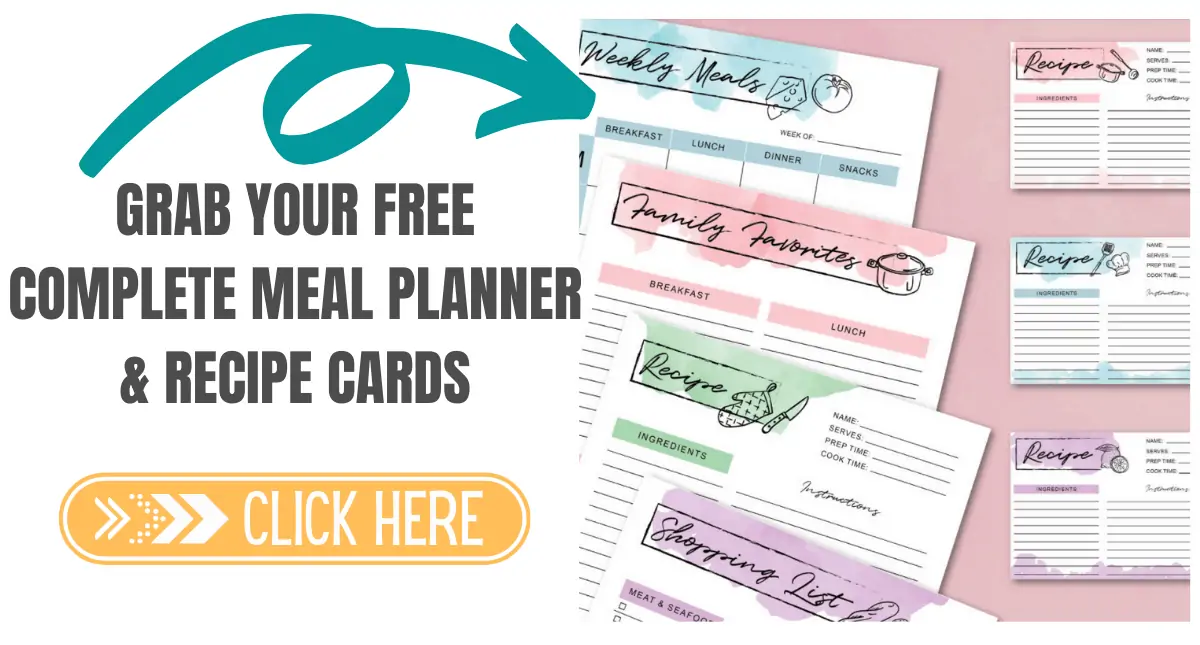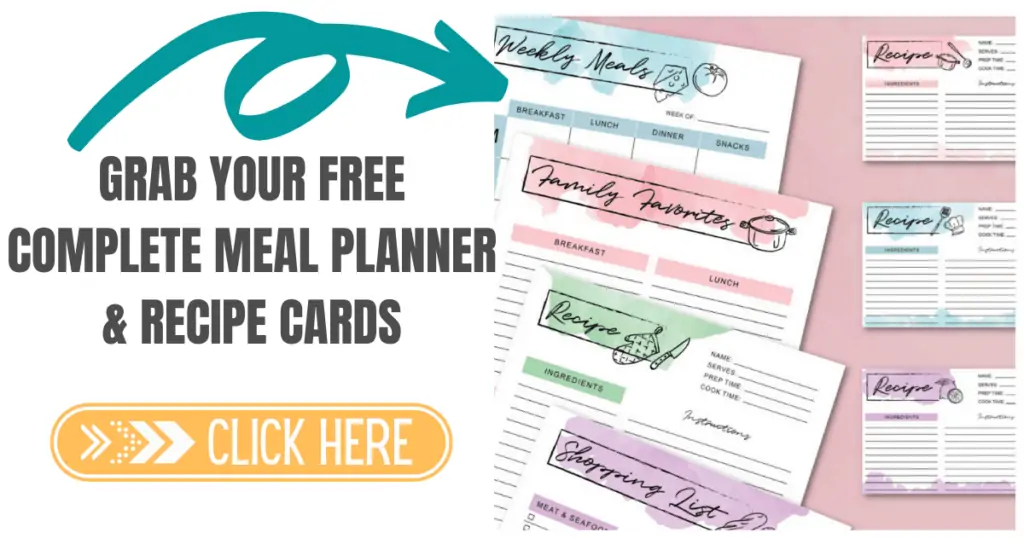 What Makes This Recipe Great
BOLD FLAVOR: These beets are so flavorful that you might find yourself eating them by the spoonful.
HEALTH BENEFITS: Fermented beets are jam packed with probiotics that are great for gut health. The beneficial bacteria and healthy enzymes help your body to break down food and absorb all of the nutrients possible. I highly recommend using organic beets whenever possible.
BEET JUICE: Besides being great for gut health, beet juice is full of antioxidants, have great anti-inflammatory properties and is also known to help remove toxins from the body, boost the immune system and help with metabolic activity.
Ingredients
Fresh Beets – I highly recommend choosing organic beets whenever possible for this recipe.
Balsamic Vinegar – This vinegar has a ton of great health benefits, you can read more about them here.
Shallots – These taste a lot like an onion because they belong to the same family, but with a more subtle sweet flavor.
Tarragon – It has a subtle taste and pairs well with dishes like fish, beef, chicken, asparagus, eggs and soups.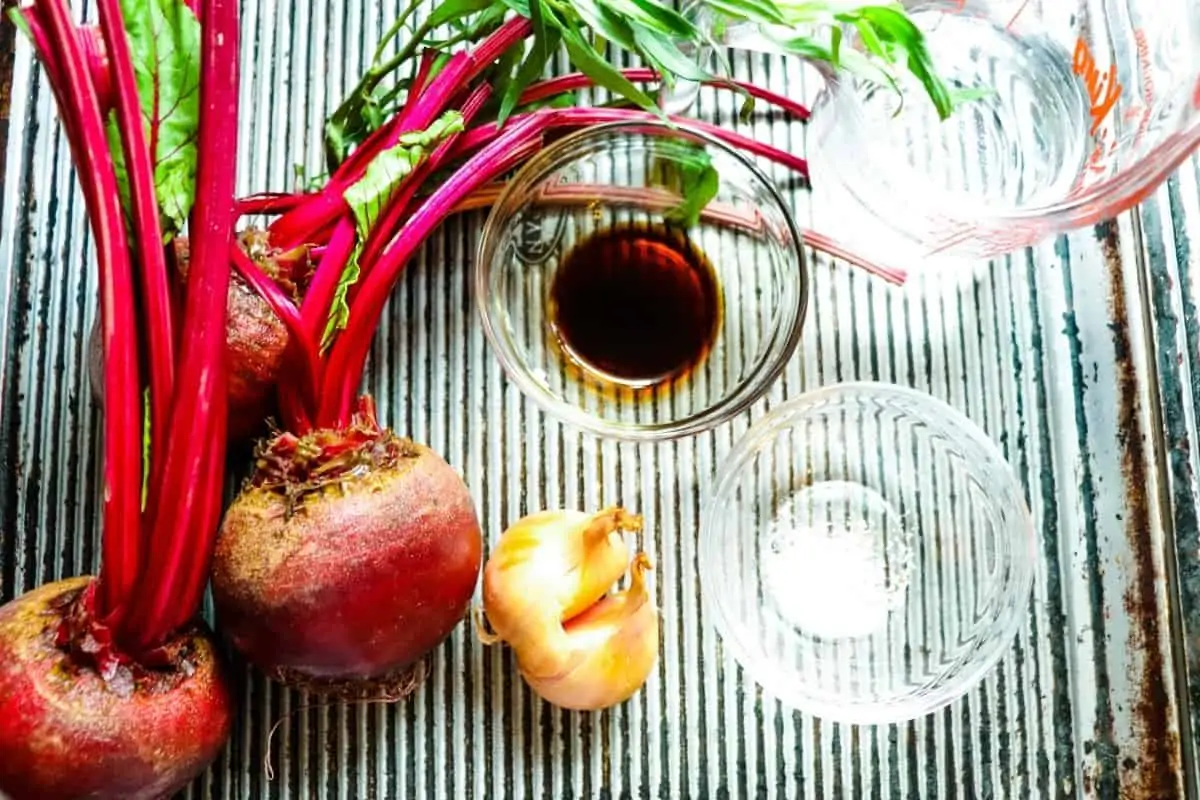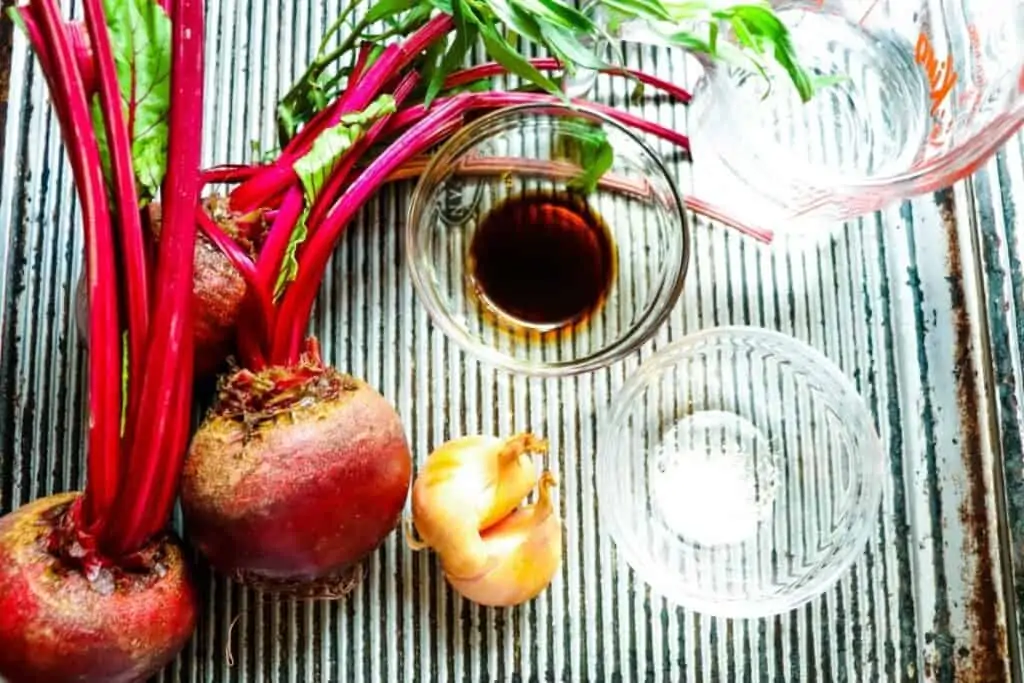 Expert Tips
Make sure that you wash and prep your jars that you are using really well. It is very important to have sterile jars and lids.
Make sure the liquid is above your beets so all the beets fully ferment properly. If you have beets sticking out of the liquid it will spoil as it sits.
Check on your jars here and there. Just make sure nothing has spilled, etc.
You can double or even triple the recipe, just use enough jars to hold it all.
Instructions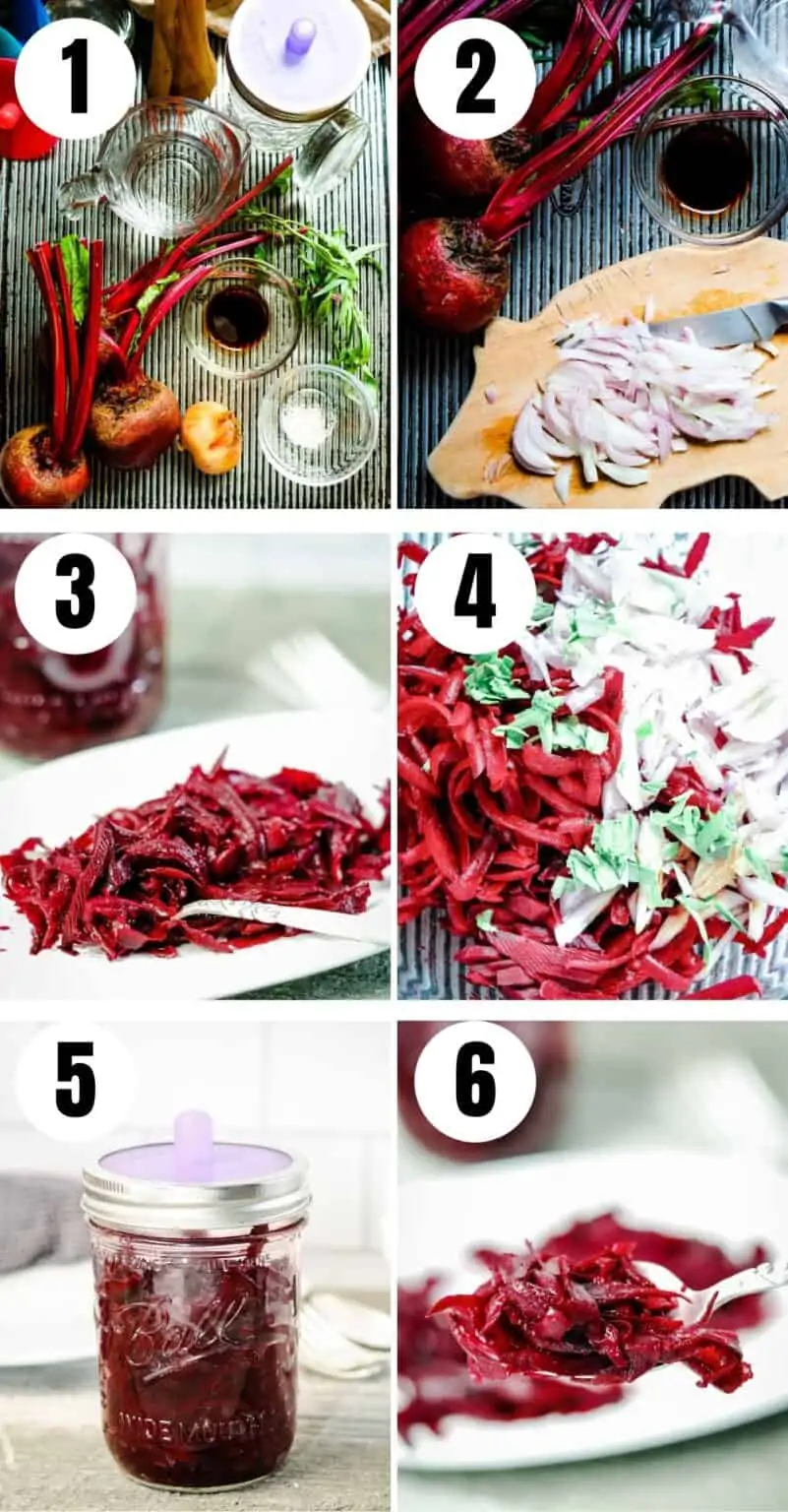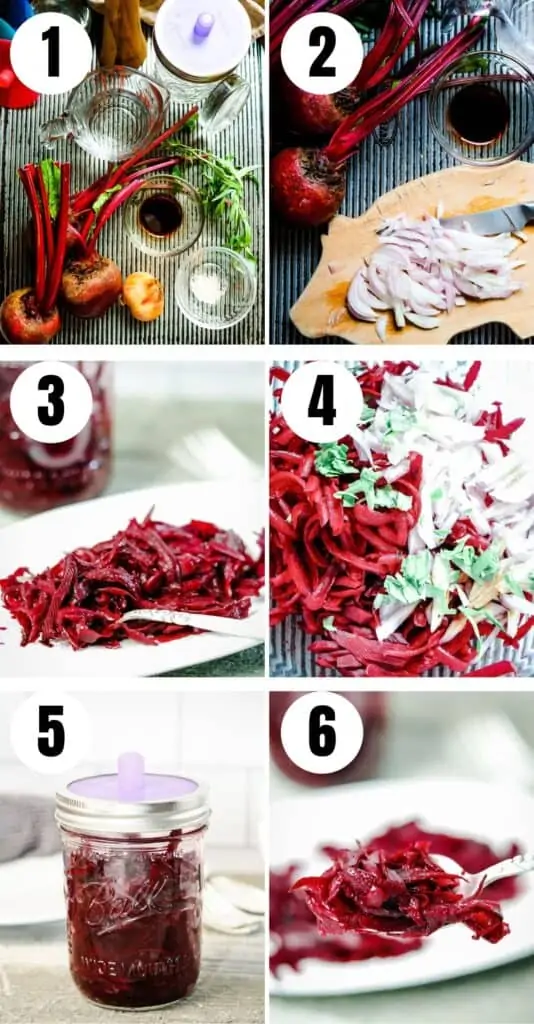 Step 1 – 4: Wash, chop and slice the beets, shallots and tarragon.
Step 5: Add to a 1/2 cup of water with salt and balsamic vinegar. Add to a mason jar, using the fermenting kit and fermentation weights, and leave it somewhere that is dark cool place, at room temperature for a couple weeks.
Step 6: Enjoy!
Are Fermented Beets Good For You?
Beets alone are a great source of nutrients. Vitamins, calcium, potassium and even iron. When you add the method of fermenting you find the beets also offer a great source of probiotic.

You will find eating these beets you gain a good source of nutrients. They are a great way to incorporate more vegetables into your diet. 

Whether you eat them plain, top a salad, add to a sandwich, etc. 
How Long Do Fermented Beets Last?
They last for 3 months. Once your beets are done with the fermenting process you will move the containers to the fridge. 

I like to push them to the back of the shelf. So when you open and close the fridge no temperature change to the beets occurs. 

I learned to do this with foods you don't want to have much temperature change. When it is pushed farther back on a shelf it helps keep the food more stable. So you are less likely to spoil the items from the fluctuation in temperature.
How Do You Know Fermented Food Is Bad?
Not sure how to tell if fermented food is bad? Here are a few things to look for that are classic tell-tell signs of spoilage.

Look at the color, if you see a major discoloration along with a slimy or gooey texture good chance it has spoiled. 
Mold growth is another thing to look at. Visible fuzzy mold growing in your container is never good. 
Odor that seems foul or extremely sour. Granted fermented food has a sour tang but what I mean is when you notice a change in flavor. 
Lastly just pay attention to the taste and the texture. If you are in doubt and notice a change that seems off, toss it. 
Why Do You Shred Beets?
Shredding of finely chopping your produce will help to speed up the process of fermenting. Plus you will find shredded beets compared to sliced, you can fit more into one single jar.

It will help you to use less containers which is great on minimal storage room and expenses in terms of buying equipment!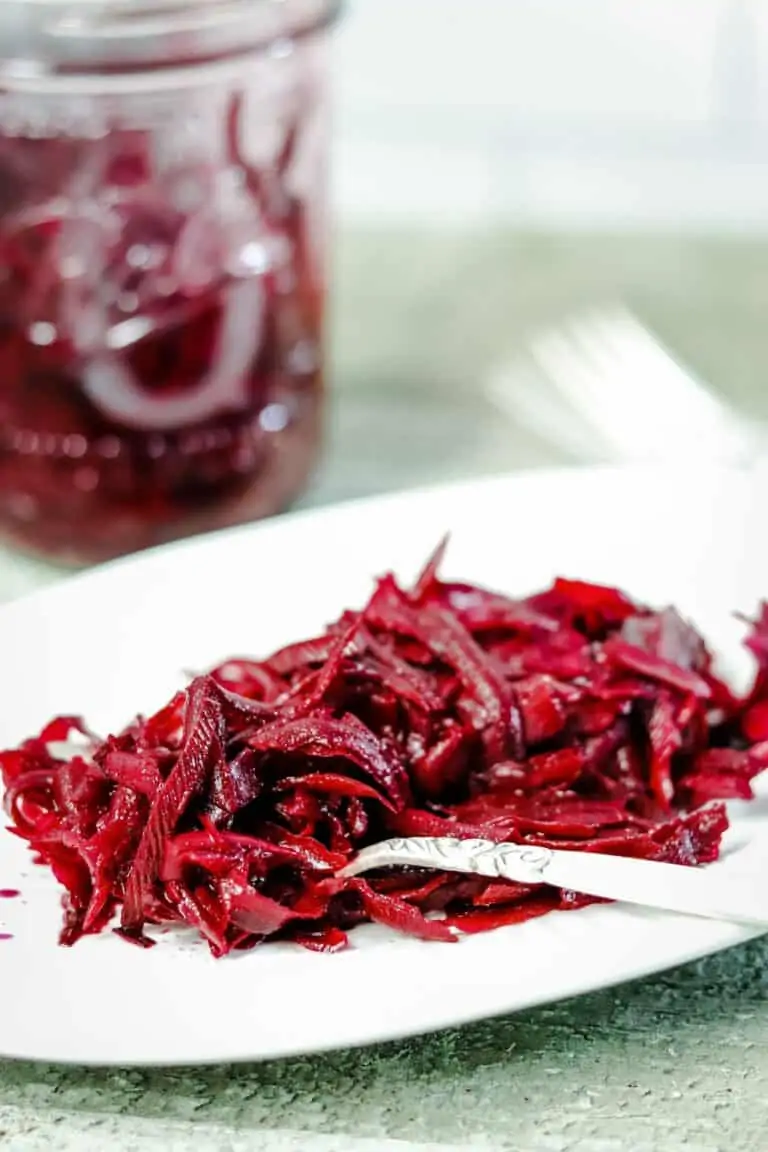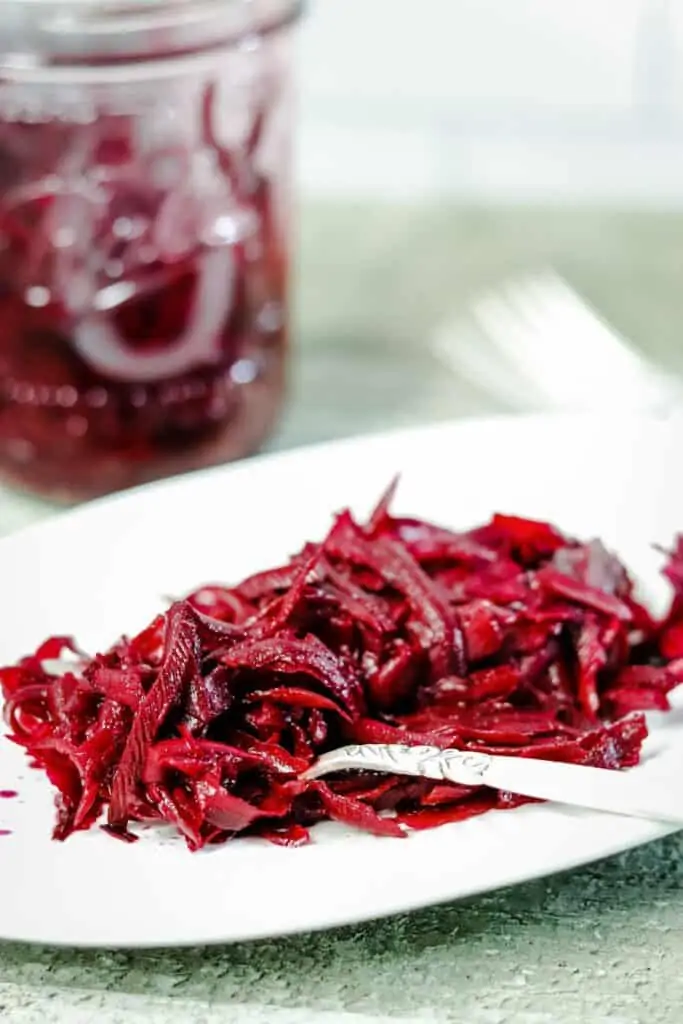 Also check out these posts on canning and preserving your produce:
Getting Started Canning: Read this guide all about how to get started with canning today.
Printable Canning labels: If you are doing any canning of your own this year, make sure to grab these cute canning labels – they are FREE!
Dill pickles: It is really easy to make your own dill pickles with this recipe.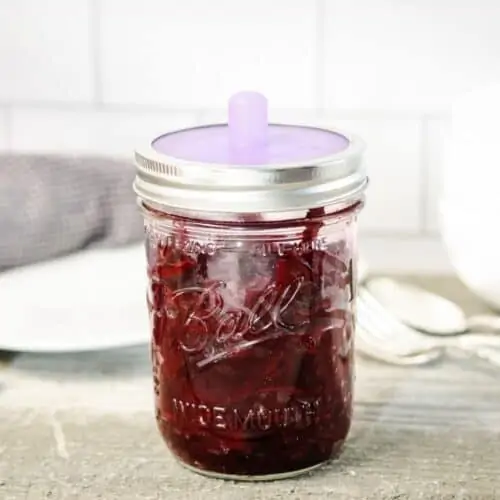 Fermented Beets Recipe
Fermented Beets with Tarragon, Balsamic, Shallot Recipe
Equipment
Optional: Kitchenaid with shredder attachment

Vegetable peeler

Saran wrap
Ingredients
½

cup

water

½

tsp

salt

½

tbsp

balsamic vinegar

2

small shallots

1

small bunch fresh tarragon

3

small beets (or 2 medium beets)
Instructions
Dissolve salt into water.

Wash and peel raw beets. Use kitchen gloves and safeguard counters as beets easily stain surfaces.

Finely shred beets into a bowl.

Thinly slice shallots and add to beets.

Chop tarragon and add to shallots and beets.

Add balsamic vinegar and salted water to the bowl of beets, tarragon, and shallots. Mix well. Pour into a large mouth mason jar.

Wrap pickle pipe with saran wrap to avoid staining the wood and press pickle pipe into red beets to compress. Place glass pebble onto beets. Place silicone top onto the jar and screw on the mason jar ring.

Place jar in a dark cool place for 1-2 weeks. Place in refrigerator with sealed lid to keep for 2 weeks.
Notes
Amazon Links:
Fermentation kit: https://amzn.to/3jtzHCe Kitchen aid attachment kit: https://amzn.to/3zBDe7o
This does a great job of shredding tough raw root vegetables like beets.
Nutrition
Calories:
152
kcal
Carbohydrates:
34
g
Protein:
5
g
Fat:
1
g
Saturated Fat:
1
g
Polyunsaturated Fat:
1
g
Monounsaturated Fat:
1
g
Sodium:
1369
mg
Potassium:
1006
mg
Fiber:
9
g
Sugar:
22
g
Vitamin A:
125
IU
Vitamin C:
17
mg
Calcium:
76
mg
Iron:
3
mg
Nutritional information is automatically calculated with ingredients and serving size and may not be accurate. Please always double check with your own nutritional apps as well.
Did you make this recipe?
Please leave me a comment below, I would love to hear how you liked it (or not lol) Share a photo with me @KRISTIESAWICKI or tag #SAVINGDOLLARS!