There are plenty of Fortnite Gift Ideas to get Fortnite fans excited for the holidays, including in-game items, Funko Pops, and gaming chairs.
Fortnite has become the biggest game in the world, with over 100 million players worldwide. The game has also spawned a huge community of fans who love sharing their creations on social media.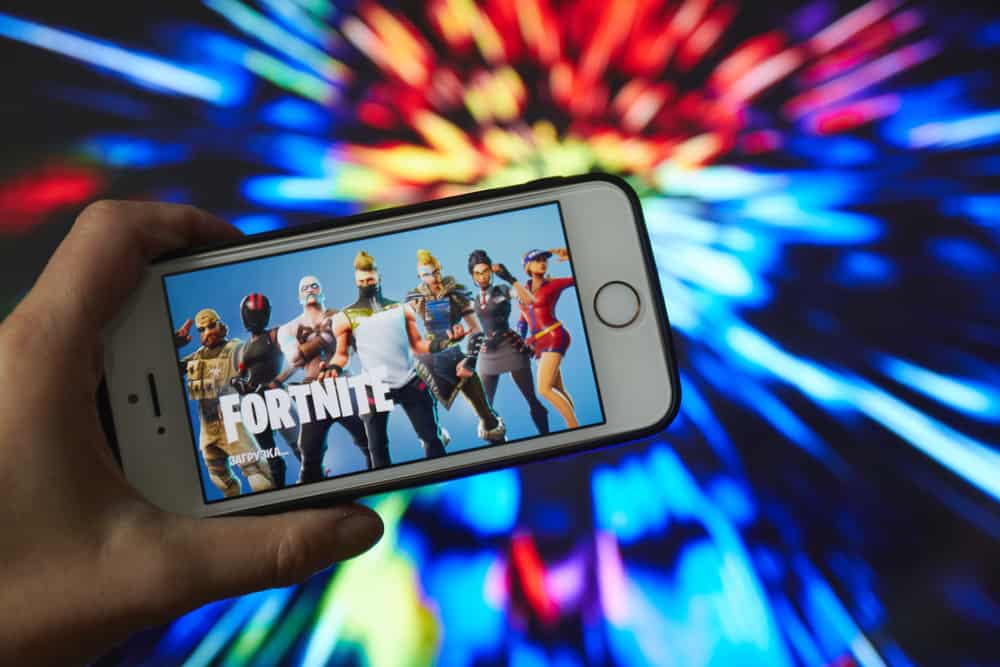 If you want to give someone something special this holiday season, then why not get them some awesome Fortnite gifts?!
From skins, emotes, dances, outfits, weapons, and much more, Fortnite offers a wide range of items to choose from.
Whether you're looking for a gift for a friend or family member, or even for yourself, these are some of our favorite Fortnite gifts ideas.
Fortnite Presents
What would you get someone who has everything? If you want to give them something special, then why not go for a gift they'll love? There are lots of great gifts out there that won't break the bank.
The holiday season is approaching, and you might be wondering what to get for your friends or family members.
Whether you're looking for a present for a loved one, or you're shopping for yourself, these are some of our favorite items from Amazon.
The presents listed below are the perfect Fortnite Christmas gifts for fans of all ages.
You're sure to find the perfect gift for anyone on your list this year that loves Fortnite.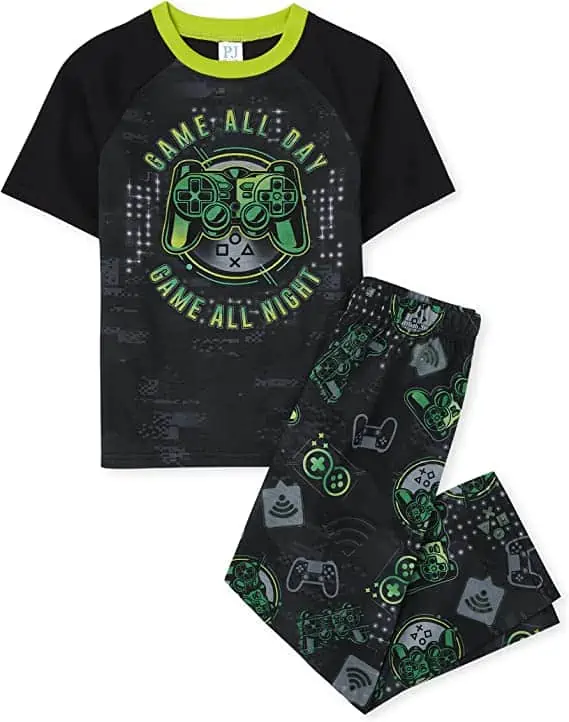 2 Piece Game All Day PJ's Set
This is the perfect pair of pj's for some serious battle royale game time.
Features short raglan sleeves, rib-knit crew neck and 'Game All Day Game All Night' with video game controller graphic design on front and pull-on elasticized waistband with all over video game controller print.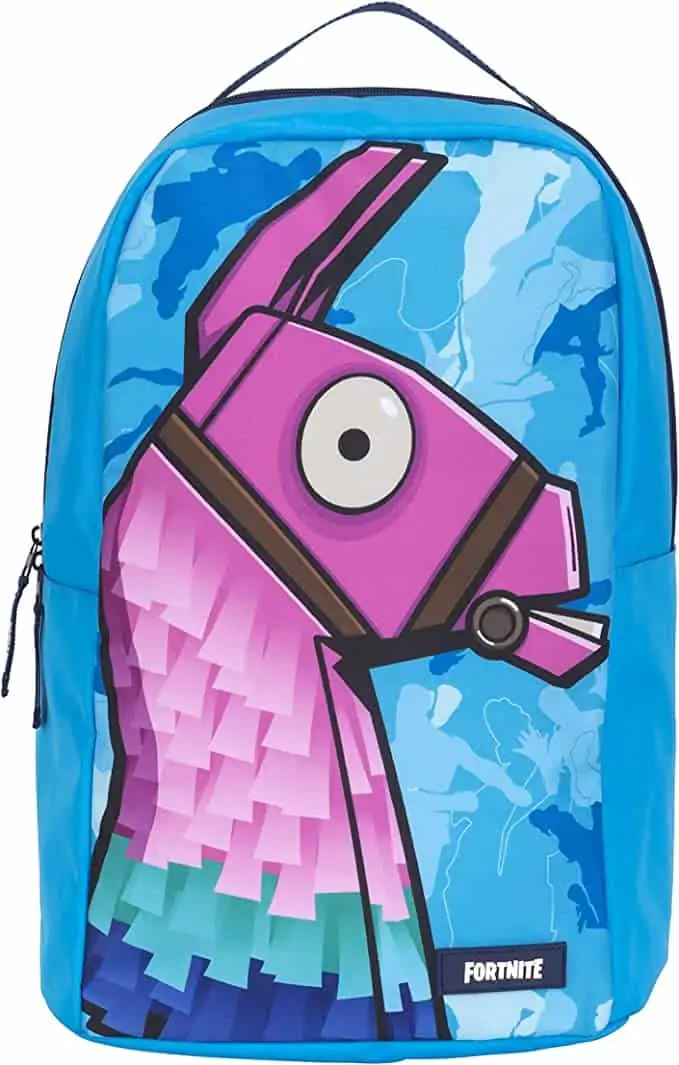 Loot Llama Backpack
What gamer wouldn't love to carry around all of their gear in this cool loot llama backpack?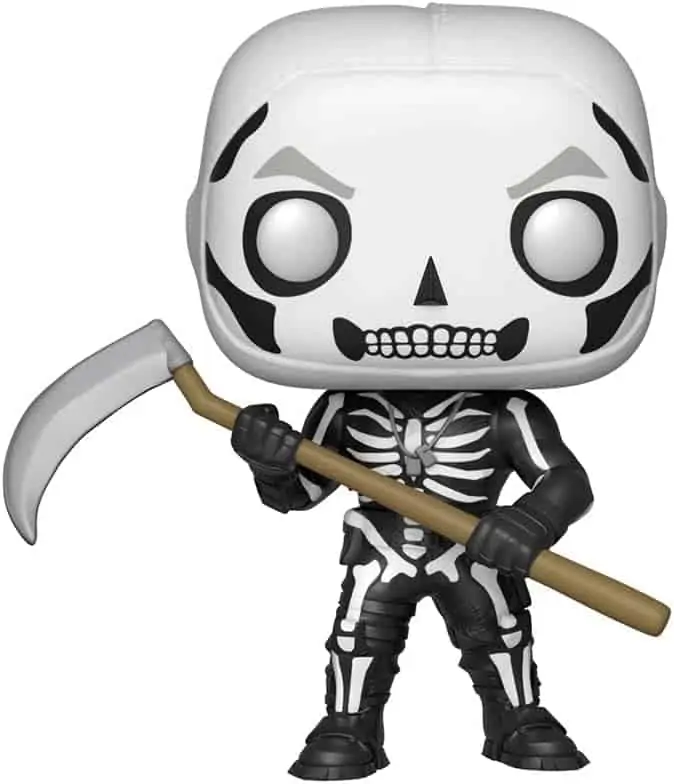 Funko Pop Fortnite Skull Trooper
Bring your love of fortnite to your funko collection with this awesome skull trooper figure.
From the gaming and pop culture phenomenon Fortnite, Skull Trooper, as a stylized Pop!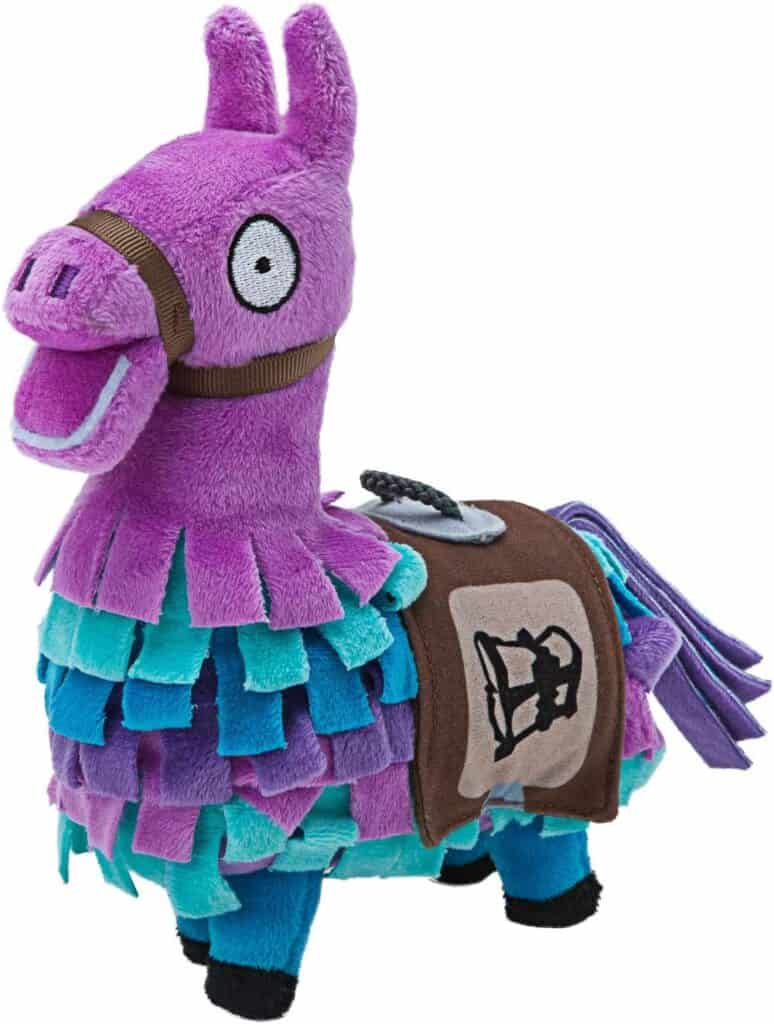 Fortnite Llama Plush Toy
Every Fortnite gamer would love to add this llama plushie to their space! It is so cute and cuddly!
What Battle Royale player wouldn't want a Fortnite Llama Loot Plush to cuddle?
This ultra-soft plush stands 7" tall and features high-quality fabric and incredible embroidered details.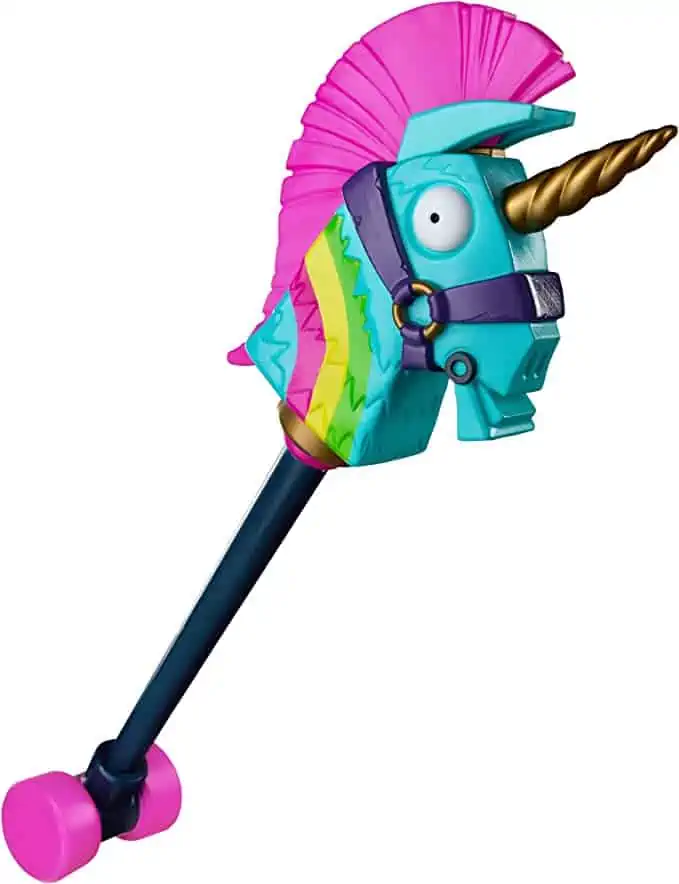 Rainbow Smash Pickaxe
This Rainbow Smash Pickaxe is so much fun for adding a touch of fortnite to your gamers room.
Turn from dark and scary to sunshine and rainbows when you add this officially licensed Fortnite Rainbow Smash pickaxe to your costume.
This colorful accessory features a blue llama unicorn hybrid on the front with a signature pink Mohawk, embellished unicorn horn, and rainbow pattern on its face.
To top it off, its movable, working wheels add a realistic touch.
Gather your materials in colorful style when you add the Rainbow Smash pickaxe to your epic Fortnite Halloween costume.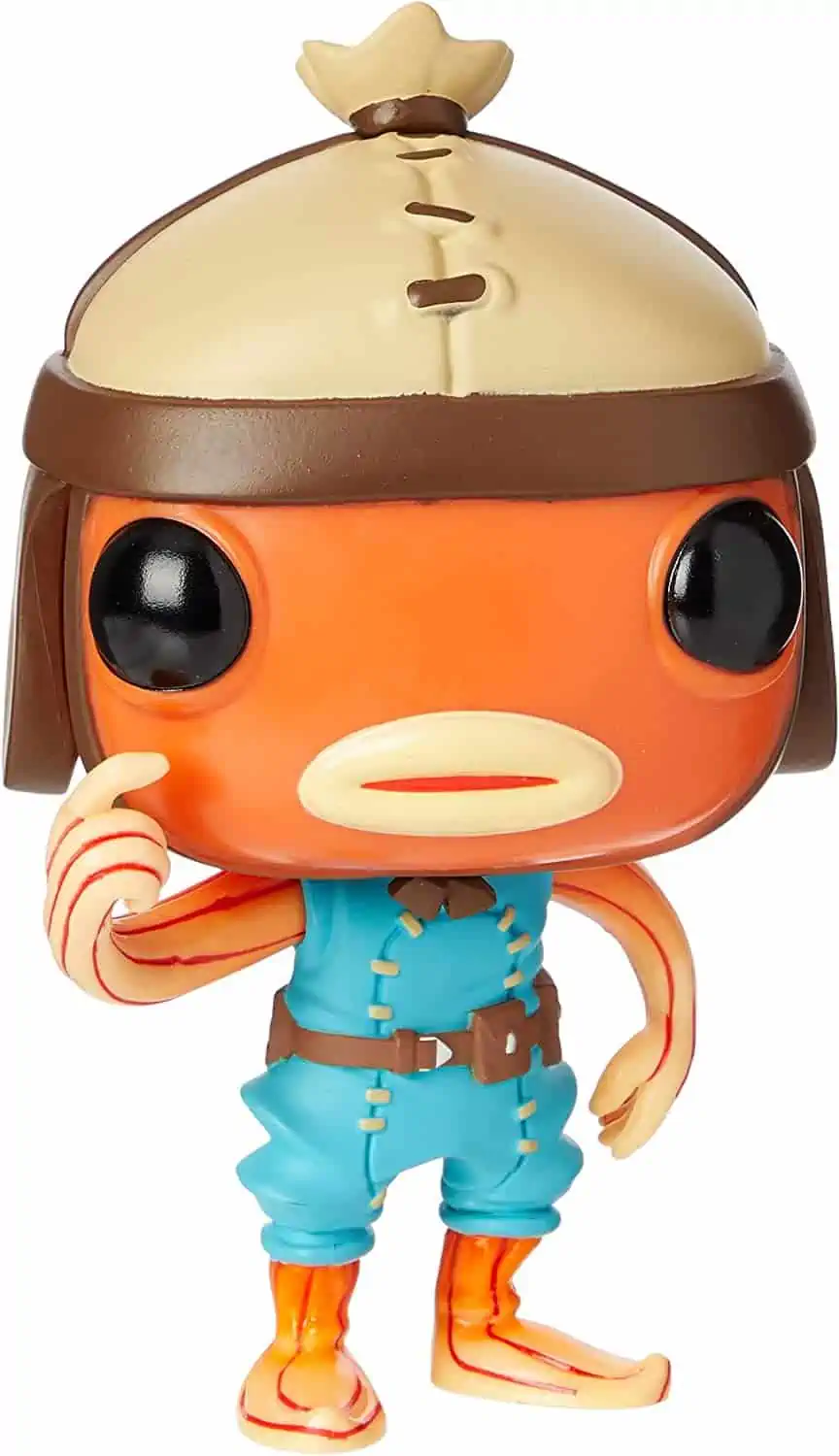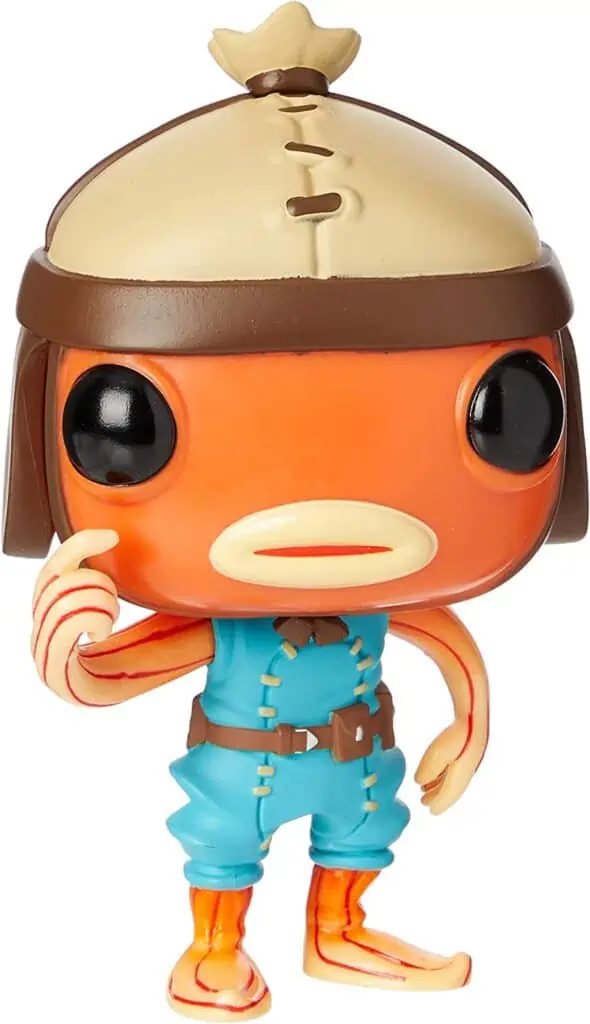 Fishstick by Funko
Funko has the best fishstick toy available! This guy is adorable and totally collectible!
From Fortnite, Fishstick, as a stylized POP vinyl from Funko!
Stylized collectable stands 3 ¾ inches tall, perfect for any Fortnite fan!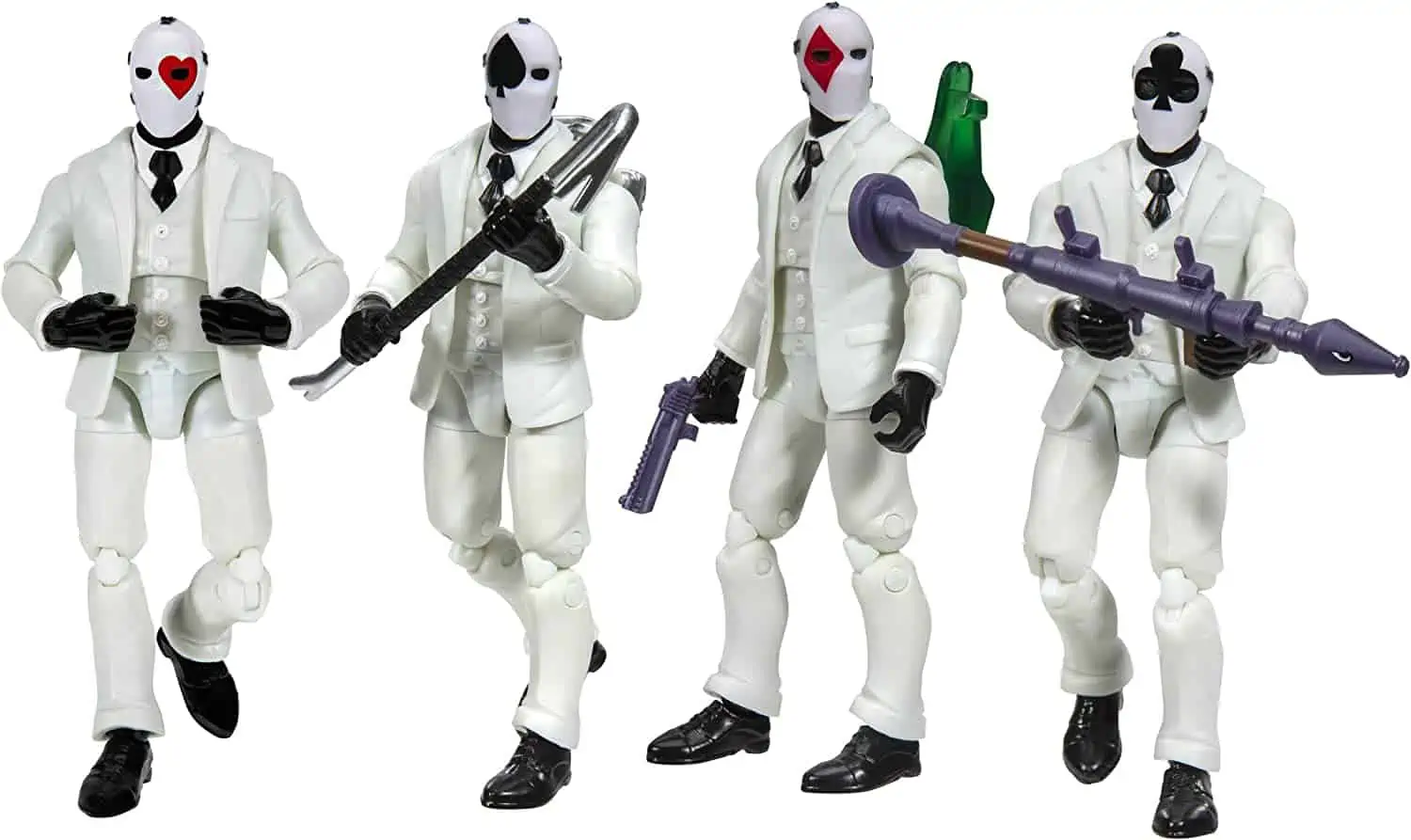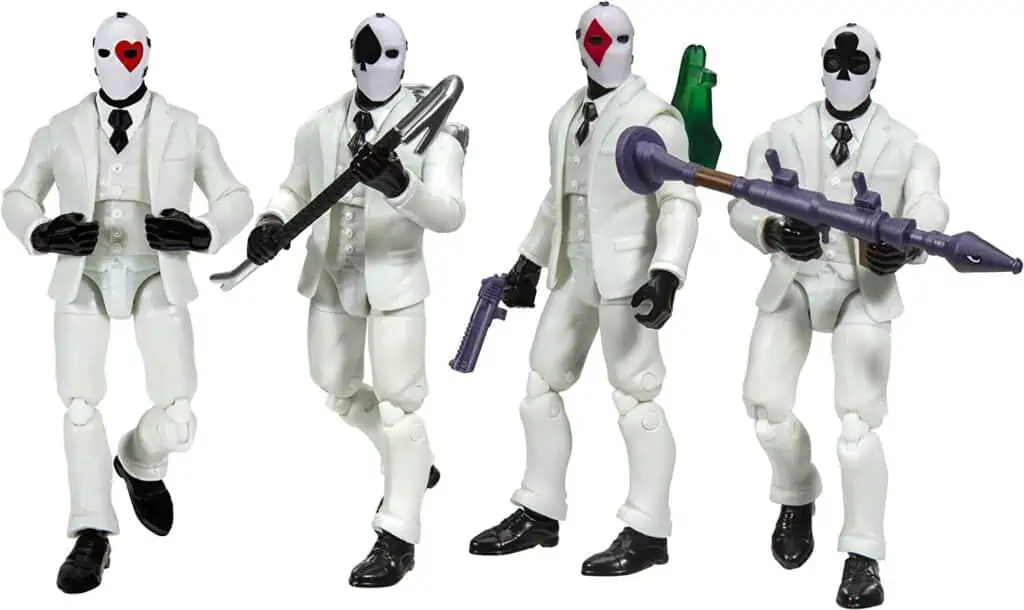 Fortnite Squad Action Figure Set 
These collectible action figures are a fun way to reenact your favorite in game moments off screen.
The 4-inch Wild Card action figures each have 25+ points of articulation and highly detailed decoration inspired by one of the most popular outfits from Epic Games' Fortnite.
The kit includes exclusive Rocket Launcher, Drum Gun, Hand Cannon, and Grenade Launcher weapons, plus Cuff Case and Crystal Llama back bling, as well as Crowbar and Lucky harvesting tools.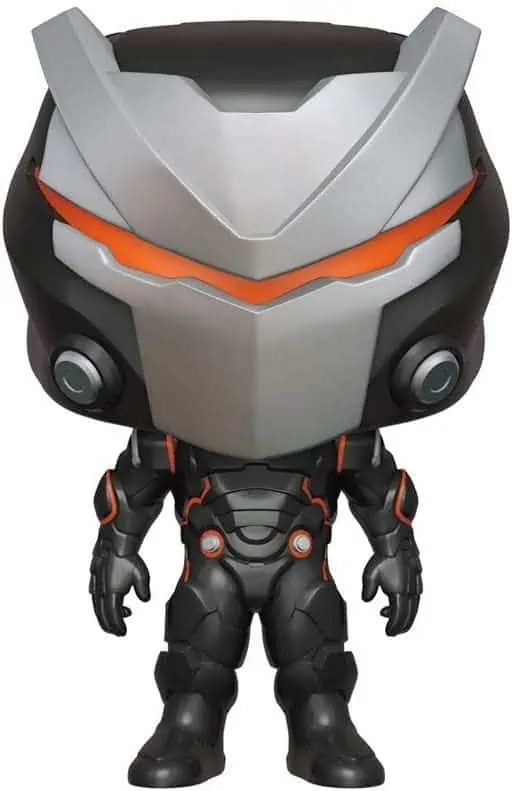 Funko Pop Omega
Omego has his own funko pop! Loyal gamers will want to add this to their collection asap.
From the gaming and pop culture phenomenon Fortnite, Omega, as a stylized Pop!
Stylized collectable stands 3 ¾ inches tall, perfect for any Fortnite fan!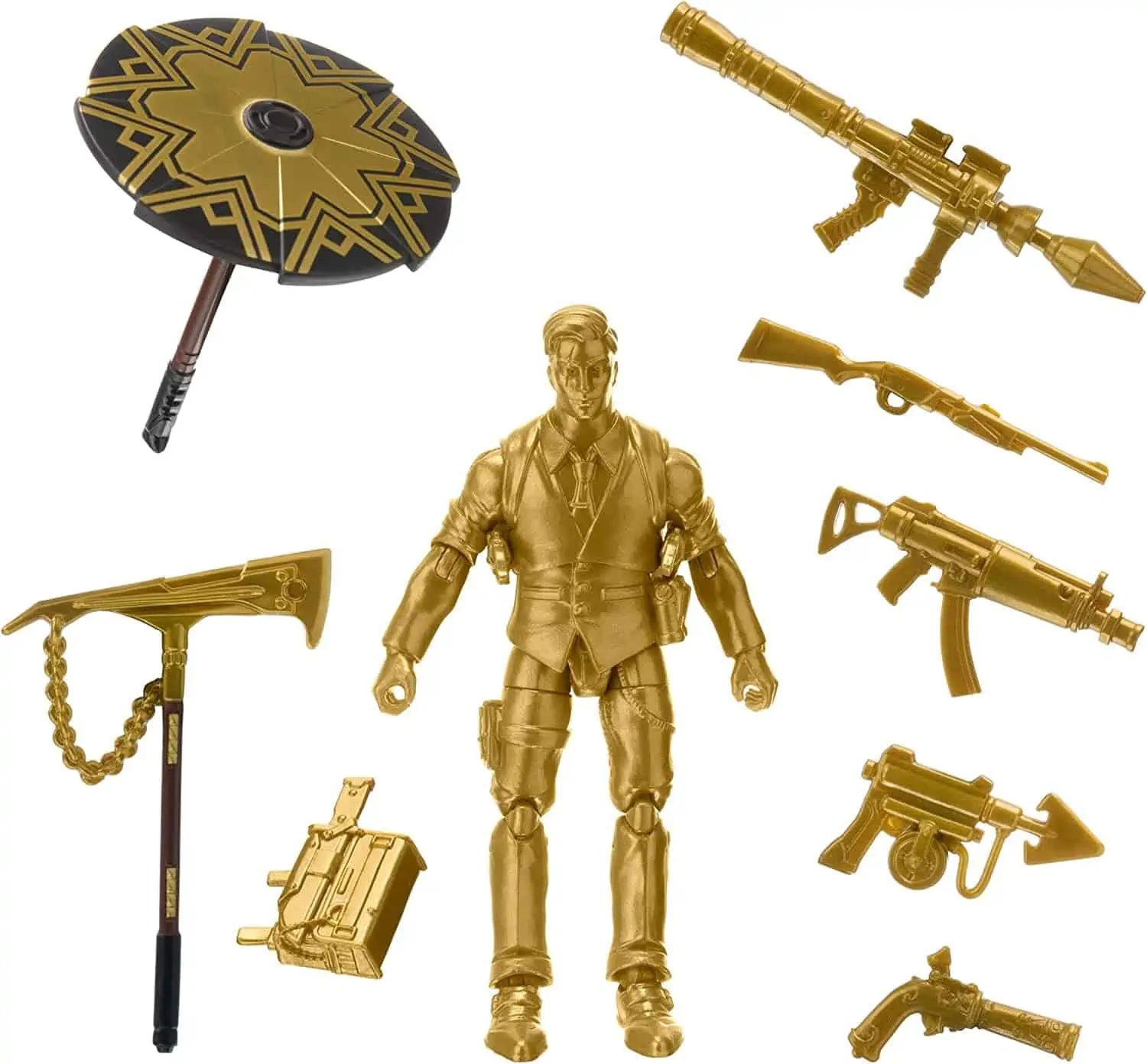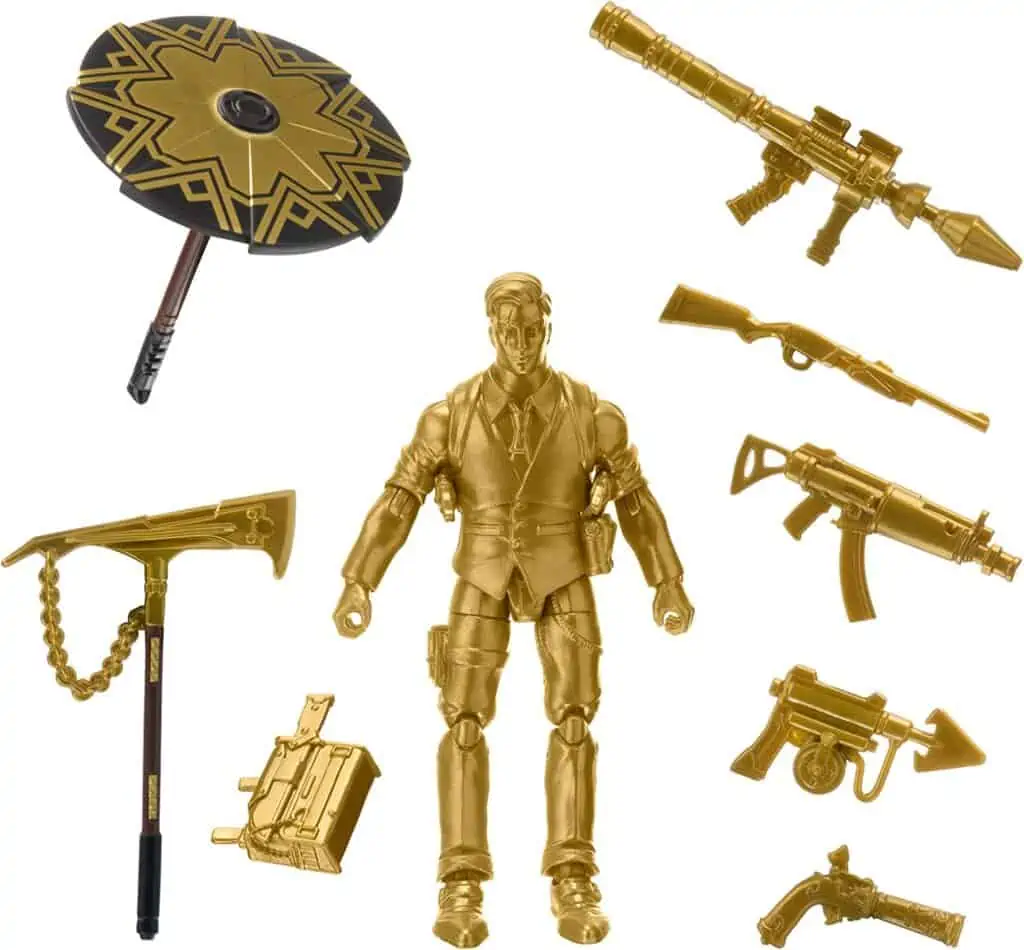 Fortnite Hot Drop Action Figure Set
This Fortnite action figure set is golden as a gift for kids who love to relive best moment from their favorite game, off screen!
The highly-detailed 4-inch Midas (Gold) Fortnite figure has 25+ points of articulation!
Midas is equipped with the Golden King Harvesting Tool, Gold Dagger Pack Back Bling, and CLASSIFIED Umbrella!
The Hot Drop includes 5 Fortnite Weapons. Add the all-gold Harpoon Gun, Pump Shotgun, Submachine Gun, Flint Knock, and Rocket Launcher to your Fortnite collection!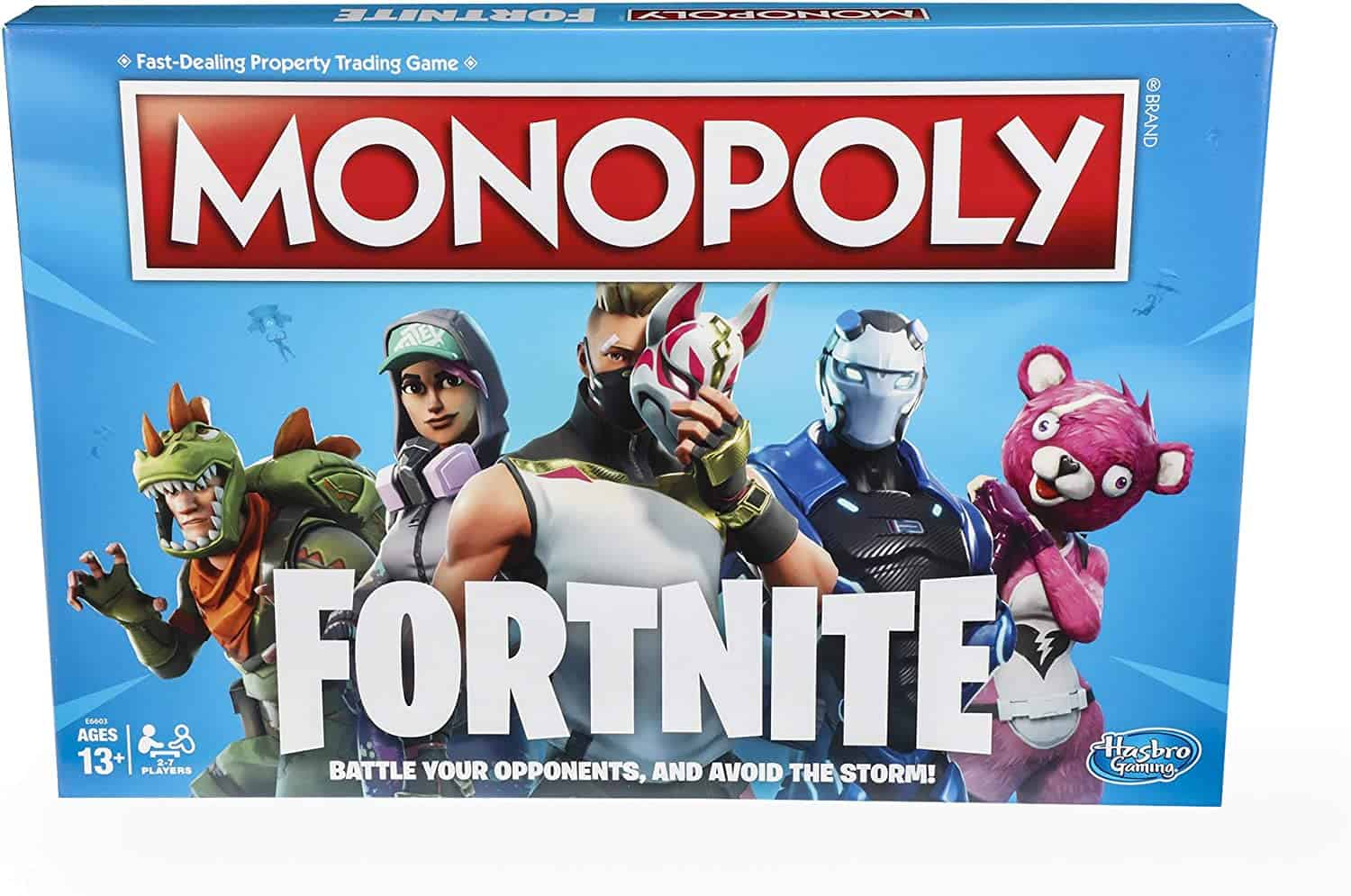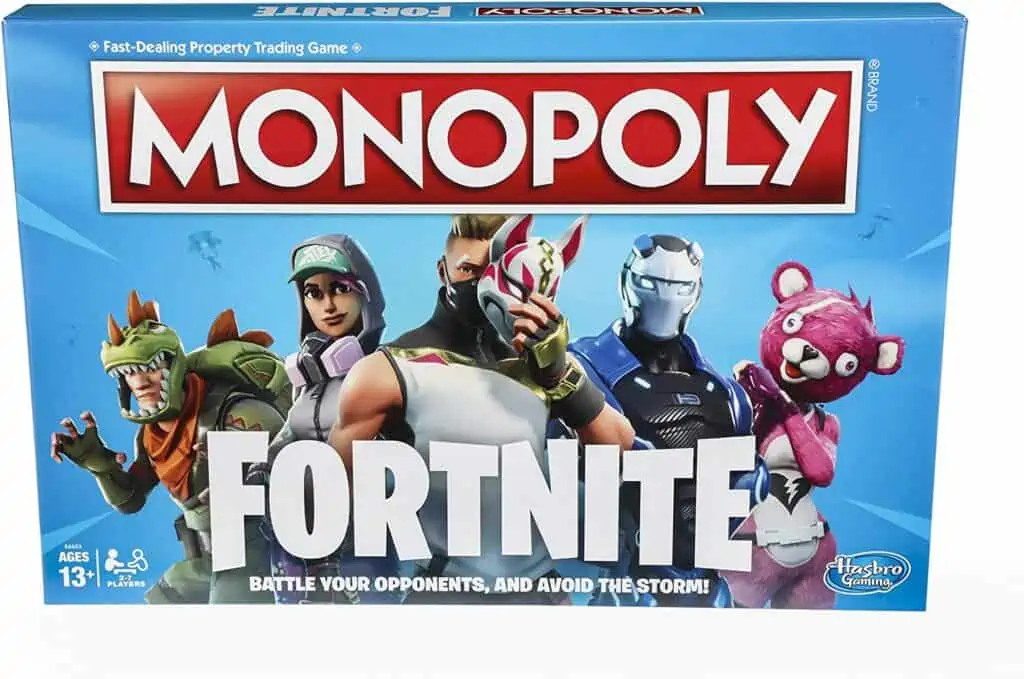 Fortnite Edition of Monopoly
Did you know fortnite has a monopoly edition? This is such a fun way to get tweens to join in on  board game night.
Fortnite fans, this edition of the Monopoly game is inspired by the popular Fortnite video game! It's not about what players own; it's about how long they can survive.
In the Monopoly: Fortnite Edition board game, 2 to 7 players claim locations, battle their opponents, and avoid the Storm to survive; the last player standing wins.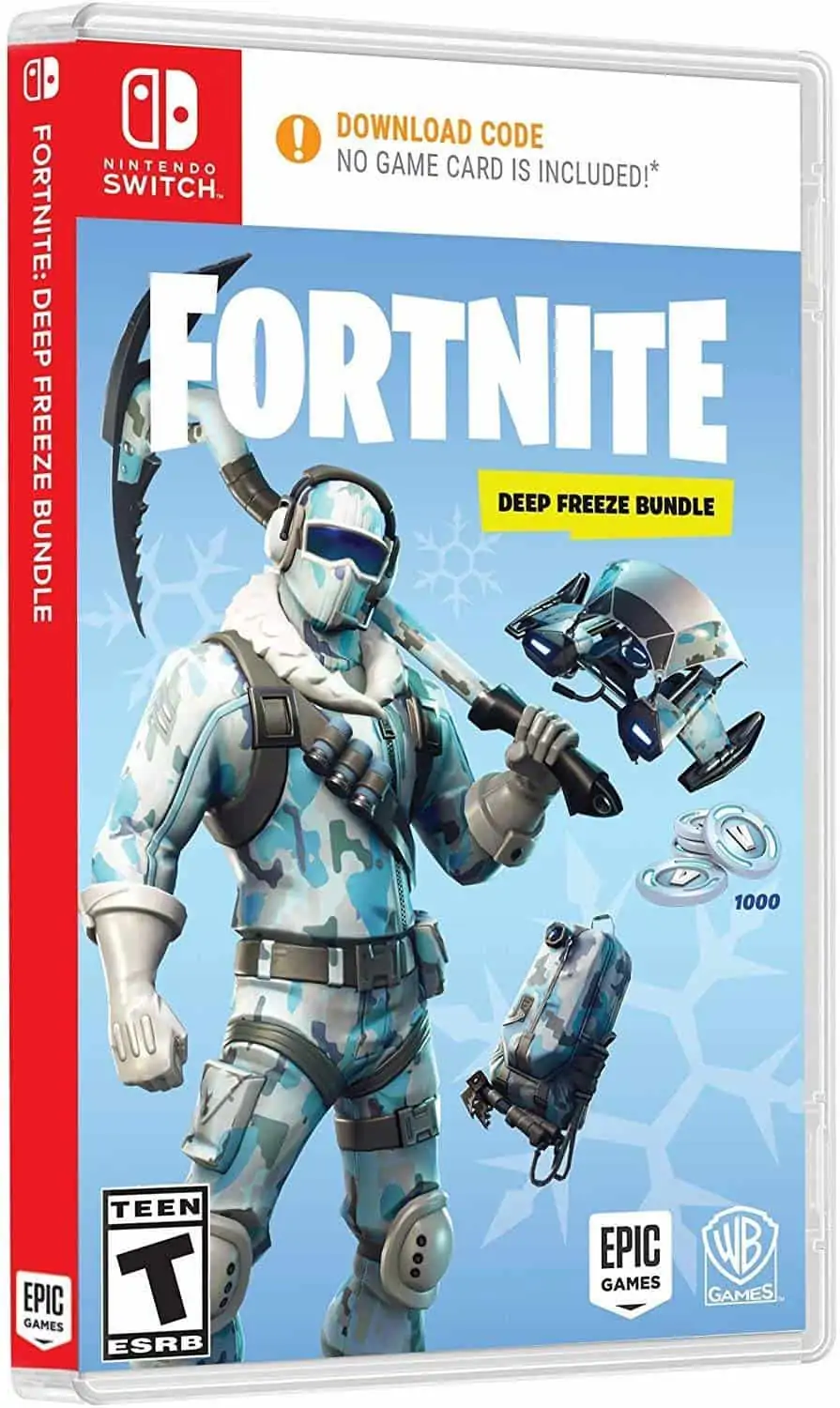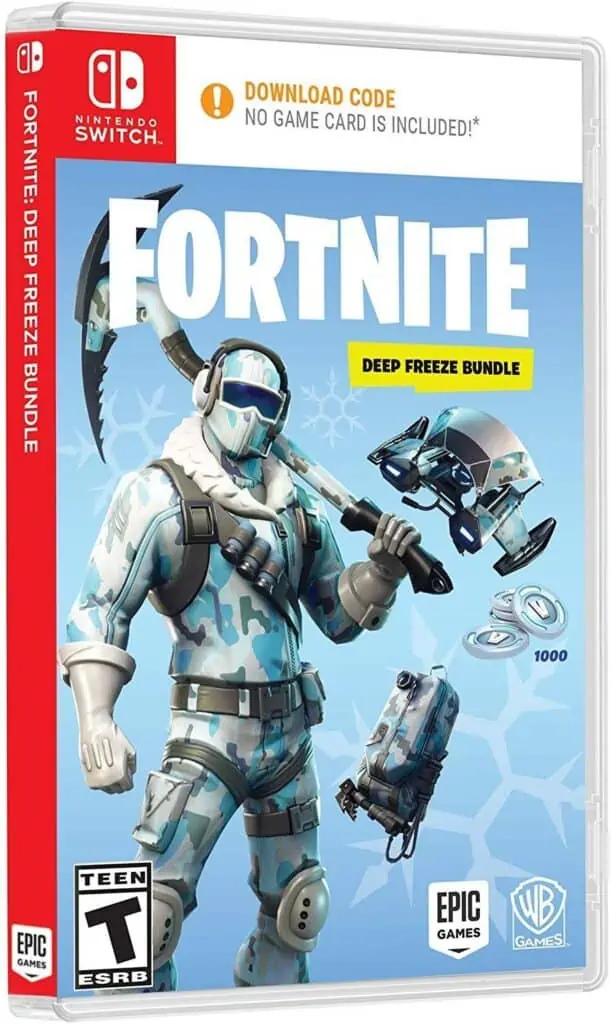 Fortnite Deep Freeze Bundle for Nintendo Switch
If you believe in going big, or going home, this is the gift to give your gamer!
Fortnite Deep Freeze Set includes Frostbite Outfit, Freezing Point Back Bling, Chill Axe Pickaxe and Cold Front Glider
Includes install of free Fortnite Battle Royale game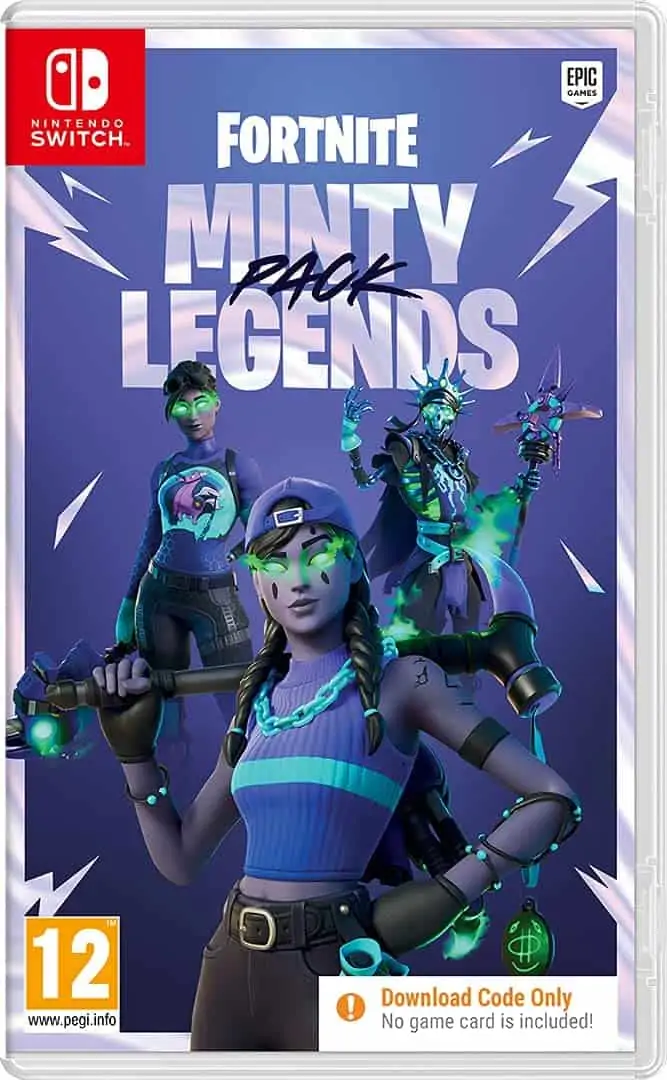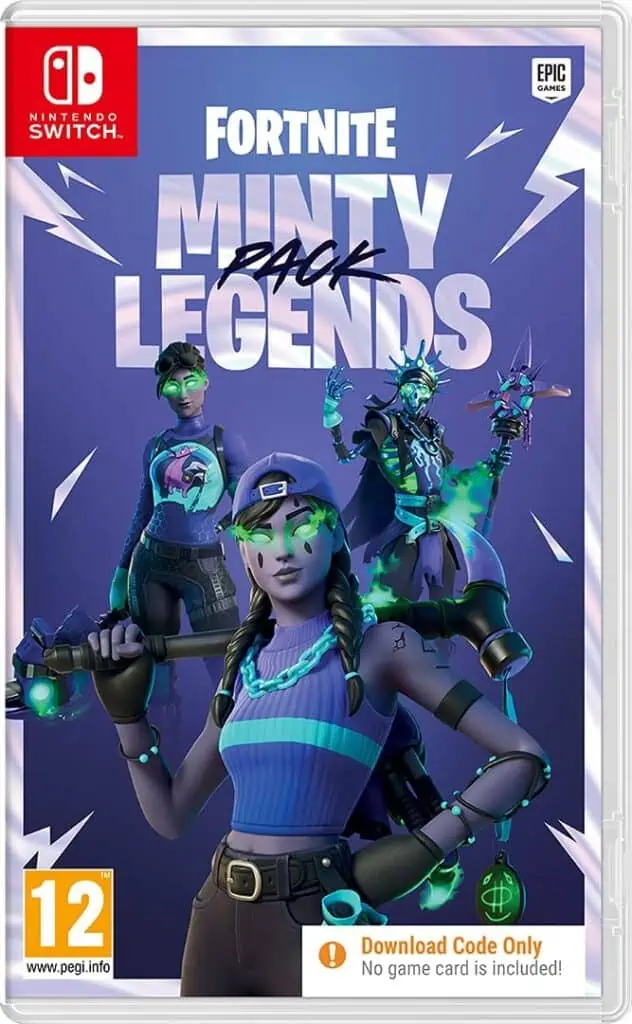 Fortnite Minty Legends for Nintendo Switch
Fortnite goes legendarily minty with this switch game.
Keep it fresh and fierce with the Fortnite Minty Legends Pack.
Everything you need to chill out the competition including Fresh Aura Outfit, Minty Multipack Back Bling, Minty Mountaineer Pickaxe, Minty Bomber Outfit, Spearmint Satchel Back Bling, Freshbreaker Pickaxe, Skellemint Oro Outfit, Minty Mantle Back Bling, Triple Mint Scepter Pickaxe, Fire Mint Wrap and 1,000 V-Bucks!
V-Bucks are in-game currency that can be spent in Fortnite Battle Royale, Creative, and Save the World modes.
In Battle Royale and Creative you can purchase new customization items like New Outfits, Gliders, Pickaxes, Emotes, and Wraps! In Save the World, you can purchase X-Ray Llamas that contain weapon and trap schematics, plus new Heroes, and more!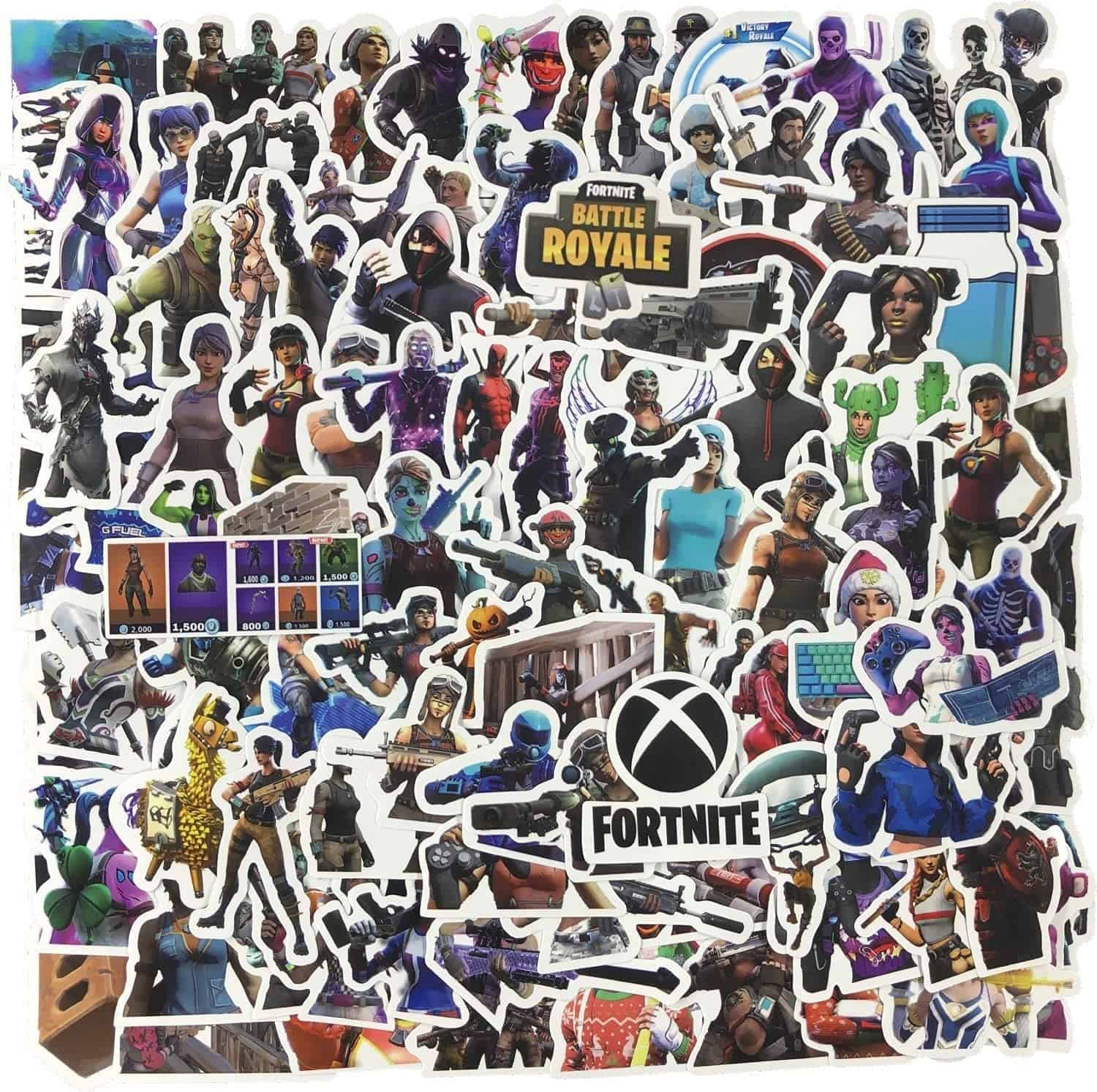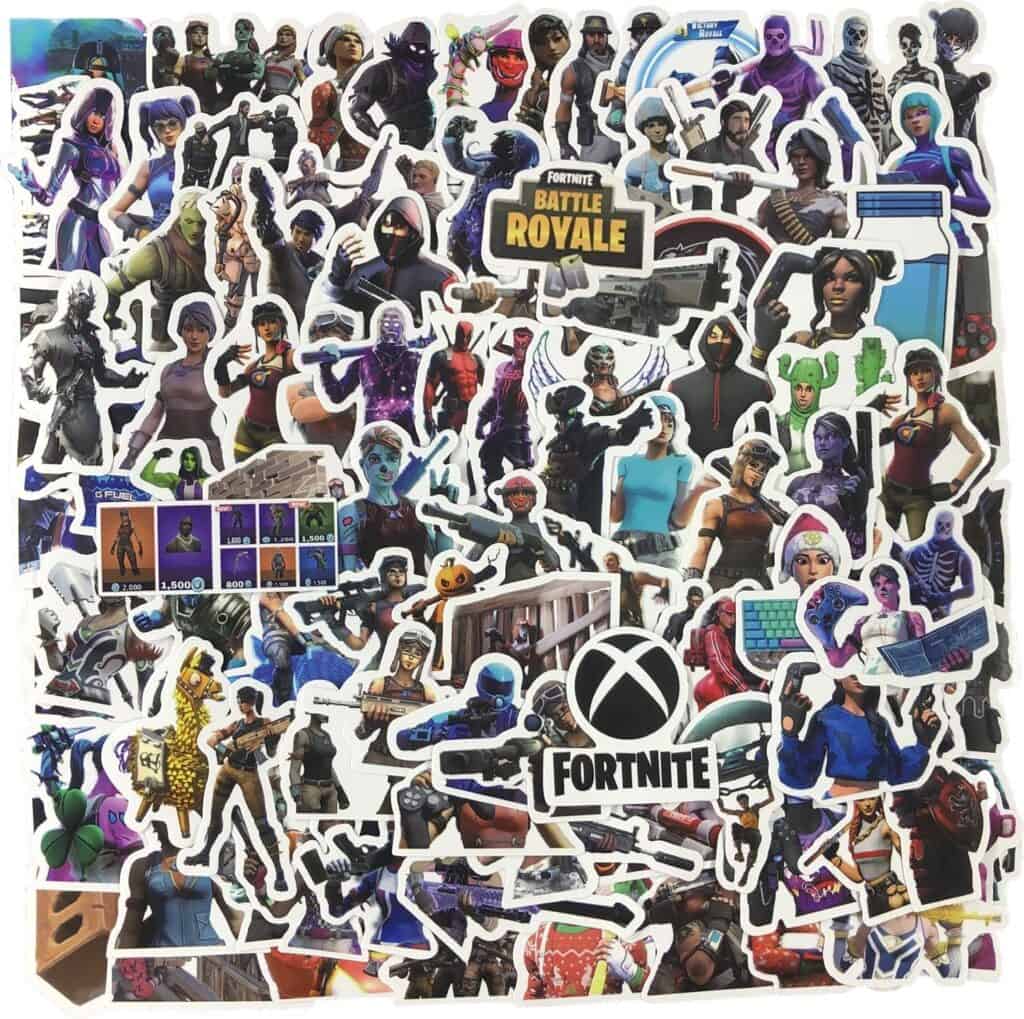 This pack includes 135 Fortnite stickers so you can share your love of Fortnite with everyone!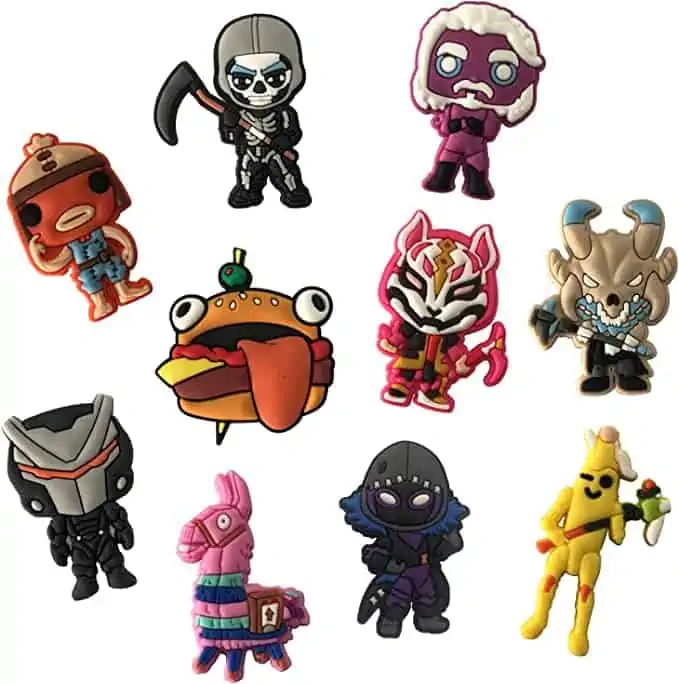 Fortnite Shoe Charms
Add a little bling to crocs with these Fortnite shoe charms! 
Variety colors and cute designs of lovely cute shoe charms make your shoes more interesting fun and unique.

Loot Llama Hat and Gloves
This Loot LLama hat and glove set glows in the dark, so it is super cool.
Kids will not complain about bundling up in this!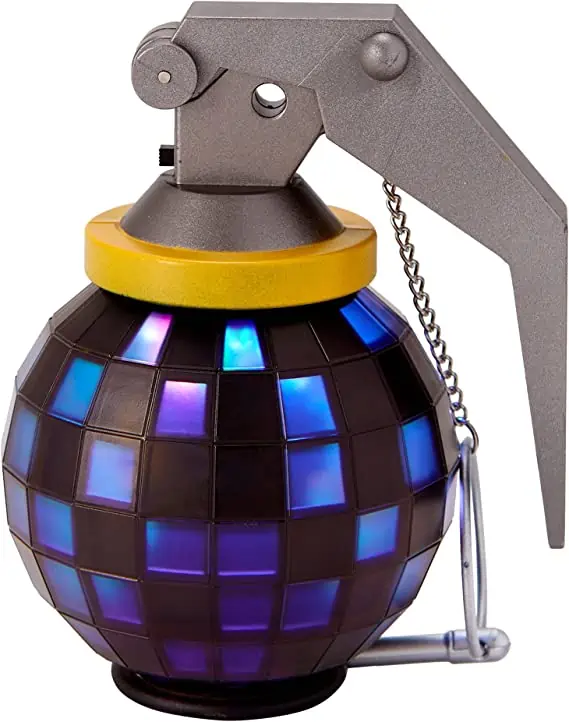 Fortnite Boogie Bomb with Lights and Sounds
Drop this Fortnite Boogie Bomb anytime you need to show off one of your iconic dance moves!
Fortnite prop lights-up, plays music and contains a realistic pull-pin trigger and on/off switch.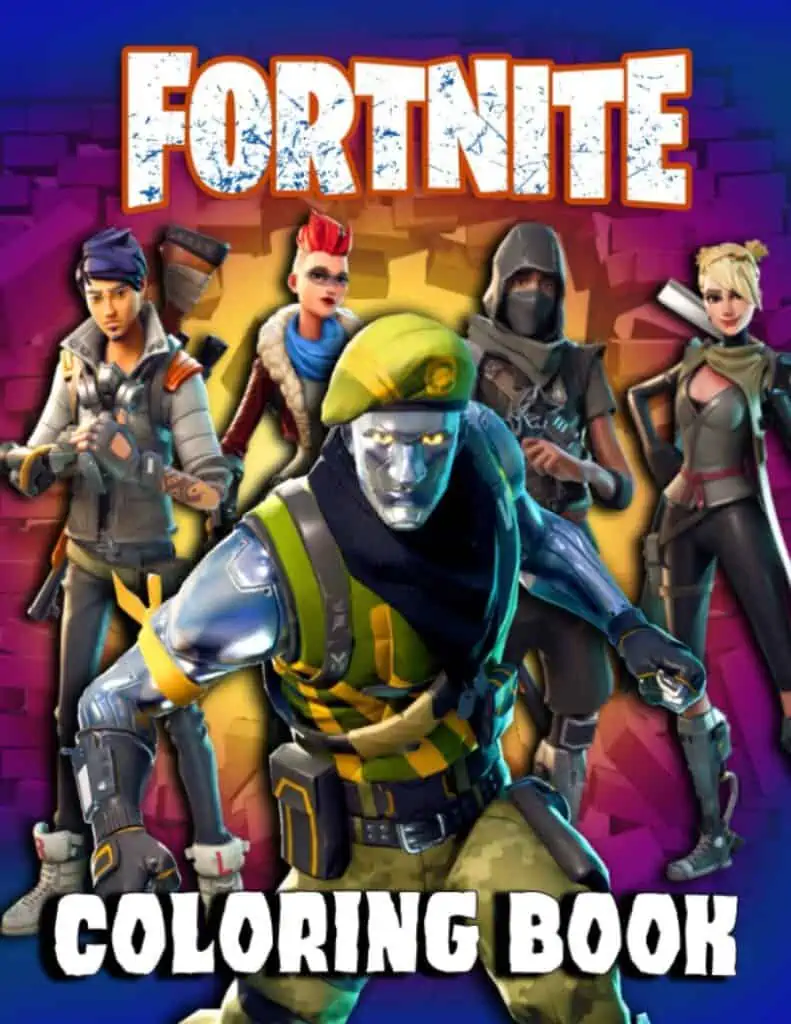 Fortnite Coloring Book
This Fortnite coloring book is the perfect way to relax in a fun fortnite kind of way.
Don't hesitate to come and grab this awesome coloring book to have fun with your friends and family.
Inside this book, there are a lot of illustrations of Fortnite that you can pick your favorites to color.

Loot Llama Wallet
Stash your cash in this stylish Fortnite wallet that is fit for a serious fan!
Make sure your kids' Cash is stashed safely. Easy to close with plenty of compartments.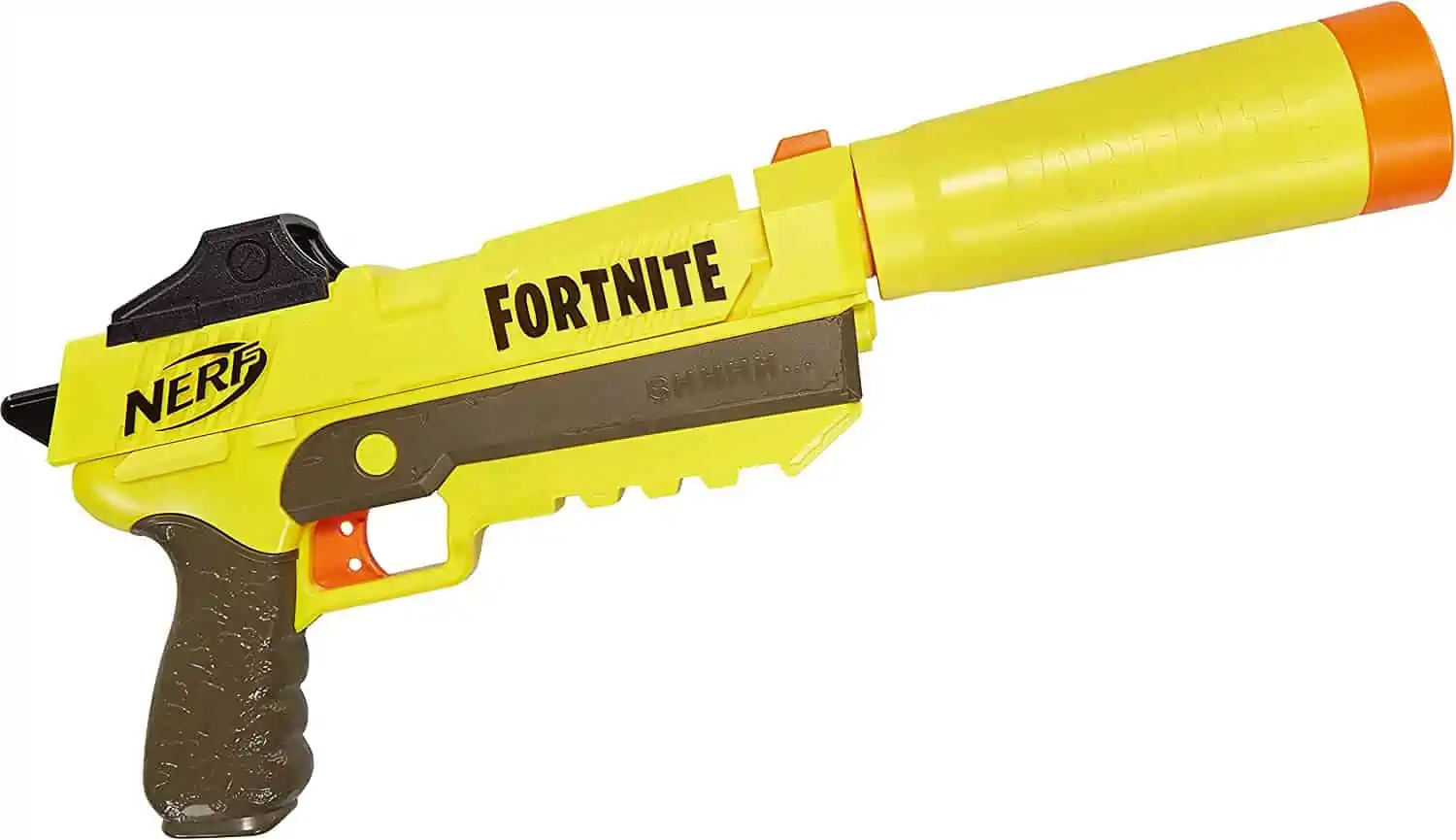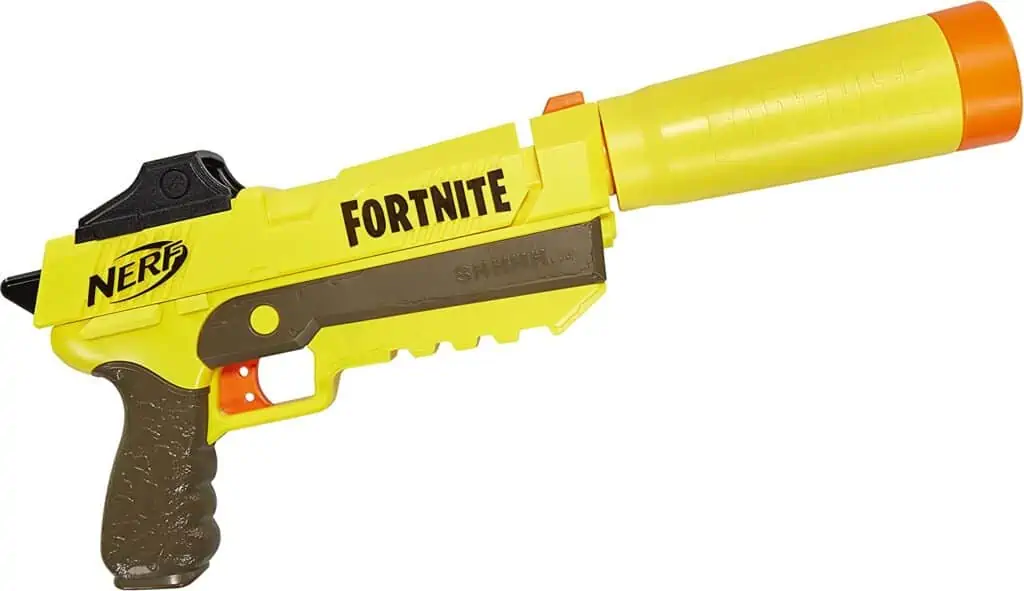 Fortnite Nerf Gun Blaster
This Fortnite nerf gun is just the thing to pull out and win all of the friendly battles with friends.
The Nerf Fortnite SP-L blaster is inspired by the blaster used in Fortnite, replicating the look and colors of the one from the popular video game!
Play Fortnite in real life with this Nerf Elite blaster that has a detachable barrel to customize for different ways to play.
Attach the barrel for distance targeting; remove the barrel when you need a more compact look for smaller play areas or when you need to move fast and stay mobile.
The Fortnite SP-L blaster has an internal clip with a 3-dart capacity, so you can load 3 darts in a row before it's time to reload.
Insert 3 darts, prime, and pull the trigger to fire.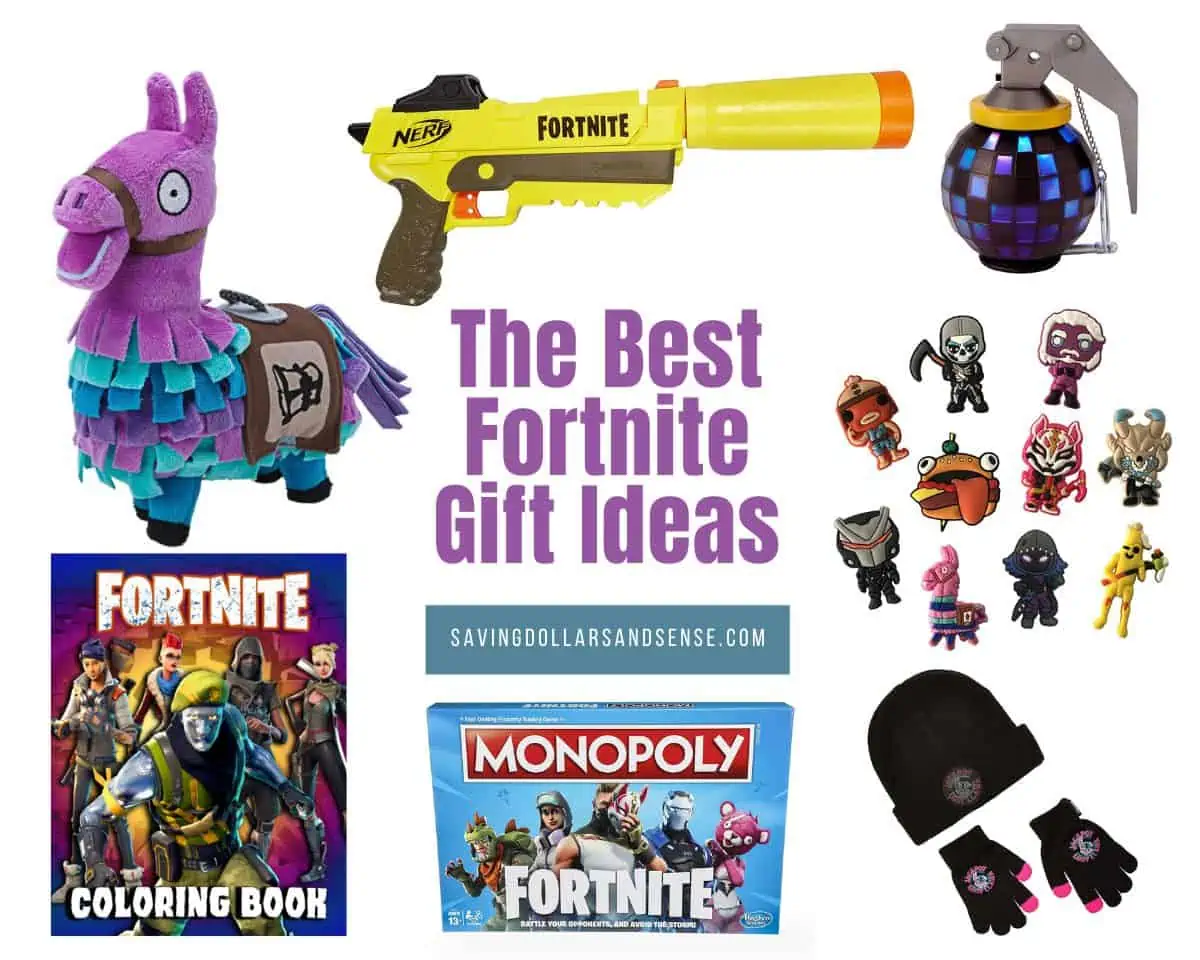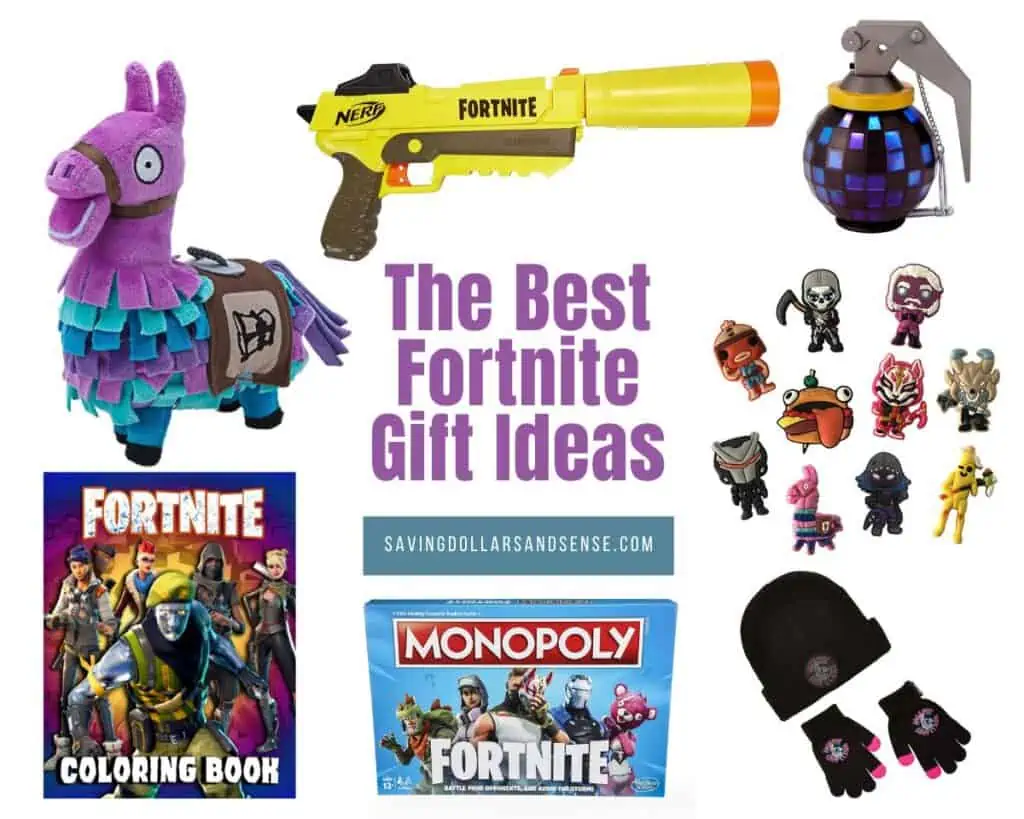 A great way to celebrate the holidays or just show someone they're loved is by gifting them something special from our gift guides.