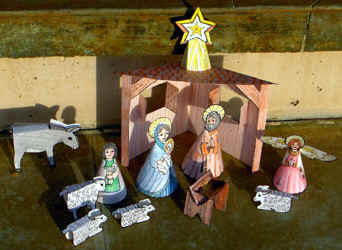 I found this easy and free Printable Nativity scene several years ago and wanted to share it with you because my family and I enjoyed making ours so much I kind of thought yours might enjoy it too 🙂
We printed ours on cardstock and both of my kids worked together to color all of the pieces and cut and assemble the nativity.
I thought it was nice that they did it together, however, this is a project that all of your kids can do because it really isn't difficult at all. The most challenging part might be cutting the pieces out.
I love the idea of each kid having their own nativity to display in their bedrooms.