Best Buy sent me this fancy new Fossil Smartwatch, to try out for myself and share my thoughts here with you in this honest Gen 4 Fossil Smartwatch Review. Although I did receive the watch free in exchange for my honest thoughts, all opinions expressed are solely my own.
Fossil Smartwatch Review
I have to say it was a little overwhelming at first for this non-techy girl when my watch was delivered and I opened the package to find it in all its' techy glory, waiting for me to play with it. Let's be honest, I can barely operate my laptop and phone.
But once I got the box open and plugged it into the charger it came with, it was pretty easy to get the watch set up and connected to my phone after downloading the Wear OS app for the app store.
I was a little concerned that the watch would have trouble paring with my iPhone but there was no trouble at all.
It literally walked me through each step until I had both the app on my phone and that Fossil Smartwatch up and running smoothly together. .
It did take me several days to get the hang of using it and figuring out the different features. The watch didn't have a lot of info on what the watch could do beyond the initial setup.
But I found that the more I messed around with it the easier it became to know how to do some of the basic functions.
What I love about the Fossil Smartwatch
I love that this watch works with my iPhone although it uses an android interface.
I love that it looks like a real watch, unlike other Smartwatches I have seen.
I love all of the different watch faces I can choose from. I know this is not all that important but it is probably the feature I love the most as of now.
Oh wait!
I totally forgot that it can also help me find my phone if I misplace it or forget where I set it and the ringer is turned off!! THAT is very valuable to me! In full transparency, I am still working on learning how to do it exactly, but once I do get it figured out I won't have to wait until my husband comes home so he can call me, while we walk around quietly hoping the battery hasn't died so we can hear that quiet vibrating noise.
After checking out the Fossil Smartwatch on the Best Buy website, I can see that there is still so much more that this thing can do and I haven't even scratched the surface yet!
More about the Fossil Smartwatch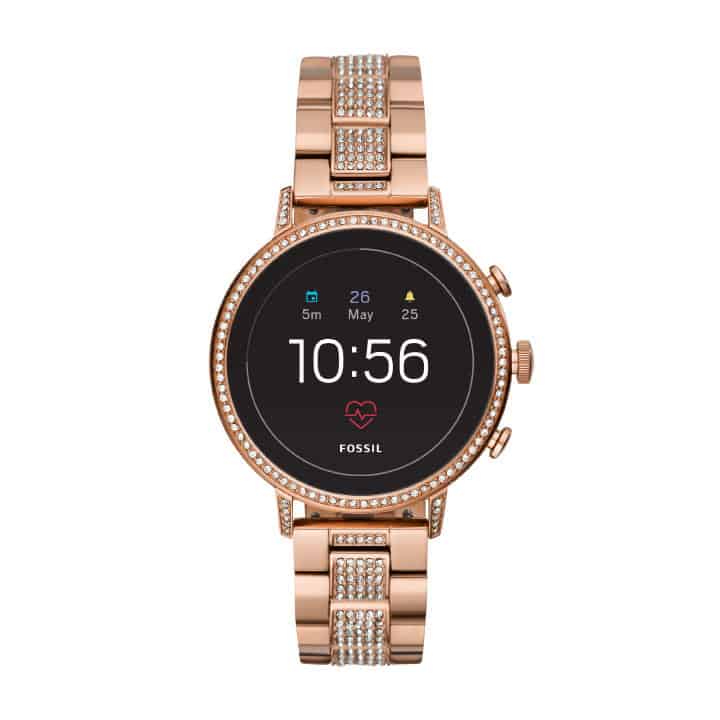 Compatible with Android phones and iPhone®
Wear OS by Google works with phones running Android 4.4 or later (excluding Go edition) or iOS 9.3 or later operating systems.*
Calendar, SMS, email and social apps notifications
Keep you updated on day-to-day happenings.
Stainless steel case
Along with a 18mm stainless steel watch band in rose gold tone ensures durability and an elegant look.
Water-resistant design
Defends your smartwatch against submersion in up to 164′ of water.
Wireless connection to your device
Bluetooth 4.1 LE connectivity and NFC technology enables simple one-touch pairing.
Vibrate mode
Quietly alerts you to a range of notifications, such as incoming e-mails, calls and text messages, as well as upcoming calendar events.
Comprehensive monitoring
Tracks distance, calories burned, activity, sleep activity, heart rate, steps taken and floors climbed.
I am looking forward to learning even more ways to use my new Gen 4 Fossil Smartwatch!
If you use a Smartwatch, I would love to hear which apps you are using on yours. I finally figured out how to add some apps, but I am not sure which ones I should try first.
The reviewer has been compensated in the form of a Best Buy Gift Card and/or received the product.