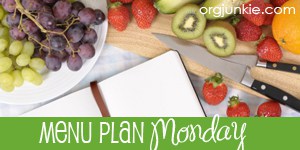 I shared last week about my plan to get healthy this year last week. From the response I received from all of you I have concluded that I'm not the only one in this situation. It's my hope that we can share this journey together.
So I would love it if you would share your own recipes, tricks, and tips that are working for you in the comments section.
In addition to working out I'll be using a 400 (per meal) menu. Of course my husband will eat more and I won't be nearly as stringent with my kids. But I followed this mean in the summer and saw results practically right away. The problem was I didn't stick to it.
Now on to this weeks menu plan.
Breakfast and lunch is pretty much the same around my house which is why that part of the menu never changes.
Breakfasts – consists of oatmeal, cold cereal, fruit smoothies, toast & poached eggs.
Lunches – consists of soups, peanut butter or tuna sandwiches, and dinner leftovers.
Dinners – I am working on a dinner menu that contains meals that are 400 calories.
~ Monday ~
Whole Grain Pizza & Garden Salad
~ Tuesday ~
Hamburger & Salad
~ Wednesday ~
Date Night!
~ Thursday ~
Stir-Fry
~ Friday ~
~ Saturday ~
Slow Cooker Swiss Steak & Mashed Potatoes
~ Sunday ~
Usually we have a very late lunch and just find something small for dinner. Either way I don't plan because I like to be flexible for anything that pops up.