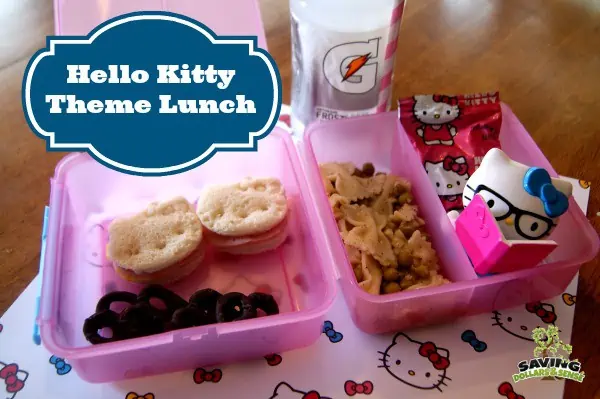 Hello Kitty Theme Lunchbox
I made mini ham and cheese sandwiches by first cutting out my bread, meat and cheese with the outline, then using the center press on one side of the bread for details.
Hello Kitty gummies are available at pretty much all stores and we always have a box on hand. I threw in some chocolate pretzels for this girly lunchbox because well..we love chocolate.
Bow tie pasta is perfect for this lunch as that is one of the main features of Hello Kitty- her cute pink bow.
You could add a drop of red food color to make it pink but I didn't want to add anymore artificial coloring then I had to. This pasta is a favorite of my kiddo's and its very simple but I don't use an exact recipe:
Boil ½ cup of bowtie noodles, drain and toss with 1 or 2 tsp. butter, a couple shakes of parmesan cheese, a little pepper, and toss with a few spoons of peas.
I finished the lunch off by taping a pink paper straw, that was left over from her last birthday to a sports drink for a special treat.
Check out these other Back to School Lunch Ideas!