Today I can hardly believe it, but I am sharing a simple no sew DIY for How to Make Scrunchies using old T-Shirts.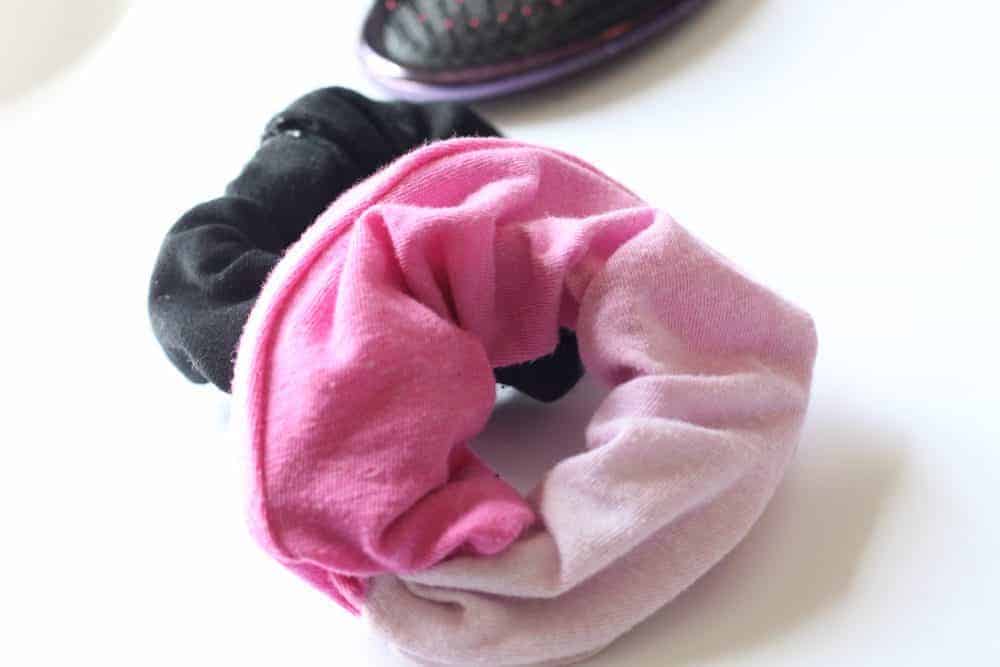 Scrunchies are no longer a thing of the past, they have been brought back from where they were banished in the fashion vaults and are being worn in the hair and on the wrist by young people everywhere.
I guess it is true what they say, everything old becomes new again.
Making your own DIY No-Sew Upcycled T-Shirt Scrunchie is a great way to use up materials you already have on hand, save some money, and make your scrunchies unique.
Plus it is a great way to spend some time with your favorite young person, while sharing this project together.
This tutorial does not require lugging out your sewing machine or your needle and thread. All you really need to use is your trusty glue gun!
The only special item you need is the elastic, which you can pick this up at any store that sells crafty supplies like Micheals, Hobby Lobby, and even Walmart.
I have even have a link to order a big roll on Amazon if you want to make a bunch!

I love whenever I can find ways to reuse items we already have and avoid throwing things away.
These upcycled scrunchies are so easy to make with old t-shirts I no longer wear or need.
How to Make Scrunchies With Hot Glue
First you will need to gather all of your supplies to make scrunchies. You can probably find most of these items around the house.
Old t-shirts
Glue Sticks
Scissors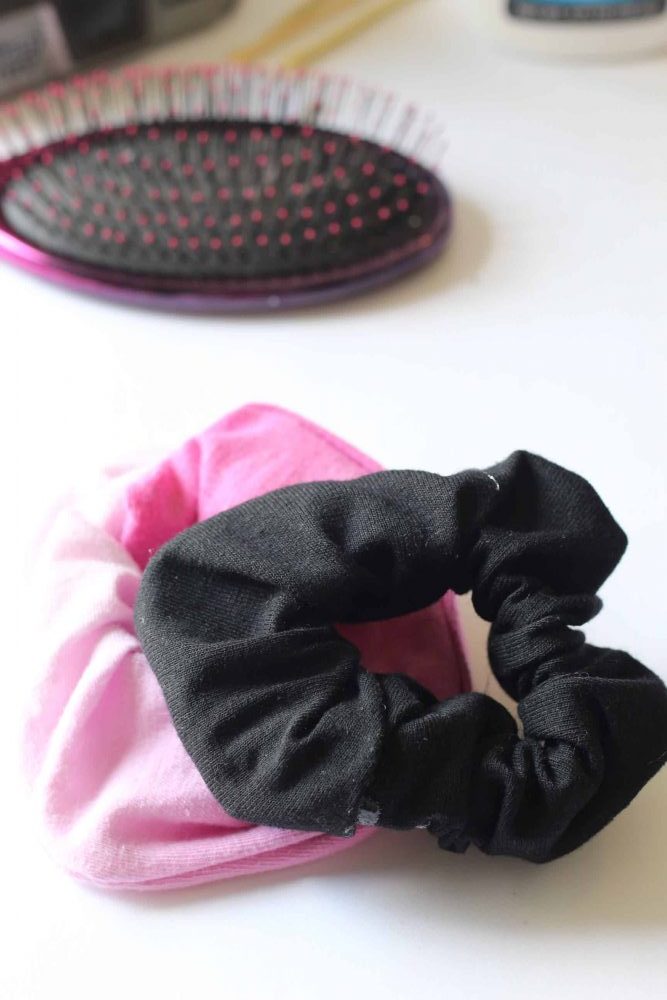 How to Make a Scrunchies Hair Tie
Cut your t-shirts into 18"x 4.5" strips.
Saving Dollars and Sense Tip: You can make them an inch smaller for young children or an inch (or two) longer for very thick hair.
With solid t-shirts it won't really matter, but if you have a print one you are using fold your strips "wrong side" together lengthwise.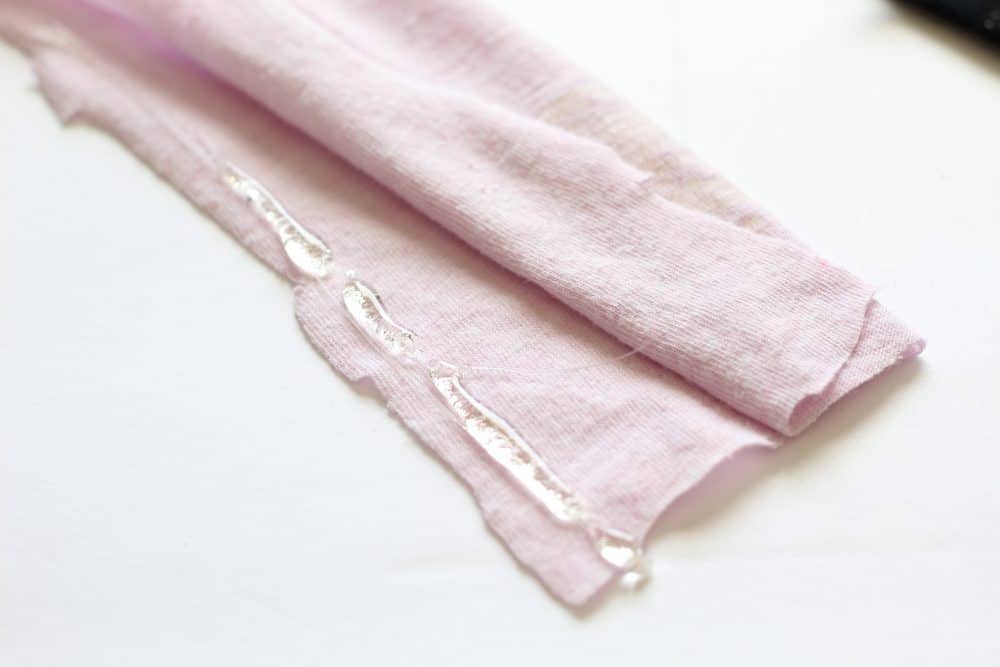 Fold back a few inches and run a generous bead of hot glue down the edge of one side, press the other side into it using a craft stick. Be careful and do not use your fingers! Continue until you have glued it all along the edge.
Turn your tube inside out so that the seam is now inside the tube.
Next you are going to add the elastic to your hair scrunchie.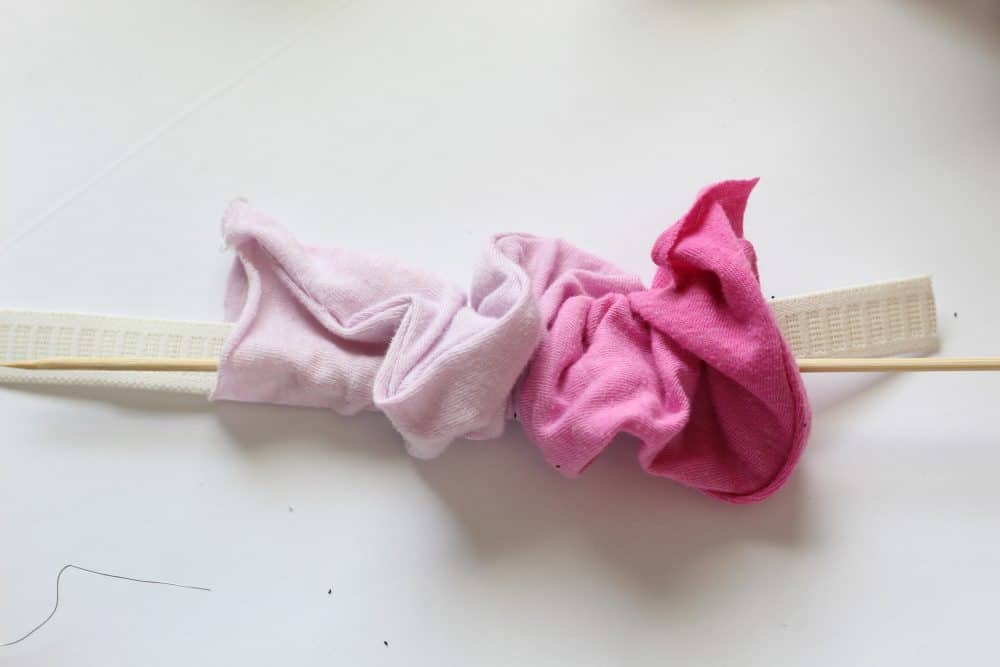 Poke a skewer or safety pin through your elastic and slide it through the fabric tube to the other end, push up the fabric to grab the other end of the elastic and knot it tightly, cut off any excess elastic you may have.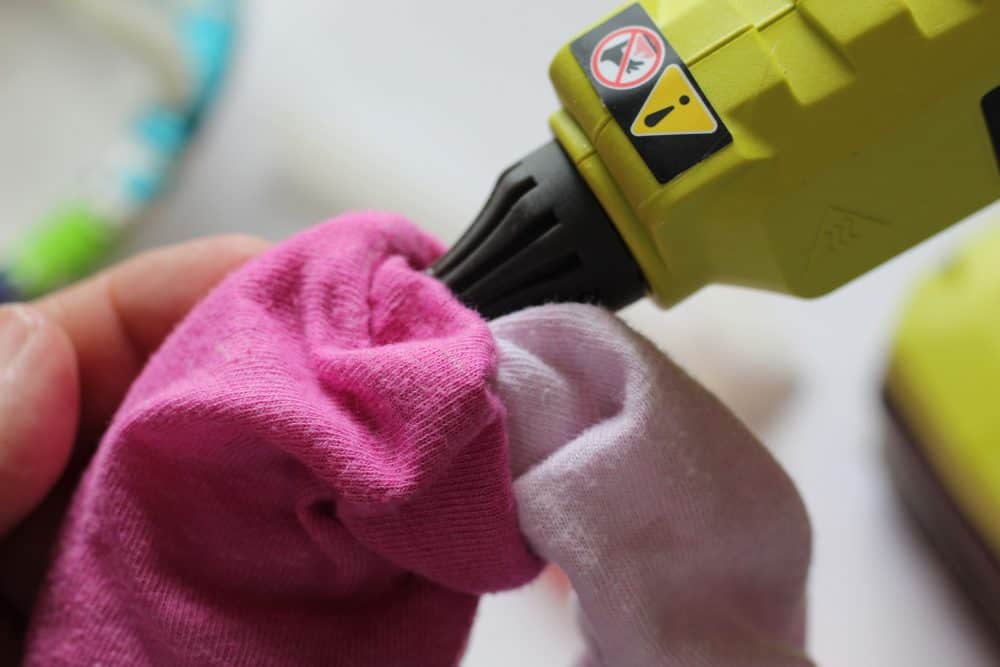 Overlap one end of the fabric over the other and fold in ¼" to give it a clean even seam. Use your hot glue gun to add hot glue between the overlapping fabrics to finish it off.
Repeat as many times as you like, to whip up a basket of fun new upcycled scrunchies!
Hot glued scrunchies and be hand washed or washed in cold water and only air-dried!
If you liked this DIY project, check out these other homemade projects.