I have the best deal on Michigan Renaissance Festival Discounted tickets to share with you today!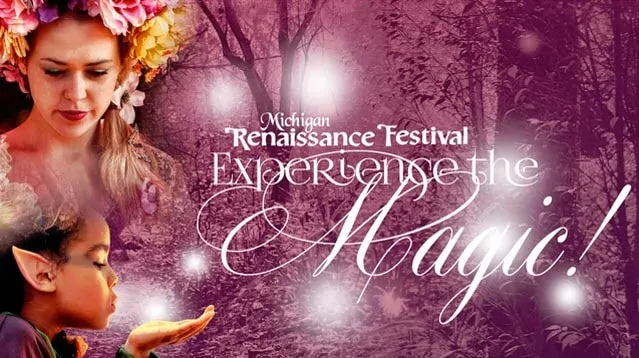 It's time for the Michigan Renaissance fair again, so make sure that you grab your Michigan Renaissance Festival tickets today!!
Step back in time for feasting and revelry, grab some grub, enjoy exceptional ales and be amazed by all the fun and folly of a magical era, with acres upon acres of spellbinding artisans, costumed entertainment, enchanting stores and lots of medieval fun.
Experience the summer rite of passage that is the Michigan Renaissance Festival, every weekend through October 3rd in Holly, MI.
Special themed weekend events at the RenFest include:
September 4, 5, 6 – Vikings Weekend
September 11 & 12 – Wonders of the World
September 18 & 19 – Shamrocks and Shenanigans
September 25 & 26 – Harvest Huzzah
October 1 – Festival Friday
October 2 & 3 – Sweet Endings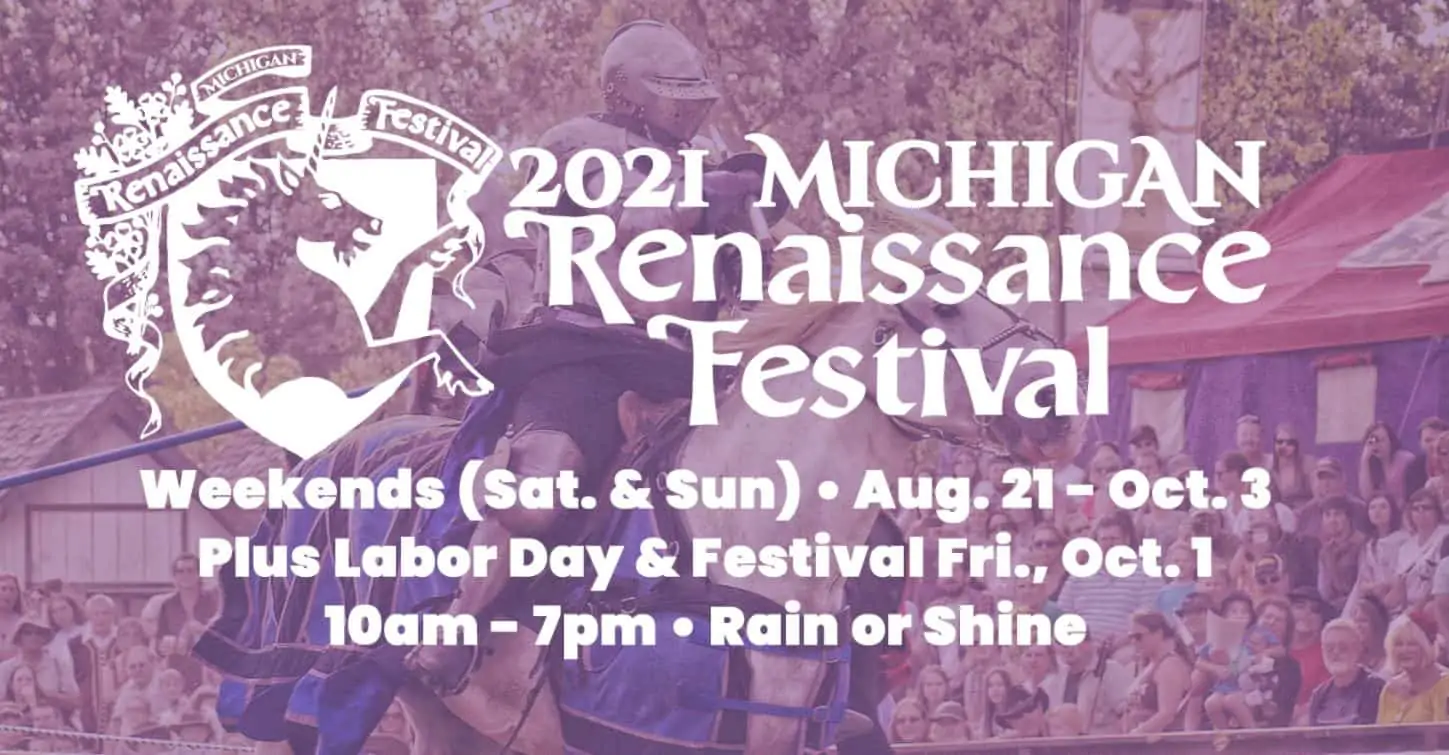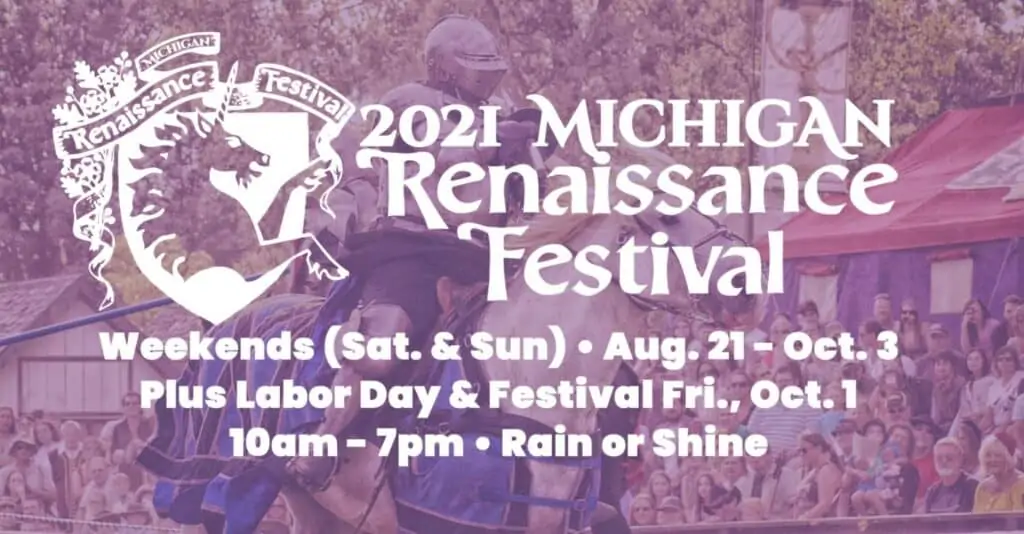 Renaissance Festival Tickets:
Gate Admission:
Adults: $24.95
Children (5-12): $15.95
Kids 4 & under are FREE
Seniors (Ages 65+): $22.95
Michigan Renfest Discounts
Discount tickets are available at Kroger, Menards and Goodwill.
There are a couple opportunities to get FREE or discounted Renaissance Festival Tickets.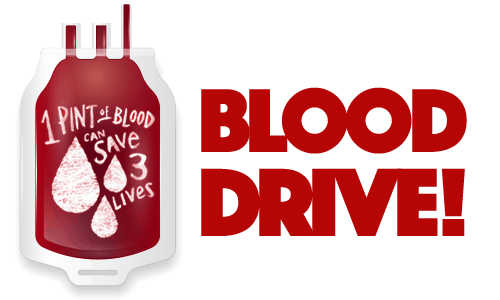 During the Viking weekend get a free ticket when you donate blood at the festival, to help save a life!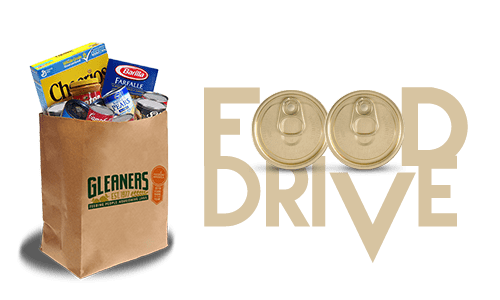 BUY 1, GET 1 FREE TICKET
During the Vikings Weekend, donate 4 non-perishable items to the food donation truck and you will receive a BOGO for adult general admission.
$5 OFF ADMISSION when you show your MOTOR CYCLE ID at the box office!
Knights on Bikes • Shamrocks & Shenanigans Weekend • Sept. 18-19:
Present your motorcycle ID to the festival box office and receive $5 off your adult admission.
$5 OFF ADMISSION for all active military, vets & 1st responders with proper ID shown at the box office!
Active military, vets, & first responders receive $5.00 off their gate admission with the proper ID.
FREE TICKET Festival Friday
October 1st, all military, vets & 1st responders get in FREE with proper ID shown at the box office!!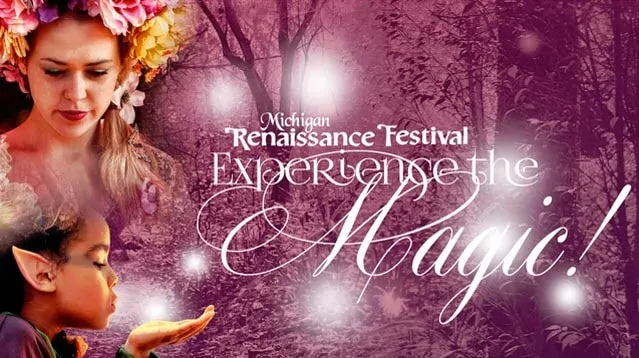 Why You'll Love It: At the Michigan Renaissance Festival you'll get to experience first-hand what it was like to live in the ages of knights of the round table, fair maidens and juggling jesters.
Whether you catch a jousting show or listening to the music that fills the air with all the rope-walking, ball-juggling, puppet-mastering fun you'll have, you'll want to come back each weekend.
Pick up your own renaissance-era gear at the many glass, leather, jewelry, clothing, and sculpture boutiques, or get to the festival early for special theme weekends like the Royal Pet & Ale Fest, the Highland Fling and the High Seas Adventure.
Get your discounted Michigan Renaissance Festival Tickets today!