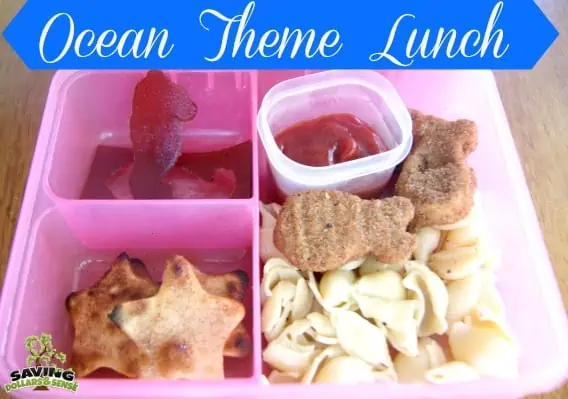 What a fun theme this was to create!
We definitely love visiting the ocean so creating an ocean themed lunch was naturally something we are drawn to and already had some things on hand to make it beachy .
I started by boiling some shell pasta for seashells, tossing it with a bit of butter and salt and pepper.
The cute fish shaped fish sticks are from Earth's Best Kids Organic and I picked them up at Target recently on sale- shaped treats are a great way to get your kids to eat a variety of healthy foods.
Include a small container of tarter sauce for dipping.
I used a fruit strip and a mini cookie cutter to make a cute little seahorse for a treat.
For another healthy snack I made starfish from Cinnamon tortillas- Spread butter on a small tortilla, sprinkle with cinnamon sugar, cut shapes out, toast in toaster oven or at 350° for 10 minutes in a conventional oven.
If you're an ocean lover too here is a cute starter set of cookie cutters to recreate the beach a in your child's lunchbox.
Thanks again to Jody for sharing all of these lunch ideas with us!
Check out these other Back to School Lunch Ideas!