Homemade Pop Tarts are perfect Valentine's Day Treat that kids will love!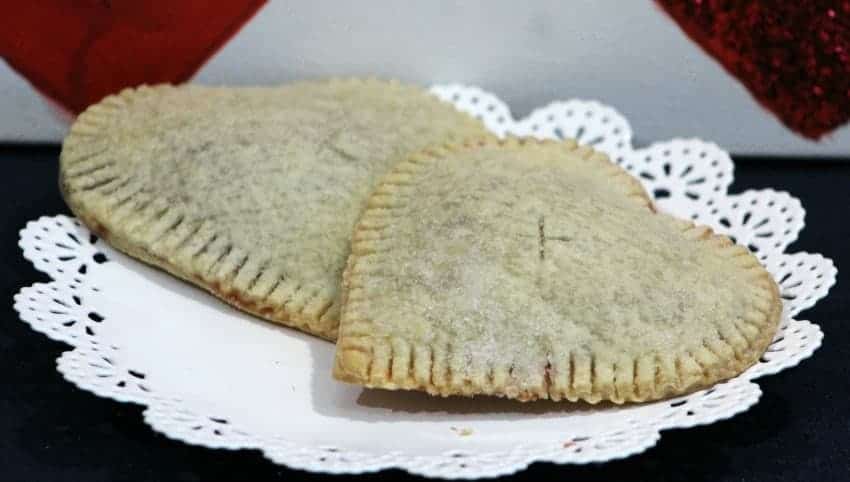 If you have been looking for a way to enjoy those delicious toaster made pasties at home, then this Homemade Pop Tarts recipe is for you!
Plus this homemade pop tarts treat is SO simple to make in less than 20 minutes. You could even make them while your little ones enjoy some Kids Valentine's Day Activities.
Ingredients
Pillsbury Pie Crust
,  ready made
1 container Breyers Cherry fruit topping

1 C  sugar
1/2 C flour
Large Heart cookie cutter
Directions:
Preheat oven 340 degrees. Line a baking sheet with parchment paper
Toss some flour on a flat surface. Rub some flour on a rolling pin
.
Unroll the pie crust onto the floured surface.
Use the rolling pin to even out the edges.
Using the cookie cutter , cut as many pairs of hearts as you can.
With a spatula transfer one cut out heart to the lined baking sheet.
Spoon one TBSP of the Breyers Cherry Fruit topping
in the center of the heart.
Transfer a second cut out heart and put on top of the other half.
Dipping a fork in a glass of water then with the fork seal the two hearts together.
Sprinkle sugar on top of each heart pop tart.
Bake at 350 degrees for 8-10 minutes.
Allow to cool briefly while on the baking sheet.
Move the heart pop tarts to a wire rack
to allow to cool.
If you prefer a more chocolately Valentine's Day treat, try these Heart Cream Filled Brownies!