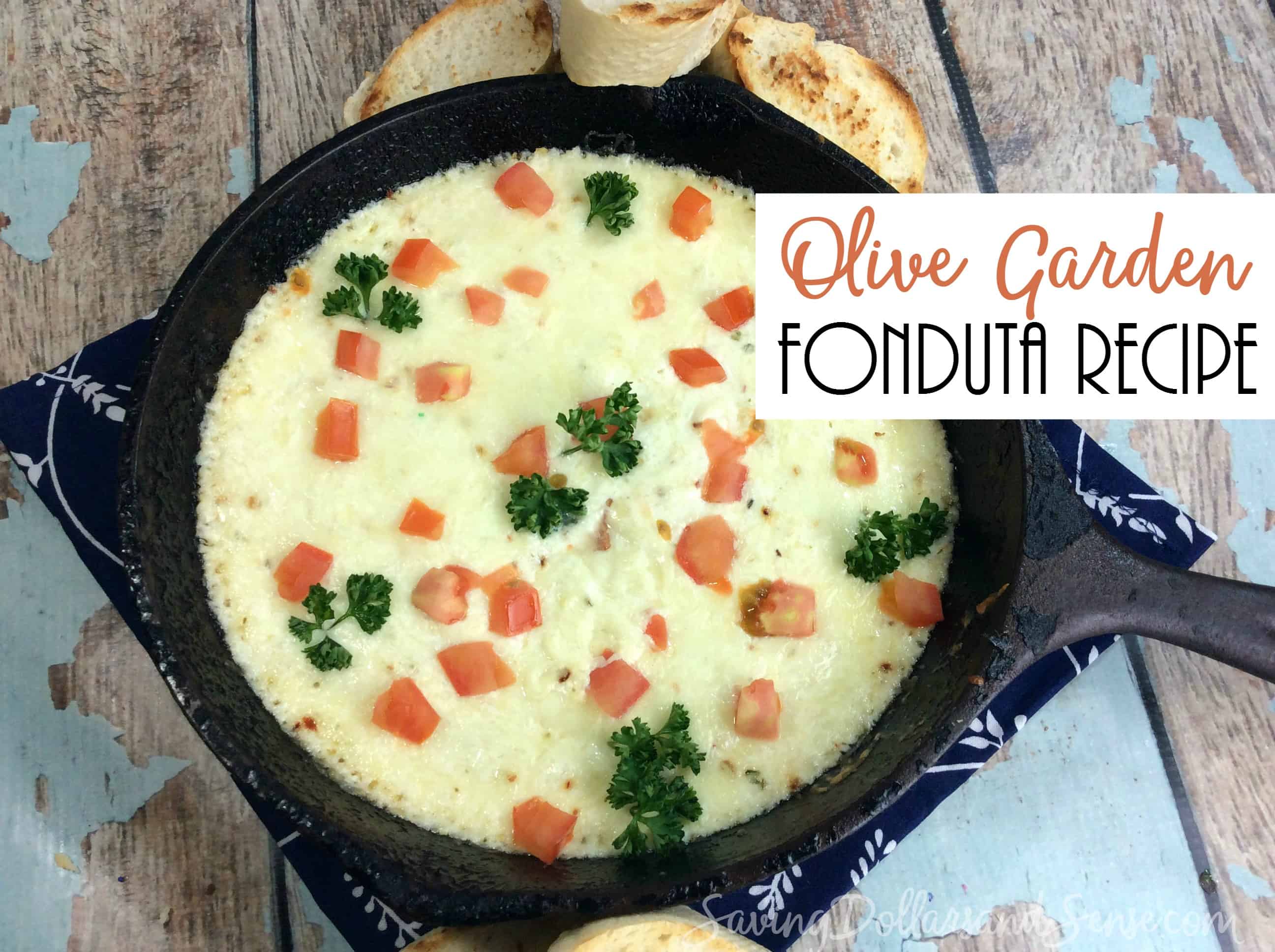 This Olive Garden Cheese Fonduta Recipe is the latest one to join our Copycat Olive Garden recipes and you're going to love it!
I mean what's not to love about some hot, ooey-gooey cheese dip 😉
Olive Garden Cheese Fonduta Recipe
Ingredients
1 C  sour cream 
8 oz mozzarella cheese, shredded
8 oz provolone cheese, shredded
1/2 C parmesan cheese, finely shredded
1 tsp italian seasoning

1 tsp red pepper flakes

2 roma tomatos, diced
2 tbsp finely chopped parsley
1-2 loaf of Italian bread, cut into slices
Directions
Pre-heat your oven to 450F.
In a large bowl, combine the sour cream with the mozzarella cheese, provolone cheese, Parmesan cheese, Italian seasoning
, and red pepper flake
.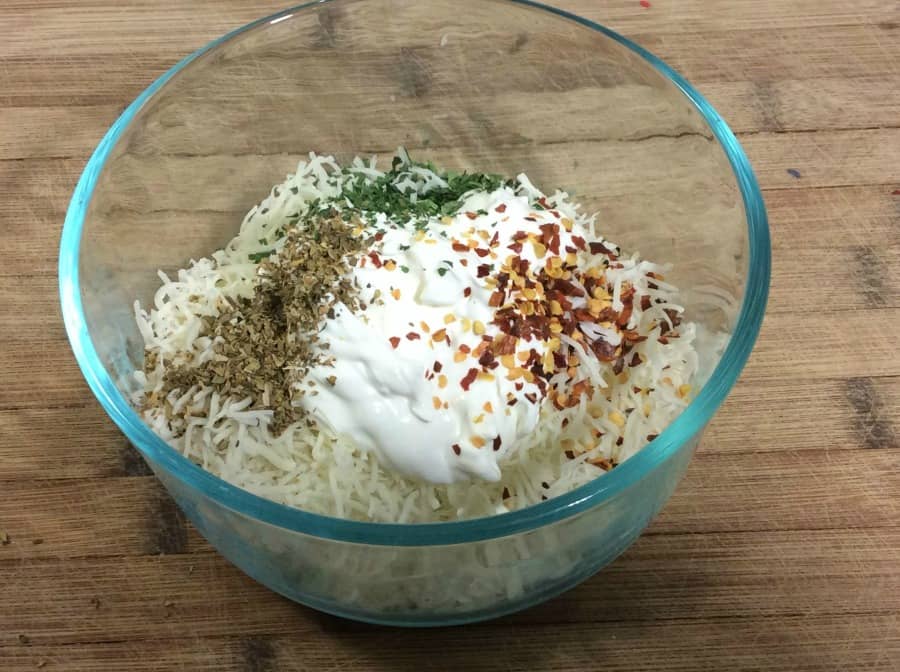 Spray a medium size cast iron dish
with cooking spray.
Pour the mixture into the prepared cast iron dish
.
Bake for 15 minutes, until the mixture is melted and bubbly.
*If you'd like the top extra browned, broil for an additional 2-3 minutes, but make sure to keep an eye on it so it doesn't burn.
Garnish with diced tomatoes and parsley.
Bake the bread slices for 5 minutes then serve immediately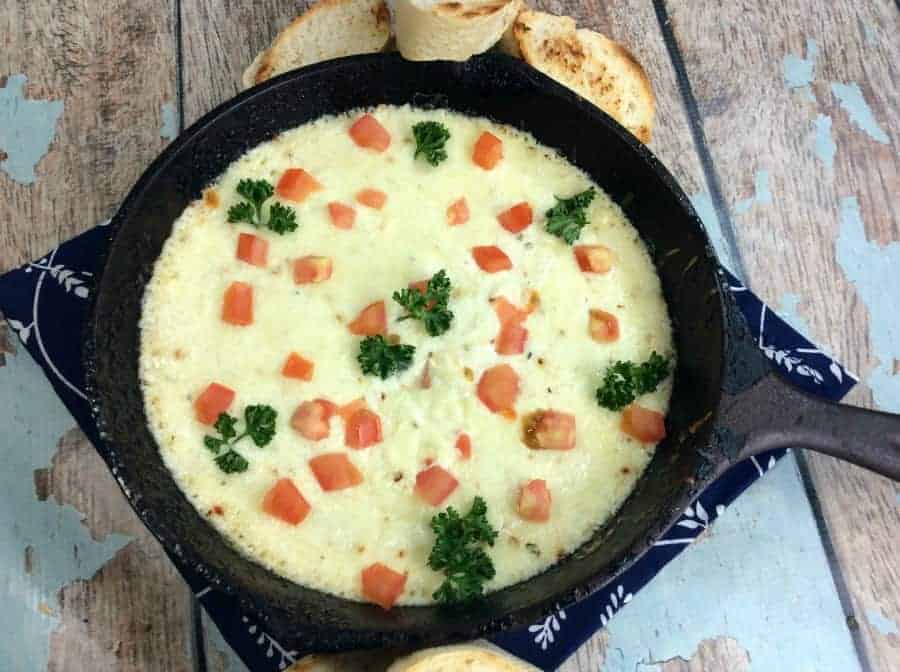 Olive Garden Cheese Fonduta Recipe

This Olive Garden Cheese Fonduta Recipe is the latest one to join our Copycat Olive Garden recipes and you're going to love it!

Ingredients

1

C

sour cream

8

oz

mozzarella cheese

shredded

8

oz

provolone cheese

shredded

1/2

C

parmesan cheese

finely shredded

1

tsp

italian seasoning

1

tsp

red pepper flakes

2

roma tomatos

diced

2

tbsp

finely chopped parsley

1-2

loaf of Italian bread

cut into slices

Instructions

Pre-heat your oven to 450F.

In a large bowl, combine the sour cream with the mozzarella cheese, provolone cheese, Parmesan cheese, Italian seasoning, and red pepper flake.

Spray a medium size cast iron dish with cooking spray.

Pour the mixture into the prepared cast iron dish.

Bake for 15 minutes, until the mixture is melted and bubbly.

*If you'd like the top extra browned, broil for an additional 2-3 minutes, but make sure to keep an eye on it so it doesn't burn.

Garnish with diced tomatoes and parsley.

Bake the bread slices for 5 minutes then serve immediately
More Copycat Olive Garden Recipes: