Rich and I finally buckled down this weekend and finished the final step in our Rubbermaid Garage Makeover!
If you don't remember what we had to deal with, here's the before post complete with lots of before photos. Needless to say, it was a mess in need of an overhaul for sure.
The biggest problem was that we did not have adequate space to hold all of the regular garage stuff that a family of four uses plus all the tools, materials, and large equipment that a contractor must own.
So, the first step in this journey was clearing out some of the stuff and creating a whole new place for our yard equipment, which we were able to do by putting together an awesome Rubbermaid Shed. This gave us so much additional room to work with!
Once that was finished it was time to move onto remodeling the garage.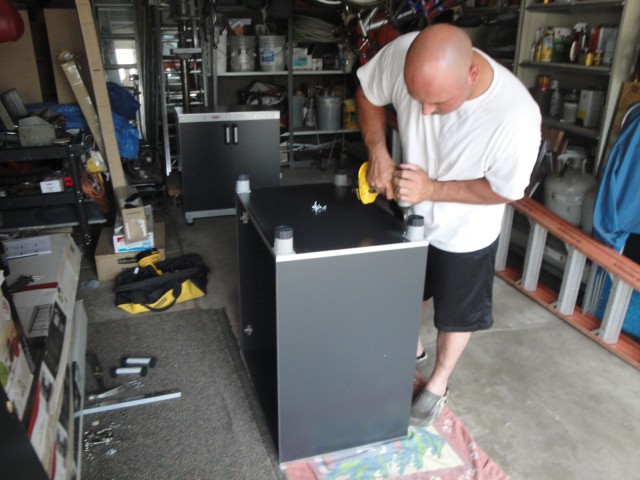 We knew that this would take an entire weekend to complete. So we started last Monday building all of the new cabinets that would replace what we were using.
We had four of these cabinets and two sets of uppers and lowers to build.
Each cabinet took about an hour for us to build, and we did one set of uppers and lowers each day. We didn't rush it, and we found ourselves ready to go when Friday came along.
Because we had the threat of rain all weekend, we had to work in sections which made the process a little more difficult.
Day #1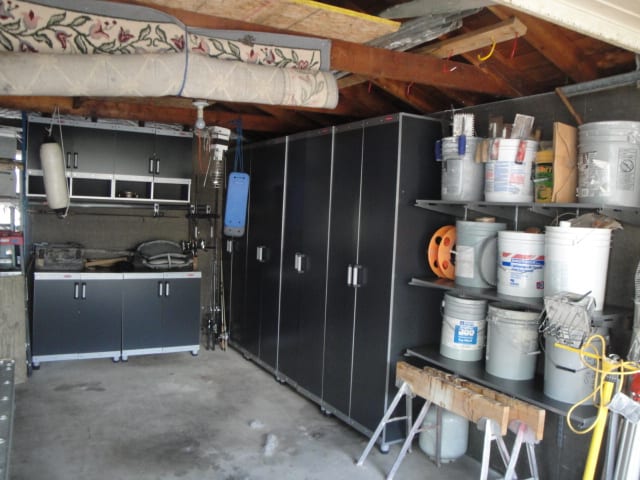 The right wall and half of the back wall was our first section.
We emptied all of the shelves and pulled them out of the garage. This left us with a blank canvas to work with.
We replaced the open cabinets that we were using with these tall closed cabinets. We added some open shelving to the wall area as well. This was really easy to install using the Rubbermaid Fast Track System.
Then we filled the new cabinets. It was great to have an opportunity to go through everything because we were able to get rid of lots of junk.
But also because we could see what we had and realize that there are some things, like power steering fluid, that we won't need to buy for a while since we found several bottles of it we didn't know we had.
After we had that wall done we continued to tear out the old shelving we had along that back wall and then we called it a night.
Day #2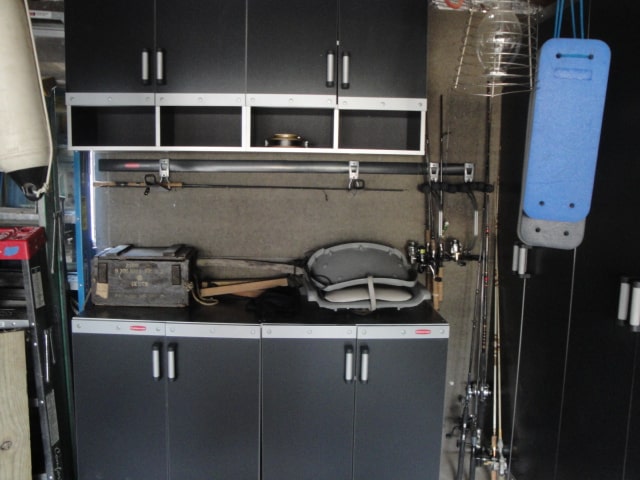 Today was crunch day and we were only able to work a half-day after church.
We mounted the upper cabinets and this area has become Rich's fishing area which he is very excited about!
Then we continued to rip out the rest of the old shelving from that back wall, and replace it with more of the Fast Track Shelving system which went pretty smoothly.
We also wanted to create a space for our kid's stuff which we were able to do fairly easily with the Rubbermaid Fast Track System, ball rack, wire basket, and a hanger for the sleds, pogo stick, and scooter!
I love that we were able to create this area behind the weight bench, and neither will interfere with the other. It's like a whole recreational area for my teens!
Even though we removed all of the yard tools to the shed, we still had some handled tools that were used by the Fast Track to create a much cleaner and more organized area.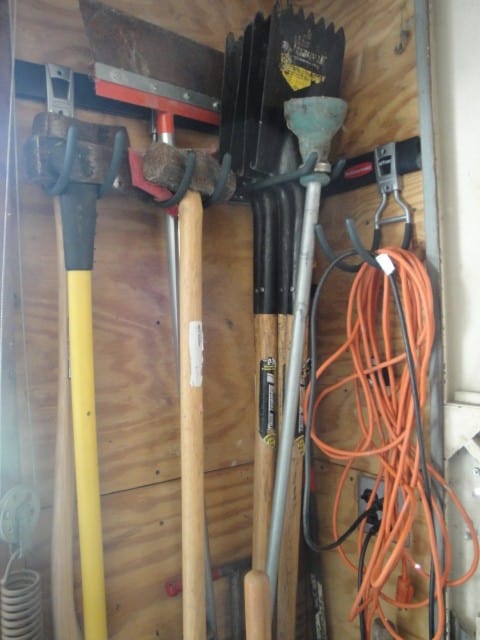 I should mention that my husband used a chop saw to cut down a couple of pieces of the track to make them fit this area, but it worked out perfectly. He is very creative and able to adjust things to make them work out the way he needs them to.
If the Rubbermaid Fast Track System can be used to organize a contractors garage just imagine what it can do for your garage!
This Rubbermaid Garage Makeover inspired us to clear out some of the junk we found in our garage. I'm not sure how much our garbage men are going to like us after this week. However, it feels great to get rid of some of the clutter.
Now I need to take this newfound inspiration inside and get to work on my pantry and closets. But maybe I'll just wait until fall.
All in all, we survived this huge project and still love each other.
*Although I was provided with all of the products for this garage makeover from Rubbermaid, all opinions expressed are fully mine.