Now that the holiday season is officially upon us, it seems only fitting this would be the perfect time to binge out on Christmas movies.
I just love the holiday magic that each family comedy reveals and it has become a holiday tradition for so many of us.
Christmas Movie List
There are so many great holiday movies to watch during the Christmas season that are filled with holiday spirit.
To help make this even more fun, how about a new Christmas Challenge to watch the most Christmas movies before the end of the holidays.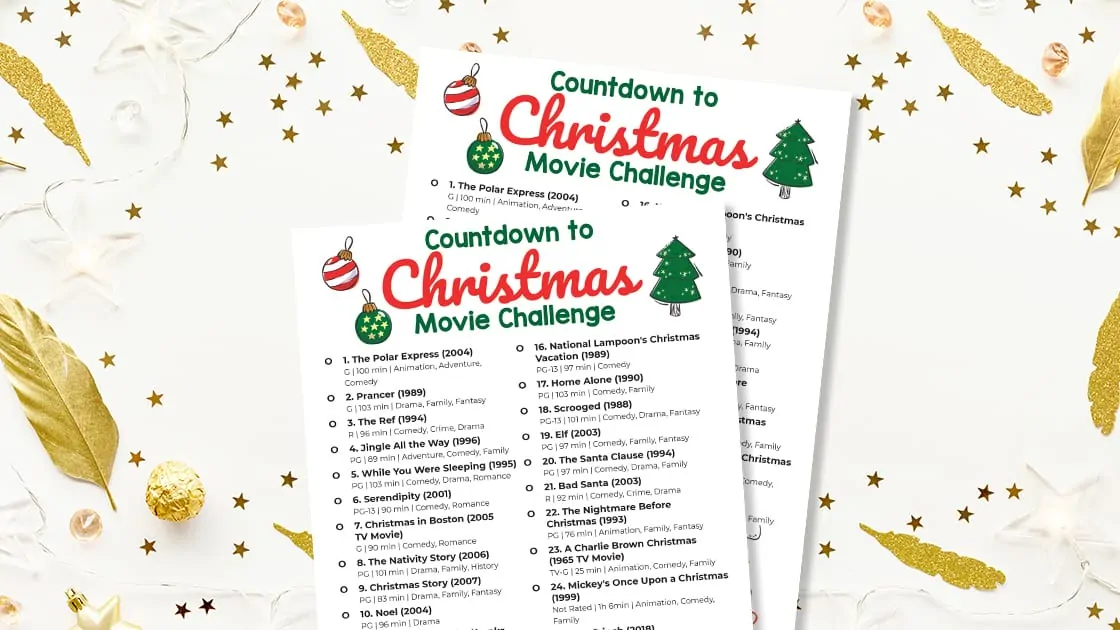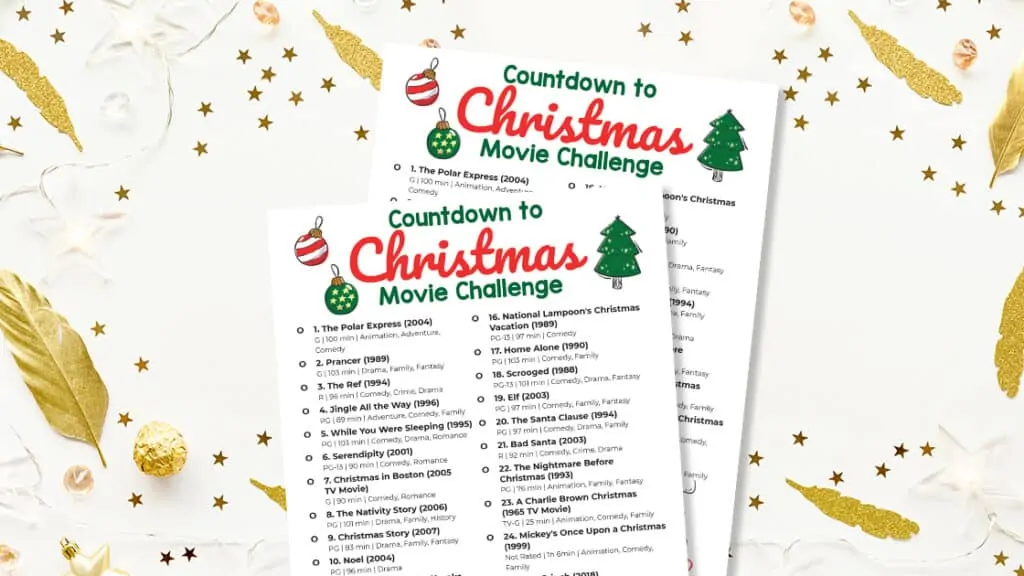 Christmas Movie Checklist
In my efforts to make it super easy to watch a great Christmas movie every single day leading up to the big day, I have created this Christmas Movie Challenge.
You'll find a new holiday movie suggestion to watch each day from December 1st through December 25th, as you wait for the arrival of Santa.
You can also grab a cute Printable Christmas Movie Challenge to stick on the fridge or anywhere else you would like to keep it.
The rules of this holiday season Christmas Movie Challenge are simple.
Just watch one new Christmas movie every day leading up to Christmas. That's it! You can follow the list below or choose your own.
Holiday Movies Challenge
Here are the recommended movies from the printable Christmas Movie Challenge, but feel free to watch a different movie if you prefer something other than what is on the list below.
Also scroll down to find some other non-conventional Christmas movie ideas if you prefer an action movie instead, as well as a list of my top 5 all time faves!!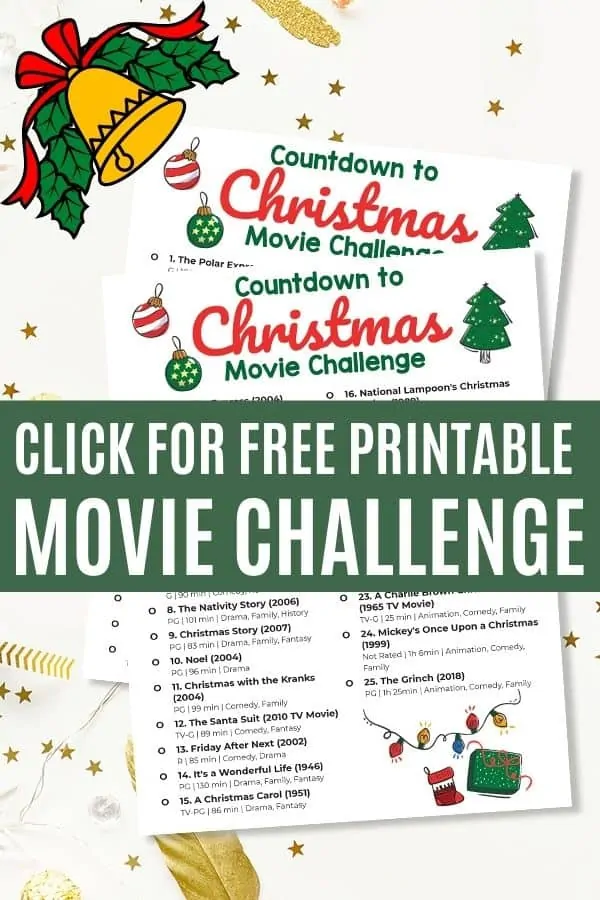 Countdown to Christmas Movie Challenge
Here is a brief synopsis of each of the holiday movies included:
The Polar Express is an enchanting holiday tale of a young boy who doubts that Santa truly exists.
On one special Christmas Eve, as the boy skeptically waits for the sound of sleigh bells, a magical train appears outside his home and the conductor invites him aboard.
What lies ahead is an extraordinary adventure of self-discovery through which the young boy learns that for those who believe, the wonders of life never fade.
This beautifully made film, based on the book by Chris Van Allsburg, will become a holiday tradition your family will enjoy for generations.
Starring and co-produced by Tom Hanks.
A farm girl nurses a wounded reindeer she believes is one of Santa's, hoping to bring it back to health in time for Christmas.
Her holiday spirit inspires those around her, something her disheartened father is having trouble understanding.
Denis Leary plays an unfortunate cat burglar, who is abandonded by his partner in the middle of a heist and is forced to take an irritating Connecticut couple (Kevin Spacey and Judy Davis) hostage.
He soon finds that he got more than he bargained for when the couple's blackmailing son and despicable in-laws step into the picture.
Before long they're driving him nuts with their petty bickering and family problems.
The only way for him to survive is to be their referee and resolve their differences before he can be nabbed by the police.
Arnold Schwarzenegger returns in a new holiday comedy as a father determined to buy his son that "must have" Christmas toy during a frantic shopping spree on Christmas Eve.
Sandra Bullock stars in this movie about a hopelessly romantic Chicago Transit Authority token collector that is mistaken for the fiance of a coma patient.
Irresistible stars John Cusack and Kate Bekinsale are drawn together and take a chance on love in the critically acclaimed romantic comedy!
In the course of one magical evening, Jonathan and Sara meet unexpectedly… then part without expectation when she decides they must let fate determine if they are meant to be together.
Pen-pals since the age of 15, Gina and Seth have created a life-long friendship based solely on letters and snapshots they have sent to one another although the pictures are of their better looking best friends.
Now as adults, they finally get the chance to meet in person when Shawn goes on a business trip to Boston where Gina lives.
Afraid to face the truth each sends their best friend to pose as them for the first meeting.
Much to their horror the best friends fall in love but soon the truth is revealed and all learn important life lessons about honesty and self-esteem.
In a story of profound faith revered by much of humanity, one young woman struggles with the destiny for which she is chosen–to give birth to the Son of God and to become the object of salvation for billions of souls–a deeply moving journey told in A Nativity Story.
The Academy Award-nominated star of Whale Rider, Keisha Castle-Hughes, portrays Mary, a young wife and soon-to-be mother upon whom a seemingly impossible burden will be placed.
Over the two years before the birth of Jesus, as Mary realizes that she will bear a child fated to change the world, she discovers the inner strength, faith and grace that have earned her the veneration of billions of people for two thousand years.
A Christmas Story, a nostalgic view of Christmastime in Indiana during the 1940s, stars Peter Billingsley as Ralphie, a nine-year-old who has only one thing on his Christmas list: a Red Ryder Carbine-Action 200-Shot Air Rifle.
With his parents unwilling to buy him the gun because he might "shoot his eye out," Ralphie decides to mount a full-scale, hint-dropping, Santa-begging campaign.
He also endures a slew of calamities from snowsuit paralysis to the dreaded tongue-on-a-frozen-flagpole gambit.
The New York Times calls A Christmas Story, "maybe the best Christmas movie ever."
Joy is just around the corner when Susan Sarandon, Penelope Cruz, Paul Walker, and Alan Arkin fill out an all-star cast in this holiday classic.
As five strangers come together on Christmas Eve, a story of peace, companionship, comfort, love, and healing unfolds against the backdrop of New York City.
Noel, with its stunning cast and inspirational story, proves miracles are closer than you think.
Finally alone for the holidays, Luther (Tim Allen) and Nora Krank (Jamie Lee Curtis) plan to eschew the Christmas traditions and take a cruise in the Caribbean instead.This doesn't sit well with their Christmas-obsessed neighbors Vic Frohmeyer (Dan Aykroyd) and Walt Scheel (M. Emmet Walsh), who are determined to win the annual "best decorated street" competition, and the Kranks soon find themselves social outcasts because of their lack of Christmas spirit.
Drake Hunter, the president of Hunter Marketing, has the perfect plan to boost sales for his father's toy company over the holiday season–hire department store Santas to promote his father's merchandise.
When the real Santa turns Drake into a Santa lookalike, Drake finds himself working as a dress-up Kris Kringle to make ends meet.
Stripped of power and position, Drake discovers the importance of honesty, compassion, and respect as he helps an unprivileged girl enjoy the magic of Christmas. Stars Kevin Sorbo.
It's Christmastime in the 'hood, and those crazy cousins, Craig andDay-Day, have finally left the security of their parents' homes andmoved into their own apartment.
But a ghetto grinch breaks into their"crib" and steals all their presents–and the rent money hidden in their stereo speakers!
Craig and Day-Day's only hope of avoiding eviction before Christmas is to take jobs as unarmed security guards at a localstrip mall, where they learn some comic lessons about the true meaning of the holidays.
With the endearing message that 'no one is a failure who has friends,' Frank Capra's heartwarming masterpiece continues to endure, and after over 70 years, this beloved classic still remains as powerful and moving as the day it was made.
Alastair Sim's tour-de-force performance as the ultimate miser, Ebenezer Scrooge, has almost single-handedly made this beloved version of Charles Dickens' story into one of the best-loved Christmas films of all time.
Many today believe this to be the best and most faithful production of Charles Dickens' immortal tale.
Cranky and curmudgeonly Scrooge learns the error of his unkind ways and is taught the true meaning of the holidays when he is visited by the ghost of his late business partner and the spirits of Christmas past, present and future.
Make merry as Chevy Chase, Beverly D'Angelo, Randy Quaid and an ensemble of comedy favorites strive to gift-wrap the "perfect Christmas" for the Griswold family.
The most successful of the three vacations.
Eight-year-old Kevin McCallister (Macaulay Culkin) has become the man of the house, overnight!
Accidentally left behind when his family rushes off on a Christmas vacation, Kevin gets busy decorating the house for the holidays.
But he's not decking the halls with tinsel and holly. Two bumbling burglars are trying to break in, and Kevin's rigging a bewildering battery of booby traps to welcome them.
High-spirited high jinks on Christmas Eve put Frank Cross (Bill Murray) in a ghostly time warp in this hilarious take-off of Charles Dickens "A Christmas Carol".
Cross, who has made the meteoric rise from the depths of the mailroom to TV network president, is mean, nasty, uncaring, unforgiving and has a sadistic sense of humour — perfect qualities for a modern-day Scrooge.
Before the night is over, he'll be visited by a maniacal New York cab driver from the past, a present-day fairy who's into pratfalls and, finally a ghoulish, seven-foot headless messenger from the future.
Elf (2003)
This hilarious Christmas film tells the tale of a young orphan child who mistakenly crawls into Santa's bag of gifts on Christmas Eve and is transported back to the North Pole and raised as an elf.
Years later Buddy learns he is not really an elf and goes on a journey to New York City to find his true identity.
Divorced toy company executive Scott Calvin (Tim Allen of Home Improvement and the Toy Story movies) is pleased to have his son Charlie for Christmas, though the boy himself isn't happy about it.
But when Santa Claus accidentally topples off the roof of the house and falls with a thud in the snow, Scott finds himself taking the merry old elf's place and earning new respect in his son's eyes.
When the night ends, the reindeer take them to the north pole, and Scott discovers that by donning the fabled red suit, he's inadvertently agreed to become the next Santa Claus. The next morning he wakes up in his own bed and thinks it's all a dream–only Charlie remembers it with crystal clarity.
Scott now has to deal with his suspicious ex-wife and her psychiatrist boyfriend, who both think he's playing tricks with Charlie's mind, and also with his own out-of-control body, which is putting on weight and growing a prodigious beard.
Arguably the most outrageous Christmas tale ever told, Willie T. Soke (Billy Bob Thornton) is one Santa who doesn't care if you've been naughty or nice.
Willie's favorite holiday tradition is to fill his sacks with loot lifted from shopping malls across the country. But this year, hot on his trail is a security guard, a sexy bartender, and the one kid who's convinced he's the real deal.
This hysterical, essential holiday comedy also features Lauren Graham, John Ritter, Cloris Leachman and Bernie Mac.
Can Christmas be saved?
Bored with the same old scare-and-scream routine, Jack Skellington, the Pumpkin King of Halloween Town, longs to spread the joy of Christmas in this Tim Burton movie.
But his merry mission puts Santa in jeopardy and creates a nightmare for good little boys and girls everywhere!
This Tim Burton movie has become a Christmas classic for many fans.
Christmastime is here. Happiness and cheer.
And for Peanuts fans everywhere, it just wouldn't be Christmas without this classic holiday delight. Christmas lights may be twinkling red and green, but Charlie Brown has the Yuletide blues.
To get in the holiday spirit, he takes Lucy's advice and directs the Christmas play. And what's a Christmas play without a Christmas tree? But everyone makes fun of the short, spindly nevergreen Charlie Brown brings back – until the real meaning of Christmas works its magic once again.
Disney's biggest stars shine in a magical, heartwarming movie sure to become a holiday classic!
Mickey, Minnie, and their famous friends Goofy, Donald, Daisy, and Pluto gather to reminisce about love, magic, and surprises in three wonder-filled stories of Christmas past.
In the fine tradition of Disney's superb storytelling, Minnie and Mickey recall the year they both gave up what was most important to them for the sake of the other, making for one unforgettable Christmas.
Goofy and Max retell when they experienced a series of hilarious but season-shaking events … until a visit from the real Santa Clausemade it a most magical holiday.
Thinking back to when they wished Christmas was every day, Donald's nephews Huey, Dewey, and Louie remember their dream turning into a comical catastrophe, eventually teaching them what true meaning of Christmas spirit is all about.
Illumination and Universal Pictures present The Grinch, based on Dr. Seuss' beloved classic.
The Grinch tells the story of a cynical grump who goes on a mission to steal Christmas, only to have his heart changed by a young girl's generous spirit.
Funny, heartwarming and visually stunning, The Grinch is a great family comedy and fun for the whole family!
Which are the best Christmas movies of all time
There are lots of great holiday classic Christmas movies all about Santa, the North Pole or the true meaning of the season.
You will always find lots of romantic comedy filled with holiday cheer.
But you will find that there are plenty of unconventional Christmas movies too. I included a couple in the Christmas Movie Challenge above, but you'll find plenty more in the list below.
13 Unconventional Christmas Movies From Die Hard to Iron Man – TooFab(toofab.com)
I found this list helpful for those who might not like the cheesiness of traditional Christmas movies but still want to participate in the Christmas Movie Challenge.
What are your favorite Christmas movies
My top five favorite Go to Christmas Movies are:
Miracle on 34th Street (Classic version)
Elf
The Nativity Story
The Grinch
A Christmas Story
I try to make time to watch new movies each year as well as revisit my favorites too!
What are YOUR favorite Christmas movies? Anything missing from the list that you think I should add?