Be sure to scroll down for an exclusive Shopkick Promo Code that you can use to get a FREE $5 Gift Card of your choice. 
When it comes to shopping for everyday items or larger purchases, whether it is in store or online, most of us want to save money, and hardcore savers like me, also love to earn a reward for all their purchases.
While using coupons and discount codes can slash money off the bill, there's nothing better than getting extra freebies, cashback, or the best thing ever – being paid to take things home.

What Is Shopkick?
Shopkick is a FREE money saving app that allows you to earn money back in the form of gift cards from performing certain actions.
One of the ways to get cashback from all your purchases is by using a shopping app like Shopkick. This app has many ways to help you keep more of your hard earned money.
From allowing you to earn points from your purchases and clipping ecoupons to use while shopping, to uploading receipts for cash back offers, shopping apps are slowly taking over.
They're also becoming a preference for shoppers because they don't need to carry a bag full of loyalty cards or paper coupons every time they shop.
With just a few swipes on a mobile device, you can easily find discounts and even get cash back from purchases at your favorite stores.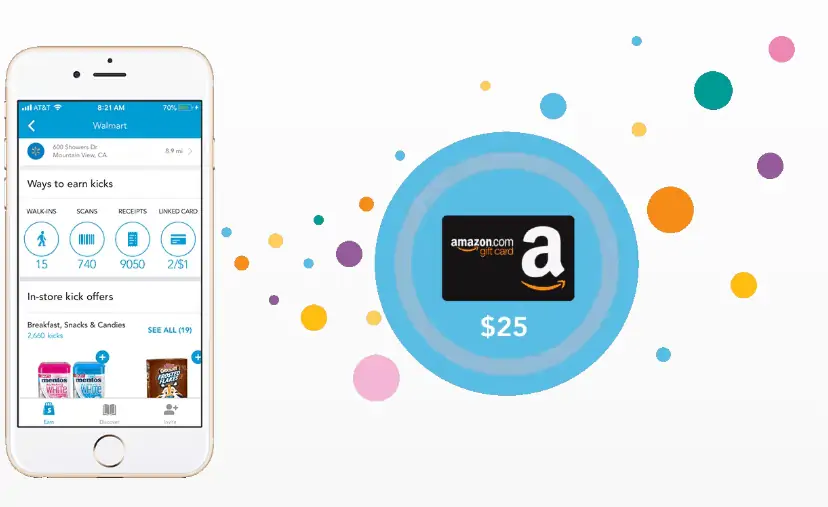 Shopkick is one of the most popular shopping apps today and for good reason.
However, with the abundance of apps available on the app market today, which ones do you choose to get the most out of your shopping?
After all having to upload the same receipt or enter your info to 10 apps, is almost the equivalent to carrying those loyalty cards and paper coupons.
So you want to choose a few of the ones that fit your lifestyle the best and use them well to save the most money and your sanity at the same time.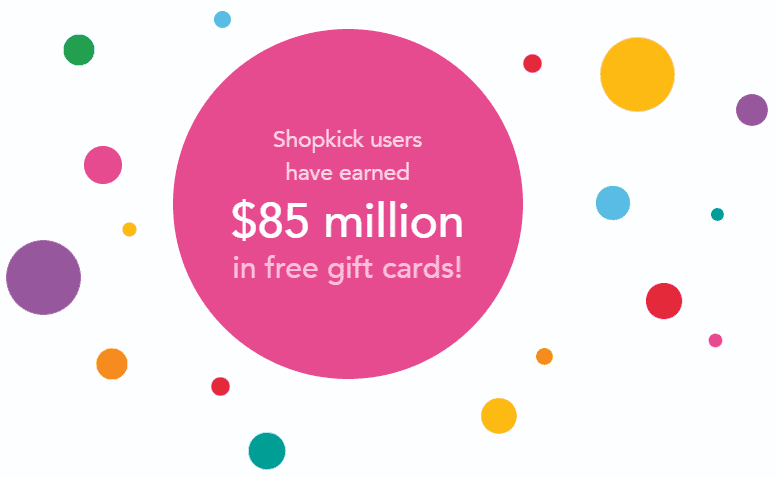 Is Shopkick Legitimate?
Although there are a lot of store loyalty programs available, with the Shopkick app, you can earn rewards just for window shopping.
It allows you to earn gift cards you can use at your favorite stores just by walking inside a certain store or scanning a particular product in the store.
If you regularly visit stores that are listed in the Shopkick app, you can easily and quickly accumulate points which are called "Kicks" that you can then exchange for gift cards.
Shopkick has been around for many years and continues to be a favorite money saving app for its members.
But why should you start using the Shopkick app?
Earn Gift Cards with Shopkick + Get a FREE $5 Gift Card!!
When you use my exclusive Shopkick Promo Code while signing up, you'll earn a bonus of 1250 points, enough for your very first gift card. 
Shopkick Promo Code is SAVINGDOLLARS
Accumulate Kicks for simply checking in on the app and walking into stores.
Earn Kicks for all of your online shopping.
Earn more Kicks for every dollar you spend whenever you visit stores in person.
Earn Kicks by watching videos in the app.
Redeem your Shopkick Kicks for free gift cards.
Shopkick has partnered with major retailers and brands like Marshalls, Macy, Old Navy, eBay, Hotels.com, Hallmark, Best Buy, Groupon, Starbucks, and more.
So you are sure to find plenty of ways to start earning those kicks right away!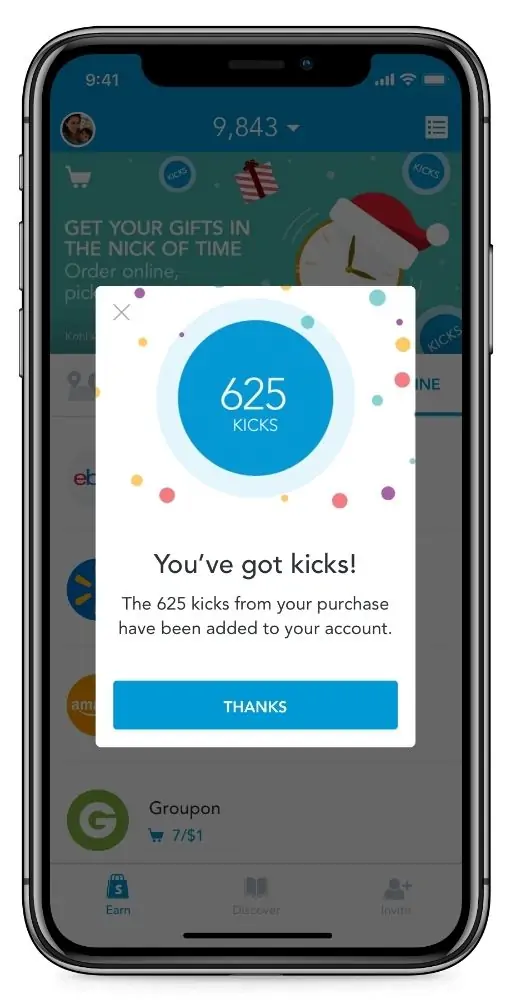 How Do You Earn Shopkick Rewards?
There are several different easy ways for you to earn Kicks when you shop:
Walk-in Kicks
Simply go to any select partner store, with no purchase necessary, and earn Kicks at the entrance just for walking through the door.
Scan Products
Find the partner products listed in the app while you are in the store and earn points when you scan barcodes using Shopkick's in app scanner.
Purchase items
Buy select items then submit the receipts through the app to earn more Kicks.
Use your card
Link your debit or credit card to the app and then use it to pay for all of your purchases in store and online.
Linking your card will allow you to earn Kicks for every single dollar that you spend.
Shop online
Just like buying items in the store, making online purchases allows you to earn Kicks for every dollar you spend at selected online partners, too.
Watch videos
Discover new products by watching in app videos and you'll earn even more kicks when you do so.
Refer friends
When you invite your friends and family to join you on Shopkick, you can earn extra Kicks.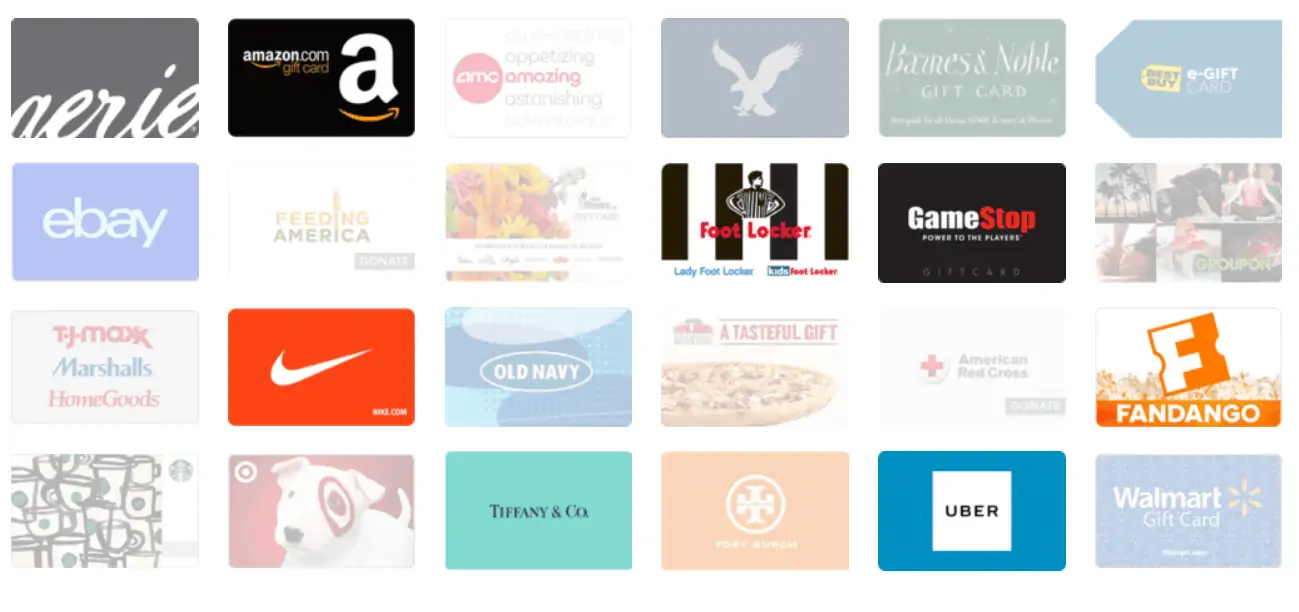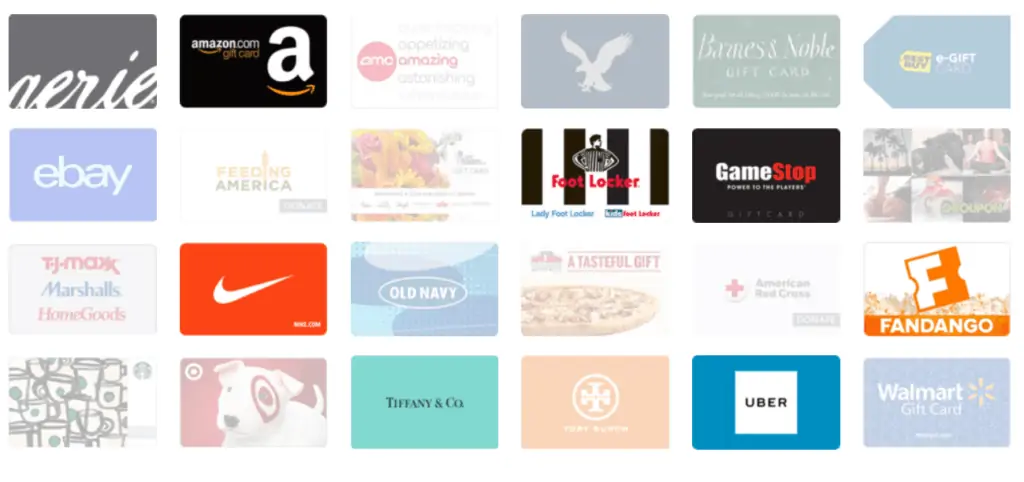 How Much Can You Make With Shopkick
Realistically you could totally earn at least one $5 gift card every week, depending on how much you shop and complete the additional activities.
This is just a conservative estimate, there is the potential to earn even more if you wanted to.
There really is something for everyone.
Scroll down to get the promo code for enough points to get your first $5 gift card FREE!
How Does Shopkick Work?
Follow this super easy Shopkick Guide and you'll be earning Kicks in no time!
Download and Sign Up
To get started, you need to download the Shopkick app and sign up.
To start earning rewards, you need to download the app on your Apple or Android device.
Once you're done downloading, sign up using your email address and name.
Shopkick Referral Code
NOTE: Remember to use the promo code SAVINGDOLLARS while signing up to get your Bonus points towards a FREE Gift Card.
Click On Scan
To view the total offers available for you to scan, go to the app's "scans" area.
Here, you will find a list of products you can scan to earn extra Kicks.
To start scanning, simply click on the picture of the item in the list of items available, then you're ready to scan.
Hold the item in your hand, then click the scan icon found on the lower corner of the picture of the item that you're scanning in the app (you might also need to give the app access to your camera first).
After you get the "verifying scan" message on your screen, the app will flash a picture of the Kicks you earned.
How Do You Get Kicks Fast on Shopkick?
While it may be easy to earn rewards using the app, you might not be maximizing your points earning capability.
Consider following these simple strategies to quickly earn more Kicks.
Check The App Daily
Instead of just opening the app before you walk into the store, you may want to check the app every day to be sure you're not missing out on anything before you head to the store.
There are special deals all the time.
Plus you can earn Kicks by watching videos in the app, so you'll want to login daily to get as many Kicks as you can.
You can often find Instant Surprises under the Discover tab, so be sure to dig in and find all the Kicks you can every day.
Link Your Debit/Credit Card
Shopkick has its "Buy and Collect" feature that lets you earn additional Kicks for using a linked credit card in your account. 
Using your debit or credit card linked to your account when you shop allows you to earn extra Kicks, you get 1 Kick for every dollar you spend.
Make Sure Your Bluetooth Is On
When you're out shopping, make sure you have your Bluetooth on.
Turning your Bluetooth on allows Shopkick to figure out where you are, letting the app offer you local deals.
When you're out for the day with friends or family, with your Bluetooth on Shopkick can alert you to every Kick you can get wherever you may be so you don't miss out.
That adds up quick, before you know it you'll be earning free gift cards to your favorite stores.
Click The Discover Tab
The Discover tab can be found at the bottom of the app screen.
You need to click the icon that looks like a book and you will see different topics.
Scroll through these topics and you will find short videos you can watch, that will reward you with 3 to 5 Bonus Kicks.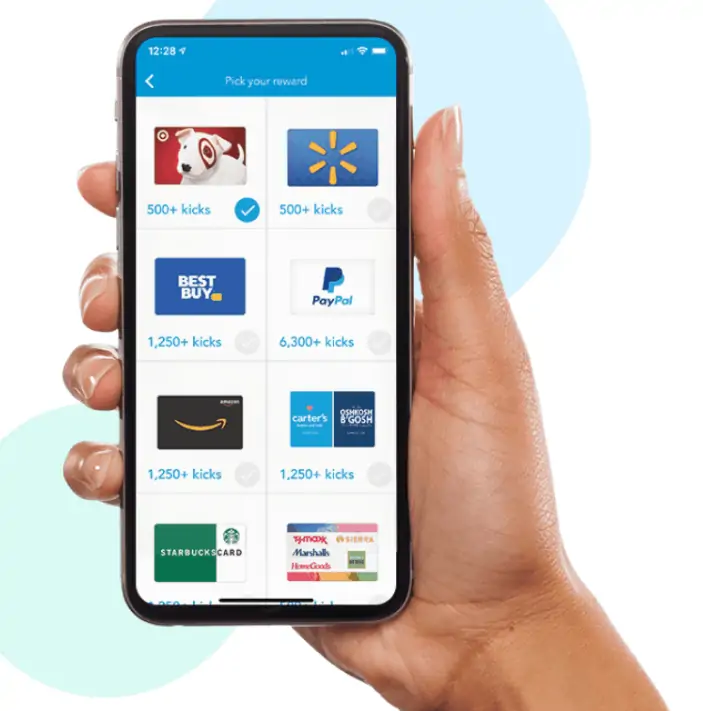 How Do I Redeem Kicks on Shopkick for Gift Cards?
Redeeming points with Shopkick is fast and easy.
To start with, you can view all of the rewards available by clicking the number of Kicks you have accumulated at the top of the screen, in the center on the app.
Then in the new screen you'll see a Reward Options box, click that to see which rewards are available.
Shopkick offers Paypal or electronic gift cards in exchange for the Kicks you accumulate, which I love because it means you can use them right away if you want to.
There are several gift card options from major retailers like Starbucks, CVS, Target, Walmart, and more.
Once you have enough reward points, choose which card you'd like and the amount of the gift card that you want, simply redeem it and Shopkick will send you the reward to enjoy.
This is one of my favorite ways to earn free Amazon Gift Cards.
Is It Worthwhile To Download Shopkick?
If you frequently visit stores like Walmart, Target, or CVS, downloading Shopkick would be great for you.
But don't forget you do not even have to visit a single store in person in order to earn kicks from online shopping or watching videos.
The gift cards that you earn can be used whenever you want, or you could save them up to use for Christmas shopping once a year at your favorite retailer.
Where do I enter the invite code on the Shopkick app?
If you are ready to sign up, follow the steps below to get your first $5 Gift Card FREE!
Download the app and use the promo code SAVINGDOLLARS during sign in.
Earn at least 35 kicks within 7 days — by walking in to a store, scanning products, shopping online, or using the Discover tab in the app.
You'll automatically be credited a bonus 1250 kicks — which is enough to redeem for any $5 gift card!
IMPORTANT NOTE: You must follow all of the steps above within 7 days of joining in order to be awarded your Bonus Shopkick Promo Codes. 
It's fun to see how quickly you can accumulate enough kicks to redeem them for rewards.
The only downside I have found to using Shopkick is that when you are scanning items in the store to earn bonus kicks, you might end up finding something new you like an end up with a case of impulse buying.
Since there are a lot of products you can scan in the store, you might struggle with whether you should spend money you weren't planning on spending or not, and it can entice you to spend more when using the app.
Just be aware of impulse buying and stick to your list when you shop.
Shopkick is a fun app that allows you to get rewards without the need to purchase any items at all.
Start earning your first gift card right away by downloading the FREE Shopkick app today!
Have you ever used Shopkick before? I would love to hear your reviews of it and what you love about it and what you don't love about it.