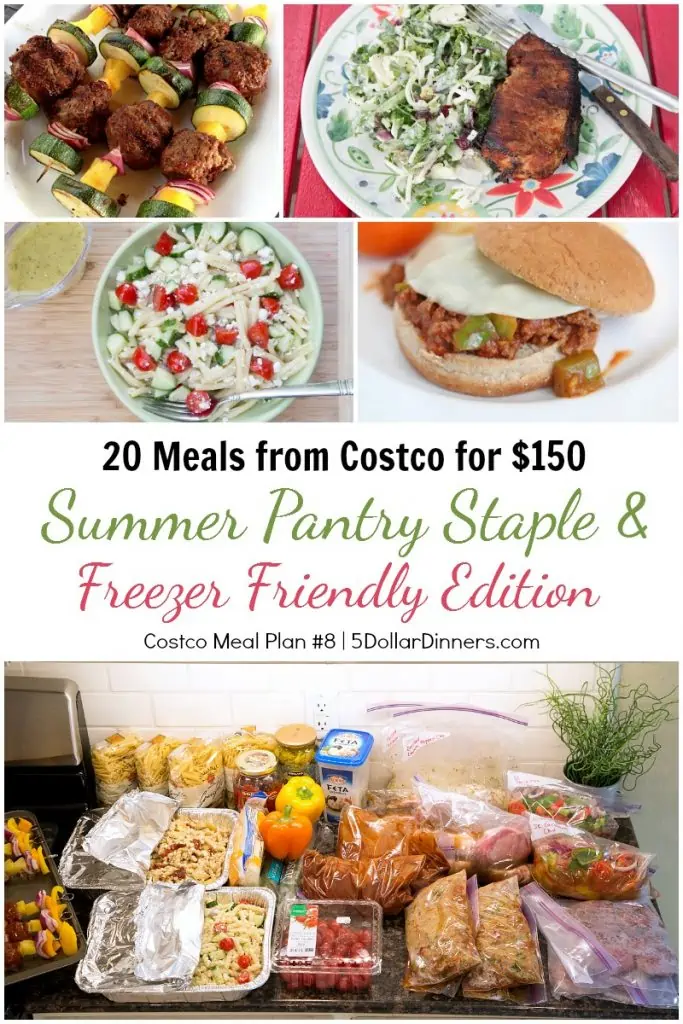 Summer is finally here and I know the last place most of you want to find yourselves is copped up in the kitchen preparing meals when you could be spending time outside with your family enjoying the gorgeous weather.
Thankfully I have a special meal plan that you can use to make meal time as simple and quick as possible this year!
This Summer Pantry Staple & Freezer Friendly Edition contains a 'hodgepodge' of different kinds of recipes that are perfect for the summer – some freezer friendly, some potluck or cookout friendly, some for the grill.
You'll find:
Pasta Salads
Pre-marinated Chicken & Pork Chops for the grill (or oven)
Burgers & Kebabs for the grill
Slow cooker freezer packs & other freezer friendly meals
Recipe List
3 Italian Pasta Salad with Sun-Dried Tomatoes & Artichokes
3 Greek Pasta Salad with Homemade Lemon Vinaigrette
2 Grilled Lemon Pepper Chicken
2 Grilled BBQ Chicken Sandwiches
2 Slow Cooker Caribbean Chicken
2 Pineapple Bourbon or Teriyaki Pork Chops
2 Feta Burgers with Grilled Red Onions
2 Cheesesteak Sloppy Joes
2 BBQ Meatball Kebabs
Let's face it summer is supposed to be laid back and yet it is still a very busy time for most families.
It's a different kind of busy. It's a fun-relaxed-kinda busy. It's a busy-busy-fun-fun-busy-fun kinda busy.
It's about sneaking in a special afternoon at the movies…in the cool, cool air conditioning!
It's about running kids to and from camps – where they learn new skills and discover new things about themselves.
It's about spending hours and hours and hours splashing in the pool.
These are the moments that we all want to cherish. These are the memories that will last a lifetime.
What I am sure most moms don't want to have to think much about this summer is what we will be having for dinner after a busy day at camps and the pool.
I also don't want to spend too much money running through the drive thru on the way home from the pool, because I'm exhausted from all the fun in the sun and don't 'feel like cooking!'
Whether you are hanging out with the kids all summer shuttling them from camp to camp or from pool to pool, or you're struggling to balance working from home while keeping the kids occupied, or just working right through as if summer were like any other season, I don't want you to have to worry about dinner either.
I want you to get through the busy-busy-fun-busy-fun summer without batting an eye about dinner or spending too much money on takeout or fast food.
I want your meals this summer to be simple and easy, and I know you do too!
This special Summer Meal Plan is sure to help you save time and money this summer!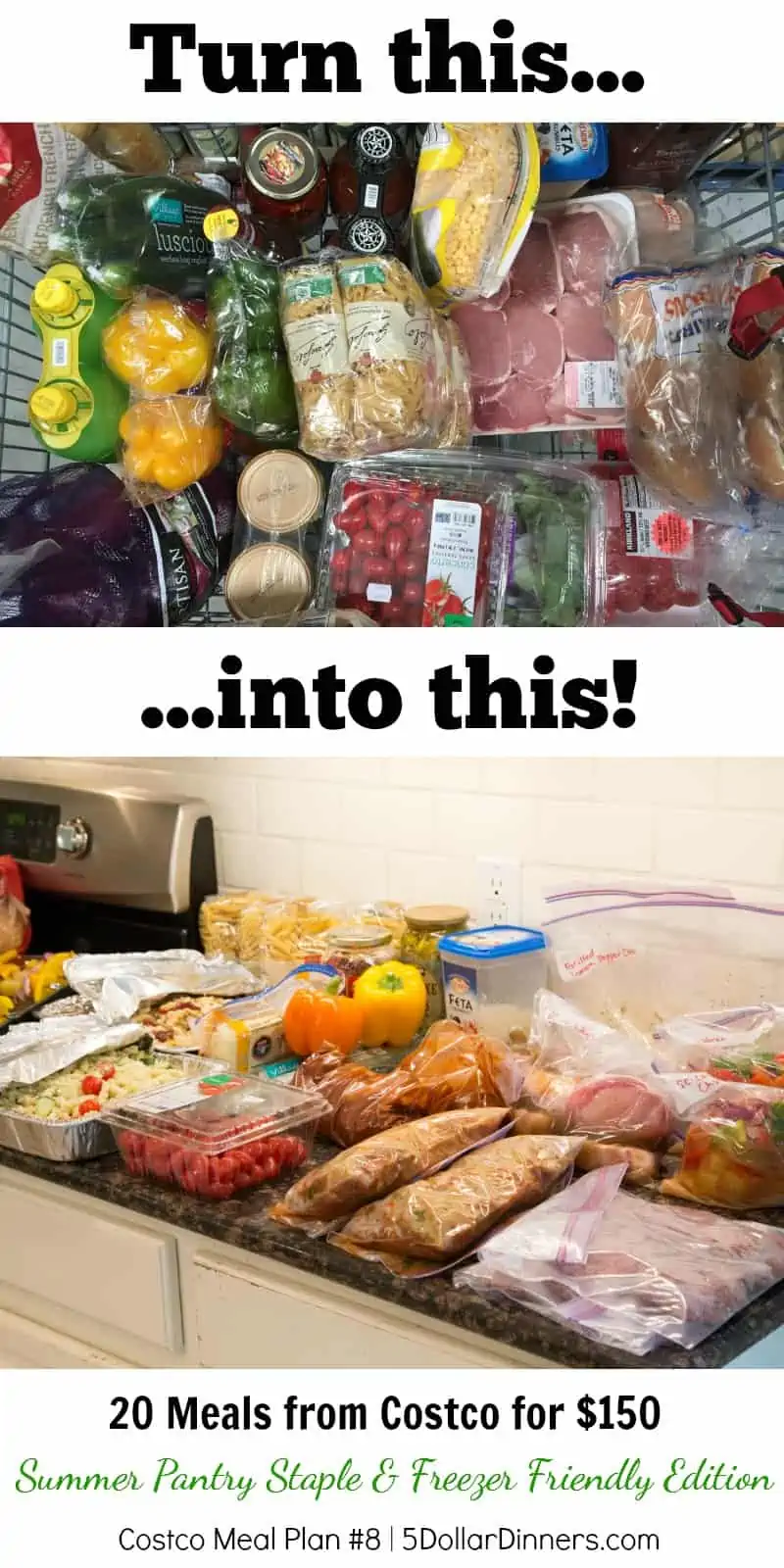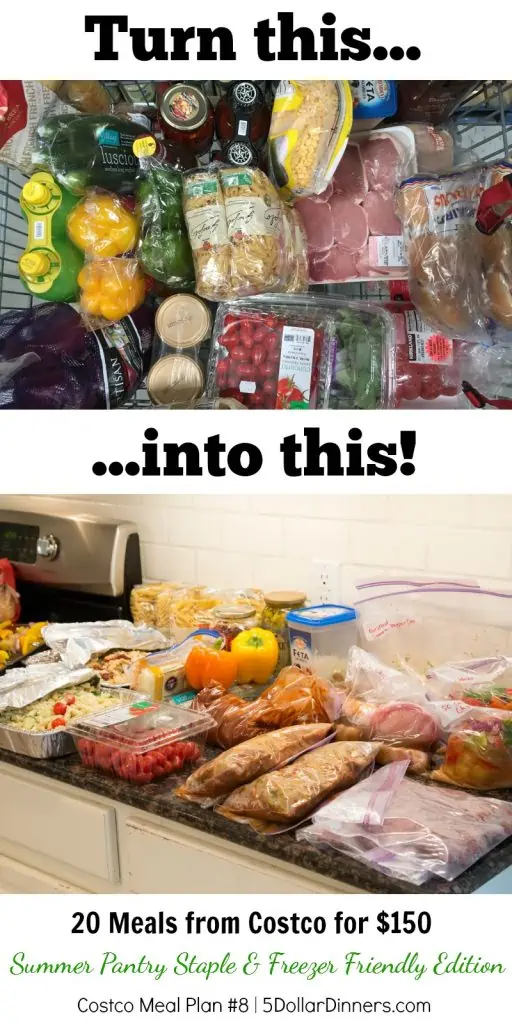 Special Features in this Plan
In addition to the regular shopping list, recipe list and assembly/video instructions for the plan, I also shot a new video explaining how to work with the different fresh ingredients and ingredients you might want to get at the grocery store.
We have included Gluten Free modifications to each of the recipes.
We have included Dairy Free modifications to each of the recipes.
We have included Whole30 & Paleo modifications on SOME of the recipes too. There are pasta salads and sloppy joes on this plan and those are hard to modify for Whole30/Paleo, but we have included simple modifications on the other meals to make them Whole30/Paleo compliant.
You can expect the same great shopping list, recipes list, printable labels, assembly instructions and access to exclusive video showing the assembling all the meals.
It only took just over 1 hour to put together 12 meals for the freezer…and you can watch the video of the assembly process so you don't feel alone in your efforts. Erin also included cooking demos of the other 3 pantry-staple recipes for you in the assembly video!
*Saving Dollars and Sense Tip: Although this plan was made with Costco in mind, you can easily adapt it to whichever grocery store you shop at.