Have you had a chance to see the new Dyson Air Multiplier in action yet?
My kids and I were walking through Meijer when it caught our attention. We stood watching it totally mesmerized by the fact that this "fan" has no blades! I mean it was putting out a ton of air and we really wanted to know how this thing worked so well without any blades?
It was a strange sight to see and it continued to attract the attention of other shoppers as they walked by. It is unlike anything else, and I was very interested in how it could work to cool my house down.
Because it is not like a regular fan with blades.
The technology is such that it actually does a much better job of circulating the air!
When it first arrived at my house I couldn't wait to get it opened. I had the perfect spot for it on my desk. I also thought this would be a great spot since my desk is in the one room in our house that has a hard time getting very cool even with the air turned on.
Let me just say that I love this thing.
Yes, it has done a great job cooling things down, but it also makes the room feel fresher. I mean the air can get kind of stuffy in my house when all of the windows are closed up.
But the Dyson Air Multiplier forces the air in my home to move around and I believe this makes it feel fresher. I intend to use it even in the cooler months when my home is closed up to keep the air from getting stagnant in the winter.
Here's what the difference between an ordinary fan and the technology of the air multiplier looks like.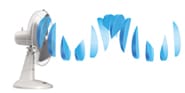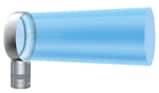 Here are some product details:
No choppy air – No blades chopping the air means airflow is smooth, with no unpleasant buffeting.
Safe – No fast-spinning blades.
Easy to clean – No awkward grilles or blades.
Touch-tilt – Pivots on its own center of gravity, staying put without clamping.
Dimmer switch control – Precisely adjusts airflow power. Oscillation – one-touch for 90-degree rotation.
My kids are both teenagers now, and I hardly ever need to consider their safety when I purchase products. But my first thought when I saw this was how safe it would be around babies and young children since there are no blades involved.
Although at $299 the price tag is a little high on this item, I know that with the Dyson name it is going to last. I can't tell you how many fans I have bought in the last thirteen years. I am trusting that Dyson will stand behind this product as they have stood behind all of their other products.
You can see other reactions to this new way to stay cool at the Dyson Air Multiplier site!
*Although I was supplied with the product for this review from Dyson, all opinions expressed are fully mine.