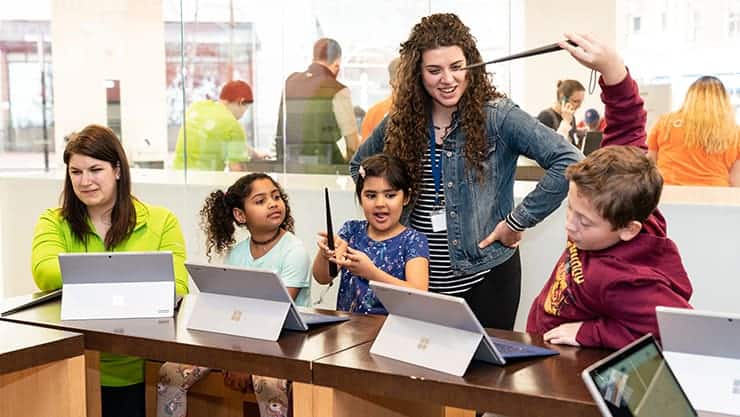 Microsoft Stores around the country are offering free Summer Camps for kids.
Kids ages 6 and older get hands-on experience with the latest technology as they learn how to code, create games, and use their creativity and imagination.
This summer's camps are all-new, students love learning creative and critical thinking skills for the 21st century at our free camps.
Harry Potter Creative Coding Workshops
Register students 6 and up or 8 and up for free foundational computer science and coding workshops using the Harry Potter Kano Coding Kit.
Gaming Summer Camp – grow your passion and learn life skills
Register students 13 and up or 8 and up for a free camp series where they develop positive life skills like teamwork, resilience, and communication, and reinforce those skills in a competitive Fortnite or Rocket League gaming tournament.
Create video games with MakeCode Arcade camp, ages 8+
Register for this free camp where students 8 and up create video
games
using block coding with MakeCode Arcade in 4, two-hour sessions.
Get Creative with Ohbot the talking robot, ages 8+
Register your students ages 8 and up for this free two-day, two-hour camp teaching students robotics and coding basics using Ohbot the talking robot.
Make hustle happen
In this free two-hour workshop, NFL players' side businesses and collaborations for a cause are examples for how students can serve their communities. Participants ages 13+ research and present
action plans to create
their own side hustle using Windows 10.
STEM Saturdays
Your local Microsoft Store invites parents and students to participate in hands-on STEM
learning
experiences every Saturday. Projects are designed for 11- to 14-year-olds, and also cater to younger students with parental support.
Please note: The parent, legal guardian or authorized adult caregiver of every camp participant under 18 must sign a Participation Agreement on the first day of camp and remain in the Microsoft store for the duration of the event.
Find out more details and register here.
Five more fun summer freebies for kids:
FREE Kids Summer Reading Programs
Kids Bowl FREE Program
Kids Fly a Real Plane FREE
FREE Kids Gardening Program
Let's make this the best summer break ever!!