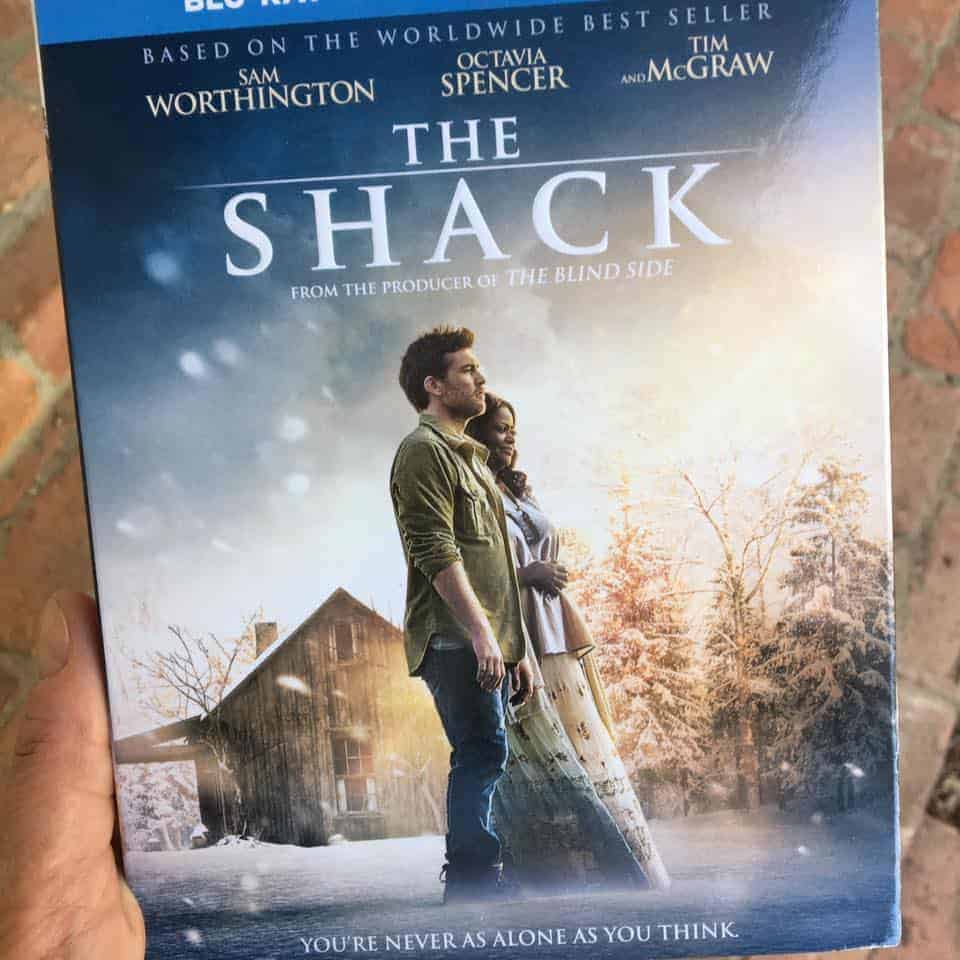 I can't be more excited to tell you all about it today!
You see there was a time in my life when I was really struggling with some of the painful things that have happened to me and to those that I love. I was trying hard to make sense of something I could never make sense of.
Why do bad things have to happen if there is a God that is supposedly good?
The Shack: Where Tragedy Confronts Eternity
At the time I didn't know I was struggling with any of this, but then I got my hands on a copy of the book The Shack.
I devoured that book and was forever changed.
I thank God for using this book to show me a fuller picture of who he is and how all of this stuff can work together for our good.
I loved the book so much that I was so excited waiting for the movie to come out so that I could watch it and be reminded of some of the truths I learned from the story.
I was very impressed with the big screen version of this favorite of mine. They stayed very close to the original plot of the story and did a wonderful job with all of the graphic effects.
But one warning to you from me. It is a great movie, but there are some very sad parts, so you'll want to make sure that you have some tissues on hand.
I've heard some people complain that they reference God as a woman and for whatever reason this is a bad thing. But The explanation is that God knew that the main character would not be able to handle a father figure at that low, low point in his life. He needed a mama, so that is how God revealed himself to him until he was ready for the father figure God.
Can I just say that I am SO thankful for a God that knows us and understands how fragile our hearts can be sometimes. That in his loving kindness he is exactly what we need in any situation.
This is a powerful story of love, tragedy, kindness and the very real goodness of God.
These are just a few of my favorite quotes from The Shack book that I wanted to share with you.
*I suppose that since most of our hurts come through relationships so will our healing, and I know that grace rarely makes sense for those looking in from the outside.
*All I want from you is to trust me with what little you can, and grow in loving people around you with the same love I share with you. It's not your job to change them, or to convince them. You are free to love without an agenda.
*It (trying to keep the law) grants you the power to judge others and feel superior to them. You believe you are living to a higher standard than those you judge. Enforcing rules, especially in its more subtle expressions like responsibility and expectation, is a vain attempt to create certainly out of uncertainty. And contrary to what you might think, I have a great fondness for uncertainty. Rules cannot bring freedom; they only have the power to accuse.
*I don't need to punish people for sin. Sin is its own punishment, devouring you from the inside. It's not my purpose to punish it; it's my joy to cure it.
*Just because I work incredible good out of unspeakable tragedies doesn't mean I orchestrate the tragedies. Don't ever assume that my using something means I caused it or that I need it to accomplish my purposes. That will only lead you to false notions about me. Grace doesn't depend on suffering to exist, but where there is suffering you will find grace in many facets and colors.