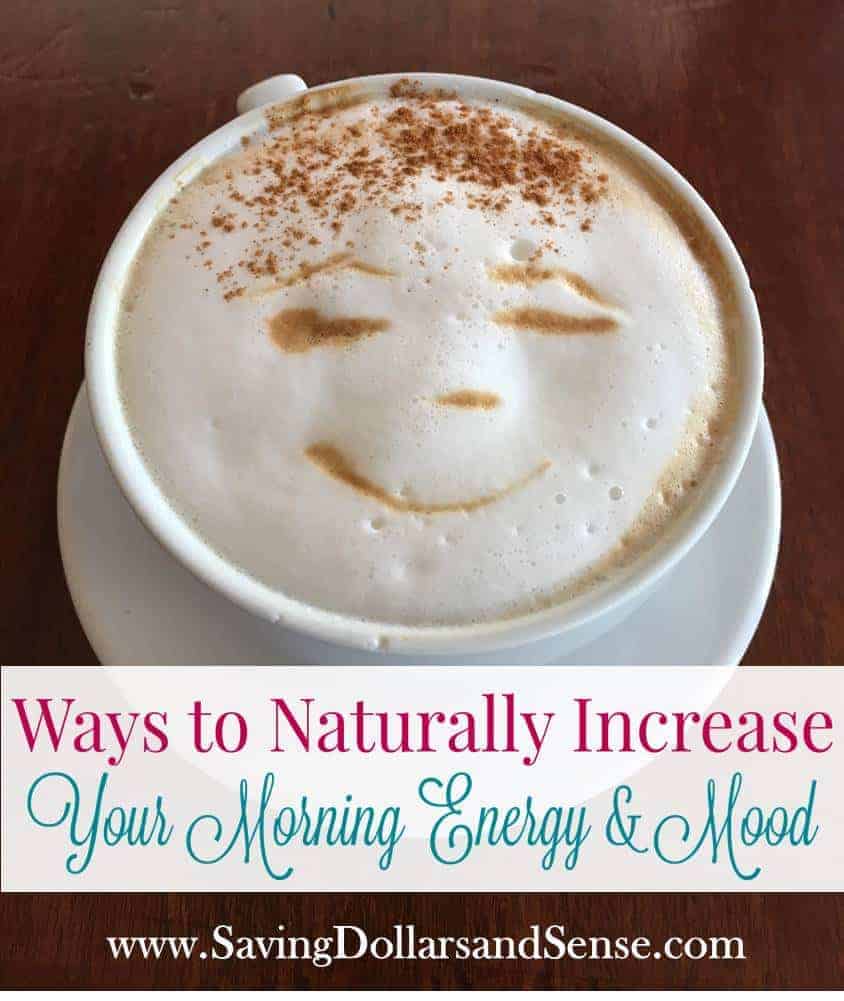 If you require an energy drink or lots of caffeinated soda to get your morning going or just find yourself feeling sluggish all morning, here are some healthier natural ways to increase your morning energy.
Exercise
Starting your day off with some form of physical activity is a great way to boost energy and begin on the right foot. Whether you do a full gym fitness routine, or just throw on your shoes and walk around the block, getting your blood pumping and heart rate up will do wonders to help improve your energy and mood.
If you are pressed for time in the morning, here are a few quick 10 minute options for getting active as soon as you wake up:
Dance

– put on your headphones to a dance playlist with 3 – 4 songs and dance around your living room.

Calisthenics

– do a few push ups, squats, and jumping jacks to get your energy up with a quick morning routine.

Fitness Video

– find your favorite fitness expert on Youtube where they will likely have short 10 minute or less videos of fitness routines to try out in the morning.

Swim

– if you have a pool or access to one, throw on your suit and swim laps for ten minutes or so.

Walk

– walking is an excellent way to get your energy up and is simple and low impact.
Stretching & Yoga
Doing a quick yoga or Pilates routine when you first wake up is an excellent way to increase your morning mood and energy. Check Youtube or Pinterest for a few energizing yoga sessions. Or just simply stretch and breathe for a few minutes.
Just stretching out your muscles and taking several deep breaths is a great way to get your circulation flowing and to get lots of energizing oxygen pumping through your body.
Water
Drinking water first thing in the morning is a great way to wake up and get energized. Challenge yourself to drink a full glass of water as soon as you wake up. Adding lemon to your water is an added bonus. Not only does it make your water alkaline, but the citrus aroma is energizing as well.
Green Tea or Coffee
When looking for a caffeine source to wake you up in the morning, opt for a natural healthy option such as green tea or black coffee. If you don't like your coffee black, try almond milk and coconut sugar instead of refined sugars and chemical laden creamers.
With more natural sweetening alternatives, you will avoid that post sugar crash.
Choosing coffee or green tea for your morning caffeine intake is a much better alternative to sodas, energy drinks, or energy pills.
Nutrient Rich Breakfast
You should never ever skip breakfast! Not only will it help to jumpstart your metabolism, but it will also help you to feel more awake, alert, and less irritable in the morning.
Try to integrate leafy greens into your breakfast routine. You could try different green smoothies using high protein Greek yogurt, kale, fruit juices, and frozen berries. Add flaxseed meal and other nutrient dense items to really get a good amount of vitamins and minerals in your system at the start of your day.
Or if you are a traditional breakfast eater, add greens to your hot breakfast. Put a few spinach leaves on your breakfast sandwich, add avocado to your omelet, or do a breakfast scramble with eggs, peppers, tomatoes, and sauteed spinach.
Aromatherapy
Diffusing essential oils is a great way to get an aromatic wake up call first thing in the morning.
A few energizing oils include – peppermint, clary sage, eucalyptus, and orange. Not only will your home smell wonderful, but these oils will help wake up your mind and senses.
Music
Starting your day with music is a great way to begin each morning on a pleasant note (pun intended). Start your day with tranquil and relaxing music to help your mind slowly energize in a calm and serene way. Once you are up and dressed, crank up the dance tunes!
Playing music that makes you move and smile is a great way to feel energized while you go about your morning routine.
Starting each day out in a positive and energized way will help to improve your entire day and set the tone for the hours to come. These are all great natural ways to feel energized in the morning. What are you favorite ways to feel energized and awake in the morning?