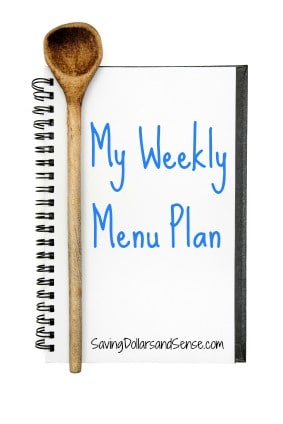 This week we have a basketball tournament that will keep us away from home a bit so I only needed to come up with 4 dinners this week.
You'll probably notice that I have breakfast for dinner about once a week on my menu.
There are a couple reasons for this. First my family LOVES breakfast, but with our crazy schedules we rarely have the opportunity to eat together. Having breakfast fro dinner gives us that opportunity.
The other reason I like to do breakfast for dinner is because it is the type of meal that I can usually prepare for just a couple dollars for the entire family. It is one of the ways I am able to feed my family on such a limited budget.
Now on to this weeks menu plan.
Breakfast and lunch is pretty much the same around my house which is why that part of the menu never changes.
Breakfasts – consists of oatmeal, cold cereal, fruit smoothies, toast & poached eggs.
Lunches – consists of soups, peanut butter or tuna sandwiches, and dinner leftovers.
Dinners – I will try to include lots of veggies this week.
~ Monday ~
Chicken Noodle Soup
~ Tuesday ~
Breakfast Burritos
~ Wednesday ~
Meatloaf, Mashed Potatoes with Gravy and Corn
~ Thursday ~
Crock Pot Beef Stew
~ Friday ~
We have a basketball Tournament so we'll be eating at a restaurant.
~ Saturday ~
We have a basketball Tournament so we'll be eating at a restaurant.
~ Sunday ~
Usually we have a very late lunch and just find something small for dinner. Either way I don't plan because I like to be flexible for anything that pops up.