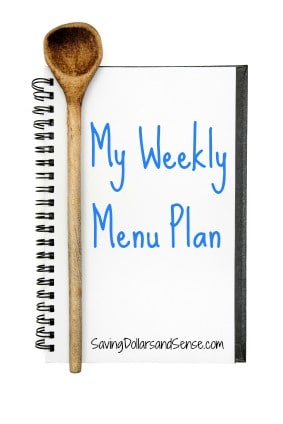 This weeks menu plan includes several low calorie dinners since I am working on shedding some of the extra weight I seem to have picked up over the winter.
Breakfast and lunch is pretty much the same around my house which is why that part of the menu never changes.
Breakfasts – consists of oatmeal, cold cereal, fruit smoothies, toast & poached eggs.
Lunches – consists of soups, peanut butter or tuna sandwiches, and dinner leftovers.
Dinners – I will try to include lots of veggies this week.
~ Monday ~
Pancakes and Sausage
~ Tuesday ~
Lemon Pepper Chicken and Rice
~ Wednesday ~
Chili Dogs and Tater Tots
~ Thursday ~
Crock Pot Chili
~ Friday ~
Fiesta Lime Chicken Soft Tacos
~ Saturday ~
Lemon Pepper Tilapia and Roasted Veggies
~ Sunday ~
Usually we have a very late lunch and just find something small for dinner. Either way I don't plan because I like to be flexible for anything that pops up.