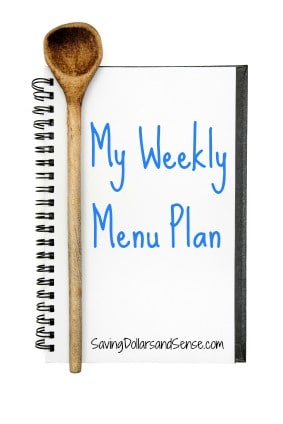 One of the ways that I save money on my grocery bill each week is buying only meats that are on mark down.
I try never to spend over a few bucks for meats, unless it is something big like turkey or ham. Kroger is my favorite place to find mark downs because they usually have a good selection and the dates are usually still several days off.
When I get them home I check to see when they need to be eaten and if it doesn't fit the schedule I will freeze it right away or cook it (things like ground hamburger) and then freeze if for a future meal.
What are some ways you save on your meat purchases?
Now on to this weeks menu plan.
Breakfast and lunch is pretty much the same around my house which is why that part of the menu never changes.
Breakfasts – consists of oatmeal, cold cereal, fruit smoothies, toast & poached eggs.
Lunches – consists of soups, peanut butter or tuna sandwiches, and dinner leftovers.
Dinners – I will try to include lots of veggies this week.
~ Monday ~
Leftovers – I needed to clear out the fridge, we have so many leftovers!
~ Tuesday ~
BBQ Pork Chops, Broccoli and Mashed Potatoes
~ Wednesday ~
Soup and Grilled Cheese Sandwiches
~ Thursday ~
Waffles, Sausage Links and Canteloup
~ Friday ~
Chicken Gnocchi Soup
(We never ended up having it last time)
~ Saturday ~
Sliders, Salad and French Fries
~ Sunday ~
Usually we have a very late lunch and just find something small for dinner. Either way I don't plan because I like to be flexible for anything that pops up.