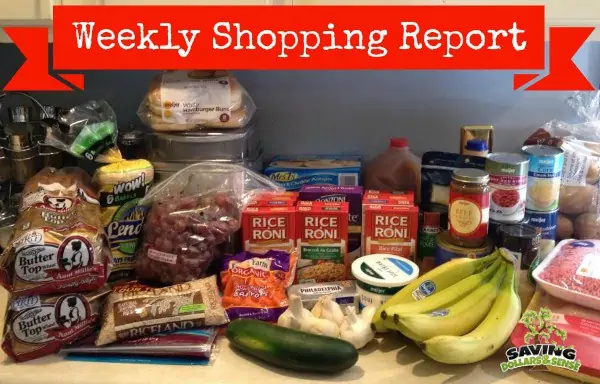 I shopped at Meijer this week and was not at all thrilled with my trip or the fact that I over spent!
I had a deal that I thought was going to work but didn't.
That deal would have saved me another $8 on my order. I was pretty frustrated about that one, but I'll still use the items I bought, and I will pay closer attention to the ad next time.
Have you ever had a shopping trip not go the way you planned?
MEIJER
Bananas
Cucumber
Meijer Cream Corn
Meijer Kidney Beans
Meijer Hamburger Buns
Meijer Sour Cream
Organic Carrots (FREE with register coupon)
Orange Juice
Apple Cider
Ground Hamburger
Boneless Skinless Chicken Breast – I cannot wait until my Zaycon Chicken Order arrives so I can stop buying it at the stores.
Red Grapes
Riceland Brown Rice
5 Garlic
10 Rice A Roni – Buy 5 Save $1 instantly – I thought this qualified for the Buy 8 Get $8 off promotion, but apparently it did not 🙁
Meijer Beef Gravy
Meijer Cream of Chicken Soup
Meijer Cream of Mushroom Soup
Brooks Chili Beans
10 lb Potatoes
Meijer Shredded Cheddar
Lender's bagels
2 Meijer Tortillas
2 Kraft Parmesan Cheese (Buy 2 Get $3 off Produce)
Philadelphia Cream Cheese
Mueller's Elbow Noodles
2 Aunt Millie's Bread
4 Mrs. T's Pierogis (Buy 3 Get One FREE)
TOTAL $75.22
Total Savings $ 26.58
Don't forget to sign up for the FREE Online Grocery Couponing Class happening on September 26th at 8 pm ET.