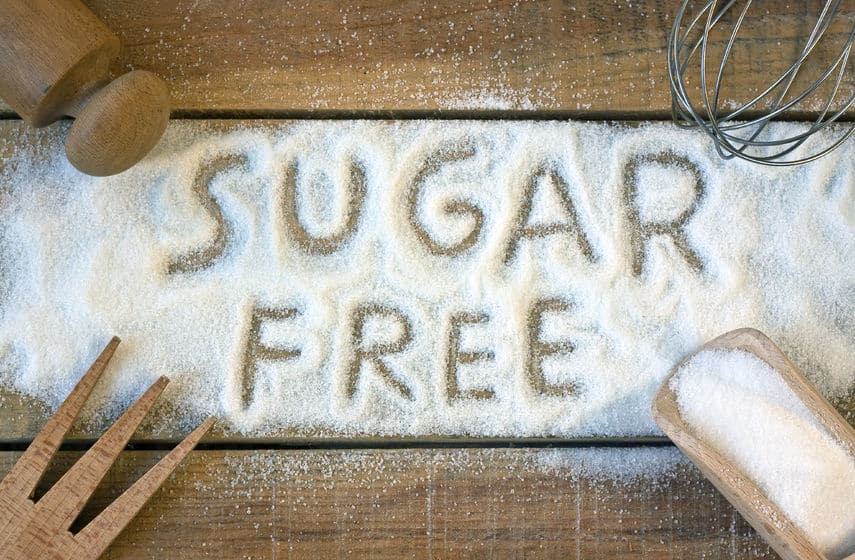 Have you heard about the 21 Day No Sugar Diet yet?
I have to admit that I have let this go a little over the last several months and my body is telling me it is time to get back on track again.
I am preparing to do another round of this challenge next week to help my body get back to a healthy state after eating SO. MANY Cookies!!
I completed this a couple years ago and I felt so great afterwards, so I wanted to tell you a little about it and why I think it is amazing.
A couple years ago my husband and I made some drastic changes to the way we were living in an attempt to get healthy once and for all.
We decided that one of the things we needed to eliminate was sugar, at least as much as possible…and definitely all added sugars and sugar replacements. I've shared a little about that and how much weight we've lost before, and we both fully believe it was the sugar that made this possible.

I had read the Trim Healthy Mama book which is basically a 21 Day No Sugar Diet with some exceptions and ordered the Trim Healthy Mama cookbook to help me with recipes. We were eating very well and paying attention to how often we ate sugars.
We were taking some supplements as well and drinking a LOT of water, and our bodies began to feel and look better than when I was in my twenties!
Between my husband and I we had lost about 100 pounds last year and all we had really done was quit sugar. I still have some weight and some stubborn belly fat that I would like to lose.
When some friends asked if we wanted to join them in a 21 Day No Sugar Challenge we immediately said yes, knowing this was just what we needed to get to our final goals.
What is a 21 Day No Sugar Challenge?
Did you know that sugar is now being said to be 8 times MORE addictive than cocaine?!!
Don't think you're addicted? Maybe you don't think it can be that bad? Try quitting it. For 21 days to be exact. The withdraw is for real when you quit sugar.
Spend 21 days eating all kinds of great foods while your body physically and mentally detoxes from the sugar that is slowly destroying all systems of the body from the inside out.
21 Day Sugar Detox Food List
The Yes Food list is huge, making this a very doable no sugar challenge. If you spend some time planning your menu each week and prepping your food you will have no reason to fail, unless you just give up. Sugar is a tough one to break, and most people end up quitting by Day #9…I found Day #3 to be the hardest one for me.
21 Day Sugar Detox Meal Plan
There are so many great recipes that you can use on the 21 Day Sugar Detox. One of the first things I would suggest to anyone thinking about doing this is to come up with a 21 day sugar detox meal plan for at least the first week.
There are so many great cookbooks that would make this super simple.
Practical Paleo, 2nd Edition (Updated and Expanded): A Customized Approach to Health and a Whole-Foods Lifestyle
Sugar Detox for Beginners: A Quick Start Guide to Bust Sugar Cravings, Stop Sugar Addiction, Increase Energy and Lose Weight with the Sugar Detox Diet, Including Sugar Free Recipes
21-Day Cleanse Cookbook: The Sugar Detox Plan to Supercharge Your Metabolism and Lose Up to 21 Pounds in 21 Days (Quick Yummy Meals)
SUGAR DETOX: Confessions of a Former Sugarholic – How I Beat my Sugar Addiction, Detoxed, and got my Life Back (Sugar Detox,Sugar Addiction, Sugar Free Book 1)
Sugar Busters 21 Days Special Diet
The 21-Day Sugar Detox Cookbook: Over 100 Recipes for Any Program Level
You could also look for 21 Day Sugar Free Diet recipes on Pinterest to get some more great ideas.
Once you have chosen 7 sugar free dinner recipes, you'll want to think about lunches and breakfasts. When you are on a 21 day sugar free diet, it's easy to just eat eggs for breakfast and salads, soups or leftovers for lunch.
21 Day Jumpstart Diet
Every once in a while I find that I have gotten used to more and more sugars in my diet. This is when I like to use this 21 day jump start diet as a way to restart. I will take 21 days to eat sugar free and break off my addiction to sugar again.
I find that afterwards I just don't crave all the sweets like I used to. In fact you'd be surprised how sweet something like a carrot will taste to you after completing a 21 Sugar Free Diet.
21 Day Sugar Detox Results
I am lighter by about 35 pounds since I first went sugar free, but that is not the best part. I feel better, I have SO much more energy and I don't feel like I am in pain all the time now that the inflammation has left.
I know I can credit getting rid of the sugar for this, but I have also been adding in some supplements and know that those have helped as well. I never knew that it was really possible to reduce the chronic pain through good nutrition.
Why don't doctors tell us all to quit sugar when we are in pain?
I am plann,,,,,,,,,,,,,,,ing to do this again beginning on January 6th and I would love for you to join me!
I'll share what I am doing exactly each day throughout the challenge inside our Facebook Community. If you want to follow along, join us in the group here.