Last Friday I finally reached the end of my rope. The truth is I've been doing a terrible job of keeping up with everything and I just knew if I didn't do something drastic I wouldn't make it through the next two months.
We have sports, classes, extracurricular stuff, work, vacations, birthdays, holidays, etc. The last thing I have time to worry about is cooking or grocery shopping.
So I decided I would spend the weekend and prepare as much food for my family as I possibly could in hopes that I could know they'd get fed over the next two months when things are super busy.
Plus the holiday shopping season is my busiest time for blogging and I can't justify sacrificing my family just to sit at my laptop looking for deals.
But now that I know they'll have good quality meals I can refocus my attention on helping you find great deals this holiday shopping season!
I promised I'd share my 30 Day Freezer Cooking Plan, so here it is complete with links to recipes and some resources if you need more help getting inspired to try this yourself.
In the past, I used to always make double batches of our favorite dinners so that I could stick one in the freezer for a night when I was short on time.
After we moved, I stopped doing this and I am not exactly sure why. Once you have a few things already in your freezer it is easy to keep up with adding a new dish here and there.
But my freezer was bare!
So I sat down and came up with a list of 30 meals that I thought my family would like. You might be interested in reading the post How to Create a 30 Day Menu Plan here which also has a printable calendar to help you plan.
On one piece of paper I wrote the dinner and how many batches I would make. – I chose to do two batches for most of them so that we would not get tired of eating the same thing every week.
I also did it this way because some of the recipes are new to us and I'd hate to make 5 batches of something we end up hating 😉
On another piece of paper I kept a running shopping list as I went along. – It took a little time to prepare both lists, and I would check my cupboards to make sure I wasn't buying anything I already had.
Below are the meals I chose as well as how many batches I made. The ones with stars next to them are complete, I still have several recipes which I am hoping to complete tonight. Check back soon as I plan to add links to the recipes throughout the evening.
If you are on Pinterest check out the Freezer Cooking Board I've created with many of these recipes as well as others for inspiration.
Dinners
*2 Beef Barley Stew
*2 Marinated Chicken Breast
*4 Chicken Broccoli Rice Casserole
*2 Swiss Steak
1 Broccoli Cheese Soup
*2 Honey Lime Chicken
*2 Taco Soup
*2 Chicken Cacciatore
*2 Cheeseburger Meatloaves
*2 Beef Enchilada Casserole
Already have in the freezer:
4 Hamburgers
2 Pork Chops
2 Hot Dogs
2 Steak Dinners
Lunches
*16 Burritos
20 Pizza Pockets
Breakfasts
Cinnamon Rolls
Banana Bread
*20 Breakfast Burritos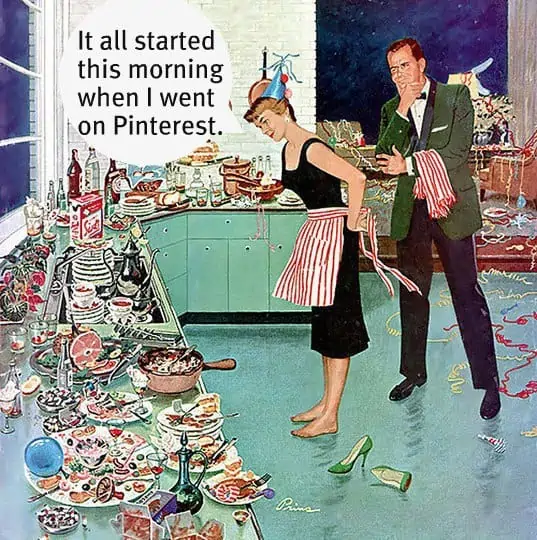 A couple of things I've already learned from my adventures in freezer cooking on such a large scale:
Start with a clean kitchen and try to clean as you go.
Although I did start with a clean kitchen, I wasn't too good about cleaning as I went along. I did stop halfway through the first night to clean up the counters and stove top and I am positive if I hadn't I would not have gotten anywhere near as much accomplished as I did.
That said, I ended up turning out the lights on the first night with a disaster in the kitchen.
I don't typically like to wake up to a messy kitchen, but I was exhausted after 6 hours of straight cooking and just couldn't bring myself to do much more than put away the food.
Here's what it looked like that night and I loved all the comments I got from you when I shared the picture here on Facebook.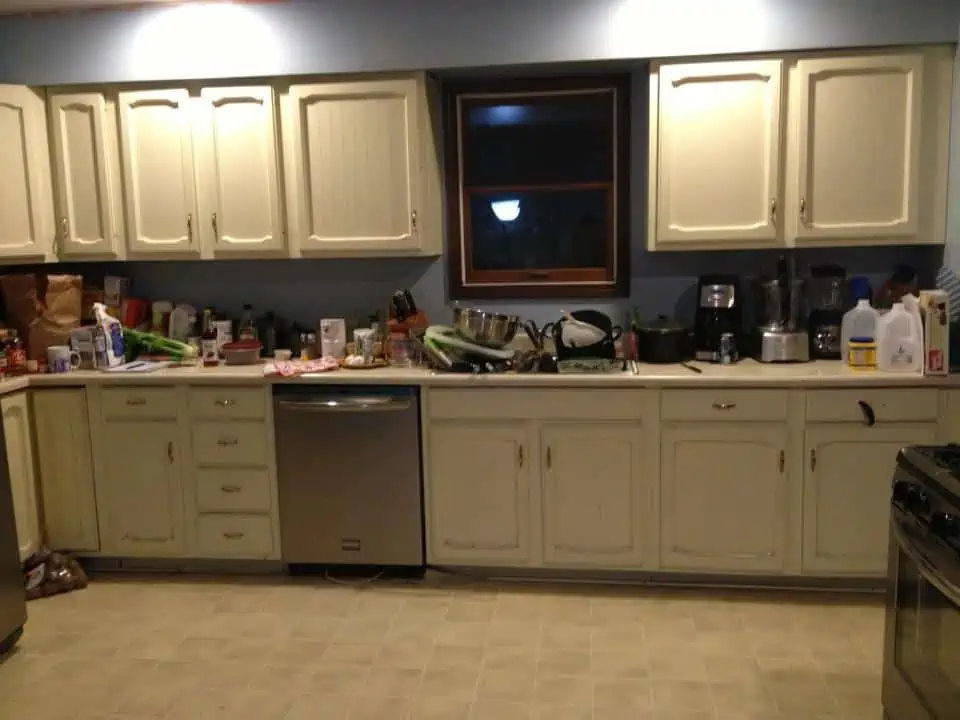 Know when to call it a night and try to keep it fun.
Although I didn't finish everything on my list the first night, I was able to get all of the dinners done except for one.
At about the 5 hour mark I could feel myself getting really tired of being in the kitchen. I had planned to split my freezer cooking up between two days so I decided if I was going to keep going that first night I wouldn't want to have anything to do with it the next day.
Even though this was a TON of work, I was excited to do it and I didn't want to lose that.
So as soon as I realized it was no longer fun or exciting I chose to call it a night and spend some time reading my latest book obsession, Insurgent. If you read and love The Hunger Games you will love this series as well!
Make sure you have enough supplies.
I was about halfway through the first night when I realized I was going to run out of freezer bags.
I was sure I had another box, but it turned out to be storage bags and they do not do well in the freezer. Thankfully my sister was on her way over to pick up my son for a sleepover and she came to my rescue and picked me up another box on her way over!
Then after she left I realized I had used the last bottle of soy sauce and since I was not about to run out just for that I had to make do with some Worcestershire sauce instead.
So my lesson learned from this was to double-check and don't assume you have everything you need.