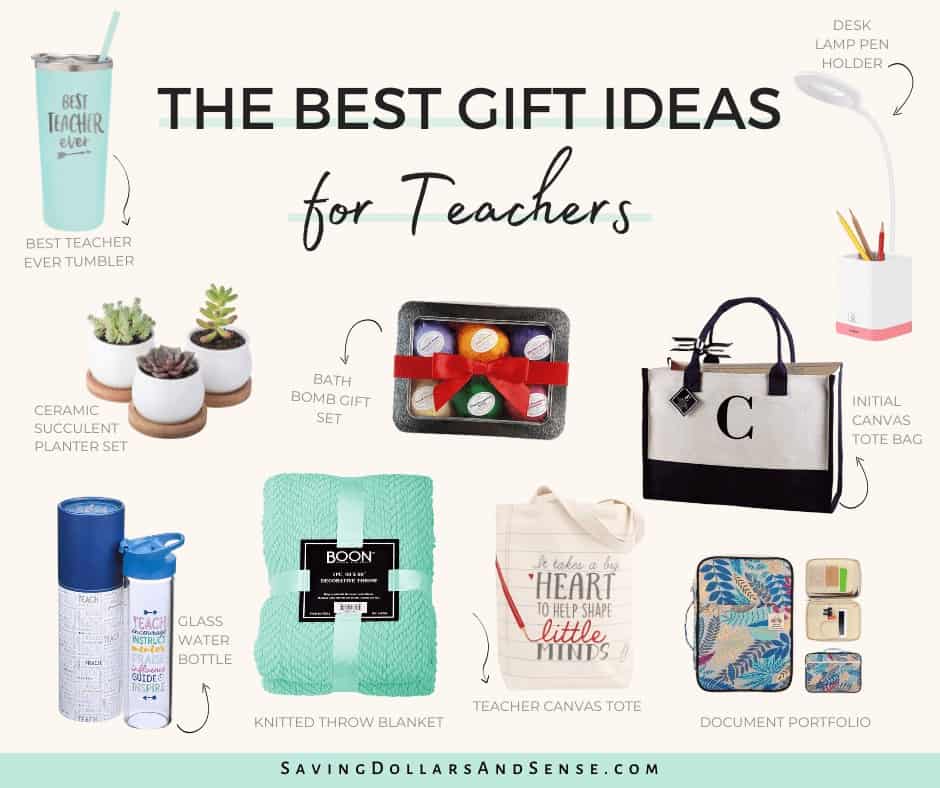 These are the best gift ideas for teachers and educators that they actually want this holiday season!
Deep black mug has cream trim on the rim and on the top of the handle. The front has the message, recessed in black "I'm a Teacher. What's your superpower?" Made in the USA.
Imagine yourself relaxing in a twirling, swirling, bath enjoying the benefits of our organic, Non-GMO, gluten-free ingredients. These essential oil aromatherapy blends, cocoa butter & shea butter will leave your dry skin soft, supple & moisturized without trashing the tub!
Handmade Fizzers kit Contains 6 Unique Experiences That Will Take Your Senses To A Place You Can Only Imagine. RELAXATION (Lavender), DETOX (Vanilla), ENERGIZE (Grapefruit), DESTRESS, SINUS (Peppermint), CONGESTION RELIEF (Eucalyptus).
Enjoy a uniform flicker-free light beam that won't fatigue your eyes even after long hours of use, whether it is for work, studying, or simply reading. Works as a pen pencil holder.
Amazon.com Gift Cards never expire and carry no fees. Multiple gift card designs and denominations to choose from. Redeemable towards millions of items store-wide at Amazon.com or certain affiliated websites. Available for immediate delivery. Gift cards sent by email can be scheduled up to a year in advance.
Hot Sox, the original fashion socks brand, has always stayed true to its vision – fun, unique, designer socks. Our artistic and novelty designs attract life-long fans who love bringing wearable art to life.
We are proud to share our love of design and bring you some brand favorites like Mona Lisa, starry night, and the scream. Be sure to check out new updates in the exciting world of Hot Sox.
This set of 3 mini white ceramic succulent pots are just adorable for your tabletop or windowsill, and can be used to create a beautiful, minimalist, tea-light candle tabletop arrangement.
The Brilliant weekly desk planner contains 120 pages(60 sheets) for you to take notes with. Fits nicely in front of your keyboard or Laptop, without cluttering up your desk space.
You can keep your notes or past schedule without tearing off each sheet. The Weekly scheduler is a dateless weekly planner where you can set up your own dates. You can organize your weekly plan or schedule with this desk pad planner.
You've molded play dough and minds and guided lessons and lives. You're a coach, counselor, and cape-less hero who deserves endless thanks and a starting salary of ten million dollars a year. When inspiring and shaping the future of the world gets to be too much, flip open this Coloring Book for Grown-Ups for some laughs and love!
This new classroom companion is a slim and sleek book for on-the-go organization. Bring color to the classroom with this beautiful book. Includes a title page, all about Me page, yearly goals spreadsheet and Mini-month spread. It also includes 28 checklist spreads, 8 dot grid seating chart pages, 52 college-ruled lined pages, and 1 sheet of event stickers.
A cute bangle bracelet that's adjustable to fit all wrist sizes. This is the perfect "Thank You" gift for teachers or soon-to-be teachers.
22 oz Acrylic Double Wall Insulated Tumbler for hot and cold drinks. Includes lid and straw. The teacher mug has "Don't Make Me Use My Teacher Voice" in multi-colored and gold metallic print.
Heavyweight canvas tote features printed notebook paper print and "it takes a big heart to help shape little minds" sentiment.
It's all about the apple! Large, delicious, shiny. A metaphor for wisdom, health, someone who stands out and always offers the best of her or himself.
This refillable water bottle for women makes a safe, green, flavor-free and healthier alternative to plastic bottles and cups. Fill your travel water bottle with, sweet tea, ice water, milkshakes, lemonade, soda and more!
Chic, beautiful woven BOON Knitted Tweed design features diamond patterns made of super soft microfiber polyester for a plush, textured look and feel. The design is finished off with adorable knotted braid tassels along each side of the widths.
This knitted tweed throw is irresistibly soft and has a versatile design that can be used all YEAR ROUND. It is lightweight making it great for summer and easy transportation between rooms. Yet, it is still hardy and cozy enough to layer during chilly winter months.
Enjoy a super-smooth writing experience with BIC gel-opacity quick dry retractable gel pens in assorted fashion colors. Ideal for note-taking, annotating, and a variety of other writing tasks, these pens feature a super-smooth ink that dries quickly to help minimize smears.
The round full-grip barrel rests snugly between your fingers, helping promote comfort during long writing sessions, while the 0.7mm point creates vivid marks. The retractable design allows you to deploy and retract the tip with a simple click.
Easily carry around with handle on the side, keeps or your belongings in one unit including cell phone, Pad, Notebooks, and documents, etc. Friendly Design of A4 Size organizer, suitable for 13″ Mac, notebooks, and documents. There are extra rooms for your other electronic gadgets such as Pads, Kindle, or portable chargers.
This teacher bracelet is a perfect gift for any teacher. It's unique, adjustable and something they can wear daily. Bracelet Details: 6 inches with 2-inch extender. Clasp Type: Lobster-claw-clasps Metals Type: Zinc Alloy.
This roomy stylish teacher tote handbag with a motivational message is a great gift for teacher appreciation, retirement, new teacher, Christmas, start or end of the school year.
If you are looking for a funny gift idea to surprise your favorite instructor or teacher, then this 15 oz wine glass is the way to go. Printed with superior ceramic inks that are fired on at a temperature of up to 1200 degrees. A truly permanent imprint that will never fade or lose its glow.
When you are looking to buy something for your child's favorite teachers or your favorite teachers who has everything, this is the perfect gift that fits right in and makes a big hit.
A classic black and white wooden box sign featuring a distressed "A Teacher Takes A Hand, Opens A Mind, Touches A Heart, Shapes The Future" sentiment with polka dot trim designs. Easy to hang or can free-stand alone.
Keep beverage at the perfect temperature (hot or cold) for a long time. You can use this cute tumbler for wine, juice, coffee, or tea.
This teacher makeup bag is a perfect gift for your favorite music educator. They will be able to use this small bag for some of their favorite things. Measures 9.8 ″ W x 7.5″ H.
This hilarious and stylish gift is sure to get a laugh. Great for teachers gifts or for anyone who has to deal with school and/or kids. A classic design that is perfect for anyone and everyone (who can legally drink).
Natural and black canvas tote features black embroidered initial. A classic bag perfectly suited for the mall, school, office, beach, boating and all your everyday needs. Dimensions are 19″ X 17″.
Show your appreciation for your child's favorite teacher with this cute, convenient and usable teacher notepad gift. Each notepad features 50 pages of premium paper that tears away easily without ripping. He or she will love using this fun and functional present!
Teachers work super hard, but don't always get a lot of credit! When you get a really great teacher, you'll remember them forever. Why not let your favorite teacher know exactly how awesome they are by giving them a practical and funky gift to say thank you? This 22 ounce vibrant mint colored tumbler features an engraved "best teacher ever" on the front, with a reusable straw and spill-proof lid.
These teacher key chains are well packaged with a specially designed velvet pouch with high quality. Ready for giving! These sayings vary with your teacher's favorite quotes, including: A great teacher is hard to find and impossible to forget; It takes a big heart to help shape little minds; So much of me is made from what I learned from you; Teachers plant seeds that grow forever; Thank you for making a difference in the lives of students.
Show teachers how much you appreciate them with this beautiful ceramic mug gift set. This 5 piece teacher gift set for women comes beautifully wrapped with a gold bow.
Best teacher appreciation gifts, " It takes a big heart to help shape little minds " is written in black and gold glitter text to pop against the ivory canvas fabric. This bag measures 16 x 15 x 3.5 inches with 21.5 inches handle. Interior pocket keeps supplies and personal items in their place.
This colorful unicorn makeup bag will make any teacher smile. Show these sweet educators how unique they are as they teach the upcoming young minds of tomorrow. This makeup bag measures 9″W x 7″H.
786 stickers with gold foil accents help you make it easy to customize your happy planner while making everyday routines even more fun. Includes: tabs, lists, labels, apples, pencils, and more. Some captions are: meeting, book fair, class pictures, spring break and inspirational quotes. Largest measures approximately 3″x 1″.
Do have the greatest teacher ever? Are they a super teacher? If you're looking for teacher gift ideas for your English teacher, math teachers, preschool teachers shirt, gym teacher t shirts, or even your dance teacher? They'll love this gift!
Teachers want more than an apple!! Give them something no else will! Consider adding a cookie mix package and kitchen utensils for a complete gift or use it as a gift card holder.
This math mug is perfect for giving to school teachers. The design is on both sides on the cup and can hold 11 ounces of your favorite beverage.
Express your deep gratitude and support with our Relaxation Gift Basket! Deep relaxation and lasting rejuvenation come together in this beautiful, handmade French rose spa gift for teachers featuring all natural items.
This hilarious mug will make a great gift for your favorite teacher. This mug is dishwasher and microwave safe and will hold 11 ounces of your teacher's favorite drink.
Show your favorite teacher some love with this cute, fun, unique custom designed handbag made just for teachers! Has the fun saying "The Influence of a Good Teacher Can Never Be Erased" screen printed on the front pocket.

We have lots more Gift Ideas for you too!
Check out the list of the best gift ideas for everyone else on your list too! You could find the perfect gift for everyone and have all of your holiday gift shopping done today.
Check out all of our Saving Dollars and Sense Gift Ideas below:
We also have a fun list of the best Homemade Food Gift Ideas if you'd rather make your own gifts this year.