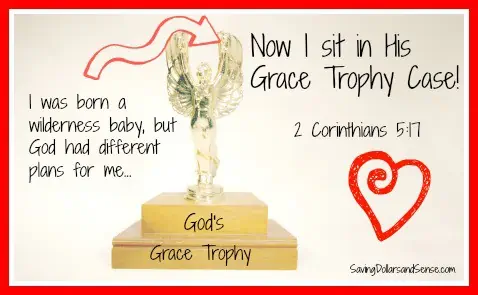 Last week I shared a few things that have been weighing heavily on my heart in the following two posts:
The Pit of Compare
Maybe You're Not Meant to Just Fit In
The thing about writing posts like that from my heart is that it can be scary.
First of all, because it is always a little scary to make yourself vulnerable and share what is in your heart. It is just a tad bit more uncomfortable than my typical deal posts.
It was also because I knew that these were things God was compelling me to share with you.
I much prefer to share things that will make everyone happy, and let's face it we all love free stuff but we all don't love to hear how we might still not be in our perfect place.
At least I know I don't, just ask my husband 😉 I really don't like when he points out something yucky in me, and my knee jerk reaction is to get mad at him rather than see that God has used him to touch something in me that needs an adjustment.
I find it a little amusing today that while I was sure God was giving me the message to share that we all need to learn to be comfortable in who we are, the perfect us He has created us to be, he was really just setting us up for today's message.
Yes, we do need to learn to be our own authentic selves!
But we also need to learn how to hear when God is showing us things that we are allowing to block us from being who He has called us to be, even when the nudging is coming from our husbands 😉
At church last weekend God made it clear to me that this is the message he wants us all to hear right now.
This past Sunday we had a guest speaker at church. Dr. Benjamin Baker is a highly educated man (and professor) who has a way of taking what could be complex spiritual matters and putting them in very simple terms, that even I can relate to.
He said that although we might have been born wilderness babies, we are God's prize and we sit in his Grace Trophy Case for all to see and look at in awe.
Can I just admit to you right now that many days I do not feel like a trophy at all?
I was born a wilderness baby, and I still have a bit of that wilderness upbringing in me. The rejection, shame, and hatred that I learned while living in the wilderness still shows itself in the strangest of times.
So while it is true that God has made us exactly as he wanted us to be, the world has told us from birth who they say we are. We begin telling ourselves who the world says we are over and over until we believe it. Once this happens it is hard to hear through all the lies we've filled our heads with.
But there is only ONE voice we need to hear.
Here is just a very small sample of what God has to say about you:
I am complete in Him Who is the Head of all principality and power (Colossians 2:10).
I am alive with Christ (Ephesians 2:5).
I am free from the law of sin and death (Romans 8:2).
I am far from oppression, and fear does not come near me (Isaiah 54:14).
I am born of God, and the evil one does not touch me (1 John 5:18).
I am holy and without blame before Him in love (Ephesians 1:4; 1 Peter 1:16).
I have the mind of Christ (1 Corinthians 2:16; Philippians 2:5).
I can quench all the fiery darts of the wicked one with my shield of faith (Ephesians 6:16).
I can do all things through Christ Jesus (Philippians 4:13).
I am God's workmanship, created in Christ unto good works (Ephesians 2:10).
I am more than a conqueror through Him Who loves me (Romans 8:37).
I am part of a chosen generation, a royal priesthood, a holy nation, a purchased people (1 Peter 2:9).
I am the righteousness of God in Jesus Christ (2 Corinthians 5:21).
I am the light of the world (Matthew 5:14).
I am forgiven of all my sins and washed in the Blood (Ephesians 1:7)..
I am firmly rooted, built up, established in my faith and overflowing with gratitude (Colossians 2:7).
I am healed by the stripes of Jesus (Isaiah 53:5; 1 Peter 2:24).
I am greatly loved by God (Romans 1:7; Ephesians 2:4; Colossians 3:12; 1 Thessalonians 1:4).
For God has not given us a spirit of fear; but of power, love, and a sound mind (2 Timothy 1:7).
Then each morning practice telling yourself the truth about who you are! Read each of them out loud to yourself as you are getting ready in the morning and before you go to bed at night.
I did this several years ago and it changed everything for me. When you have been telling yourself lies for so many years it can be quite difficult to believe the truth.
In the beginning, it might feel funny to say these things, but eventually, the truth will take root and you'll begin replacing the lies you used to believe with the truth of who you really are!
I am an overcomer by the blood of the Lamb and the word of my testimony (Revelation 12:11).
I LOVE the book The Search for Significance and found it very helpful to read while learning who God really made me to be.