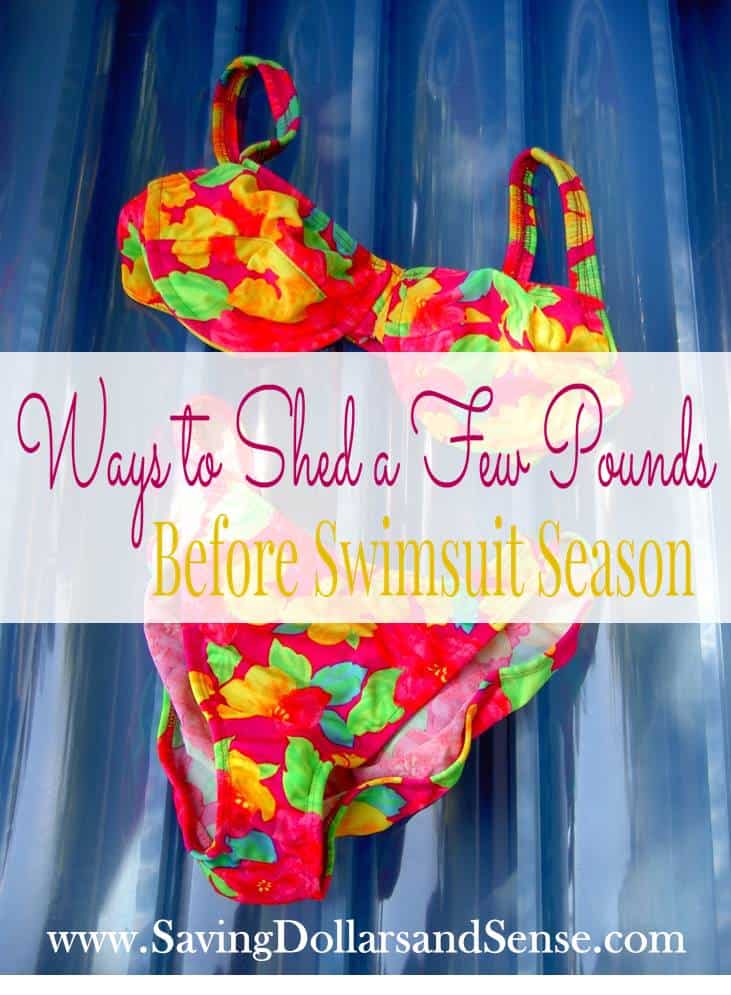 Summer is fast approaching which means swimsuit season is just around the corner.
Here are a few healthy ways to shed a few pounds easily before you head to the beach or pool.
Drink Water
Drinking lots of water is a great way to shed water retention and a few extra pounds, especially if you are replacing sodas and other empty calorie drinks with water.
The daily recommended amount is 64 ounces per day, and a good rule of thumb to drink enough water to help with weight loss is to drink half of your body weight in ounces of water. So, if you weigh 200 pounds, for example, aim to drink 100 ounces of water.
Here are a few ways to get your water intake for the day:
Grab a gallon jug and mark the sides with a permanent marker with different times, such as 9 am, Noon, 2 pm, etc. Make it your goal to drink to that line by that time of day.

Get a large 32 ounce insulated cup, such as a Bubba mug, to keep water cold as you drink it throughout the day. If you drink only two of those each day you'll be getting in your daily recommended amount.

Make it a goal to drink one large glass of water when you wake up and one before each meal. If your cup is around 20 ounces, just drinking those four each day will give you 80 ounces of water intake.

OPTIONAL: I also like to add a drop or two of Grapefruit or Lemon essential oil. **I personally having been using and can ONLY recommend this brand of essential oil as safe for ingesting.
Low Carb/High Fat
Limiting your carbohydrate intake, especially complex carbs, will help you to shed pounds quickly.
Make sure to also get in a lot of healthy fats such as olive oil, avocado, Omega fats from fish, and healthy fats found in nuts and seeds.
Cutting out processed carbs such as bread and pasta will help to reduce inflammation and water retention and help you to shed pounds quickly.
Try these substitutes for carb rich foods:
Spaghetti Squash or Zucchini Noodles in place of Pasta

Lettuce Wraps in place of Bread

Fresh Fruits in place of Sugary Sweets

Sweet Potatoes in place of White Potatoes
Just making small changes in your diet such as the ones above are a great way to shed weight and feel better!
I have been learning how to integrate this into our life. This book is great for explaining the how and why behind this lifestyle change, and has made me realize how easy it can make thing once you get the hang of it.
The companion cookbook is also very helpful. Our favorites are the Lazy Lasagna and Cheeseburger Pie!!
Walk It Off
Walking is a great form of exercise that even beginners can usually integrate into their day.
Make it a goal to wake up a half hour early, throw on some running shoes and headphones, and take a walk around your block.
Grab a pedometer or fitness watch to track your steps throughout the day.
Just being mindful of the amount of walking you do will help you to walk more. You'll be more inclined to take the stairs instead of the elevator, park a little farther from the store than you normally would, and make other subtle changes to get active.
If you have a desk job or more sedentary lifestyle, set an alarm on your phone to alert you every hour or two to get up and walk around a bit.
Just those small changes will make a big difference in your activity level.
Eat Your Greens
Consuming a significant amount of nutrient rich leafy greens will make a huge difference in your health and weight loss efforts.
They are low calorie, nutrient dense, and very good for you!
One easy way to make eating greens a simple choice is to keep a large bowl of salad items in your fridge.
Toss a kale or spring mix with other chopped veggies and keep a separate container of boiled eggs or grilled chicken. At mealtime simply add the protein to the veggies and toss in a healthy dressing for an easy salad.
Try a green smoothie for breakfast with spinach, frozen fruit, protein powder and other nutrient rich options.
There are many recipes available online to make these smoothies delicious and palatable.
Don't Skip Breakfast
Even if you opt not to drink a green smoothie for breakfast, make sure to not skip breakfast altogether.
Eating a healthy and well balanced breakfast is a great way to kick start your metabolism and help you with your summer weight loss goals.
These are just a few ways to help shed some unwanted pounds before putting on that swimsuit. And not only will you look healthier, these are all incredibly healthy ways to feel much better and enjoy your summer more as well.
What are some of your tips for shedding unwanted pounds?