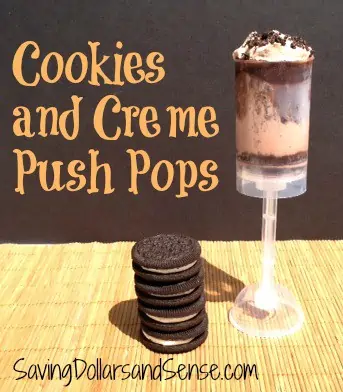 If you haven't noticed this week I have been having a blast finding new ways to take my favorite dessert recipes and make them into yummy push pop desserts like this Cookies and Creme Push Pops!
So easy to make. I baked a batch of brownies. When they had completely cooled I used the push pop container like a cookie cutter and cut out circles.
*Saving Dollars and Sense Tip: Make sure to let them cool before attempting to cut out the circles or you will end up with a gooey mess. Ask me how I know 😉
I put one of the brownie circle cut outs into the bottom of the push pop container followed by some chocolate pudding, crushed Oreos, a couple chocolate chips and some chocolate Cool Whip.
Then I topped it with another brownie. Frosted the brownie with more chocolate Cool Whip and sprinkled it with crushed Oreos.
The point is that you can arrange the ingredients any way you like. Remember creating desserts like this is fun and your creations don't need to look just like mine.