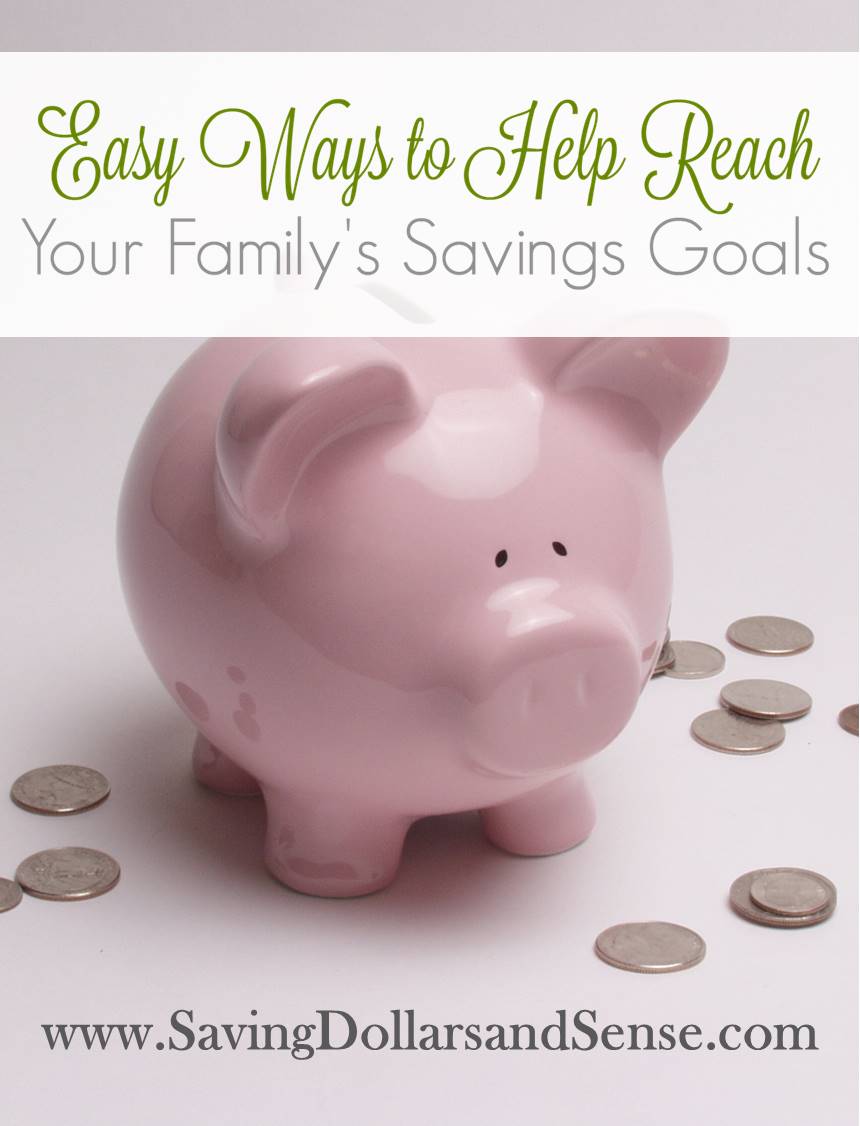 Saving money doesn't always have to come with an elaborate plan and major family sacrifices. You and your family can try adopting a few simple habits to help your family spend less and save more.
Stick to a Budget
Create a budget and stick to it as closely as possible. Again, this doesn't have to be incredibly complicated or elaborate. There are lots of budgeting tools available these days that will help make this process fairly easy.
Check out different budgeting smartphone or tablet apps, check Pinterest for free printable budget spreadsheets, or use Excel to create your own. Make the budget simple and easy to stick to especially if it's the first one you've tried.
And one important key – even if you get off-budget, journal all of your spending. This will help you to be clear about where your money is going and what areas you can improve on saving.
Keep the Change
Whenever you use cash, make it a habit to save the coins in a container at home. Just a few cents here and there will really start to add up! Make it a family night to sort and roll all of the change a couple of times a year to see how much you've saved.
You'll be surprised at what a significant amount you are able to save with just coins. Decide ahead of time what your coins savings will be used for. Perhaps you can plan to use it towards a family vacation, or some other fun family item that will help get everyone excited about saving their pennies.
Conserve Energy
Electricity, gas, and other energy sources can be a big expense, especially when added up over time. You could easily save $30 or more per month with just a few conservative energy usage choices. Here are a few things to consider trying:
Switch Your Bulbs

– Change out your regular incandescent bulbs to compact fluorescent or LEDs. They are more expensive at first but will save lots on your electricity bill and most come with a five-year warranty. Hold onto your receipt and product packaging and if one goes out too soon, use that warranty to get a new one.

Turn Down or Up the Thermostat

– Don't be too quick to flip the thermostat when your home feels too warm or cold. Try other ways to stay comfy such as a sweater and socks in the winter or opening windows for a cross breeze in the summer. There is no need to be miserable for frugality's sake, but there are ways to be comfortable without increasing your heat and air conditioning costs.

Turn It Off

– Media screens are power-sucking monsters! Turn off the TV, your computer screen, and other plugged-in devices when they aren't being used. Turn off lights in the room when you leave them. Open the windows during the day to avoid using artificial lights as much as possible. Just making a conscious effort to turn off electrical devices when not in use will really add up on the savings.
Use It Up Wear It Out
There is an old saying that goes, "Use it up, wear it out, make do, or do without." This is a great motto to live by and will really help your family to save money. Before running to the store to grab something you think you need, make sure you actually need it and make sure you don't have something already on hand that will work just as well.
Our society is quick to go grab new since that is the convenient thing to do. However, it is incredibly easy to get creative and use what you already have on hand or do without entirely.
Meal Plan
Make sure to keep a basic meal plan. Again, it doesn't have to be anything incredibly elaborate! Just checking to see what food you have on hand, shopping weekly sales to get the rest of what you need, and planning meals around those items will do wonders to save your family money.
Plus, if you have a plan in place you can be prepared to cook dinner each night and be less tempted to grab fast food or pizza when you realize it's dinnertime and you have no clue what to prepare.
Involve Everyone
The most important part of saving money as a family is to get everyone involved. If only one person stays up to date on the budget, saving energy costs, meal planning, etc. your plan will not be as successful as if all are involved.
Make sure to involve your spouse and your children when setting savings goals and discussing things you can do together as a family to make achieve them. You'll be much more successful as a family unit than if you try to tackle saving money alone.