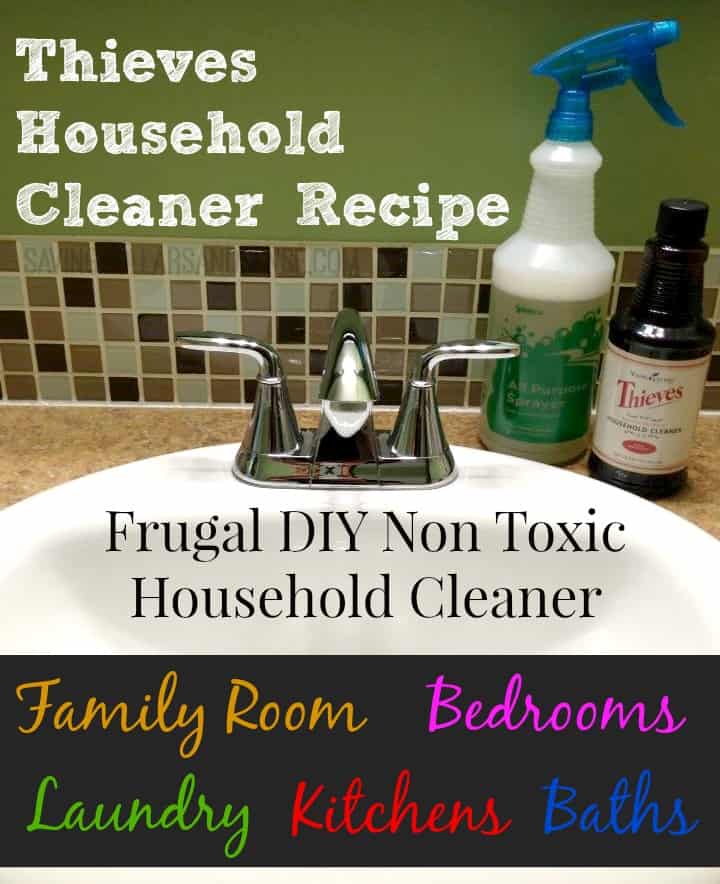 As I promised last week, I am going to feature one new oil from the Premium Starter Kit beginning today with Thieves Essential Oil.
Make sure you stop back by each day to learn more about another amazing oil that is in the Everyday Essential Oils Kit. Plus at the end of this series, you'll have the opportunity to enter to win an Essential Oils Prize Package!!
If you are anything at all like me you might be asking yourself the same question I did when I heard about this amazing essential oil.
What is Thieves?
Thieves has a pretty epic story behind it!
The story goes that there were a bunch of thieves that were robbing the Plague victims during the European Black Plague Outbreak without getting sick themselves. In a time when SO many were dying from the plague, the fact that they were not was a very big deal.
When they were caught they offered to share their secret recipe in exchange for leniency.
Thieves was created based on research about four thieves in France who covered themselves with cloves, rosemary, and other aromatics while robbing plague victims.
This proprietary essential oil blend was university tested for its cleansing abilities. It is highly effective in supporting the immune system and good health.
Just to give you an idea of how broad the spectrum of uses is for this one special Essential Oil, here are some ways you can use it:
Put a few drops of Thieves essential oil blend in a capsule and swallow with water to support your immune system
Put in a few drops of Thieves essential oil blend in your dishwater or dishwasher to thoroughly clean dishes and eliminate odors
Diffuse Thieves essential oil blend for 15–30 minutes in your home or office to help eliminate airborne bacteria
This past winter I was able to avoid coming down with a 2-week illness that the rest of my family battled by drinking a Peppermint Thieves Tea for a couple of days.
Click here —> Peppermint Thieves Tea recipe
After seeing how well it worked, I went ahead and ordered the Thieves Concentrated Cleaner and used it to make my own Frugal Non-Toxic Household Cleaner which I am now using to clean everything in my home! I LOVE the smell and find myself cleaning stuff just to be able to fill my house with the smell.
It has the added benefit of naturally keeping my home the cleanest it can be without toxic chemicals.
Order the Premium Starter Kit and I will send you a bunch of bonus freebies!
Please let me know if you have any other questions at all and I will do my best to answer them!
Disclaimer: These statements have not been evaluated by the Food and Drug Administration. The information on this site is not intended or implied to be a substitute for professional medical advice, diagnosis or treatment. Please confirm any information obtained from or through this web site with other sources, and review all information regarding any medical condition or treatment with your physician. Never disregard professional medical advice or delay seeking medical treatment because of something you have read on this website. This information is not intended to diagnose, treat, or cure any disease.