Below you will find some The Best Essential Oil Gift Ideas that are sure to be loved and appreciated.
The Best Essential Oil Gift Ideas
I am sure you guys know how much I am loving my essential oils since I tend to talk about them quite often.
I know that practically everyone is using essential oils these days, so this Essential Oils Gift Guide filled with the Best Essential Oil Gift Ideas will help you find the perfect gift for the oily person on your list.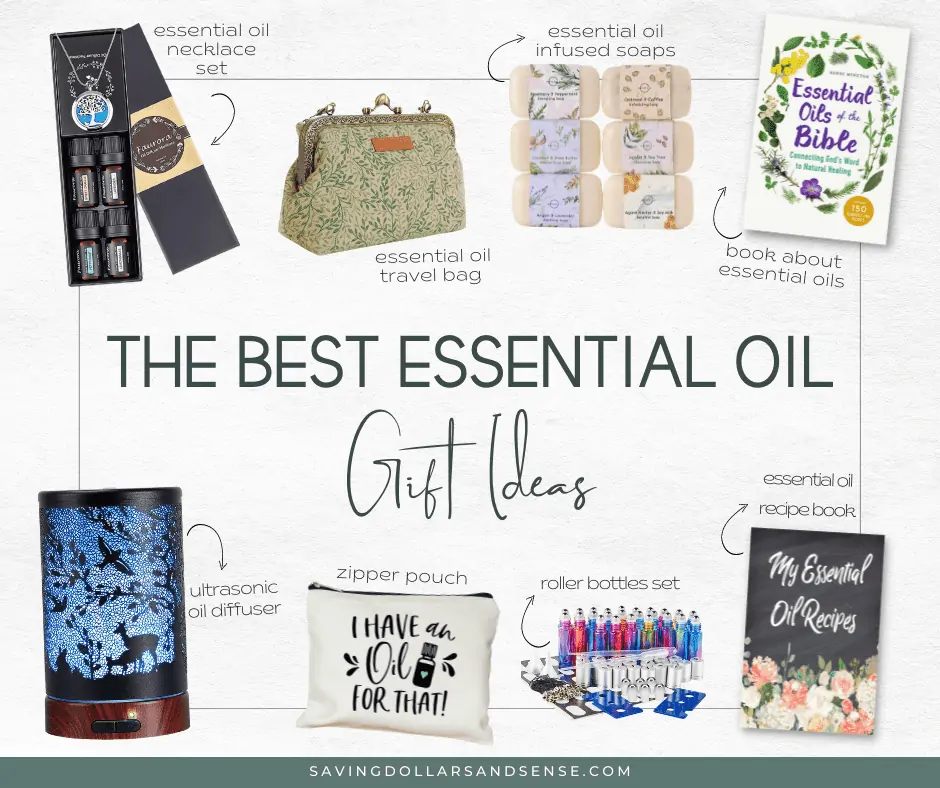 First things first, make sure to get this awesome kit with everything you need to get started with essential oils and I will send you a BONUS gift filled with all of my favorite things.
Once you have your oils, you will likely want to get your hands on some other awesome oily stuff like I am sharing here for you today.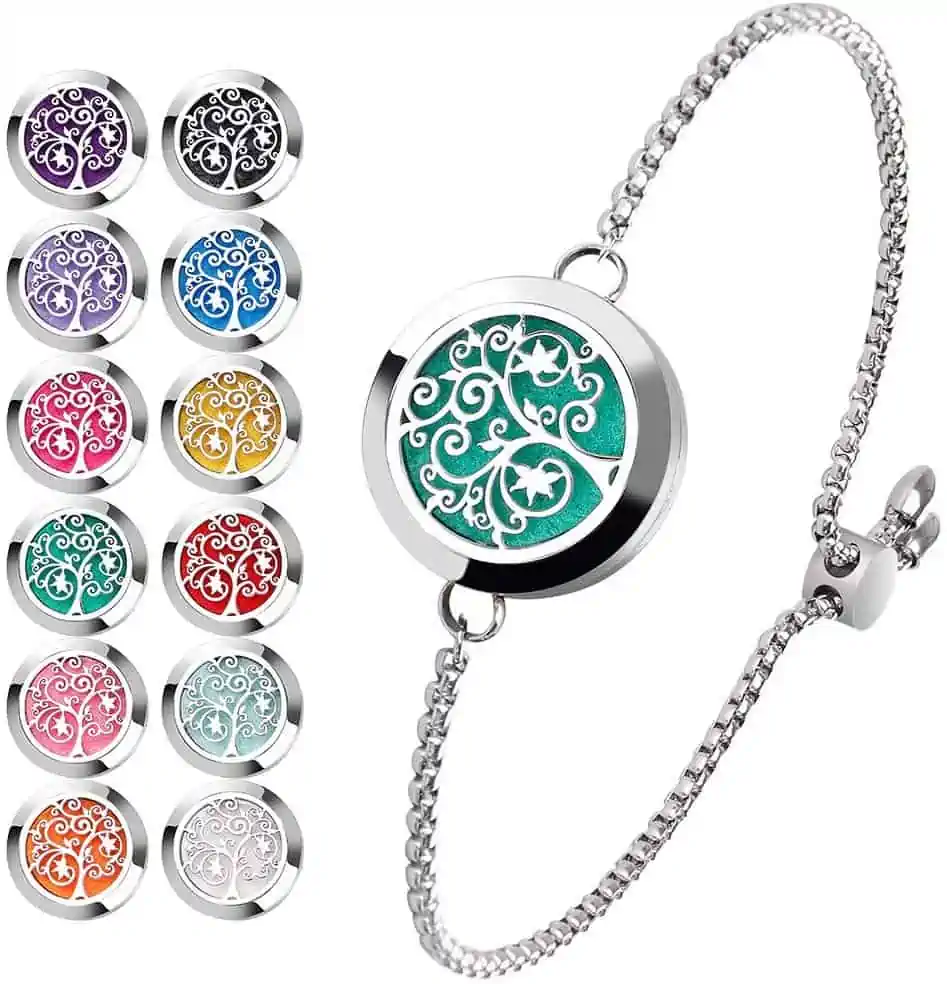 This hypo-allergenic bracelet comes with 24 refill pads. Drop 3-4 drops essential oil you need on the refill pad. Then you can enjoy the aroma without oil touching your skin. 12 colors high quality washable and reusable cotton replacement refill felt pads allow you to match your different essential oils and outfits, making you and your bracelet looking different everyday.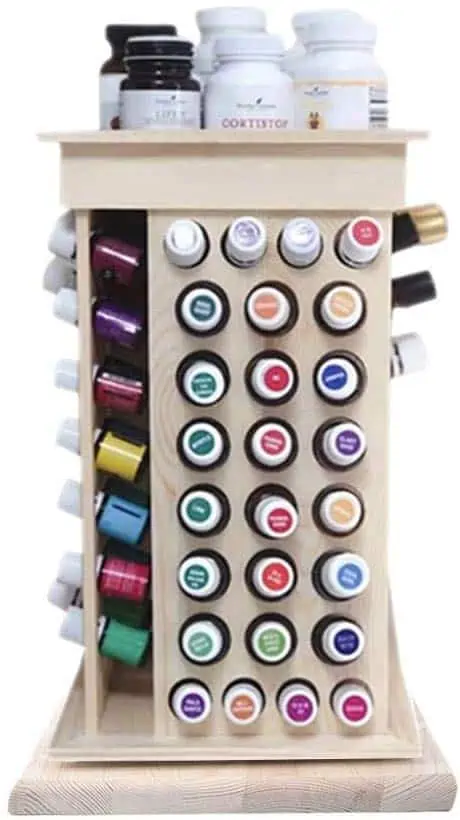 This rotating rack holds up to 104 of your favorite essential oils! Display up to 32 5ml bottles and 72 15ml bottles. Each rack comes with two different rotating bases.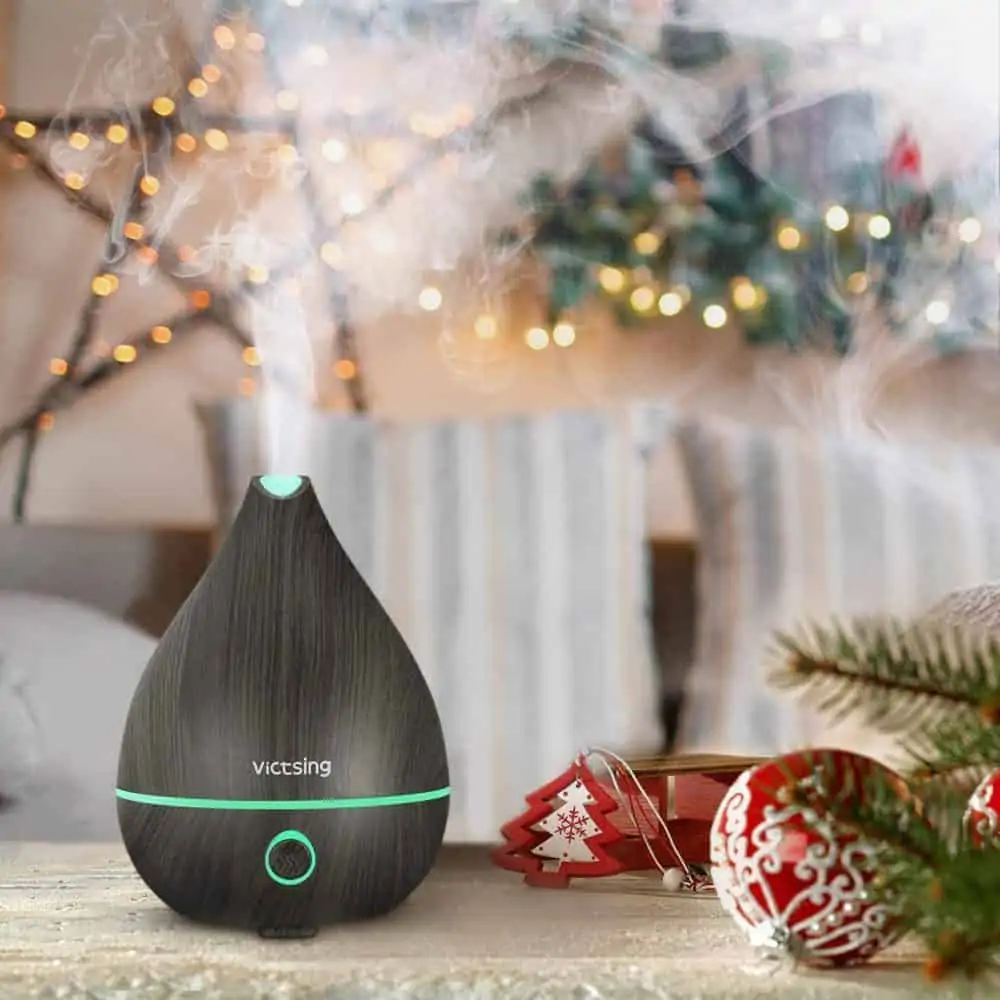 Easy to Use Super Quiet Essential Oil Diffuser, with Waterless Auto Shut-off, 8 Color LED Lights and BPA-free for Home Office.
You can also get a free diffuser when you order this all in one kit.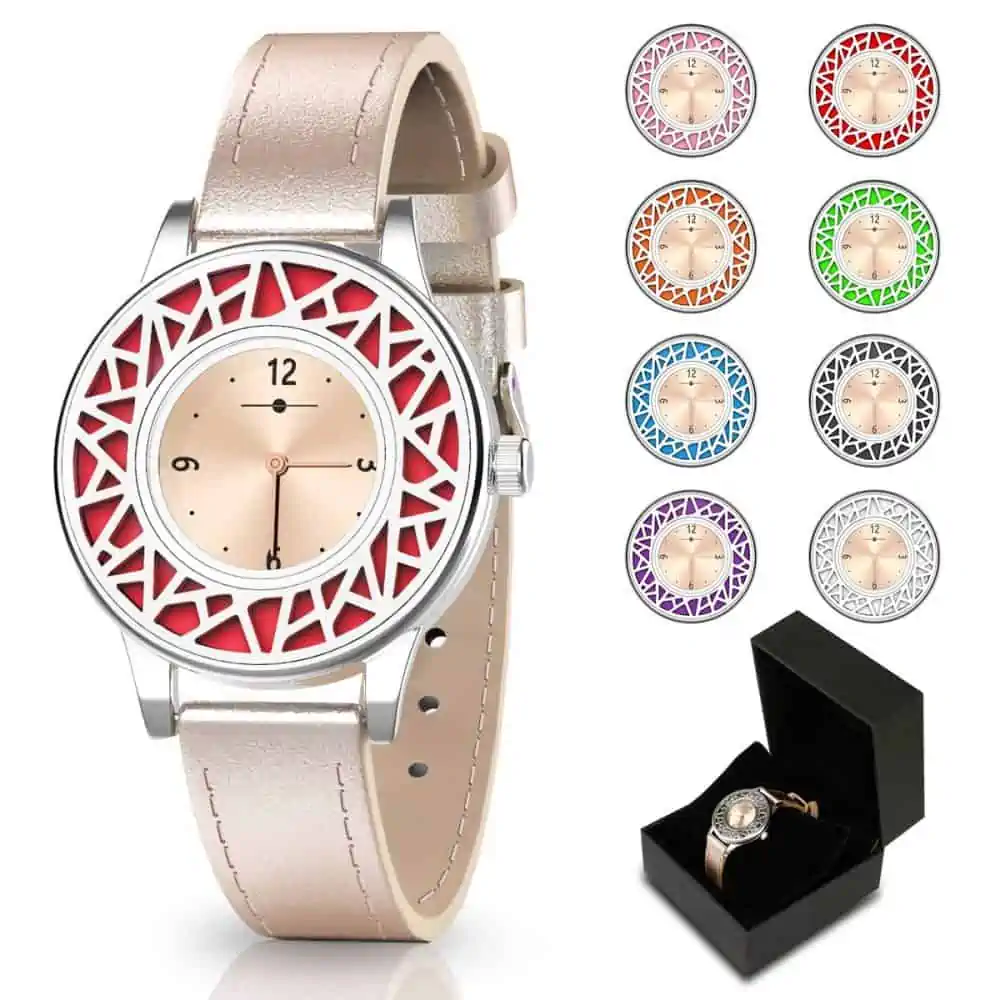 This beautiful essential oil diffuser watch has a leather band and stainless steel face to ensure its durability, it will not fade, tarnish, rust or stain! Just drop your favorite essential oil on it to calm emotions, relieve tension and stress in daily busy work, driving, sleeping, long-distance travel or overseas business trips. It comes in a nice gift box so it is completely ready to give to anyone that loves using essential oils.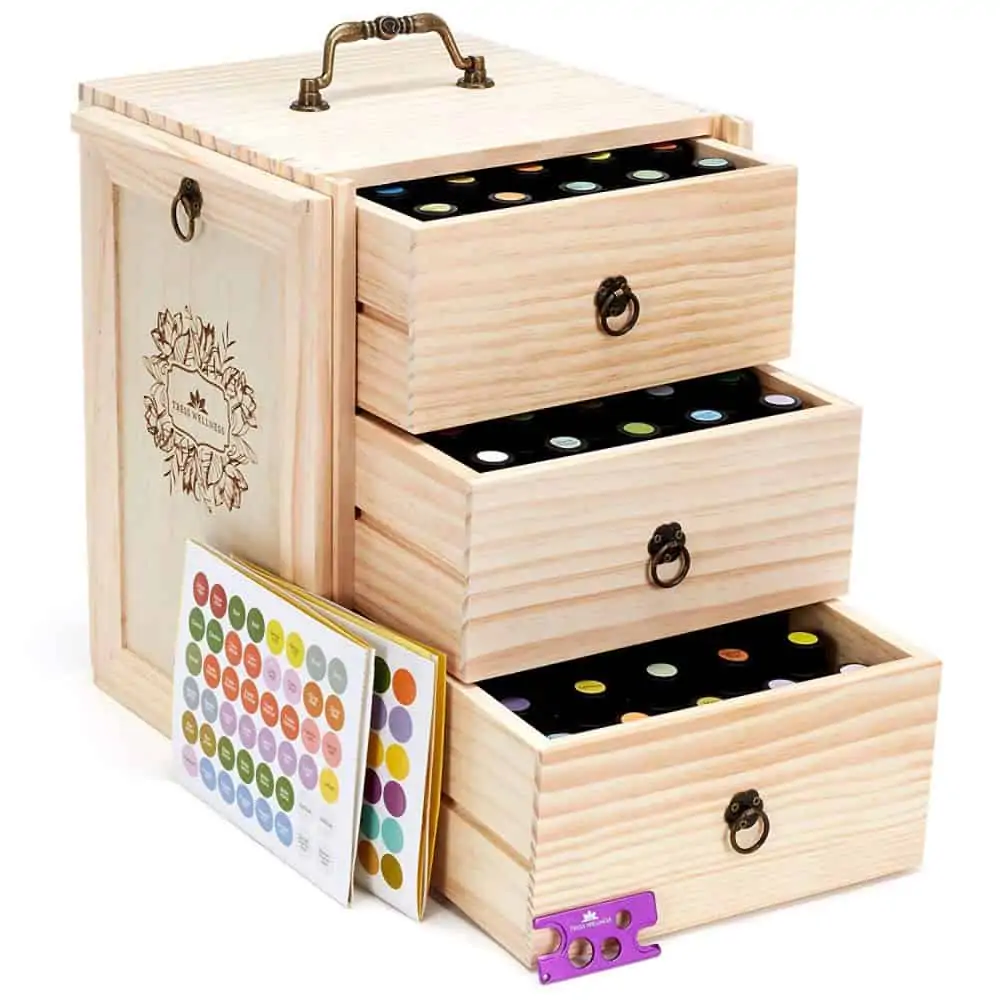 Fits 75 bottles, protecting them from shocks, sunlight or rain. Sturdy handle to carry or move your aromatherapy oil container, whether you want to store it in your bathroom, in your bedroom, in your living room or wherever you can think it may bring aroma to your room.
BONUS Metal Bottle Opener for effortless removal of bottles & reducing caps and 384 Container Cap Sticker Labels to perfectly organize the oils of your essential oil case box.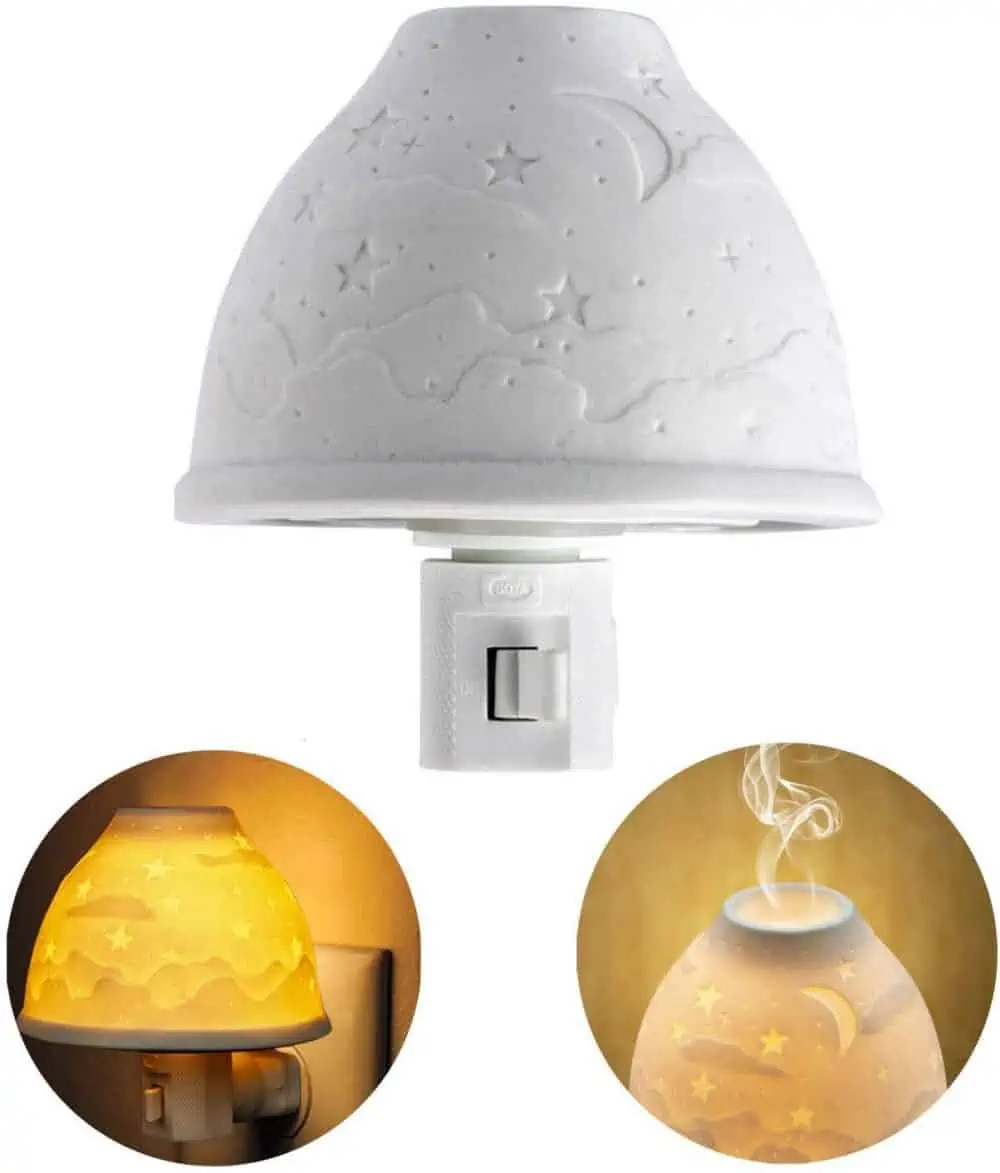 This is a plug-in wall night light with built in diffuser area. It is handmade with a ceramic lampshade and carved beautiful patterns.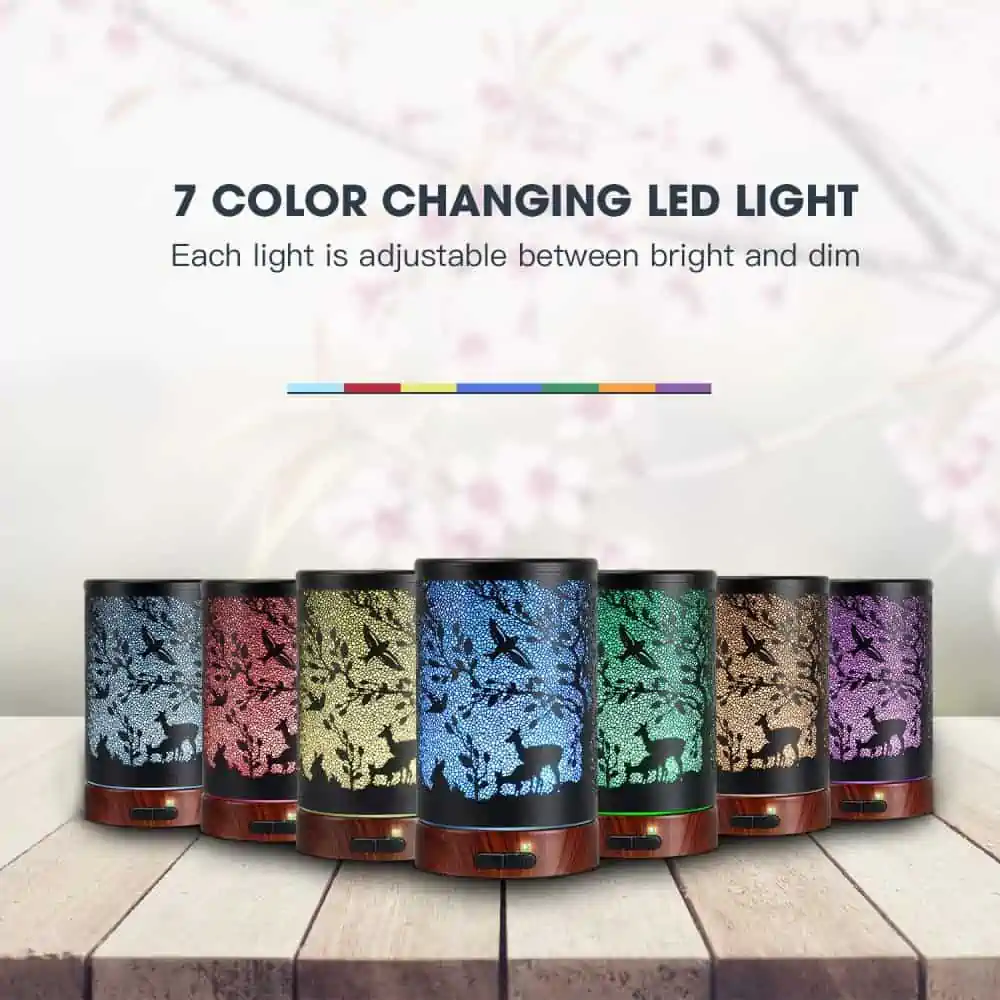 This ultrasonic oil diffuser has 7 color led lights, each color has bright and dim. Turn off all lights for total darkness. You can adjust the mist with 2 modes – Intermittent mist (30 seconds on/30 seconds off) and continuous mist. Working time: 3-4 hours in continuous mode, 6-8 hours in intermittent mode.You can choose your preferred color and mist mode to meet your different needs.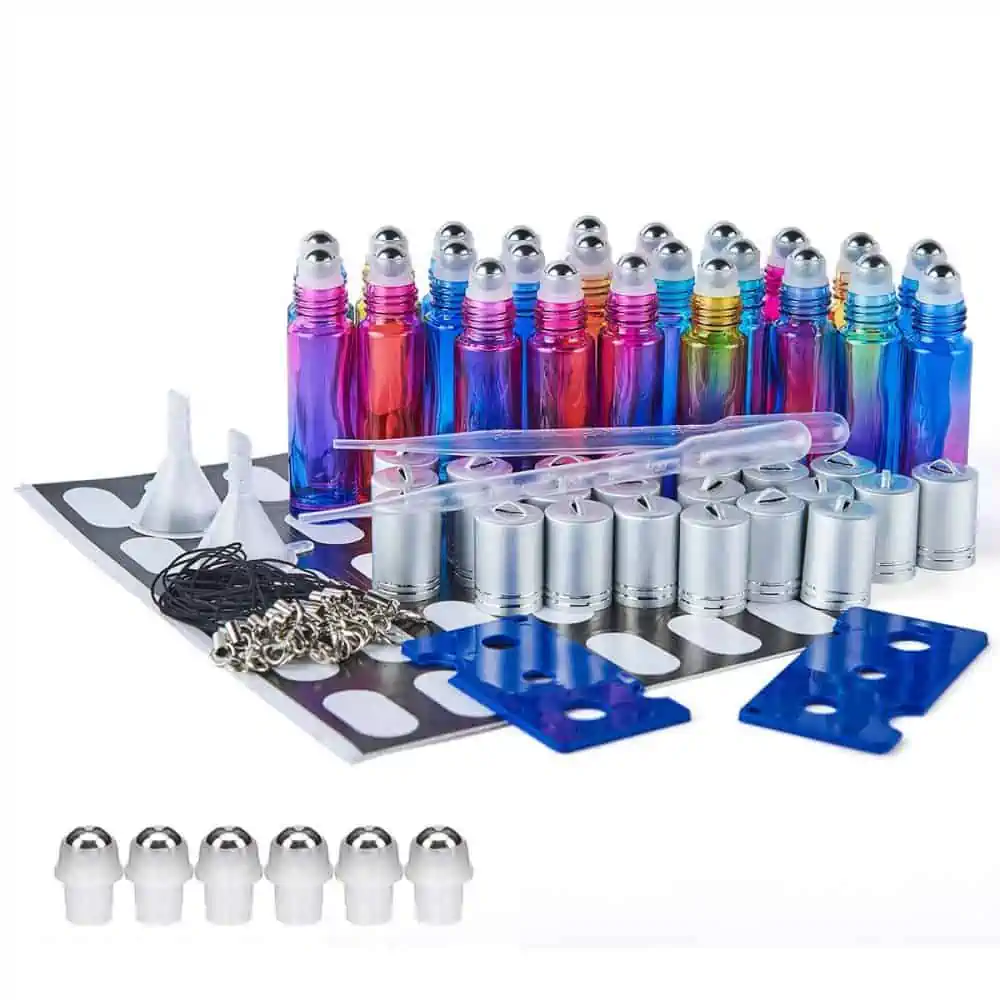 24 Pack Gradient Color Glass Roller Bottles with Stainless Steel Roller Balls, 2 Piece Droppers, 6 Extra Roller Balls, 2 Bottle Openers and 30 Customizable Labels.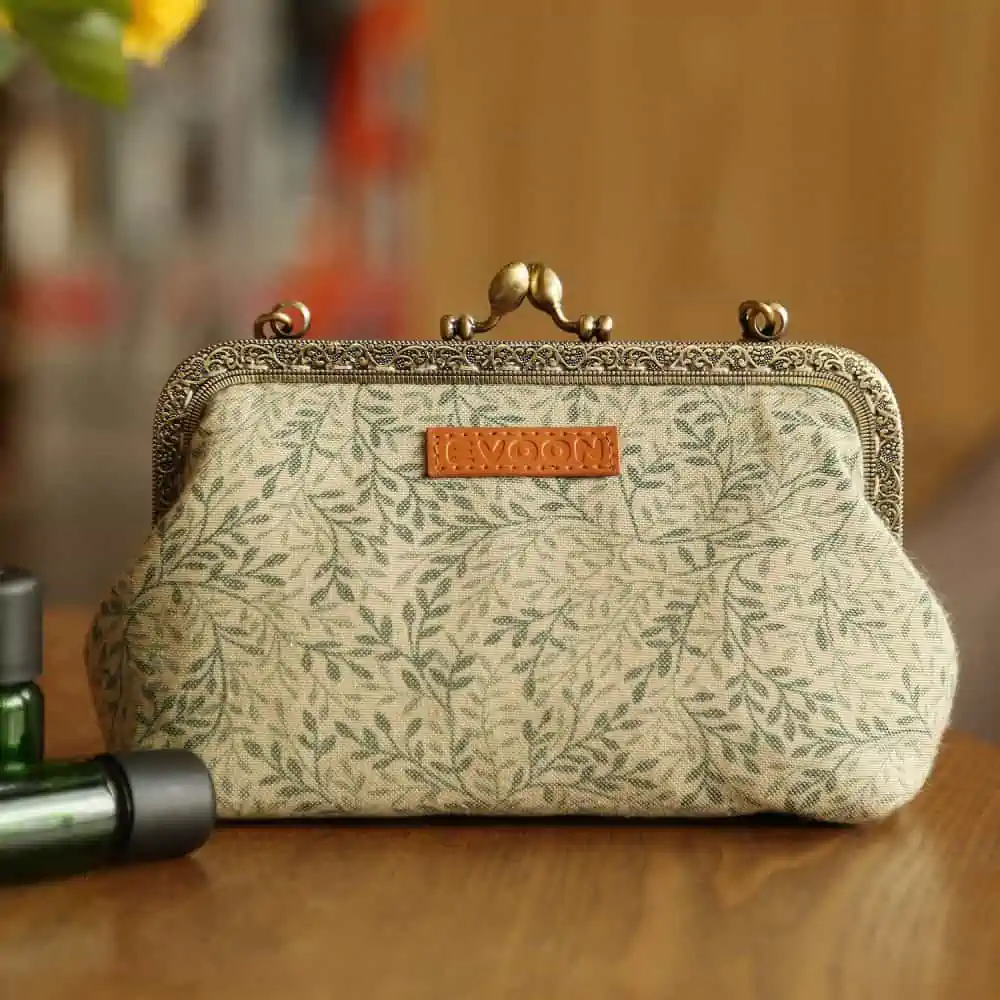 This vintage inspired bag is specially designed for essential oil lovers. It holds up to 10 bottles of essential oil. The elastic strap can securely hold the bottles, and the cushioning cotton pads can effectively protect the bottles for safety, so as to avoid the collision damage. Perfect for travel or home use. You can get this carry bag in this print as well.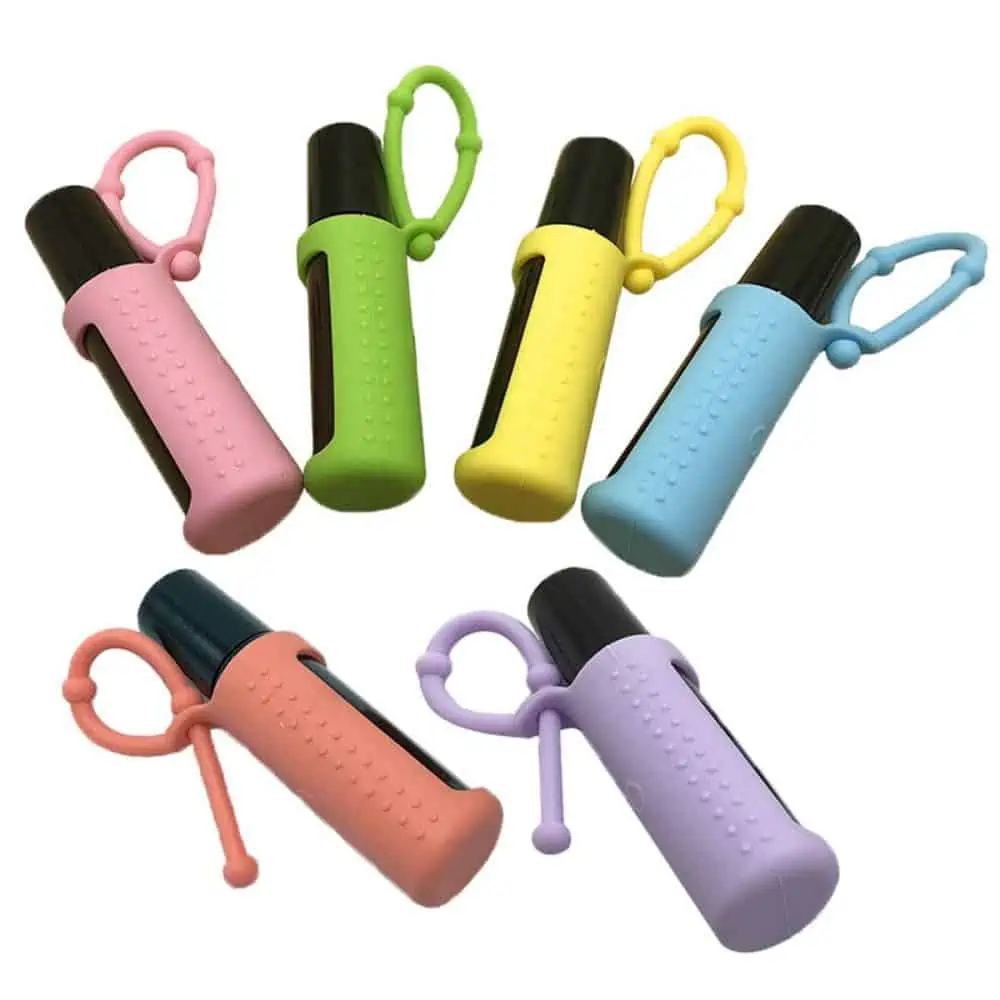 Simply loop the adjustable strap around your purse strap, belt loop, etc. and push down through the hole. Then tighten by pulling the strap up to the next adjustment ball. You can also get them to fit your 5 ml bottles.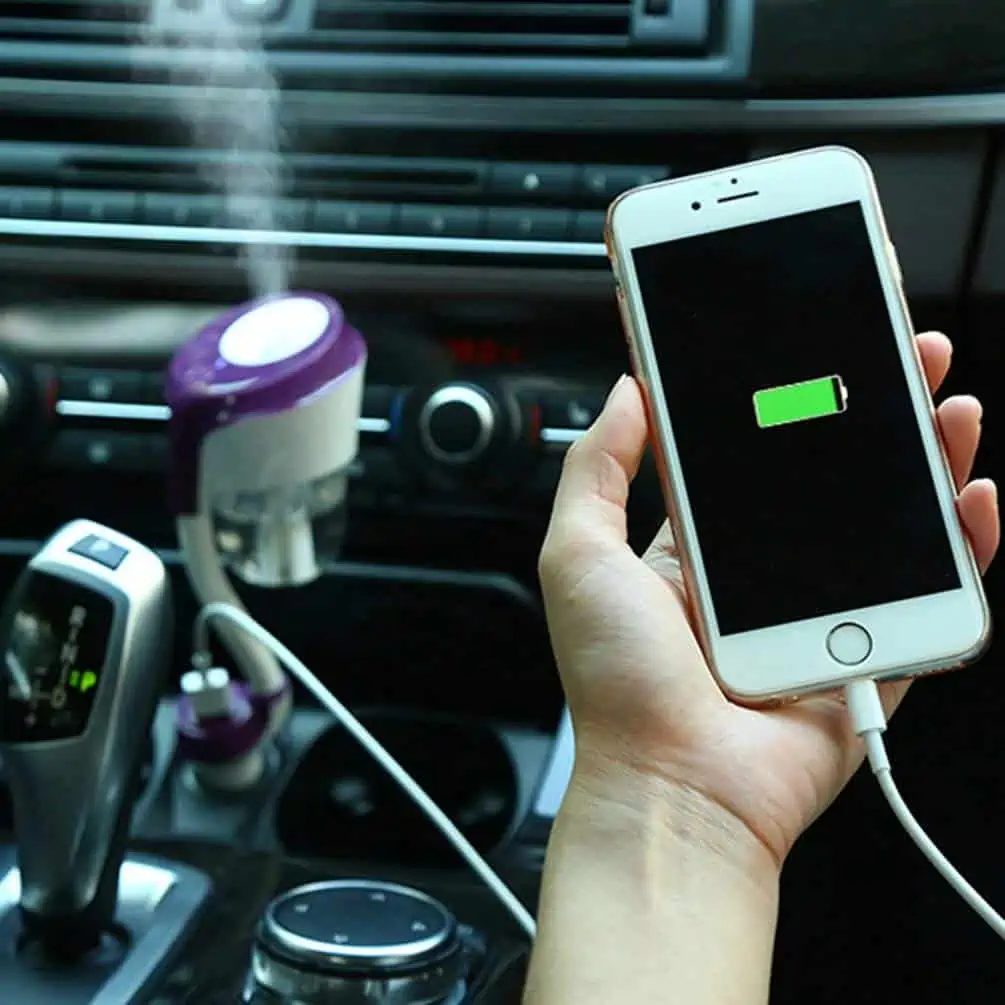 This car diffuser will convert the cigarette lighter into 2 USB charging ports. Charge your iPhone, iPad and use your diffuser at the same time!
Moonwake Designs products are printed by us using the highest quality inks so that the makeup bags hold up against normal use. These bags are great gifts that are simple and standout.
An essential oil necklace with 27.6'' chain, 4 essential oils (5ml), 8 colors washable pads all in one. You can change different colors every day in one week to show your different charms.
In Biblical times, essential oils were used for everything from holy ceremonies to everyday needs. Today, we can harness the all-natural power of essential oils to calm, purify, and heal our bodies and homes. Essential Oils of the Bible is written at the intersection of science and spirituality, allowing the benefits of both to infuse your spiritual essential oils practice.
The spray bottles set can be mixed your own cleaners for spraying plants, home linen spray for ironing, hair moisturizing, natural air freshen , floor or carpet clean, cosmetic face moisturize. Roller bottles for essential oil aromatherapy massage.
The clutch purses is specially designed for women. it can hold various makeup items. The elastic strap can securely hold the bottles, and the cushioning cotton pads can effectively protect the safety of cosmetic essential oil bottles, etc., Perfect for travel or home use.
This awesome recipe journal for men and women has ample room for all your favorites with 100 lined pages.
The O Naturals 100% Vegan Natural Soap Collection is a 6-piece collection of natural and organic bar soaps. These French triple milled soap bars are lightly scented with a perfect blend of essential oils for your skin and body. They are vegan and infused with organic oils. This natural soap bar collection combines earth's premier organic oils and herbs that will keep your skin young and vibrant. Each one nourishes, revitalizes, and restores the glow to your skin.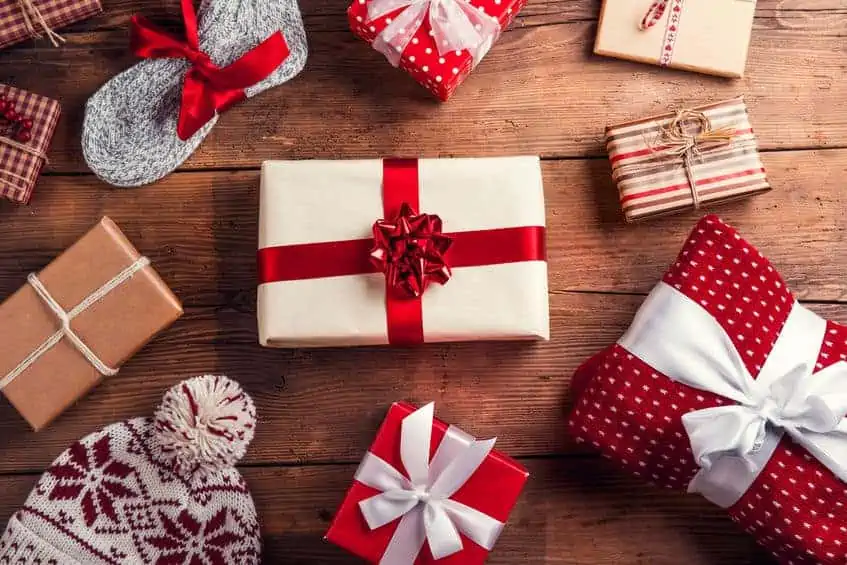 We have lots more Gift Ideas for you too!
Check out the list of the best gift ideas for everyone else on your list too! You could find the perfect gift for everyone and have all of your holiday gift shopping done today.
Check out all of our Saving Dollars and Sense Gift Ideas below:
We also have a fun list of the best Homemade Food Gift Ideas if you'd rather make your own gifts this year.