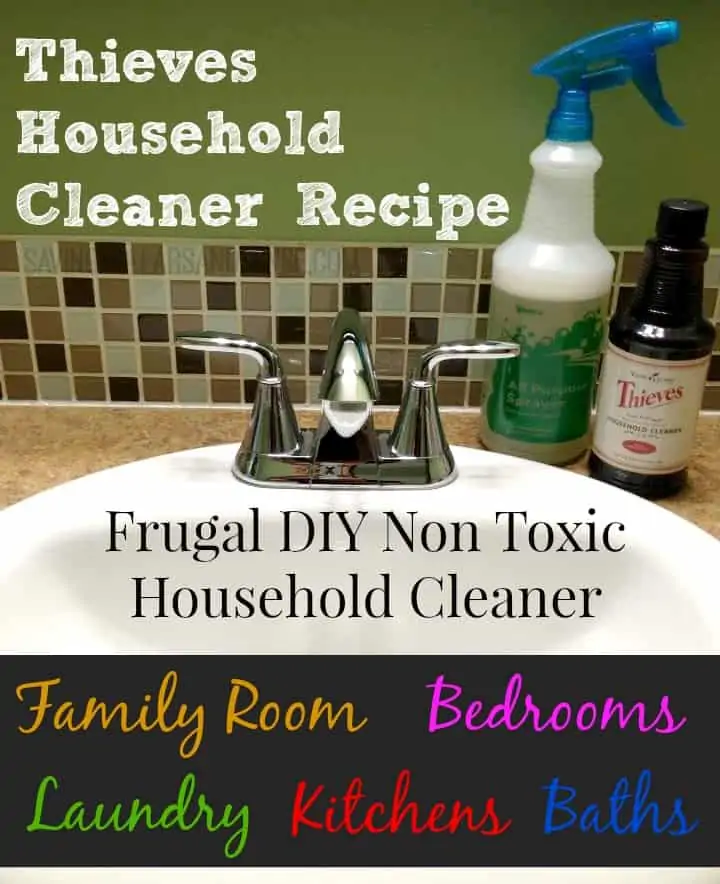 It has been a very LONG winter and I almost began to think spring might never arrive.
Thankfully now that April is here I can really begin to believe spring is too, and that means it is time for some spring cleaning.
I've been waiting for the day that I can open all our windows again. It was 37 degrees here today, so I think I will have to wait a little longer for those days.
Not only am I looking to clean my home of the dirt that has been trapped inside with me all winter, but I have begun to spring clean my cleaning supplies as well.
I am pretty sure they multiplied in the closet over the winter. I have SO many different cleaners for just about anything.
I am so excited about my new Thieves Household Cleaner which will now replace pretty much any other cleaner I used to use.
Have you ever taken a look at what's in your favorite household cleaners?
The ingredients have been linked to things like ADHD, Allergies, Eczema, Asthma, and more.
All I know for sure is that when I am cleaning my bathroom with my old cleaners I find it very difficult to breathe. That alone is a good indication to me that it's probably not something I am supposed to be breathing in.
As I mentioned before I have jumped on the Essential Oils Bandwagon and continue to be amazed at all the ways I can incorporate them into my home and daily life including everyday cleaning routines.
I am SO excited to share my favorite Thieves Household Cleaner with you! This cleaner is not only frugal and super easy to make, but it is actually good for your family too!
The Thieves Story

Thieves® was created based on research about four thieves in France who covered themselves with cloves, rosemary, and other aromatics while robbing plague victims. This proprietary essential oil blend was university tested for its cleansing abilities. It is highly effective in supporting the immune system and good health.
I can remember when I used to have to open the windows to clean because the fumes were so strong.
Now I can open the windows because I want to let the fresh air in and not because I have to in order to breathe.
There are so many ways that you can easily remove the chemicals in your home that hurt our families. Using this homemade Thieves Cleaner is my secret cleaning weapon, and I can't wait for you to try it too.
I buy one bottle of Thieves Concentrate and I am able to use it to clean pretty much everything in my home.
I just make sure I have my Regular Strength (Light Recipe) bottle on hand for quick and easy clean up jobs.
And then I also have my extra strength (Medium Recipe) bottle on hand for those tougher jobs that require just a little more to get them done.
Oh, and did I mention this stuff smells ah-mazing?!!!
Here is my bathroom sink before cleaning it with the Medium strength Thieves Household Cleaner.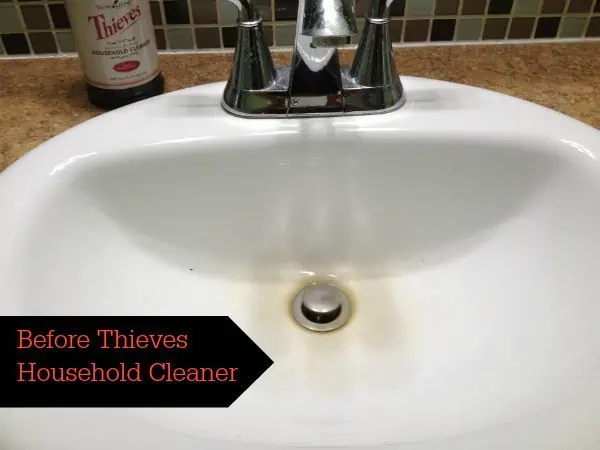 It's dirty! There is a bit of a yellowish stain around the drain and the faucet has lost it's shine.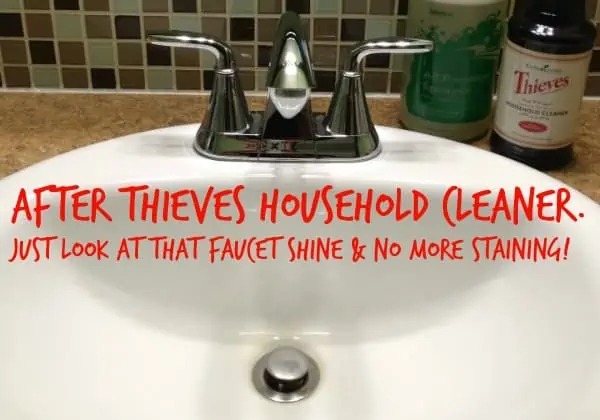 This was after using the Medium Degreasing Recipe below.
Thieves Household Cleaner Recipe

Light Degreasing: 1 capful Thieves cleaner to 3 3/4 cup water

Medium Degreasing: 1 capful Thieves Cleaner to 2 cups water

Heavy Degreasing: 1 capful Thieves Cleaner to 1 cup water.
Some areas you can use Thieves Household Cleaner:
Kitchens – Refrigerator, Dishwasher Rinse Aid, Ovens, Dishes, cutting boards, countertops, sinks, floors and more.
Bathrooms – Shower Walls, Shower Curtains, Tub, Sink, Toilet, Floor, Mirror, windows and more.
Family Rooms – Silk Plants, Live Plants, Carpet, Room Deodorizer and more.
Bedrooms – Mattress, Pillows, Sheets, Vanity, Mirror, and more.
Laundry – Wash Cycle, Dryer, Spots, Stains, and more.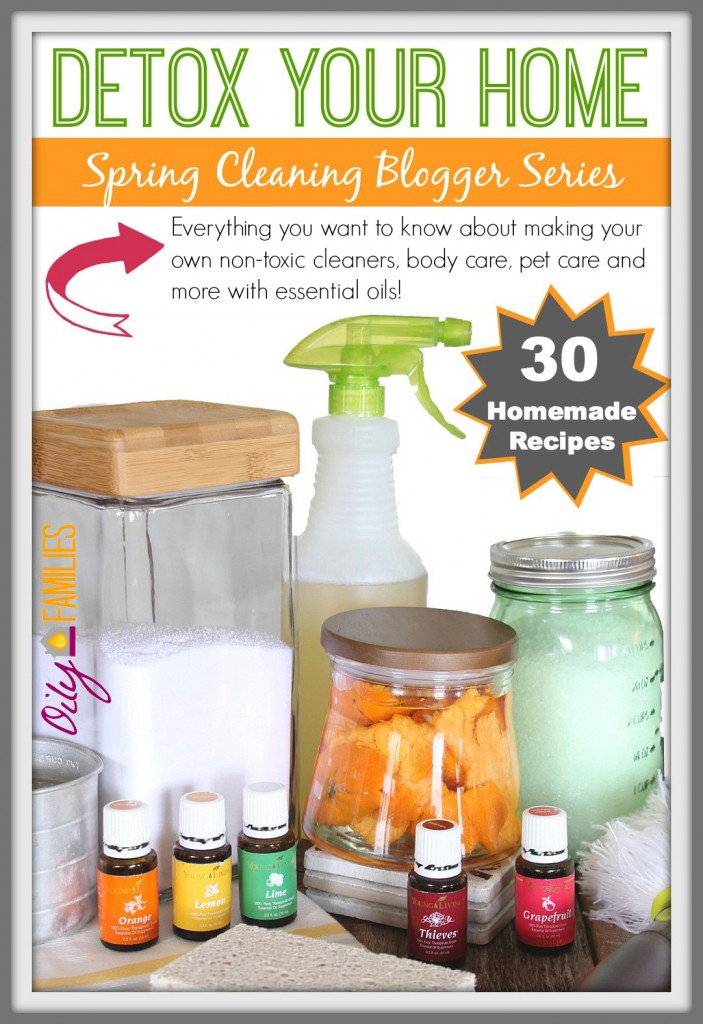 Many of the recipes in this Detox Your Home Series are taken from The Chemical Free Home by Melissa Poepping who graciously gave us permission to share her recipes online.
Are you ready to jump in to this wonderful world of caring for yourself and your family naturally with essential oils?? The time is now!
Order the Premium Starter Kit and I will send you a bunch of bonus freebies including The Chemical Free Home Book, 400+ page Essential Oils Reference Guide, Travel Case, Bottle Labels, Thieves Household Cleaner, Quick Reference Sheets, and MORE!
Please let me know if you have any other questions at all and I will do my best to answer them!
Disclaimer: These statements have not been evaluated by the Food and Drug Administration. The information on this site is not intended or implied to be a substitute for professional medical advice, diagnosis or treatment. Please confirm any information obtained from or through this web site with other sources, and review all information regarding any medical condition or treatment with your physician. Never disregard professional medical advice or delay seeking medical treatment because of something you have read on this website. This information is not intended to diagnose, treat, or cure any disease.
Be sure to check out all 30 posts in the "Detox Your Home" Spring blogger series, click here.