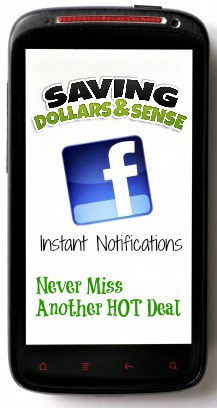 Over the next several weeks I will be posting a LOT more than I regularly do in an effort to keep you up on the lastest and greatest deals I find during this holiday shopping season!
If you want to learn about How to Save Money, read more below.
I find that it is difficult for me to find the time to share a link to each and every deal on Facebook and keep up on writing out every HOT deal to help you save this year. I am sure many of you wouldn't like to have your stream clogged up with just my deals anyway.
Because I know that many of you are finding your way over here from the Saving Dollars and Sense Facebook Community, I wanted to give you a heads up about the other SD&S Facebook Group that we have.
Every single time I publish a post on the blog, it automatically posts to the group as well and send you a notification so you won't miss the deal!
You can join our special Facebook Group where you will get a notification the moment a new post goes up on the website. A lot of you have said you love the group because it gives you instant updates without filling your Facebook stream with posts.
During this busy time, this really is the best way to be the first to know every single time a new deal hits the blog.
It is really up to you how you like to get your deals? Choose the community if you like the interaction that takes place, or choose the group if you want just the deals without any of the other stuff. Or choose both!