I've rounded up the best Free Crochet Patterns Beginners will LOVE making!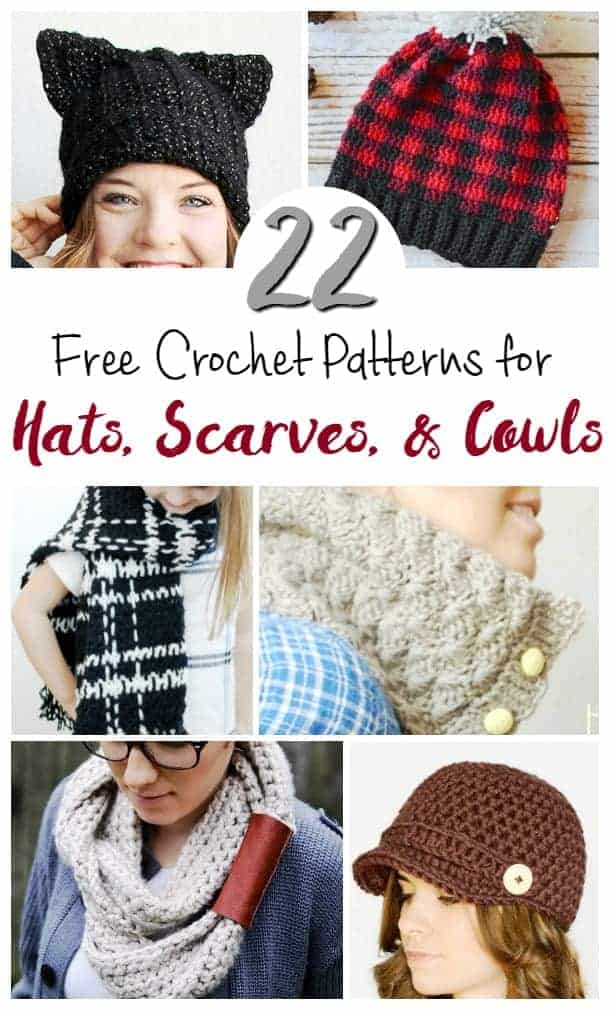 Free Crochet Patterns: Beginners and Advanced Projects
The winter is a great time of year to put your skills to the test with some fun crochet projects.
There are so many Free Crochet Patterns for Beginners will love that you can find online to get started. Below I have rounded up the best free crochet patterns beginners can use to create something you'll love to wear.
There are a few different free crochet patterns beginners can use below, which I've separated them into three categories – easy Crochet Cowls Patterns, Free Easy Crochet Hat patterns, and Crochet Scarf patterns beginners will love!
Crochet Cowls Patterns
The following crochet cowl patterns free designs are for you to use.
Persia Lou – The Shell Crochet Cowl
We Can Make Anything – Cozy Crochet Cowl
Delia Creates- Bean Stitch Cowl
All About Ami – Cobblestone Cowl
Rescued Paw Designs – Crochet Cowl Pattern – The Penn
My Hobby Is Crochet – Double Layered Braided Cowl
Crochet Scarf Patterns Beginners
Persia Lou – Windowpane Plaid Scarf
Delia Creates – Easy Lorelai Skinny Scarf
Mama in a Stitch – Chunky, Squishy Crochet Infinity Scarf
Hopeful Honey – Catherine Wheel Stitch Infinity Scarf
Sisters What – Chunky Scarf With Leather Accent
Rescued Paw Designs- Andy Button Scarf
Fiber Flux Blog- Waffle Stitch Crochet Scarf
Over the Apple Tree – Crochet Scarf- Color Pooling
Free Easy Crochet Hat Patterns
Persia Lou – Black Cat Slouch Hat
Whistle and Ivy – Plaid Slouchy Hat
Whistle and Ivy- Diagonal Hatch Slouchy Hat
Elk Studio Hand Crafted Crochet Designs – Mystic Crochet Beanie
Hopeful Honey – Nifty Newsboy Hat
Little Monkey Scrochet – Snowdrift Slouch Hat
Black Cat Crochet – Pokeball Slouch Beanie
The next time you find yourself looking for a fun and free winter project to do, give these free crochet patterns for beginners will love a try!
Here are some of my favorite crochet accessories:
Yarn Bowl by Yarn Valet – Portable, Unbreakable with Soft Rubberized Non-Slip Base
Susan Bates Silvalume Crochet Hook Set in Pouch Sizes F, G, H, I, J, K
Damero Crochet Hook Case, Organizer Zipper Bag with Web Pockets for Various Crochet Needles and Knitting Accessories, Well Made, Small Volume and Easy to Carry, Gray Dots (No Accessories Included)
ArtBin Yarn Drum Round Raspberry Knitting and Crochet Tote Bag, 6805SA
Crochet One-Skein Wonders®: 101 Projects from Crocheters around the World
ZXUY 12pcs 6