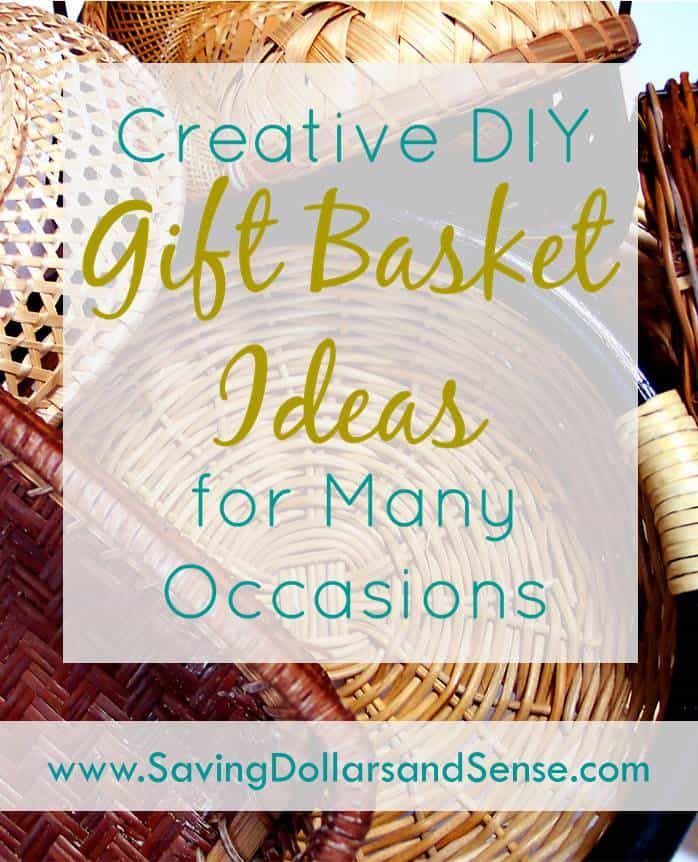 Gift Basket Ideas
Do-it-Yourself gift baskets make for great creative gifts for many occasions!
Here are a few ideas to create your own gift baskets:
Movie Date Night
Create a movie night in a basket gift that is perfect to give to newlyweds for a pre-planned date night. Include in the basket your favorite romantic comedy, a box of popcorn, theater size candy and bottled sodas. For less than $10 you can give a newlywed couple everything they need for a great movie date at home.
Pregnancy Survival Kit
For an expecting mother, put together a basket of things that will help make her pregnancy more comfortable and enjoyable. Include items such as cocoa butter belly cream to reduce stretch marks, ginger peach tea for morning sickness, chocolate bars for late night cravings and a book of funny and uplifting pregnancy advice such as The Girlfriend's Guide to Pregnancy.
Hostess with the Mostest
Put together a gift basket full of great kitchen gadgets and items. Some items that you could include are a cute apron, a rolling pin, a monogrammed bamboo cutting board, silicone or wooden cooking utensils and a cookbook. This would make a great and creative gift for a housewarming party, a wedding shower or just a birthday gift for the cooking lover in your life.
DIY Spa Day
Create a bundle of spa type items that would make a great bridal shower gift or birthday gift. Include in this basket your favorite facial mask, bath beads and salts, a gel eye mask, bubble bath and even a homemade CD with your favorite chill out music to play for a relaxing evening.
Heat Up the Romance
For a lingerie party, you can include a couple extras with your racy undergarments. Add to your gift a couple of candles, massage oils, a home made CD of romantic songs and even a book with tips to heat up the bedroom. This would make a great gift for a lingerie party or just to give to your best girlfriend before her wedding.
Handy Man or Woman
For the DIY-er in your life, a gift basket of tools and other DIY necessities is a great creative present! Include in this gift items such as a drill, a set of basic hand tools, picture hanging kits, a tool belt and even a DIY book or magazine subscription. This would be a great gift bundle for a house warming party or for a groom's Honey Do shower gift.
Gourmet Foodie
Have someone in your life that loves gourmet foods? Shop around for interesting and eclectic food items to put together as one gift. Look for infused cooking oils and vinegars, interesting salts and spices, and even ethnic or rare snacks and foods. A good place for look for these types of items is in stores such as Ross, TJ Maxx and Marshall's. These styles of baskets would make great gifts for many different occasions.
Wine Sommelier
For the wine lover or expert in your life, put together a basket specific for that hobby. Include in the basket things such as a good quality corkscrew, the latest wine aerating gadget, a set of personalized wine glasses and even a bottle of nice local wine. This gift basket would be a great hostess or house warming gift. Or just a gift for any occasion for anyone who loves wine.
College Essentials
If you have a child or loved one heading off to college, create a gift basket of college essentials. You could include in the basket things such as school supplies, nice sheets for their dorm room, or a new backpack. A great gift for college students is gift cards to local restaurants. Google search the area they will be attending college to find the restaurant chains in that area and purchase a variety of gift cards for them. Free food is a starving student's favorite gift.
These are just a few ideas of creative gift baskets and bundles that can be put together for great gifts.
These baskets and items can range in price from really inexpensive to as much as your budget will allow.
What are some of your favorite ideas for gift basket items?