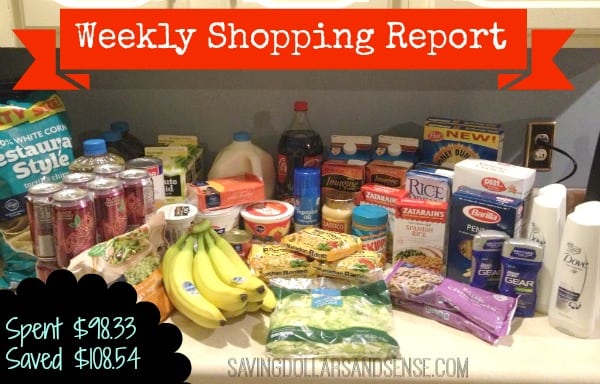 After what has felt like forever, I finally made it back for a well thought out grocery shopping trip today.
There were SO many great deals to take advantage of this week. Thankfully I still have plenty of meat in the freezer, so I focused on picking up fresh produce and some other things I needed to replace along with a few deals I thought my family would enjoy.
KROGER
2 Honey Bunches of Oats Morning Chocolate Cereal ($1 Printable Coupon)
2 Blue Diamond Chocolate Almond Milk
Skippy Peanut Butter
2 Minute Maid Orange Juice
Barilla Pasta
Shredded Lettuce
2 Old Orchard Apple Cranberry Juice ($0.50 Printable Coupon)
1 Gallon Skim Milk
Imagine Organic Chicken Broth ($1 Printable Coupon)
Imagine Organic Tomato Soup ($1 Printable Coupon)
Kroger Tortilla Chips
Bananas
3 Dove Conditioner ($3.25 off 2 printable coupons)
Dove Shampoo ($3.25 off 2 printable coupons)
2 Liter Coke
Crisco Vegetable Oil
2 Vanilla Rice Dream Milk ($2 Printable Coupon)
Classico Sundried Tomato Cream Sauce
Kroger Frozen Stir Fry Veggies
Kroger Syrup
Kroger Cooking Spray
Cheddar Cheese Block
5 Creamy Chicken Ramen
Graham Crackers
2 Zevia Soda 6 Packs ($2 Printable coupon)
Kroger Cottage Cheese
2 Klondike Ice Cream Bars
Kroger Soy Sauce
2 Speedstick Gear Deodorant ($2 Printable Coupon)
Black Olives
Fage Greek Yogurt
2 Kroger Chocolate Chips
2 Zaterains Rice ($0.50 printable Coupon)
Kroger Canned Corn
Kroger Canned Green Beans
2 So Delicious Vanilla Yogurt ($1 printable Coupon)
TOTAL $70.68
Total Savings $77.45
Meijer
6 can Iams Cat Food ($2 off 3 Printable Coupon)
Earthbound Farms Carrots
2 Nissin Beef Ramen
2 Taco Bell Taco Sauce
2 Loaves Meijer Bread
3 Meijer Mac & Cheese
2 Taco Bell Salsa
2 Pop Tarts ($1 off 3 Meijer MPerks Coupon)
Mission Tortillas
5 Lemons
5 lb Potatoes
2 Large Avacados ($1 off 2 Meijer MPerks Coupon)
Birdseye Frozen mixed Veggies
2 Earthbound Farms Organic Baby Spinach Mix ($1 off 2 Meijer MPerks Coupon)
1 Bag of Apples
Tomatoes
2 Oscar Mayer P3 ($1 Printable Coupon)
4 Beneful Chopped Multipacks ($2 off 2 Printable Coupon)
TOTAL $27.65
Total Saved $31.09
I also had $3.50 in bottle returns. I used a Meijer 5% off grocery products MPerks, along with a Pop-Tarts $1 MPerk and a $1 off 2 Large Avocado MPerk and a couple of printable coupons.
*Saving Dollars and Sense Tip: Make sure you always check the Saving Dollars and Sense Coupon Database to see if anything you are planning to buy has a coupon before you head out the door!