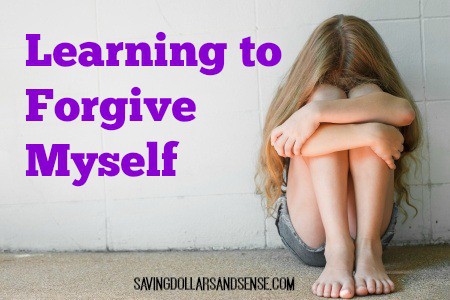 Yesterday I was scrolling through my Facebook when something one of my friends shared caught my eye.
I can't even tell you why I was drawn to this particular post out of all the others I passed by to get to it. The title wasn't especially catchy, and it was a blog I had never even heard of before.
And yet I felt like it was a story I needed to read.
As I began reading I could see it was going to be about forgiveness, which is something the Lord is always reminding me of. I believe that sometimes forgiveness is easy. You choose to forgive and you move on.
Other times, when an offense shakes the very core of your being, forgiveness becomes something we have to continue to choose over and over and on deeper and deeper levels.
When I was a little girl I lived in a world filled with every kind of evil. But every once in a while my mom would break free and show us a new way.
Going to church became the only place I ever really felt safe growing up.
During a moment in my history when my mom was sober and my stepdad was away (I don't remember if he was in jail or rehab), we were taken in by the most amazing group of Christian believers.
They were our family, our safe place.
I grew up knowing how to deal with things no child should ever have to deal with on a regular basis.
I was tough and had met enough bad guys in my life to recognize them a mile away. You can read a little about my childhood here to get a better idea of what I am talking about.
So while I could deal with all kinds of abuses, it was this one moment that finally broke me.
It was Memorial Day and we were on a picnic at a very popular public park with our entire church family.
It was the greatest time of my life. I was completely in my safe zone when a friend and I were approached by a man telling us about some cute little bunnies he had found in the woods.
He wasn't scary. He looked like a dad, and he didn't offer us candy like I had been taught bad guys did. I had no reason to question his intentions.
In the middle of the day at a very packed public park, this man just talked to us as we walked on the trail and guided us to where the cute little bunnies were waiting for us.
This one single event shattered my entire world and damaged me to my core for a very long time.
When he got us to the place where he planned to take his victims that day, he pointed to a bush where he said the bunnies were.
Of course, there were no bunnies, only a dingy pink blanket on the ground.
And before I had time to process what had just happened, he was holding me with a knife to my throat and nowhere to run.
What seemed like hours before he was done was in actuality only a few minutes.
I sat on that dirty blanket with tears streaming down my face as I watched him disappear into the woods.
He said we had to count to 100 before we could leave, but I didn't wait. Once he was out of sight I ran and ran and ran until I found my way out of the woods.
I had grown up being very aware that there were those in the world who could do these things to those weaker than them, but I never saw this coming. Evil had been able to penetrate even my most safe place.
The illusion that bad things couldn't happen to me when I was being a good little Christian girl was destroyed that day and I spent so many years angry with God for allowing this to happen to me in the one place I believed it couldn't.
Looking back today, almost 30 years later, I can see the journey through forgiveness I have been on.
I saw true evil that day, but I never saw that person as the source of it.
In fact reading that someone else had a story complete with bunnies, blankets, woods, friendliness, and so many of the same details as mine just proves to me that it is not people who are behind the evil that motivates some to hurt others.
It was almost too easy for me to forgive the person who forced his will upon me that day, but I couldn't forgive God. More than that, I couldn't trust him.
And for many years this is exactly where I stayed. I believed that there was a God who loved people. But I didn't believe he loved me. At least not enough to protect me.
But he has been wooing me ever since that day.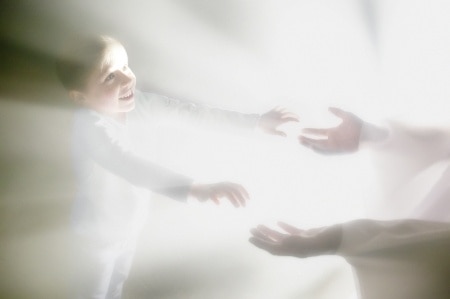 I won't lie or pretend I totally understand why that happened to me or why worse things happen to people every single day. I could throw around some cliche about this being a fallen world and everyone has free will. And how sometimes one person's free will encroaches on others. All of which I believe is true.
Or I can just do what I have learned to do through all of this.
I believe God is able to take the ugliness of these things to create the most beautiful things even if I can't see the finished masterpiece, and maybe never even will.
I believe that nothing is wasted, and with that in mind, I share my stories hoping that they will touch others. I believe the way we win is by speaking up and sharing the stories God gives us no matter how ugly or shameful they appear.
But, I also realized something I never saw before.
I still have to forgive myself for that day.
I realized that I had just walked off with my abductor. It was as if a light bulb was turned on and there it sat waiting for me to discover it.
As I was talking with my husband about it last night I realized all these years I blamed myself more than anyone else.
I had let everyone else off the hook, but could not forgive a silly little girl who had trusted so easy and foolishly.
Now that the light is shining on this dark corner I am going to allow God to do whatever he has planned to do to make me whole again.
I felt compelled to share my story and I trust that God knows why.
It's so amazing to me how God knows exactly what we need and the perfect time for us to receive it, even in a FB post that I could have easily ignored and scrolled on by.