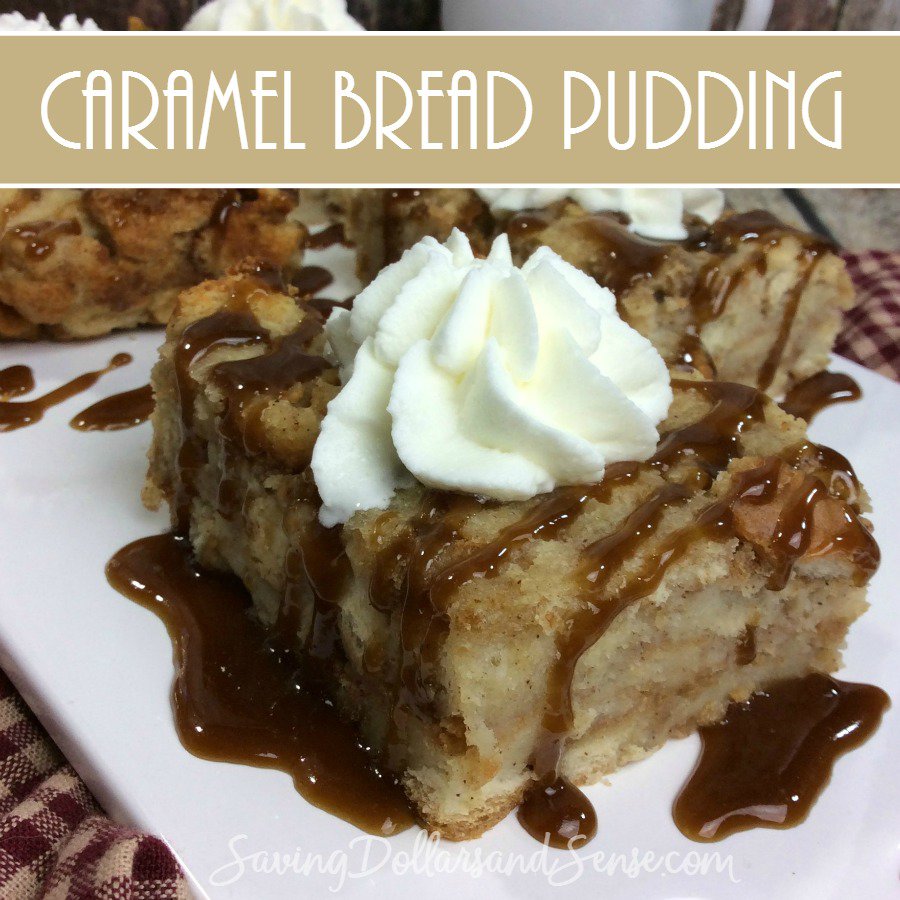 The neat thing about knowing a good homemade bread pudding recipe is that you can make several easy bread pudding recipes once you know how to make a bread pudding basic recipe.
Once you have the basic bread pudding recipe down you can change out the toppings to make so many easy bread pudding recipes!
Today I want to show you how to make a bread pudding with caramel sauce and homemade whipped cream that could be served at a brunch or as a dessert.
You'll need a good 11 x 7 bread pudding baking dish.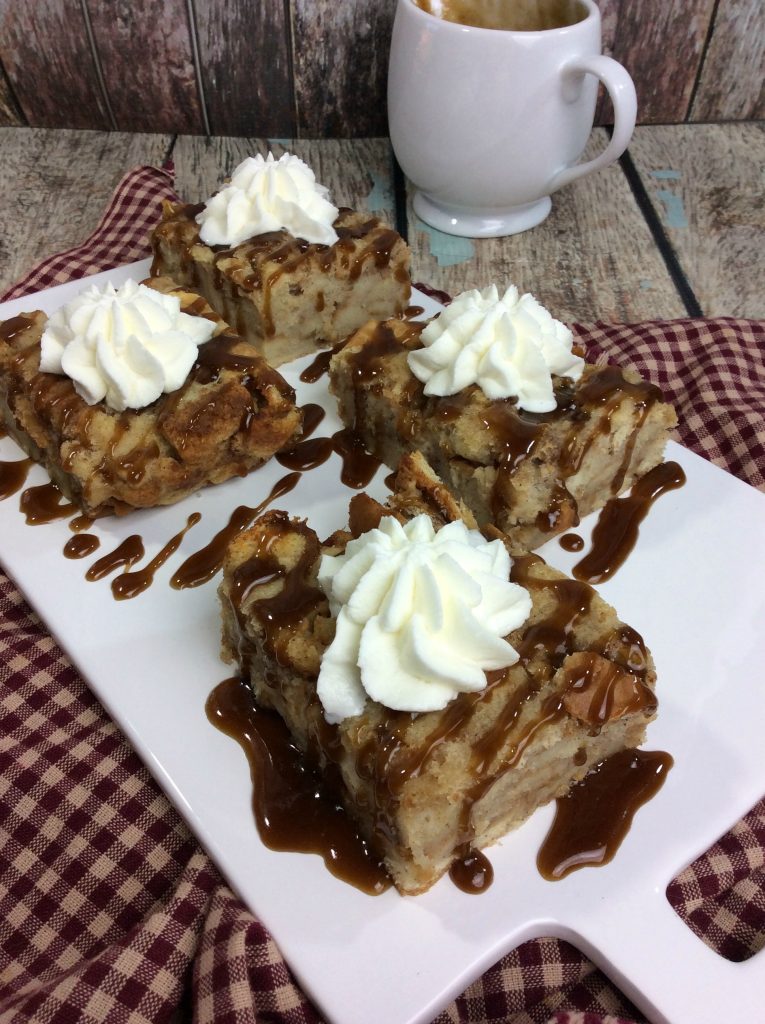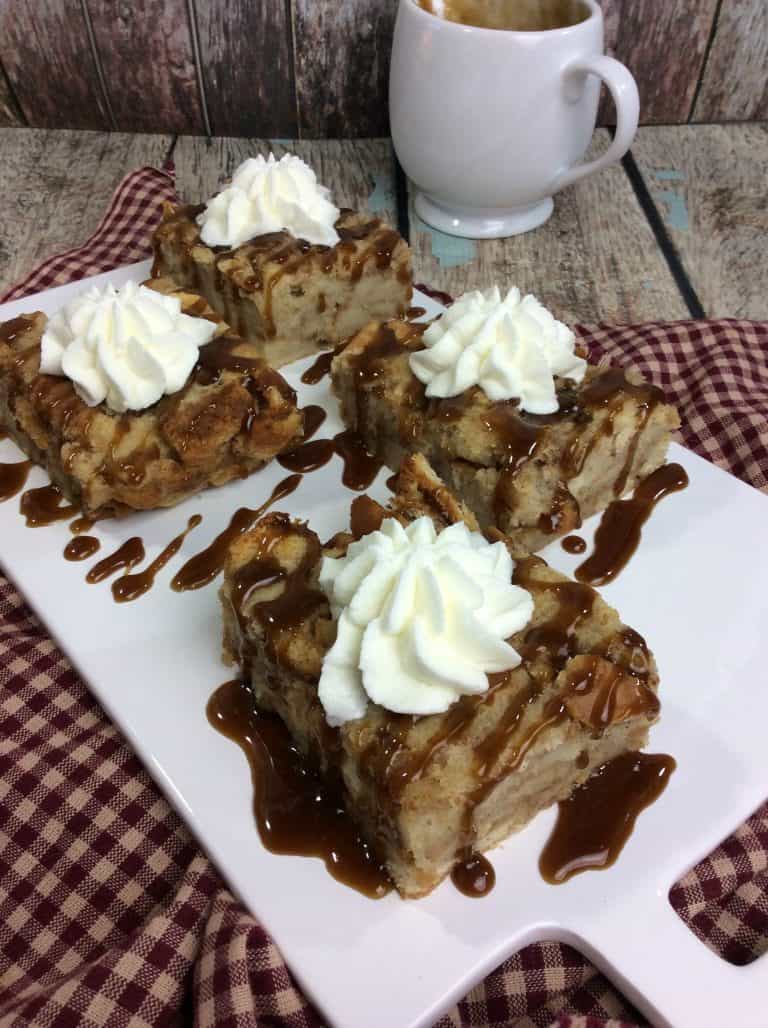 Ingredients 

Cooking Spray

Parchment Paper

2 Cups Whole Milk
1/4 Stick of Butter
1/2 Cup Sugar
1 Egg
1 tsp Cinnamon 

1 tsp Nutmeg

7 Cup Cubed Bread
Directions 
Preheat oven to 350 degrees.
Tear off a piece of parchment paper
long enough so the the bottom and sides of the dish are covered.
Spray with cooking spray
.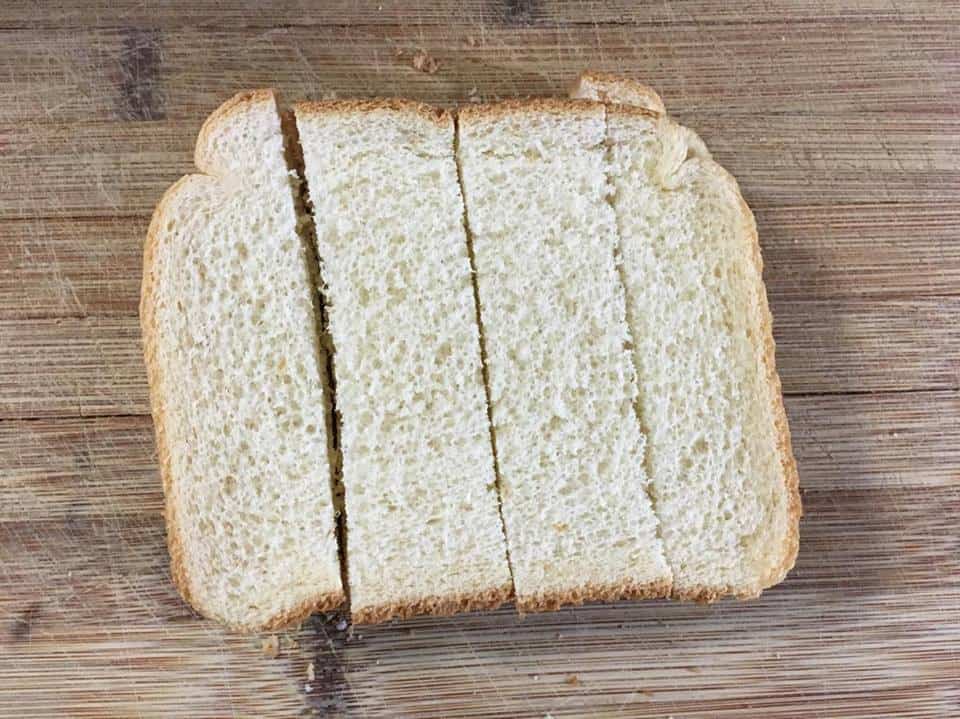 Take a sharp knife and cut your bread into 1/4 strips.
Turn the bread and cute the 1/4 Strips again to get cubes.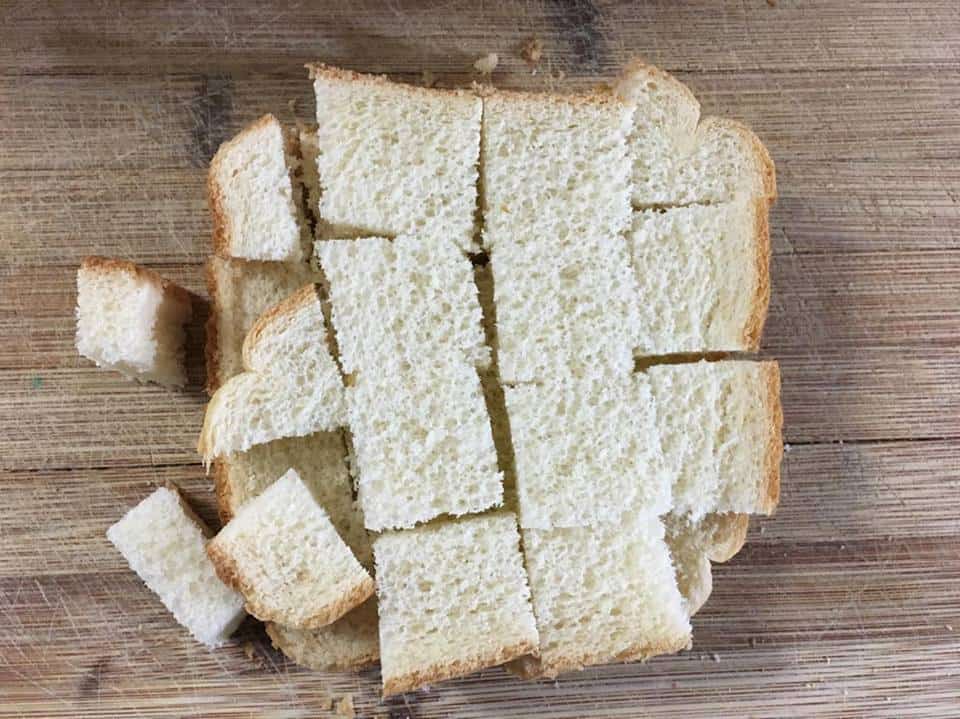 Set aside in a large bowl like this one that I love.
In a small sauce pan
, add the milk and butter and put on medium heat until butter is melted.
In a small bowl
, add the eggs, sugar
, cinnamon
and nutmeg
together and mix until combined.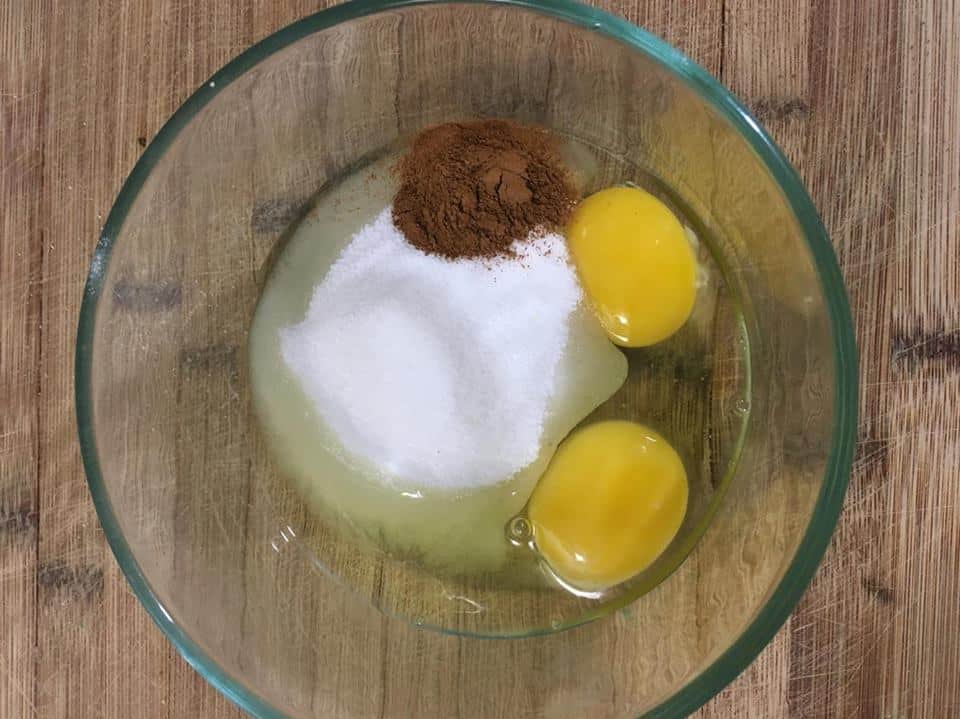 Pour egg mixture over the bread.
Pour milk mixture over the bread and mix.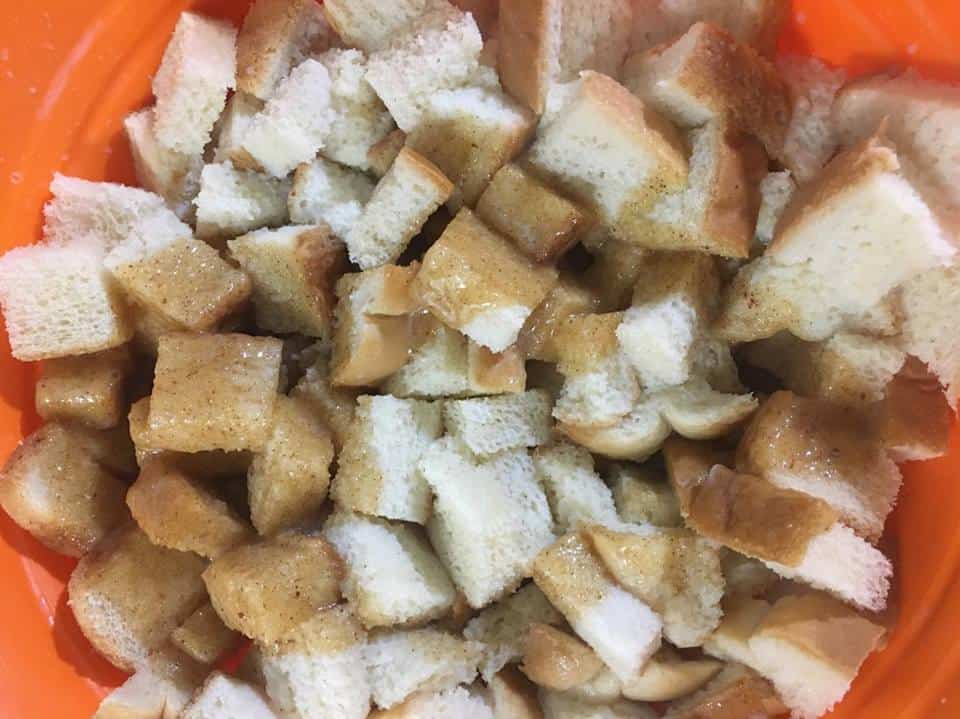 Add to your baking dish and bake for 40 minutes.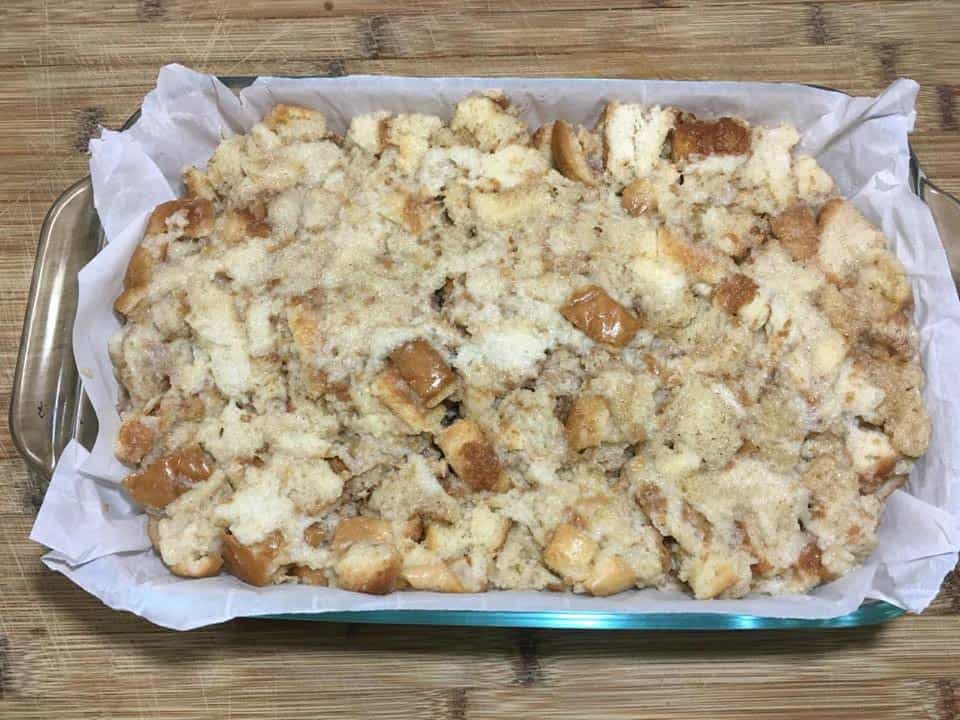 Set aside and allow to cool.
Once cooled, cut into squares and place on plates to serve with the toppings of your choice.
Sauce Ingredients 
1 C Brown Sugar

4 tbsp Heavy Whipping Cream
2 tbsp Unsalted Sweet Cream Butter
1 tsp Vanilla
Directions
On medium heat, combine all ingredients into the sauce pan and mix until combined.
Continue to mix until ingredients are liquified.
Pour over already cut squares.
Whipped Cream Ingredients
1 C cold Heavy Whipping Cream
1 C Powder Sugar

1 tsp Vanilla 
Directions 
Using a standing mixer
, pour in heavy whipping cream and beat on medium to high speed onto stiff peaks form.
Add in powder sugar
and vanilla
and continue to mix until combined.
Top bread pudding with whipped cream and caramel sauce and enjoy!