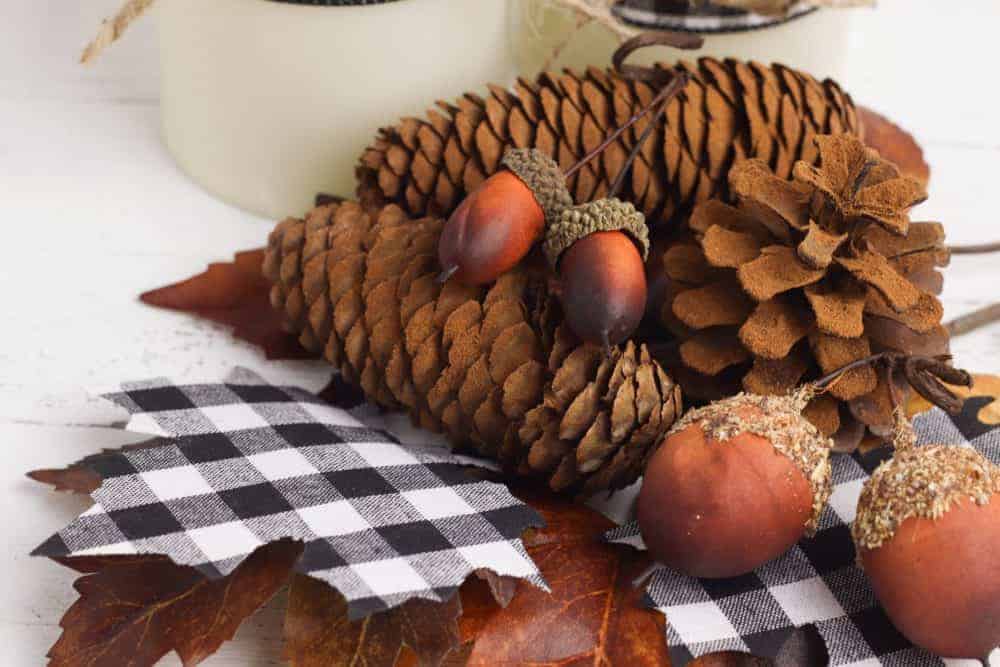 How to Make Cinnamon Pine Cones
Making cinnamon scented pine cones is so easy to do and only takes about 30 minutes to complete.

The first thing that you will need to do is gather all of the supplies you will need to make your own fall scented pine cones.
Cinnamon Pine Cones Supplies

How to Make Cinnamon Pine Cones
Making cinnamon scented pine cones is really a pretty simple process that will have your home smelling like fall in no time at all.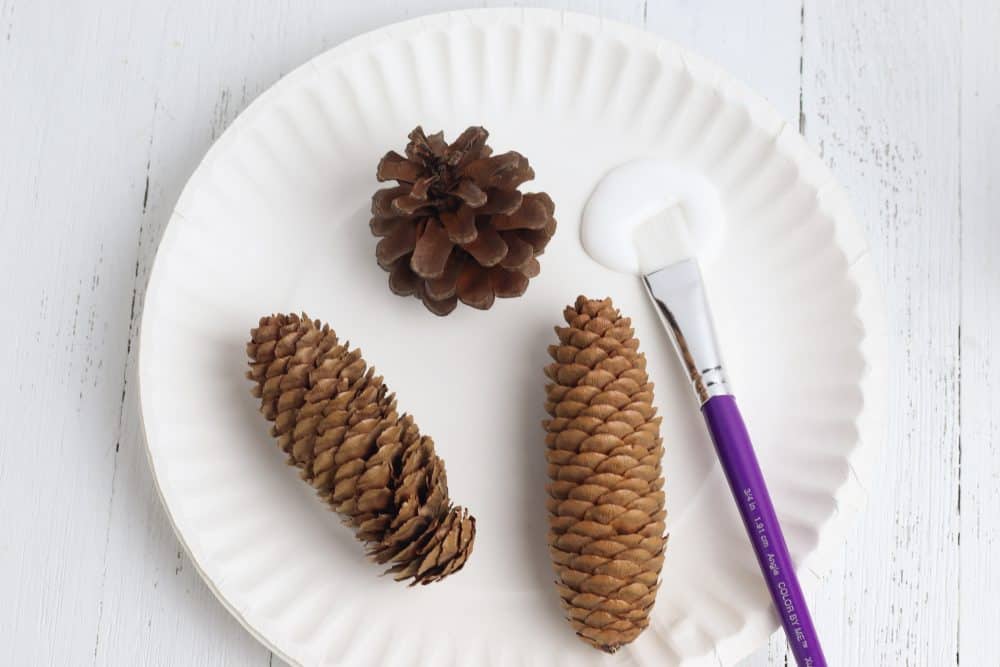 Clean all of the loose dirt or debris from outside of the pine cones if you gathered them from outside. If you bought yours from a craft supply store or Amazon, then they should be cleaned and ready to be used.
Using your small paint brush, paint over the pine cone making sure to get paint into all of the the nooks and crannies.
Sprinkle cinnamon liberally over your pine cones, making sure to cover all the wet glue completely.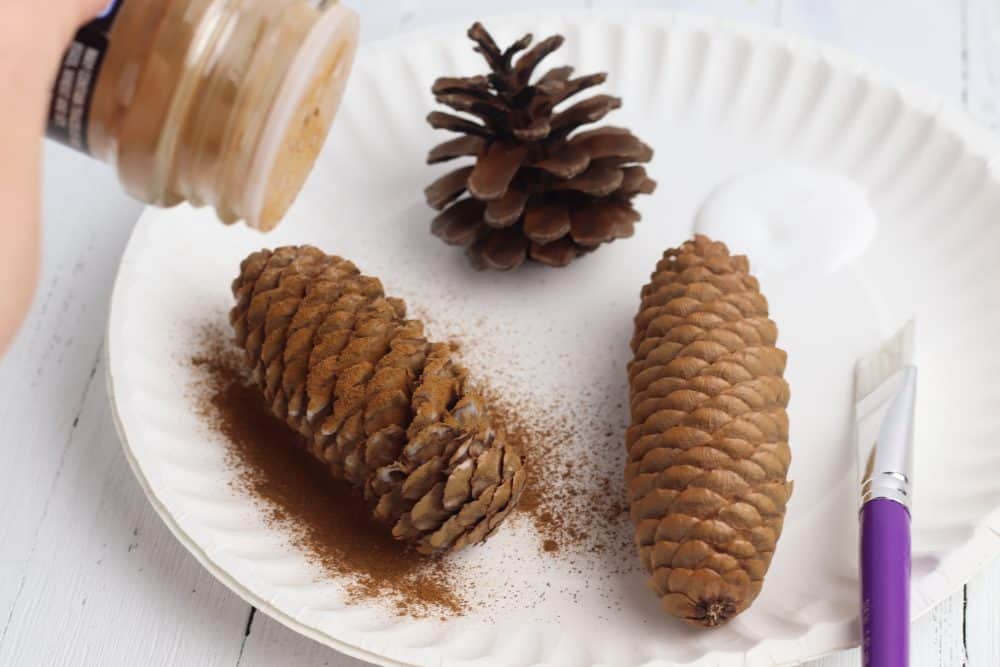 Allow the glue to dry completely before handling the pine cones again. Once completely dried, tap each of the pine cones several times on a plate or paper towel to remove excess cinnamon.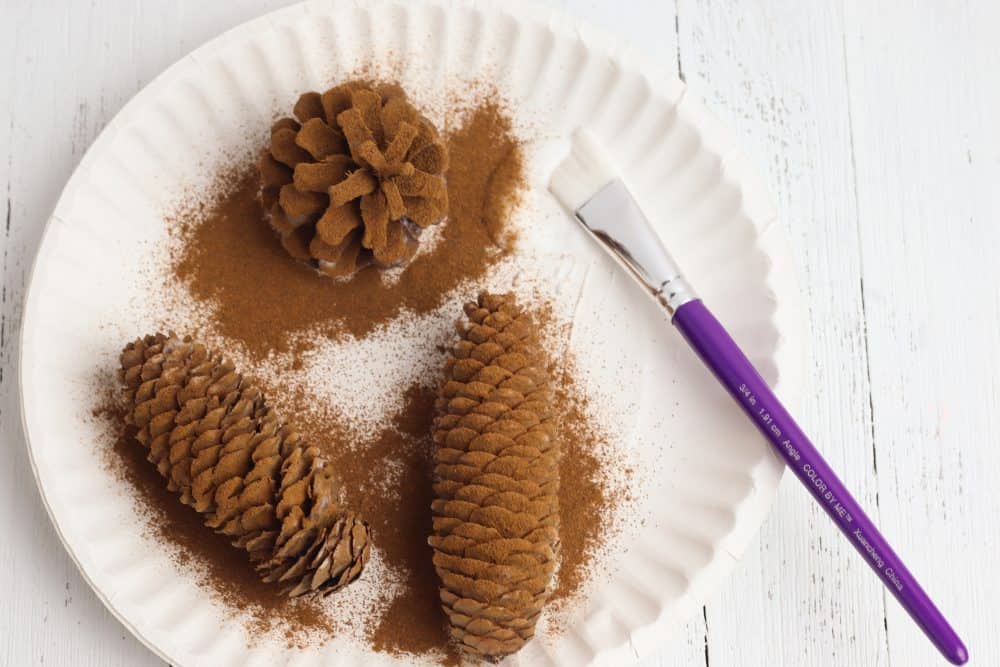 Your fall scented pine cones are ready to be used. You can now add the cinnamon pine cones to your décor to bring the scent of fall to any area of your home.
Here are some fun ways to use scented pine cones:
Burlap Floral Fall Wreath – You'll find a neat DIY video to help you make your own fall wreath with you newly scented pine cones.
Rustic Fall Mantle – I love the way this fall mantle looks with the pine cones, burlap and candle. SO warm and homey looking to me!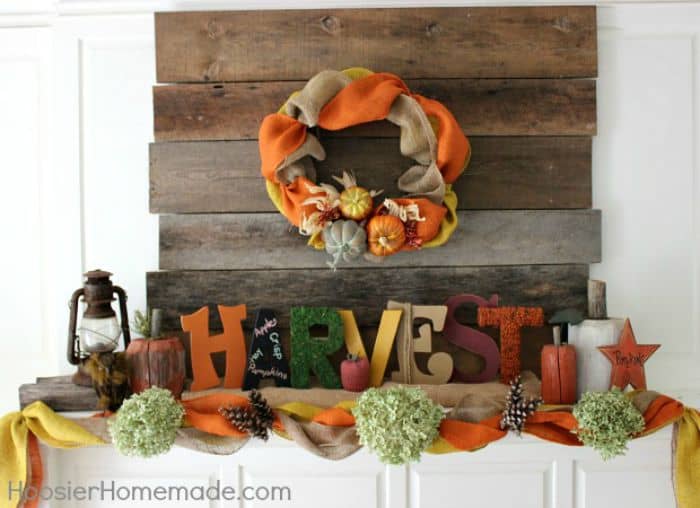 Where to Buy Cinnamon Pine Cones
Maybe you don't want to head outside to gather pine cones or you do not have any nearby. That is totally fine because you can find them at pretty much any store that sells craft stuff like Michael's, Hobby Lobby or even Walmart or Target.
When all else fails, you know Amazon sells everything, even assorted pine cones!
How to Make Cinnamon Pine Cones Smell Again
After some time you may find that your scented pine cones have lost their scent quite a bit.
It is pretty easy to make your pine cones smells like cinnamon once again.
You can just follow the same steps you followed the first time to re-scent your pine cones. Or you can make a simple pine cone scent spray using essential oils and water.
I love this because there are countless essential oils you can use to change the smell based on your preferences. During the holidays, Christmas Spirit Blend would be perfect.
Just spray your pine cones liberally and stick them in a bag or bowl to dry completely before adding them to your decor.
Some other essential oils that would smell great during this time of year:
Nutmeg
Thieves
Orange
Cinnamon Bark
Northern Like Black Spruce
Frankincense
Cardamom
Cedarwood
Tangerine
Rosemary
Citrus Fresh
Ginger
When I was first starting out with essential oils, I grabbed this wholesale bundle because it was such a great deal for the money. It is over 50% off!!